Victor Baldizon/Getty Images
LeBron James scored more points, but it was Dwyane Wade and the Heat who earned the win.

Glenn James/Getty Images
Jason Terry dropped in 24 of his 29 points after intermission as the Mavs erased a 29-point deficit.
Wade Edges LeBron In Battle For Best In World

MIAMI -- Maybe there's something to Pat Riley's text messages to Dwyane Wade. After games like this, it's not too much of a stretch to call him the best in the world.
That's Riley's description/objective for Wade, which he sent him with cryptic messages reading BIW. While I find the concept of Riley texting acronyms to people hilarious, it's easy to imagine what he'd send to Wade after the Heat beat the Cavaliers 104-95 Tuesday night: "OMG Dwyane you were so awesome. You totally pwned LeBron! That's why you're my BFF. TTYL. -- Riles : )"
LeBron James got the points (38 of them), but Wade had the edge in every other major category -- assists, rebounds and most importantly the W. On this night he was the BIW. Quite simply, Wade means more to his team. He didn't get a Mo Williams to change the dynamic of the squad the way James and the Cavaliers did.
Miami isn't at the same elite level as Cleveland, even though the Heat beat the Cavaliers and the Lakers at home in the past two weeks. The Cavaliers are still a better all-around team and still have a better chance at the championship, which is why James is deservedly ahead of Wade in the MVP debate.
But every so often Wade, who happens to be the league's leading scorer, makes you stop to reconsider the pecking order in the NBA. None of the other NBA young guns (30 and under, a group that includes LeBron, Kobe Bryant, Carmelo Anthony, Tracy McGrady and Dwight Howard) has single-handedly led his team to a championship the way Wade did with the Heat in 2006. And the fact that he has this year's squad -- with a rookie point guard and a rookie sixth man and a rookie coach -- at 17-13 and in the Eastern Conference playoff picture might be his greatest accomplishment yet.
"Dwyane has set the tone for this whole team since training camp," Miami coach Erik Spoelstra said. "We wouldn't be able to do what we're doing defensively if he didn't come in with a total commitment. The first day of training camp he was the first one in each drill. Never misses a turn. He hasn't missed a practice yet...
"He's paving the way for everybody. 'Here's how we do it at the Miami Heat.' He does it hard at practice."
Wade confessed that he might show up for every practice, but he isn't always on the court.
"Certain times I make sure I sit out and become a coach on the sideline," said Wade, whose body hasn't lasted past 51 games in each of the past two seasons, while spending his summers occupied with Team USA.
But he'll also cop to a different approach to this season, a more vocal leadership role, and a determination to make his imprint felt on this team.
"Having a year like last year," he said, "going through the season that we went through, knowing that when things go wrong, when things go good, I'm going to be the one that's going to take a hit either way. If I can take it when it's going well, I can take it when it's going bad. But I'm going to make sure we come out, make sure I help the young guys become better players, give them more confidence.
"It comes with growth, as well. It comes with being around guys on the Olympic team and their leadership and seeing the things they do, and it makes you want to do it."
Udonis Haslem, in his sixth season with the Heat, has seen veterans such as Alonzo Mourning, Shaquille O'Neal, Gary Payton and Steve Smith come and go through the locker room, and watched Wade take a little bit from each. He has seen the way Wade shows confidence in and gives confidence to his young players like Mario Chalmers, the rookie point, or Daequan Cook, the second-year guard. Tuesday night those two combined to hit 11 of 14 3-pointers, helping Wade to his total of 12 assists.
"I've also seen him have a tremendous trust in his teammates down the stretch," Haslem said. "When he was younger maybe he'd try to take it all on his shoulders."
It was telling that the Heat took a 17-11 lead in the first quarter without a point from Wade and scored 30 in the fourth quarter to hold off the Cavs without a point from Wade. He found ways to help throughout, be it stealing the ball from James or starting a fast break with a behind-the-back save.
"It takes more than just putting up points to be The Guy in this league," said Wade , who managed to score 21 on 7-for-23 shooting in between. "A lot of people say if they get the shots they can be this or that. But it takes more than that. It's on a day-to-day thing. I've got some young guys on this team. Sometimes it feels like I'm carrying my sons around, I swear. But they make it all worthwhile coming in here every day."
Now it's true that no player inspires as much awe, even among NBA peers, as LeBron James. Before the game, Cleveland teammates Ben Wallace and Delonte West were transfixed on a television showing NBA TV's "24 Hours of LeBron" in honor of James' birthday Tuesday.
Over in the other locker room, Heat players were marveling at James' attempt at a block while watching video of the teams' game on Sunday.
"You see where that [expletive] jumped from?" Mark Blount said.
Chris Quinn walked to the media center at the front of the room and hit the rewind button to watch the play again.
"That is an ath-lete," Joel Anthony said.
"That's a tight end in the NFL," Blount said.
But LeBron is now 0-3 in NBA games played on his birthday. Maybe that's a sign his birth certificate is fraudulent, that he really wasn't born Dec. 30, 1984. As anyone who's played against him can tell you, no way the dude's in his early 20s. Another sign he's older than he claims: He could not only liken Heat rookie Michael Beasley to Derrick Coleman, as was common around draft time, but he also could accurately describe the young Coleman's style of play. Coleman entered the league in 1987.
On Tuesday, LeBron had his flurries and his nightly highlight dunk, but Wade was the one who kept making the plays both big, small and instructional.
Michael Beasley, the No. 2 pick in the draft, should just sit out a game and watch how Wade does it. After Beasley rolled into the lane and picked up an easy-to-call-charge, Wade faced a similar play and deftly slowed as he entered the paint, sized up the situation and passed out to an open man.
He's also mastered the best change-of-direction move since Eric Metcalf. (I bet LeBron gets that reference, too.)
Little things like that make a guy the BIW. Wade finally gets the concept -- and the acronym Riles sent him.
"I didn't know what he was talking about at first," Wade said. "He told me. I said, 'Coach, you're just biased. You're supposed to say that. If you text me and say LeBron is the best in the world, then we've got a problem.'
But is it really what Wade wants?
"Best in the world?" he said. "Be the best I can be. I'm not really worried about being the best in the world, I'm just trying to get the best out of my ability."
And trying to get the best out of his teammates, through example and words ... although he claims the conversations can go both ways.
"I feel that anybody can say something to me," Wade said. "I don't feel like I'm above anyone."
So has anyone spoken up to him?
"There hasn't really been a need yet," Wade said.
LOL.
J.A. Adande joined ESPN.com as an NBA columnist in August 2007 after 10 years with the Los Angeles Times. Click here to e-mail J.A.
Dimes past: Dec. 13-14 | 15 | 16 | 17 | 18 | 19 | 20-21 | 22 | 23 | 24 | 27-28 | 29 | 30
Mavericks Run Down Wolves For Drama-Filled Victory
By Marc Stein | ESPN.com

DALLAS -- Revenge?
That might be stretching it.
Hard to see how any one regular-season game, no matter how unfathomably sweet it played out for Dwane Casey, can make up for getting fired.
However ...
You can safely presume that Tuesday's wild scenes at American Airlines Center -- who could have imagined a scenario in which Kevin McHale would be coaching against Casey when the season started? -- were sweeter for the winning coach than he chose to say.
"Fate works in weird ways," Mavericks coach Rick Carlisle said on Casey's behalf.
With Casey stepping in for the ejected Carlisle, Dallas allowed a 16-point deficit to the Minnesota Timberwolves to balloon to a 29-point deficit before uncorking the biggest comeback in franchise history, eventually sending the Mavs to a crazy 107-100 triumph ... and putting the worst single-game collapse in Wolves history on McHale's résumé next to all of his other missteps.
Among the many McHale moves that get second-guessed is the decision to fire Casey halfway through Kevin Garnett's final season in 'Sota with the Wolves sitting at 20-20. It doesn't help McHale that Randy Wittman went 38-105 as Casey's replacement before McHale was asked to move downstairs by owner Glen Taylor and surrender his front-office supremacy on Dec. 8. Neither Wittman's tenure as coach nor the Wolves' stunning capitulation Tuesday night from a seemingly invincible position will be easily forgotten.
The Mavs actually don't have a firm succession plan to implement for nights that Carlisle gets ejected. Not with two recent former head coaches -- Casey and Terry Stotts -- working as Carlisle's top two assistants. Next time figures to be Stotts' turn, but Casey was always going to get this opportunity, on the occasion of Carlisle's first-ever Mavs ejection, given the team Dallas was hosting and who was working the sideline at the other end of the floor.
The problem? It didn't look like much of a bargain with the sleepy hosts already down 46-30 in the second quarter when Carlisle got tossed, having earned two quick techs for complaining about a few early hits absorbed by Dirk Nowitzki that didn't draw a whistle. The Mavs' deficit under Casey reached 22 points by halftime and was up to a whopping 70-41 within 94 seconds of the third quarter.
"We had the game in hand," McHale said. "We came out in the third quarter and made a few hoops and I thought, 'OK, we're going to continue to go.'"
He wasn't alone. There wasn't a shred of evidence to suggest that the Mavs, looking so lethargic, could dig out of the hole. But then they suddenly turned up their defensive pressure, finally got a couple 3s to go down and found some overdue emotion after Minnesota's Craig Smith swung hard with his left arm on a Nowitzki drive and caught the former MVP in the face, knocking Nowitzki to the floor and giving him a bloody nose. The building was buzzing after the flagrant foul as the Mavs kept slicing into the lead ... with McHale helping the Mavs out by settling for only one timeout and declining to make any substitutions for nearly six minutes, until the 29-point cushion was down to nine.
With Jason Terry scoring 24 of his 29 points in the second half and Jason Kidd causing copious havoc at both ends to finish with 14 points, 16 assists, seven rebounds and four steals, Dallas had the deficit down to 86-80 with 10:03 to go, by which point you could see that this was going to end badly for the Wolves.
"Probably should have burned a couple more timeouts," McHale conceded, saying that he gambled on the belief that his young team could push back Dallas' rally if it kept pushing the pace.
Instead?
The Mavs wound up treating a sellout of 20,624 to a resurrection which eclipsed the erasing of a 25-point deficit against Denver in 1994, thanks to a full group of five playing well: Terry and Kidd were flanked by Josh Howard (23 points), Erick Dampier (12 rebounds) and Nowitzki (24 points, 13 boards and gauze inserted to plug up his nose, in his first game back from a one-game suspension). The Wolves, meanwhile, simply wilted. They were unable to score in the fourth quarter, unless Al Jefferson (21 points) got the ball, and convinced McHale that they ultimately got tired after an OT win Monday night over Memphis.
"Once this place erupted, it felt like '05-06 all over again," Terry claimed, referring to the Mavs' run to the NBA Finals.
You have to believe that Casey enjoyed his own internal eruption of glee, but he masked it well.
And while Casey and McHale waved simultaneously to each other as both were walking off the floor -- customary post-game procedure for coaches -- that was the extent of their interaction.
"Didn't think about that at all," McHale insisted when asked about their history.
Tracked down later in the Mavs' locker room, Casey said: "I'm happy, sure. But I'm really happier for our guys to be able to come all the way back and get a win like this."
A couple of those players, mind you, did quietly confess that Casey thanked them heartily for the rally.
"I'm happy for Case," Carlisle said. "These things happen in weird ways [when] you meet with a former team."
Not as powerful as revenge or vengeance, but weird was a fitting word for this night, too.
Marc Stein is the senior NBA writer for ESPN.com. To e-mail him, click here.
By Maurice Brooks
ESPN.com

TUESDAY'S BEST
Steve Blake, Blazers
: Playing against the defending champions without All-Star Brandon Roy, Blake stepped up, scoring 21 points as Portland handed Boston its third loss in four games.
---

TUESDAY'S WORST
Minnesota Timberwolves
: Leading 70-41 early in the third quarter, the Wolves couldn't hold on to the big lead, allowing the Mavericks to complete the largest comeback in franchise history.
---
QUOTE OF THE NIGHT
"I'll take that 10 times out of 10."
-- Spurs guard Roger Mason on Tim Duncan's missed layup with 3.8 seconds left that sealed a 100-98 loss to the Bucks
Taking Care Of the Dirty Work
By Kevin Arnovitz | ESPN.com

Remember when ex-NFL offensive lineman Tony Mandarich was all the rage coming out of Michigan State about 20 years ago? He was so beastly that observers starting charting his "pancake blocks" -- the number of times he plowed over an opposing lineman. For all of its cutesy-ness, the stat wasn't entirely without value. If pass-rushers are awarded sacks, shouldn't offensive linemen be statistically credited, too?
Derrick Rose's freakish driving layup at the 8:42 mark in the fourth quarter Tuesday night against the Nets, on a crucial possession to keep the Bulls close, was aided tremendously by a high screen from Joakim Noah. For all of Chris Paul's wizardry, his patented dribble-drive is often the result of a nasty screen by Tyson Chandler ... provided Chandler isn't sitting on the pine with three fouls early in the second quarter. Shaquille O'Neal might not think much of Erick Dampier, but the Mavericks' center has carved out a place for himself as one of the game's best big men on the pick-and-roll. And I hope Steve Blake picked up something nice for Joel Przybilla this year, because the Blazers' work horse makes life a whole lot easier for his point guard.
Effective high screens that give a penetrator like Chris Paul the daylight and/or mismatch to get to the rim are as important to a team's offense as the assists we so diligently track when approximating a player's offensive value. Yet we award a dime to the person who -- often by happenstance -- makes the pass that leads immediately to a made shot. Meanwhile, all the pick man gets on a successful dribble-drive is a kind word from Hubie Brown or Doug Collins. Analysts like to deliver the old, "It doesn't show up in a box score" trope, but why can't it? If seems that if we can make stats and box scores more perfect entities, we should.
• To read the TrueHoop blog, click here.
By John Hollinger | ESPN.com

Detroit had its second strong outing without Richard Hamilton on Monday, beating Orlando two nights after securing a road win in Milwaukee, and Pistons observers are noticing that the defense has been much tidier with Detroit playing a traditional big lineup during the past two games.
This has some pondering whether Hamilton should come off the bench once he returns, playing behind Allen Iverson and Rodney Stuckey. It's a reasonable question -- Hamilton has struggled offensively this season, and having both Stuckey and Iverson together in the backcourt means that neither is forced to be a full-time point guard. Meanwhile, the return of Antonio McDyess has allowed Detroit to go big without turning to the likes of Kwame Brown.
One also has to think it might be a better way of getting Hamilton the volume of shots he's accustomed to, albeit compressed into a shorter time period. The Pistons likely still have another game or two to contemplate this before Hamilton returns, but it's a move they should seriously consider.
• Read all five Hollinger Insider Gems.
Kings, Clippers Shoot Blanks
Elias Sports Bureau

To say that the Kings and the Clippers struggled to the finish line in Tuesday's game might qualify as the last great understatement of 2008. Jason Thompson's dunk with 4:26 remaining that gave the Kings a 90-88 lead was the last field goal of the game, and after that, each team scored only two points. Baron Davis made two foul shots with 3:01 to play to tie the score, and Brad Miller's two freebies with 45 seconds remaining stood up as the decisive points in the Kings' 92-90 victory.
It was the first time this season that two NBA teams have combined to score as few as four points over the final four minutes of a game.
• The Hawks' 110-104 win over the Pacers in Indianapolis lifted Atlanta's won-loss record to 21-10 and represented the most games over .500 that the Hawks have been since the end of the lockout-shortened, 50-game 1998-99 season, when the Hawks finished at 31-19.
• David Lee had a game-high 16 rebounds as the Knicks closed out 2008 with a 93-89 victory in Charlotte, lifting his December average to 13 rebounds per game in 14 games this month. It's the highest rebound average by a Knicks player appearing in at least 10 games in a month since February 1995, when Patrick Ewing averaged 13.8 rebounds in 12 games.
• Shaquille O'Neal made 8 of 10 free-throw attempts in the Suns' comeback win at Memphis. Tuesday's game was the 532nd in his NBA career in which he has taken at least 10 foul shots, but it was only the 21st of those games -- and the first in nearly six years -- in which he has made at least 80 percent of his free-throw attempts. The last time that Shaq shot at least 80 percent from the line (minimum: 10 attempts) was March 20, 2003, when, playing for the Lakers at Sacramento, he knocked down 10 of 12 from the line. Shaq's best one-game performance from the line? He went 13-for-13 -- really, it's true -- for the Lakers against Denver on April 17, 2001.
• Chris Paul had 16 assists as part of a triple-double in the Hornets' win over the reeling Wizards. In 13 games during December, Paul averaged 11.5 assists and 3.1 steals per game. Over the last 13 seasons, only one NBA player averaged at least 11 assists and three steals per game in a month of at least 10 games. That was Paul himself, who had 11.6 assists and 3.3 steals in February of this year. Before that, the last player to do it was John Stockton in March 1995.
Paul Does It All In Victory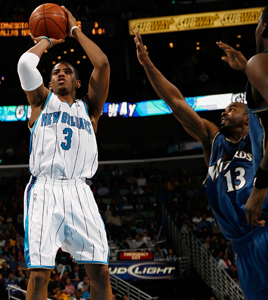 Chris Graythen/Getty Images
Another game, another record for Chris Paul. The point guard tallied 15 points, 16 assists and 10 rebounds to tie the franchise record with his seventh career triple-double as the Hornets took care of the Wizards, 97-85.