Seth Wenig/AP Photo
Departing Thoughts: The Starbury FAQ

Stephon Marbury
confirmed Friday night that he loves the idea of starting over with
Kevin Garnett
in Boston.
Knicks president Donnie Walsh announced Friday night that he hopes to return to the negotiating table with Marbury next week to see if his banished point guard is finally ready to bring an end to this stubborn, smothering saga.
Us?
Friday night at Stein Line HQ was spent assembling a Steph-to-the-Celts FAQ to detail all of the hurdles involved and address your first round of questions about the growing prospect of Marbury winding up with the (gulp) defending champs.
Uh ... why would the Celtics even consider this?
For three reasons.
1. Because their bench clearly needs a booster shot. More than one, actually. Boston's starting five might be even more formidable than it was last season, thanks to the progress of Rajon Rondo, but its bunch on the bench is thinner than anticipated and undeniably undersized. And while they clearly need a dependable big man off that bench more than anything with P.J. Brown back in retirement -- Brown arguably sealed two wins in last spring's second-round series with Cleveland -- they also need a third guard who can score and handle the ball. If a gamble on Marbury panned out, Rondo wouldn't be overworked before the playoffs get here, Tony Allen can return to spot duty (since he doesn't look ready for more than that) and Eddie House won't need to be a regular ball handler, which is clearly not his thing.
2. Because the Celts believe they have the culture to handle anyone, even a player as universally shunned by teammates as Marbury is. Any team that takes on Steph has to have a strong, unified locker room. Where on the NBA map outside of San Antonio can you find a tighter relationship between a coach and his stars than what Doc Rivers has with Paul Pierce, Garnett and Ray Allen?
3. Because it's virtually a free trial by the standards of today's NBA. The Celtics can sign Marbury to a minimum-wage deal with the option to cut him instantly if problems arise. Boston has a lot less to fear here than most teams.
So why isn't this done already if it makes so much sense?
The Celtics' biggest names could always huddle at the moment of Pierce, er, truth, and decide that the dice roll is too dangerous. But I don't see that happening. I truly struggle to imagine any way they'll pass if Marbury makes it onto the open market and says he's ready to come to Boston, even though GM Danny Ainge -- who is known to relish these kinds of gambles -- would face the difficult chore of choosing someone to waive to create an open roster spot.
The biggest issue has been, and remains, Marbury actually divorcing the Knicks and becoming a free agent.
As stated in Thursday's news story, sources close to the situation maintain that Marbury completing a buyout with the Knicks after weeks with little to no progress is a far bigger obstacle than any hesitation Boston might have about Marbury's impact on team chemistry. There is ongoing skepticism in Celtics circles about whether we'll see a buyout anytime soon.
Our man Howard Beck of The New York Times reported Friday that the Knicks and Marbury have had no "substantive" buyout discussions since Dec. 1, when Marbury stormed out of a meeting with Walsh after 15 minutes. "Marbury," Beck wrote, "has shown no interest in negotiating."
Steph has repeatedly said he's no longer willing to offer $1 million of his $20.8 million salary back to the Knicks in exchange for his freedom and that he intends to keep fighting to recoup the $400,000 in salary he lost when the Knicks fined him for refusing to play in a Nov. 26 game at Detroit.
That's fine. He's well within his rights to maintain such stances. Yet you also can't blame the Knicks for expecting Marbury to forfeit $3 million or so for the right to immediately choose his next team. Now that Marbury is on New York's suspended list -- with pay -- and no longer around the team on a daily basis, Walsh is not going to pay Marbury his full green so he can come back to Madison Square Garden on Feb. 6 in Celtics green. Why should he? There would be no motivation for Walsh to do so unless an irresistible trade offer materializes that would create a need for Marbury's roster spot.
In a first-person weblog entry this week for the New York Post, Marbury insisted: "I just want to play basketball." But he also wrote: "It's the principle of the whole thing. It's really not about the money, but it's about the money. Feel me?"
No, Steph. Not really.
If you really just want to play basketball, would it be so bad to walk away from the Knicks with, say, $17-18 million, sign with Boston and try to finish out the season as the good teammate so many of us media know-it-alls say you'll never be? How much would that be worth to your reputation?
Won't the Knicks try to structure a buyout agreement with Marbury that forbids him from signing with Boston?
They can't. This has been reported in various places but NBA rules don't allow a clause that would force Marbury to sign with a Western Conference team.
The Knicks can certainly tell Marbury during buyout negotiations that they won't sign off on his release unless he promises not to go to Boston or Miami or wherever. The team and the player can even strike a verbal agreement to that effect. But the league office confirmed to ESPN.com on Friday that such stipulations can't be made in writing and are in no way enforceable.
If Steph becomes a free agent before March 1, he can go anywhere he wants. He can go anywhere he wants if he's released by the Knicks after March 1 as well, but then he wouldn't be eligible for the playoffs.
Wouldn't the Celtics just be overreacting to a few bad losses on the road if they brought Marbury in now?
It might look that way, but the reality is the Celtics came into the season knowing they had issues looming on the bench after James Posey defected to New Orleans in free agency and with Brown walking away from the game. Plugged-in sources say that the idea of signing Marbury was hatched weeks ago, when Boston was still in the midst of that 27-2 start. So it's really not a reaction to the 1-3 road trip out West. This is about helping Rondo and Allen keep something in the tank and adding a proven scorer and ball handler to a reserve unit that is going to need some help against the Cavs and Lakers.
Is KG really on board?
Everything I've heard so far points to a clear yes.
I was as skeptical as anyone when the Marbury-to-Boston chatter started that Garnett would ever consent to reuniting with a guy who broke up their Timberwolves partnership in less than three years by forcing a trade to New Jersey.
But that was nearly 10 years ago. Garnett ultimately found his championship sidekicks. What he needs now is bench help, specifically low-cost vets who have proved they can do it because the Celtics have few trade chips to bring in help otherwise. You'd never use the word ideal to describe Marbury, given all his baggage, but he figures to be highly available and easily cuttable if he and the Knicks can ever reach a settlement. That combination is hard to resist.
You've heard Rivers say this for days: Boston started 27-2 and put zero distance between itself and the onrushing Cavaliers and Magic. Even if the Celts are fortunate enough to convince Brown to come back one more time -- and Rivers made it clear he won't stop trying no matter how many times Brown says he's retired -- they need another quality guard.
They won't know if Marbury still fits that description, if he has anything left, until they give him a live audition.
Wouldn't Steph rather go somewhere he can be a starter?
Sure.
A team that doesn't have an assistant coach like Tom Thibodeau, hounding everyone about defense, wouldn't be bad, either.
The problem?
There are no starting jobs out there for him.
I know Marbury also has serious interest in Miami -- and there would theoretically be more minutes available in Miami -- but the Heat have a much younger team. Can they really handle the various challenges of trying to integrate Starbury in-season? You'd have to think not, especially given the other deterrent: Miami's luxury-tax issues.
And ...
In one of the most amazing aspects of this wild story's arc, Boston appears to be the only upper-crust team with a confirmed interest in signing Marbury. Or the only team with a sufficiently low number of reservations to go through with signing him.
Crazy.
But don't the Celtics know about Marbury's track record? Minnesota, New Jersey, Phoenix ... all those teams won 50 games in the first season after Steph left.
You know what?
Knowing how highly the Celtics think of themselves and their own chemistry -- don't forget that they even named it, using an African word (ubuntu) for unity -- I would fully expect KG, P-Squared and Ray Ray to spin Marbury's potential arrival into an us-against-the-world challenge to prove to everyone how strong their ubuntu is.
They'll be the guys, in other words, who finally get the most out of Marbury's oft-wasted talent.
"That's our greatest strength," Pierce insisted back in November. "The greatest strength of our team is our togetherness."
If they can police Marbury enough so he becomes a content contributor in a (gulp) backup role, it'll be tough for anyone to argue.
Marc Stein is the senior NBA writer for ESPN.com. To e-mail him, click here.
Dimes past: Dec. 16 | 17 | 18 | 19 | 20-21 | 22 | 23 | 24 | 27-28 | 29 | 30 | 31 | Jan. 1

Five questions with Mavericks guard Jason Terry:
Q: You're off to the best start of your career and I heard recently that you worked out over the summer with George Gervin. How did that come about?
A: He started training me in 2002 and then I went back to him this summer. We played golf and trained three times a day. The thing about it is, once you've been in the league for 10 years, you know how to shoot. But just being with a guy that's a Hall of Famer and him just building you up mentally, I think that does more than all the shooting.
Q: I didn't even know that "The Iceman" tutors players in the offseason. What do you work on with him?
A: He really doesn't. I think he's trained one other guy and that was Stephon Marbury and he had his best scoring year that year Ice trained him. He doesn't really do it, so it's an honor. I give him a lot of credit for my success.
On the court, I think we made 500 jumpers a day, but it's all midrange. No 3-pointers. He shows me how to get where I want to get on the court and be able to rise up and shoot and square my shoulders. He has this thing called "one piece." That's the [method] that he used. So every time I shoot, every time he grabs the rebound, he's over there screaming, "One piece, one piece."
Q: How did you pull off working out all summer with a Spurs legend? I've got to be honest: You're not exactly the most popular guy in San Antonio.
A: Not at all, not at all. But my uncle's from Detroit, where Ice is from. His high school coach -- Coach Meriweather -- he told me, "Ice would love to work with you and all you've got to do is call him." I called him back when I was in Atlanta and he told me: "Young fella, I'm a big fan of your game, I've been watching you. Come down and let's spend some time together."
Q: So these workouts are actually in San Antonio? I'm guessing you get a few dirty looks walking through the airport.
A: Oh, yeah. The facility that we work out at -- Concord Athletic Club -- it's all Spurs fans. As soon as I walk in the door, they're like, "What the heck you doin' up in here?" But I love it. No doubt [Gervin] is the best as far as getting to the spot, pulling up and squaring your shoulders. He's the best."
Q: It's definitely working for you. You're leading the Sixth Man Award race and we're starting to hear people throw your name out for the All-Star team. But one last question: Why didn't you have him teach you how to finger-roll?
A: He told me it's like trying to teach me how to be 6-6. Never gonna happen.
Three key dates to make note of early in the first month of the new year for those of you obsessed with tracking roster movement, salary-cap space and general front-office minutiae (like us):
Sunday, Jan. 4

The Grizzlies' home game against Dallas is the first game Darius Miles is eligible to play after serving a 10-game suspension with his new team for what was reported here in July as the illegal use of the appetite suppressant phentermine.
As long as he plays in 10 games this season, with the Grizz or anyone else, Miles' $9 million salary will be reinstated to the Portland Trail Blazers' payroll and make them a taxpayer for the 2008-09 season. Ten games for Miles this season would also lower Portland's room under the cap in the summer of 2010 by another $9 million.
Miles underwent microfracture surgery on his right knee in November 2006 and has not played in a regular-season game since the 2005-06 season. The Blazers waived him in April after an independent doctor appointed by the league and players' union ruled that his knee troubles were career-ending, enabling Portland to erase its financial obligations to Miles from its payroll, even though the Blazers are required to pay him the $9 million owed this season and next. However, Miles is now a virtual lock to change all of that after he failed to stick with the Boston Celtics following training camp and got a shot with the Grizz.
One disclaimer: Miles actually has to play in 10 games to trigger those expensive charges for the Blazers. Simply dressing for a game doesn't count.
(One footnote: Miles has to stick with the Grizz until Feb. 18 if he wants the chance to play a game in Portland.)
Monday, Jan. 5
That's the first day players can sign 10-day contracts. Of course, as of Friday morning, there were only 12 open roster spots in the league.
The Suns have two spots open. The teams with one spot are the Bulls, Mavericks, Nuggets, Pistons, Rockets, Lakers, Grizzlies, Hornets, 76ers and Raptors.
The Kings could also create an open spot by petitioning the league to remove the $6.2 million salary of the recently retired Shareef Abdur-Rahim from their roster -- Reef is working as a Kings assistant coach now -- but aren't looking to add any salary these days and have thus resisted doing so.
Saturday, Jan. 10
All contracts are guaranteed for the rest of the season if a player is on a roster as of Jan. 10 or has not cleared waivers before 6 p.m. on Friday, Jan 9.
Teams will thus be required to shed any player deemed surplus to requirements by 6 p.m. Wednesday.
The 25 players facing the greatest risk over the next few days, all of whom are working on minimum deals:
Mario West (Atlanta); Juwan Howard (Charlotte); Lindsey Hunter and Michael Ruffin (Chicago); Jawad Williams (Cleveland); Rob Kurz, Anthony Morrow, DeMarcus Nelson and C.J. Watson (Golden State); Von Wafer (Houston); Paul Davis and Fred Jones (Los Angeles Clippers); Josh Powell (Los Angeles Lakers); Darius Miles (Memphis); Shaun Livingston and Jamaal Magloire (Miami); Austin Croshere (Milwaukee); Kevin Ollie (Minnesota); Sean Marks (New Orleans); Jeremy Richardson (Orlando); Dee Brown (Phoenix); Malik Hairston and Anthony Tolliver (San Antonio); Jake Voskuhl (Toronto); Juan Dixon (Washington).
On the second day of the year, no less.
After a completely dark New Year's Day around the league, all 30 teams were scheduled to play Friday night, which was an NBA first.
According to our trusty friends at Elias Sports Bureau, Friday's 15-game slate topped the previous one-day record of 14 games. The league has scheduled 14 games on the same night 18 times, most recently on Nov. 1, which was the first Saturday of the season.
Yet we have to note here that every team in the league playing on one day was actually impossible between the 1980-81 and 2003-04 seasons, when the NBA had an odd number of teams. (We also have to note, unfortunately, that none of these 15 games were scheduled for mainstream national TV coverage, as we'd normally see on a Friday night, presumably because the height of the college bowl season was playing out.)
If you're wondering about the last time every team in the league played on the same day, it happened March 2, 1980, when the NBA was a 22-team circuit.
In the '80-81 season, Dallas became the league's 23rd franchise and joined the Midwest Division. Houston and San Antonio were moved out of the Eastern Conference -- yes, East -- to join the Mavs in the Midwest, with Chicago and Milwaukee replacing the Rockets and Spurs in the Central Division.

There would be a l-o-n-g line of teams eager to sign Joe Smith if he's eventually bought out of his contract by the Thunder. The line would inevitably start with Boston and Cleveland, with the Celtics having the considerable advantage of tabbing Smith's dear friend Kevin Garnett as lead recruiter.
However ...
I'm consistently told that the Thunder -- even though the B word has been thrown around by various media types lately -- have zero intention of considering a buyout for Smith before the Feb. 19 trading deadline. They know there's a fair bit of interest in the No. 1 overall pick from the 1995 draft, who, at 33 years old, is the sort of seasoned big man with a jumper that playoff teams crave and comes with the added bonus of an expiring contract worth $4.8 million.
Rumblings persist that the Thunder plan to hold out until the deadline in hopes of landing a future first-round pick in exchange for Smith. If no trade materializes, they would still have more than a week to buy Smith out before the March 1 deadline and thus keep him eligible to play in the playoffs with another team.
NBA front-office sources have maintained for weeks that big men Chris Wilcox, Johan Petro and Smith are all available in Oklahoma City -- as is Nick Collison, except that Collison doesn't have a salary-cap friendly contract -- and that said status applied to all of them before the Thunder added to a crowded frontcourt group by signing Nenad Krstic. But Smith's veteran presence is valued by management in a locker room filled with kids, so you needn't look for the Thunder to just let him go because several contending teams wish they would.
---
With a big home win over Golden State on Wednesday night in its final game of 2008, Oklahoma City moved into 2009 on a 10-72 pace. Modest as that sounds, 10 wins would, if nothing else, be just enough to ensure that the Thunder don't match Philadelphia's 9-73 mark in 1972-73.
So the next step is actually banging home those six additional wins ... and then scrounging up six more to spare Kevin Durant from being known as the most prolific scorer ever on a team with 15 wins or fewer.
Miami's Dwyane Wade nearly came away with that unwanted distinction last season after averaging 24.6 points for the 15-67 Heat, but he appeared in only 51 games. The cutoff for this list, as determined by our tireless researchers, is a minimum of 55 games.
Durant entered Saturday's play averaging 23.8 points for a 4-30 team. He's up to 26.3 points per game since the coaching change from P.J. Carlesimo to Scott Brooks on Nov. 22 and a welcome shift from shooting guard to small forward, which has resulted in Durant's playing closer to the basket and driving more as opposed to living on the perimeter and falling into bad habits.
The following seven gents (Neil Johnston, Elton Brand, Fred Carter, Don Kojis, Ron Mercer, Jim Jackson and Jamal Mashburn) represent Durant's competition here in a club he'd obviously rather avoid:
High Scorers On Loss Leaders

Name
PPG
Year
G
W-L
Johnston, Phi
22.3
'52-53
70
12-57
Brand, Chi
20.1
'00-01
74
15-67
Carter, Phi
20.0
'72-73
81
9-73
Kojis, SD
19.7
'68-69
69
15-67
Mercer, Chi
19.7
'00-01
61
15-67
Jackson, Dal
19.2
'93-94
82
13-69
Mashburn, Dal
19.2
'93-94
79
13-69
*Max 15 wins, min. 55 games played
---
The league office has confirmed that the flagrant foul assessed Tuesday night to Minnesota's Craig Smith -- a left-handed chop at the ball that bloodied Dirk Nowitzki's nose as he drove the lane -- has been downgraded to a standard personal foul.
That news will undoubtedly tweak the Mavericks further at a time when they've been increasingly vocal about (a) their frustration that they weren't informed of Nowitzki's one-game suspension Sunday for a flagrant foul in Utah until the morning of a 12:30 p.m. tipoff in Los Angeles and (b) their growing belief that Nowitzki, in the words of coach Rick Carlisle, isn't getting "the same kind of benefit that [many] perimeter players get in terms of calls" because he's a 7-footer.
Smith maintained from the start that he shouldn't have received a flagrant foul on the hit, saying Tuesday night: "I was going for the ball and somebody yelled flagrant and I guess the refs just caught onto that. It was a basketball play. It happens like that all the time. I get hit like that all the time. Obviously [Nowitzki] wanted to be real dramatic and he got his flagrant."
Yet Wolves coach Kevin McHale, protesting at the time that Smith was merely swiping at the ball, was hit with a snappy comeback by referee Gary Zielinski, as relayed by Eddie Sefko of The Dallas Morning News: "The ball ain't bleeding."
Nowitzki, though, eventually blamed himself for letting Utah's famously hands-y defense unnerve him to the point that he has received one-game suspensions in each of his past two visits to Salt Lake City for fouls.
"It's more than a coincidence, I'd say," Nowitzki conceded, referring also to his one-game suspension in March for a hard takedown of Utah's Andrei Kirilenko. "I just have to do a better job of keeping my head.
"That's how they play there. They don't call a lot of fouls there. Ever since [Jerry] Sloan took over, that's how they play there. They let guys just play hard and I've just got to be more ready to take the hits and play through it."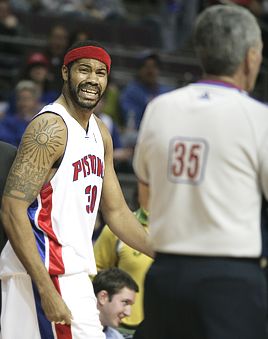 Duane Burleson/AP Photo
Which of the following developments surprises you more? That Rasheed Wallace accrued only 12 technical fouls last season? Or that he matched that total this season before we even made it to Jan. 1? (See Box 9).

"The owner said he was going to make a change and he asked me if I'd do it. It wasn't ideal, but the owner's the owner. He said, 'Will you do it?' And I said, 'Yeah, I'll do the best I can with it.'"
Timberwolves coach Kevin McHale, doing little to dispel the idea that he was reluctantly convinced to leave the front office when asked if he had looked at the next 10 games on the Wolves' schedule before agreeing to replace Randy Wittman.
If he doesn't sound terribly geeked up about his new gig -- after losses to the Jazz, Nuggets, Lakers, Cavaliers, Rockets, Magic and Spurs (twice) in those first 10 outings -- bear in mind that he was speaking about an hour before the Wolves rolled up a 29-point lead in Dallas and then proceeded to let it all go in the worst single-game collapse in franchise history.
Having watched over the years how McHale interacts with players -- with respect coming back his way thanks to those three titles with the Celtics -- I believe he enjoys the coaching and teaching part of the game much more than you'd think. That's in spite of his lack of traditional coaching experience, which was hard to miss when the Mavs quickly sliced a 29-point deficit to nine points in a span of about six minutes, during which McHale made zero substitutions and settled for just one timeout.
The sense I get, though, is that McHale's well-chronicled aversion to travel is even more acute than he talks about. So even if the Wolves make a marked improvement during the second half of season, I'm struggling to picture McHale coaching this team beyond April.
Which brings us back to the big questions that owner Glen Taylor brushed off when Wittman was fired on Dec. 8: Will McHale be allowed to return to his front-office gig at season's end? Or will McHale and Taylor finally part ways for good if the Wolves don't pick it up dramatically?
If it's the latter, I still expect McHale to walk away with some sort of special adviser title because of McHale's longstanding association with Taylor and because Minnesota has been making decisions by committee for some time. We repeat: McHale is always likely to have Taylor's ear to some degree.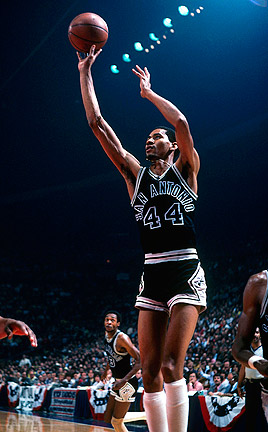 Getty Images
Spurs and Mavs don't usually mix, but George "The Iceman" Gervin has been quietly serving as a longtime mentor to Dallas guard Jason Terry since 2002. Who knew? (See Box 2.)

The recent trade talks between the Knicks and Nuggets, according to NBA front-office sources, stalled because New York insisted on receiving forward
Linas Kleiza
(right) in a deal for
David Lee
, only for the Nuggets to decide, at least for now, to hang onto Kleiza.
The Nuggets, sources said, did not have enough to get Lee after withdrawing Kleiza and offering a package built around guard Chucky Atkins (who makes $3.2 million this season and $3.5 million next season) and two first-round picks.
Yet it seems safe to presume that Atkins will be offered up to the Knicks again between now and the Feb. 19 trading deadline, in one trade scenario or another, given his perpetual readiness to hoist a shot -- never discouraged in Mike D'Antoni's offense -- and the Nuggets' well-known desire to shed at least one more salary to get under the luxury tax line.
---
With P.J. Brown insisting he will stay retired, Boston is bound to check in again with Robert Horry to see if Big Shot Rob has any interest, at 38, in joining the Celtics for a few months as their Brown-like bench sage in the frontcourt.
But we spoke to Horry on Friday and he reiterated what he told us in November: He doesn't expect to be back in the NBA this season, if ever.
Asked if he had heard recently from the Celtics, Horry said via text message: "Not talking to anyone."
Back in November, he admitted that Celtics guard Sam Cassell -- his former Houston Rockets teammate -- had informed Horry that he was on Boston's radar. But Horry acknowledges that his history with Celtics executive director of basketball operations Danny Ainge, most notably Horry's infamous toss of a towel in Ainge's face when he was coaching in Phoenix, makes Boston a highly unlikely landing spot for the 6-foot-10 forward with seven rings.
"Sam said: 'I talked to Doc. He's thinking about bringing you in at the end of the season, so make sure you stay in shape,'" Horry told us six weeks ago. "I said, 'That's fine about Doc, but who is that GM in Boston?' I don't think that's gonna work out."
---
Looks like Sundays -- with the Pistons at 0-6 on that day and a robust 19-5 on all other days entering the weekend -- are not the Pistons' only problem.
Rasheed Wallace's technical fouls are a real issue again for Detroit, with Sheed having already racked up 12 this season ... which amazingly equals his total for last season when he was only third in the league behind Kobe Bryant (15) and Baron Davis (13) in a season where no player in the league got suspended for too many techs.
One-game suspensions, remember, start when a player accrues his 16th technical and continue with every other tech after that.
Professor Hollinger beat me to the math (shocker) and calculated that, at his current rate of one technical every 2.33 games, Mr. T is on pace to ring up 31 techs for the season and serve nine one-game suspensions in 2008-09. He hasn't been in this sort of conflict with the refs since his infamous 1999-2000 and 2000-01 seasons in Portland, when Sheed posted tech totals of 38 and 41, respectively.
Over the past seven seasons, Wallace has averaged a comparatively quiet 19 techs.
Yet you also have to wonder, in spite of all of the above, if the Pistons have been prematurely dismissed as a factor in the East race. Considering that they just beat Orlando at home without the injured Rip Hamilton and with both teams off the previous night, let me throw a few ifs at you.
How good is this team if it figures out its Sunday issues before it gets to all those Sunday games in the playoffs ... and if Sheed controls himself a bit better ... and if Hamilton ultimately embraces a sixth-man role and the in-house hope that he eventually becomes Detroit's answer to Manu Ginobili?
On the first NBA Today podcast of 2009, host Frank Dale digs through the various layers of Stephon Marbury's potential move to the Boston Celtics in a visit with Marc Stein.
NBA on ESPN Radio