Bill Kostroun /Associated Press
Who's that guy next to Kenny Thomas? It's Vince Carter, soaring for two of his 29 in the Nets' win.

David Dow/Contributor/Getty Images
Kevin Martin had an impressive 36-point performance and set a two-game bench scoring record.

AP Photo/Jeffrey M. Boan
Spurs rookie George Hill shoots his way past Miami's Jamaal Magloire. Tim Duncan takes it in.
OMG, They Played Kenny -- Is Cap-Related Deal Next?

EAST RUTHERFORD, N.J. -- "No, that wasn't a showcase."
Those were the words of Sacramento Kings coach Kenny Natt, although he emitted a hearty belly laugh before providing that answer when the subject was raised whether Kenny Thomas had been showcased in Monday night's 98-90 loss to the New Jersey Nets.
But because Thomas sightings are about as rare as full solar eclipses, after the 6-foot-7 forward logged 24 minutes by playing the entire second and fourth quarters, the showcasing radar was on full tilt.
"It felt weird," said Thomas, who converted his only field goal attempt and made it onto the scoreboard for the first time since Dec. 14, 2007. "I've always had a good relationship with Kenny Natt, and right now he's trying to find something that'll click."
When asked whether he felt he was being showcased, Thomas replied: "I don't know, to be honest. I can't look at it like that. Maybe they are, maybe they're not. There have been times when teams have tried to call, from my understanding, but I really don't know what [the Kings] are thinking.
"I haven't played in a year, so I was just happy to play."
In terms of getting the most bang for the buck, Thomas might be the absolute worst value in the NBA. The forward is earning $8.6 million this season and will make $8.8 next season. He is in the penultimate year of a seven-year, $49 million contract that he signed with Philadelphia before he was later shipped to Sacramento in the Chris Webber trade.
Sacramento general manager Geoff Petrie has repeatedly tried to include Thomas in deals he has discussed during the past three seasons with various NBA teams, but Thomas' contract always was a deal breaker.
But is that still the case?
With Brad Miller considered the most obtainable player on the Kings' roster (he makes $11.3 million this season and will make $12.2 million next season), it would be reasonable to believe that Petrie might try to move Miller and Thomas as a package.
Just a thought: Wouldn't it make sense for both teams if Sacramento were to trade Miller and Thomas to New York for Stephon Marbury? The Knicks would address their big-man deficiency, would not take on any salary past 2010 and would provide the Kings with $21 million of salary-cap space for the summer.
Another thought: Since Larry Brown seeks some size and is a fan of Thomas from their time together in Philadelphia, might it make sense for Charlotte to send Adam Morrison and a spare part to Sacramento for Thomas and John Salmons, who is none too happy about his lack of touches since Kevin Martin returned from an ankle injury?
By scoring two points, Thomas removed himself from the list of players who have appeared in at least one NBA game this season but have failed to score a single point. (That list is down to Calvin Booth of Minnesota, Darius Miles of Memphis, Jeremy Richardson of Orlando, D.J. Mbenga of the Lakers, Martell Webster of Portland and Linton Johnson of Charlotte.)
"Obviously, Kenny is hungry. He came in and gave us a lift," Natt said. "He played great D, had four steals and eight rebounds -- that's his role that he plays. It's not about scoring baskets, it's more about him defending and rebounding -- the things he does well, and I thought he stayed with his strengths and gave us a lift.
"One thing Kenny has always been able to do in this league, and that's defend. He's our best post defender, he has quick hands, he can move his feet, and when he has his head right, he can be one of the better rebounders. And those are things we really need right now."
See that? Natt is talking him up, too.
Isn't that something you do when you showcase someone?
That's why we're a little skeptical about whether the Natt quote you read in the first paragraph is 100 percent truthful.
"As long as he continued to play the way he's playing now, you'll see him out on the floor. You'll see another sighting," Natt said.
But will it be with the Kings? And if so, will it convince someone that Thomas still can be a contributor? Stay tuned.
Chris Sheridan covers the NBA for ESPN Insider. To e-mail Chris, click here.
Dimes past: Dec. 18 | 19 | 20-21 | 22 | 23 | 24 | 27-28 | 29 | 30 | 31 | Jan. 1 | 3-4 | 5
After Setting Scoring Mark Off Bench, Martin To Start
By Chris Sheridan | ESPN.com
Off Bench, Into Net

Martin posts the most points coming off the bench in two straight games since the NBA-ABA merger in 1976-77.
Best Off Bench, Two Games

| | | |
| --- | --- | --- |
| Name | Pts | Year |
| Kevin Martin, Sac | 81 | 2008-09 |
| Calvin Murphy, Hou | 80 | 1980-81 |
| Larry Bird, Bos | 76 | 1984-85 |
| Fred Brown, Sea | 71 | 1976-77 |
EAST RUTHERFORD, N.J.-- For a while Monday night, it appeared Kevin Martin would crack the top 10 list for most points by a bench player for the second consecutive game. He ended up setting the record for most points off the bench in two straight games, according to ESPN Research and the Elias Sports Bureau (table, right).
Coming off a 45-point effort at Indiana, Martin had 25 points at halftime against New Jersey on 8-of-9 shooting.
But Martin made only three of 12 shots in the second half to finish with 36 points, and Sacramento dropped to 8-27 -- the worst 35-game start in team history -- with a 98-90 loss to the Nets.
Kings coach Kenny Natt signaled afterward that Martin would return to the starting lineup Tuesday night when the Kings finish a four-game road trip in Chicago against the Bulls. He likely will replace Francisco Garcia, who scored eight points in a loss in which Sacramento's reserves outscored the Kings' starters 57-33.
"Teams make adjustments, and we played differently than we played in the first half, just playing with each other and getting outworked. That's what happens when you don't play hard and don't play with each other," Martin said.
Martin's 45-point outing against Indiana was the seventh-highest (tying Ricky Pierce of the Bucks in 1989 and Cliff Robinson of the Nets in '80) by a bench player in postmerger NBA history. (The record is 50 by Nick Anderson of Orlando in 1993.) Martin would have needed another 45 to knock Bubbles Hawkins (44 points for the Nets against the Knicks in 1977) off the top 10 list.
Top Single-Game Scoring Performances Off Bench
Name
Date
Result
Points
Nick Anderson, Magic
April 23, 1993
Magic 119, Nets 116
50
Mike Woodson, Kings
Feb. 20, 1983
Kings 128, Rockets 106
48
Mike Dunleavy, Rockets
Dec. 6, 1980
Rockets 111, Nuggets 108
48
Darius Miles, Blazers
April 19, 2005
Nuggets 119, Blazers 115
47
Larry Bird, Celtics
April 12, 1985
Bucks 115, Celtics 113
47
Andrew Toney, Sixers
March 7, 1982
Sixers 119, Lakers 113
47
Kevin Martin, Kings
Jan. 3, 2009
Pacers 122, Kings 117
45
Ricky Pierce, Bucks
Dec. 5, 1989
Kings 118, Bucks 103
45
Cliff T. Robinson
March 9, 1980
Nets 140, Pistons 100
45
Bubbles Hawkins, Nets
Feb. 9, 1977
Nets 93, Jazz 89
44
By Henry Abbott | ESPN.com TrueHoop
In the past couple of weeks, I didn't have that pesky job getting in the way of watching basketball. And it got me thinking about all kinds of things:
Who has whose number?
I want to know more about mismatches.
One thing I have noticed is that some players just totally disappear for long stretches of some games. For example, a guy who typically scores eight points in a game will not make news by scoring zero on a given night. Similarly, some defenders presumably can make superstars shoot 39 percent instead of 48 percent, and that can win a team a ballgame. We know certain stories -- Nene, for instance, is said to play Tim Duncan better than most. But I feel as if we fans know far less than what the players and coaches must know. Who has whose number?
With your help, I'd like to develop a list of splits. Nene and Tim Duncan is one. When we have a list of several such theories, it would be fun to get some statistical experts involved and put those theories to the test. Which defenders make things toughest for which offensive players? It's not all about superstars, either. When even a minor offensive player is effectively erased from a game, it has a pretty dramatic effect on that team's ability to score efficiently. So post your theories in the comments, or e-mail me, and I'll start working on that list.
• Click here for the full TrueHoop blog entry
By Andrew Ayres
ESPN.com

MONDAY'S BEST
Michael Redd, Bucks
: He dropped a season-high 35 points in Milwaukee's 107-97 win over the Raptors. Sank four of 10 3s. (His 34.3 percent rate is off his 38.6 career pace.) So, do we hear a No. 7 playoff seed for the Bucks?
---

MONDAY'S WORST
John Salmons, Kings
: He torched the Nets with an omega-3-powered season-high 38 on Nov. 26. So it was only fitting that he had a season-low three points on 1-for-8 shooting in the loss to the Nets on Monday.
---
QUOTE OF THE NIGHT
"I make my shots when I play Toronto. We should be playing Toronto every game."
-- Bucks forward Charlie Villanueva, who had 25 points in a win over Toronto. He's averaging 23.2 points in his past five games against his former team, 10 more than his career average.
By John Hollinger
ESPN.com

Marc Gasol might not have his brother's quickness and athleticism and might look a bit like John Candy's "Mog" character from "Spaceballs." But the 23-year-old rookie is already a quality 5, and I'm absolutely baffled as to why he was sitting behind Darko Milicic. On Sunday, Gasol completely destroyed Dallas' Erick Dampier in the first quarter, enabling the Grizzlies to build a double-digit lead en route to a surprisingly easy 102-82 romp over the Mavericks.
Much like his brother, Gasol can make short hooks in the paint and will convert from 15 feet if left open; that's how he's shooting 51.6 percent this season. And with a 16.33 PER, he's slightly ahead of his more heralded teammate O.J. Mayo (16.21) and tied for second with Rudy Fernandez behind Philly's Marreese Speights (19.74) among rookies.
To see all five Hollinger gems, click here.

A sample of the ESPN Conversation about LeBron James' defense of his "crab dribble" against the Wiz.
It wasn't a crab dribble, it's called a jump stop plus two steps aka A TRAVEL! If he'd have landed on both feet at the same time instead of taking two steps after he took the first initial hop, it would've been good.
A lot of players get away with it because they're usually quick enough to take two small but quick steps so that the refs don't see it, but he's a big dude whose legs didn't move fast enough to sneak it past the refs that time, LOL.
-- LAKERSRIDER381
Does this mean we can now refer to LeBron as "King Crab Legs"?

-- CobyEMJ
LeBron was just too crabby to admit he traveled, so he called it a crab dribble. Simple as that.
-- vibrantchord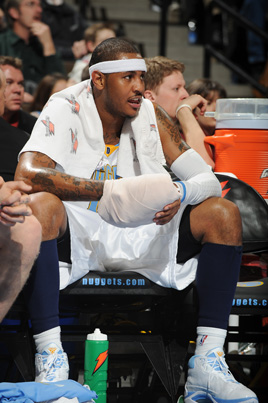 Ned Dishman/Getty Images
Carmelo Anthony scored 21 points and had a season-high nine assists despite fracturing his right hand in the Nuggets' 135-115 victory over the Pacers. He'll see a specialist Tuesday.