Nathaniel S. Butler/Getty Images
After losing the first two games against the Lakers this season, Chris Paul's Hornets came out on top.

Nathaniel S. Butler/Getty Images
Randy Foye fired in 23 points, but it was his rejection of O.J. Mayo that helped seal the Wolves' win.
Paul, West Lead New (Old) Orleans Past Lakers

LOS ANGELES -- The great thing about this city is that it's not just a place to be who you are, it's a place to be who you always wished you could be. A schedule quirk left the New Orleans Hornets in L.A. for three nights and three days -- practically enough time to join the Screen Actors Guild -- and by the time they finally got around to the business of playing the Lakers at Staples Center, the Hornets discovered they still can be what they envision. It's a group worthy of the preseason accolades reaped from achieving the second-best record in the Western Conference last season. It's a group, Hornets coach Bryon Scott said after his team beat the Lakers 116-105, that has "a lot of character. We've still got a lot of guts."
The Hornets have been confusing for much of the season. They never seemed to be playing that well, but until a loss Saturday night at Denver, they were in the select group of teams with a single digit in the L column, a circle currently inhabited by only the Lakers, Celtics, Cavaliers and Magic. Then a closer look revealed the Hornets were only 9-8 against teams with winning records, and two of those eight came at home against the Lakers.
"I thought we had to prove a point not only to them but to ourselves that we can beat this team," Scott said. "Tonight we came out and we played a lot harder. We were a lot more aggressive on both ends and we got a W."
On Tuesday, the Hornets displayed 2008 All-Stars Chris Paul and David West in all their glory. Paul wheeled and dealed for 32 points and 15 assists, with no turnovers. West matched his career high with 40 points, to go with 11 rebounds. They were missing Peja Stojakovic's marksmanship (he missed five of six 3-pointers) and Tyson Chandler's inside presence (only eight rebounds, no blocked shots). But they showed a new addition: James Posey's attitude.
Posey was guarding Kobe Bryant in the second quarter and fouled the Lakers star early on a drive, but Bryant continued to the hoop after the whistle blew, and Posey took a whack at him. That drew a technical foul from Joey Crawford. It was worth it. Posey made his point, without giving a free one to the Lakers, as Bryant missed the free throw.
"They tell the defender to stop," Posey said. "If I should stop, the offensive player should stop, as well. I wasn't allowing continuation on that.
"That's just how I play. I make my presence felt. Not just that, but throughout the course of the game. That's just how I play."
The Lakers don't have a guy like that. And the Celtics don't anymore. Keep an eye on Posey to see whether he has the same type of effect this postseason as he did in last season's NBA Finals, when he made such a lasting impression on Lakers fans that they started booing the moment he got off the bench Tuesday.
"Once he steps on the floor, he brings a different type of intensity for us," West said. "We're going to get fired up behind him. He's not going to let anything go by. He's not going to let anybody show us up. It's one of the things that he's brought to our basketball team."
West and Paul handled the scoring. West shot over or drove around taller Lakers defenders Pau Gasol and Andrew Bynum. By the fourth quarter, the Hornets were just giving him the ball on the left side and clearing away.
"Yeah, that works for me," said West, who had 15 points in the fourth.
Paul had his assortment of spins, stops and starts. He also lured Lamar Odom into chasing him into the lane, and Odom wound up hyperextending his right knee. Odom didn't play in the second half and will have an MRI on Wednesday. With the Lakers' big men struggling, it was left up to Bryant. He went off for 20 of his 39 points in the third quarter on 8-for-9 shooting, including 4-for-4 on 3-pointers, an explosion Paul called "crazy."
But he couldn't keep it up in the fourth, and no teammates came to his aid as the Hornets overcame a 99-94 deficit to win going away.
Just when the Lakers looked ready to close the shop on the Western Conference, after putting together a 15-game home winning streak, the Hornets have made things interesting again. If Odom joins the injured Jordan Farmar and Luke Walton on the sidelines for a while, the Lakers will lose their depth advantage and might see their lead in the race for home-court advantage in the Western Conference playoffs dwindle as well.
The Hornets will be one of the teams trying to close the gap. They now have won two of three road games on a trip that concludes Wednesday in Utah. They left L.A. enjoying the view of themselves.
"It did look like our team last year," Paul said.
This town is about sequels, too.
J.A. Adande joined ESPN.com as an NBA columnist in August 2007 after 10 years with the Los Angeles Times. Click here to e-mail J.A.
Dimes past: Dec. 18 | 19 | 20-21 | 22 | 23 | 24 | 27-28 | 29 | 30 | 31 | Jan. 1 | 3-4 | 5 | 6
What Is Going On With The Celtics?
By Tim Legler | ESPN.com

The Celtics woke up Christmas morning riding a 19-game winning streak and the owners of the best start (27-2) in NBA history.
What a difference 12 days can make.
The Bobcats dominated overtime on the way to a 114-106 win over the Celtics on Tuesday night -- Boston's fifth loss in its past seven games. Three of those losses -- to Golden State, New York and Charlotte -- came against teams with records worse than .500.
Is it time for Boston to panic? Not yet, but there is reason to get a little concerned. There are a lot of things going on at the same time. The Celtics are coming down off a ridiculous emotional ride. Very few teams get off to that kind of start after completing a championship run. They were riding at an emotional level that eventually was going to collapse.
Also, the freshness of the season has worn off and it's too early to start thinking about the playoffs, so they have to think of other ways to stay motivated.
They need to look over in the standings and see that they no longer have the best record in the East (percentage-wise), and if they want home-court advantage for the postseason, they need to start playing better. They began the season by winning 27 of their first 29 games, but because Orlando and Cleveland are playing so well, the Celtics didn't run away from anyone in the standings. However, when they come with the right energy and defensive intensity, they still are better than both those teams.
The Big Three all played well against the Bobcats, but there was too much isolation, and Rajon Rondo -- who hasn't played well lately -- was sloppy with the ball, committing nine turnovers. In the past, they moved the ball and got a lot of good looks, but that was not how they played Tuesday night. At the end of regulation and overtime, they kept throwing the ball to Paul Pierce or Kevin Garnett and calling on one of them to make a tough shot.
Defensively, they didn't make Charlotte work hard enough, giving up 114 points. When the starting unit gets a rest, Boston isn't getting enough from the bench guys. The Celtics are starting to miss James Posey's contributions off the bench because now they don't have anyone coming in who can impact the game. They need someone to come in and give them an energy boost.
You have to give Charlotte credit. The Bobcats play hard every night and don't mail in games. When you come to Charlotte, you have to give it all you've got for 48 minutes. The Bobcats keep themselves in games by going after every loose ball, and they really compete and play with pride. Raymond Felton (25 points Tuesday) and D.J. Augustin (20) have found a nice rhythm and are getting it done for the Bobcats.
As for the Celtics, although they won't play at the level they did earlier in the season, they will be fine. They don't want to be one-and-done. They want a greater legacy than that. Celtics president Danny Ainge needs to add something to their bench -- someone who can score when the first unit sits.
ESPN analyst Tim Legler is a regular contributor to the Daily Dime.
Gordon Continues To Drop Buckets For Clippers
Elias Sports Bureau

Eric Gordon scored 32 points Tuesday, giving him 129 over his past five games. That's the most points by any Clippers rookie in a five-game span since the team moved from San Diego to Los Angeles. The last Clippers rookie with as high a five-game total as Gordon was Terry Cummings in March 1983.
By Maurice Brooks
ESPN.com

TUESDAY'S BEST
David West, Hornets
: Kobe Bryant was good and Chris Paul was even better, but the biggest difference-maker in the Hornets' win over the Lakers was West, who matched his career high in points with 40 and pulled down 11 rebounds.
---

TUESDAY'S WORST
Andres Nocioni, Bulls
: Even though the Bulls beat the Kings, Nocioni gets this spot because he squeezed off 11 shots in just 12 minutes of action and missed 10 of them on the way to a three-point performance.
---
QUOTE OF THE NIGHT
"They come in and intimidate you and try to punk you. But if you don't back down from them, they kind of fold."
-- Bobcats rookie guard D.J. Augustin on the Celtics' style of play
Time For Nonsense From N.Y.
By John Hollinger | ESPN.com

The trade deadline is approaching, which means it's RRENY season (RRENY, of course, stands for Ridiculous Rumors Emanating from New York). For starters, an alleged three-way deal between Portland, the Knicks and the Clippers involving David Lee and Marcus Camby was emphatically shot down by two of the three teams. And that wasn't even the worst one: A story in the New York Post claimed that Portland would be interested in Eddy Curry.
Riiiiiiiiight.
Let's see. Portland has two behemoth centers already (Greg Oden and Joel Przybilla), and there's zero chance either of them would shift to power forward. At best, Curry would be Oden's backup, where he'd be making $10 million a year for three more seasons, with an uninsurable deal. He'd be on a team that wins entirely by spacing the floor and shooting jumpers, but he's only effective if he's being force-fed in the post. He's also out of shape and would kill their cap space in 2010.
Basically, I can't imagine a single player who the Blazers could possibly have less interest in. Pick anyone, and I mean literally anyone -- Jerome James, Tim Thomas, Stephon Marbury, you name it -- and it makes more sense for the Blazers than Curry.
• Read all five Hollinger Insider Gems.
Checking In With Dick Vitale

Dick Vitale is excited to be doing an NBA game and probably will go out and get autographs from guys. As for college hoops, he still thinks North Carolina is the best team in the country.
Tirico & Van Pelt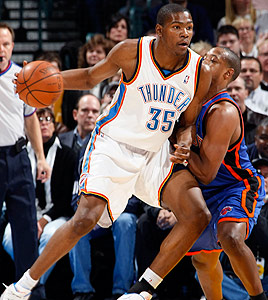 Layne Murdoch/NBAE/Getty Images
The future is bright for Oklahoma City. Kevin Durant and Jeff Green each scored 27 points and Russell Westbrook added 22 as the Thunder slid past the visiting Knicks 107-99.