Noah Graham/NBAE/Getty Images
Dwyane Wade fired in 27 points, but it was Kobe Bryant and the Lakers who escaped with the victory.

Ron Turenne/Getty Images
Kevin Garnett, who scored 10 in Boston's win against Toronto, needs 13 more for 21,000 in his career.
Bryant, Wade Go Head-To-Head in Battle of All-Stars

LOS ANGELES -- This was the rare truth-in-NBA-superstar matchup hype. Kobe Bryant and Dwyane Wade really did go head-to-head, as proven postgame when Bryant sported four stitches under his right eyebrow and Wade held an ice bag against his dome.
That was the result of a bump when Bryant reached in to knock the ball away from a driving Wade in the fourth quarter. And it was indicative of just how intense this matchup was.
"That's what it's all about," Wade said. "That's what you play for, the matchups."
The dynamic of this one has changed over the years; testy at times, but now simply a matter of mutual respect after they spent the summer together on the Olympic team.
"Early on we didn't have a relationship because of the whole Kobe-Shaq drama," said Wade, dragged into it by Shaquille O'Neal's trade to Miami that brought out the inevitable 2-guard comparisons. "Over time we built the relationship; of course the Olympics, you get to respect somebody and know their family. I get Christmas cards, Thanksgiving cards from Kobe and his family all year. It makes it more competitive."
So often we hear about X vs. Y, when really it's just a matter of them being on the court at the same time. This was guys actually going at each other for a change.
Of course, if NBA marketing is about superstar matchups, NBA strategy is all about mismatches. Bryant has the luxury of a taller, deeper (even without Lamar Odom, Jordan Farmar and Luke Walton) squad, which is why the Lakers prevailed 108-105. With Andrew Bynum scoring 24 points and Pau Gasol grabbing 18 rebounds (eight offensive) against the undersized Heat frontline, Bryant reverted to the role he played on the Olympic team this summer, concentrating on defense, going into what he referred to as "lockdown corner" mode against Wade while scoring a pedestrian 19 points.
"Part of my responsibility to this team is to try to do what it takes on any given night, to ensure victory for our ballclub," Bryant said. "And that includes chasing him around."
Or as he said in a more brutally honest moment: "Who else was gonna do it?"
When he's motivated, as he was with Wade in town, Bryant can be one of the best on-ball defenders in the game. When it's a player he doesn't respect as much, Bryant will stray, leave his man open, give up open jumpers.
Wade's defensive success comes from jumping into passing lanes or coming from the weak side to block shots.
Wade, whose services were needed to both initiate and finish for the Heat on offense, only reciprocated the star-guarding duties in the first half. He scored 27 points -- more than half while Bryant was out of the game -- and had nine assists.
Bryant took only one shot in the first quarter (a 3-pointer he made), while dishing off six assists. On defense he was up in Wade's jersey, forcing Wade to use every bit of his All-Star skills to get six points in the opening quarter. It wasn't a coincidence that Wade went on a mini-spree in the second quarter, checking into the game and scoring seven points in less than a minute while Bryant was on the bench. Bryant came back in and held Wade to two more points until halftime.
Wade was at it again in the fourth quarter, like a racer staying on the road to gain a lap while everyone else makes a pit stop, with another minute-long seven-point outburst in the fourth quarter while Bryant was out.
"I hesitated to play Kobe too many minutes in the course of the game because he was working really hard defensively, I thought," Lakers coach Phil Jackson said. "So I held on as long as possible before putting him back in the fourth quarter so he could finish the game."
Indeed, once Bryant returned, Wade didn't score again in the final seven minutes. Wade turned into a setup man for Michael Beasley, finding him for an alley-oop, a 3-pointer and a jumper, part of a 16-point fourth quarter from Beasley that kept this game undecided until the final seconds. That's one responsibility Wade has that Bryant doesn't: the task of bringing up a young No. 2 overall draft pick.
Sometimes Wade has to be the schoolteacher, as he was when Beasley was still bouncing around while it was time for the Heat to take the court before a recent game in Miami.
"Come on, Mike," Wade scolded him, and Beasley got in line.
Beasley traveled on a fourth-quarter possession Sunday night and Wade just shook his head. But Wade kept giving him the ball and getting results.
"He's been coming along," Wade said. "It was a slow process early, but as he's figured out his role and figured what we need from him he's been more comfortable in his role."
Wade is helping him learn, just another duty that shows he is having the best all-around season of anyone in the league. Kobe has been the man among boys before, in his first two years without O'Neal, while Wade was in the process of winning a championship with the Big Fella in South Beach.
They have compared from afar, they have played alongside, and for one night they went head-to-head.
Literally.
J.A. Adande joined ESPN.com as an NBA columnist in August 2007 after 10 years with the Los Angeles Times. Click here to e-mail J.A.
Dimes past: Dec. 24 | 27-28 | 29 | 30 | 31 | Jan. 1 | 3-4 | 5 | 6 | 7 | 8 | 9 | 10-11
Where Does Shaq Want His Jersey Retired? Staples Center
By J.A. Adande | ESPN.com

LOS ANGELES -- Among the many things Shaquille O'Neal likes to take credit for is the construction of Staples Center, which was completed after his third season with the Lakers. As he yelled to Snoop Dogg in Shaq's first game back with the Miami Heat, "I built this [expletive]!"
It was hard to escape Shaq's legacy at Staples Center on Sunday. He was in town with the Phoenix Suns to play the Clippers in the afternoon game, and the evening featured a matchup of his former teams, the Lakers and Miami Heat. When I reminded Shaq of this unique confluence he went around the Suns' locker room shaking hands as if he'd just won an award. If it's rare for such a superstar to play for four teams (can it really be almost 13 years since he left Orlando?) it might be an even greater oddity that none of the four is a guarantee to retire his jersey when he's done.
Orlando was his first team, the place where he wreaked havoc on backboards and produced his greatest highlights (such as, say, these) a franchise he led to the only NBA Finals appearance in its history. Yet he also left the Magic in the lurch, the most significant free-agent departure in NBA history.
Shaq had his best years in Los Angeles, winning three consecutive championships and his lone Most Valuable Player award. But this breakup was even more acrimonious, an inevitable result of his feud with Kobe Bryant, a departure further sullied by cheap shots he took at owner Jerry Buss and the city of Los Angeles.
He was a big part of the Heat's first NBA championship; then his body broke down and Miami shipped him out to the desert, after which more critiques of his former team followed.
Shaq instantly became the best center in the Suns' big-man-deficient history, even at this late stage of his career. He hasn't done enough to warrant a ceremony there (although he does deserve to play in the All-Star Game at USAirways Center next month). That would be like thinking of Ice Cube as representing the Westside Connection instead of N.W.A.
So where would Shaq prefer to have his giant jersey hang?
"Hopefully it'll be here," he said, walking through the hallway in Staples Center. "I was part of the greatest one-two punch in Laker history. Hopefully they still remember that.
"In a perfect world, I have four teams, I'd be the first guy standing there with all four jerseys, number retired in all four places. It's not something I really think about. If I had my first wish, it would be here. Because when I first came here, I made the statement I would love to have my name next to Kareem and those greats."
The phrase O'Neal used to use was "I want to be on both sides of the Forum", meaning the wall where they hung the championship banners and the wall where they hung the retired numbers. The team's venue has changed. The sentiment hasn't. At some point he and the Lakers will have to put their differences aside and do the right thing. Three championships are three championships.
Magic See 20-20-20 Against Spurs
Elias Sports Bureau

Dwight Howard (24), Jameer Nelson (22) and Hedo Turkoglu (21) all topped the 20-point mark in the Magic's 105-98 victory over the Spurs. It was only the second time in the past five seasons that three visiting players scored more than 20 points in the same regulation game against the Spurs. The only other trio to do so during that time -- Gilbert Arenas (31), Antawn Jamison (26) and Caron Butler (21) -- did it in a losing effort (Spurs 106, Wizards 99 on April 1, 2006).
By Maurice Brooks
ESPN.com

SUNDAY'S BEST
Ray Allen, Celtics
: With Boston riding a four-game losing streak, Allen's hot shooting put an end to the slide. He erupted for a season-high 36 points, including eight 3-pointers, against Toronto.
---

SUNDAY'S WORST
Kevin Garnett and Glen Davis, Celtics
: It's a good thing that Allen (11-for-14) shot the ball so well, because Boston's two power forwards both struggled from the floor. Garnett was 3-for-16, while Davis was 1-for-12. On the positive side, they combined to grab 22 rebounds.
---
QUOTE OF THE NIGHT
"He was right there, and I thought if I took a dribble, I would mess up my rhythm. I was already locked in at that point. We were going to win or lose with that shot."
-- Warriors guard Jamal Crawford after hitting the go-ahead 3-pointer over the Pacers' Danny Granger with 11.3 seconds remaining
Miles Healthy Enough to Play
By John Hollinger | ESPN.com

Here's the thing about the Darius Miles drama: The Blazers were granted a medical retirement on the premise that Miles couldn't play anymore, and it's clear that he can still play.
I watched Tuesday's Memphis-Minnesota game, in which Miles played seven minutes in the second quarter, and whatever you might think of his game, it was clear he wasn't hurting too much. Miles got up and down the court comfortably, was able to make all his rotations defensively and at one point flew across the lane to swat away a Randy Foye drive in transition.
I have no idea if he's still an NBA caliber-player -- he looks heavier and slower, and one kickout to him produced the very familiar sight of Miles bricking a 15-footer. But it's clear that he's physically able to play, and that was the alleged reason Portland got a cap exemption in the first place.
• It's pretty clear the Bucks miss Andrew Bogut a lot more than they miss Michael Redd. Milwaukee navigated pretty well through Redd's early-season injury, but watching them without Bogut on Wednesday was cringe-inducing.
Milwaukee's backup centers, Dan Gadzuric and Francisco Elson, flubbed countless offensive opportunities when they had catches (or dropped catches) near the bucket, chances one has to think Bogut would have put away. Gadzuric actually has decent numbers this season; it's his deficient D that usually gets him in trouble. Elson is the better defender, but his 6.35 PER is D-League material.
Bogut has sat out the past three games with back spasms, so the Bucks had better hope that's all there is to it and that he's back soon. He's not a star, but because of what's behind him, he's very valuable.
• Read all five Hollinger Insider Gems.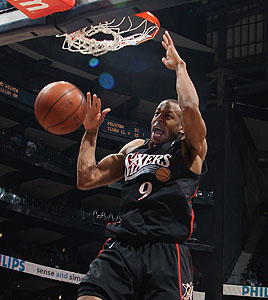 Scott Cunningham/NBAE/Getty Images
Andre Iguodala scored 27 points for the Sixers, who pulled away from the Hawks in the final period of Sunday's 109-94 victory. Philadelphia has won four in a row.
Clippers Fall Short … Again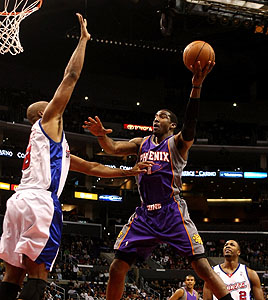 Stephen Dunn/Getty Images
Amare Stoudemire fired in 26 points to lead the balanced Suns to a 109-103 win over the Clippers. It was the 11th straight loss for L.A.