Jeff Zelevansky/NBAE via Getty Images
If it's January, people must be talking about dealing Thunder point man Earl Watson.

Brian Babineau/Getty Images Contributor
Kevin Garnett and Boston were able to take the season series from Chris Bosh and the Raps, 4-0.

Lawrence Jackson/AP Photo
Bucks big man Charlie Villanueva kept Darius Songaila and the Wiz off the boards in a 97-91 win.
Who's Available In OKC Corral? His Name Is Earl

EAST RUTHERFORD, N.J. -- Let's all play GM for a minute. We'll pretend we're running the worst team in the NBA.
At our disposal is a player who's ranked 15th in the NBA in assists. He's a seven-year veteran who has been considered a rock-solid backup throughout his career, although he was a starter in 73 of his 76 appearances last season.
After notching another nine assists Monday night in a 103-99 overtime loss to the New Jersey Nets -- a total that easily could have been a dozen or more if the Oklahoma City Thunder had knocked down several open jumpers -- that particular point guard has tallied 20 dimes in his past two games.
What's more, that particular point guard is teaching some of the more subtle tricks of the trade to the player who has replaced him in Oklahoma City's starting lineup, the far-more-speedy but far-more-erratic Russell Westbrook.
So even though the franchise's long-term plans do not call for keeping him around, there has to be somebody out there who will offer something approaching fair value for Earl Watson, no?
Well, apparently not.
A three-team trade that was discussed between Dallas, Charlotte and Oklahoma City would have included Watson's being dealt to Charlotte with the Thunder receiving only a second-round pick and Jerry Stackhouse in return. (The other main pieces of the trade, according to ESPN colleague Marc Stein, included Raymond Felton, Sean May and Nazr Mohammed heading to Dallas, and DeSagana Diop moving from the Mavs to the Bobcats.)
Odds are that Stackhouse would have been bought out (he is guaranteed only $2 million of his $7 million salary next season), so Oklahoma City would realize a $4.6 million savings in 2009-10 -- along with whatever money would have been thrown into the deal as a sweetener.
And that, folks, is apparently the best Thunder general manager Sam Presti can do -- at least for now. (We expect better from Sam the Wunderkind, who set the bar pretty high when his first major deal sent a second-round pick to Phoenix for Kurt Thomas and two first-round picks -- both unprotected).
"I think what it tells you is that as we get to the deadline, we're going to see a ton of deals that are solely financially driven," said one league executive with knowledge of the Thunder-Mavs-Bobcats discussions. "Teams are cutting the bottom line, especially in light of the economy [and] the fact that the cap might stay flat this year and go down the following year, which means the luxury-tax number will go down, too. If you have escalating deals and a de-escalating tax, that's the trend you're going to see."
The Thunder's nucleus consists of only three long-term certainties -- Kevin Durant, Jeff Green and Westbrook, with the jury still out on Nick Collison. Oklahoma City has stockpiled five first-round picks in the next two years (their own in 2009 and 2010, Phoenix's unprotected 2010 pick and Denver's and San Antonio's 2009 picks), so the rebuilding process will remain in place long after Watson is moved.
There's a saying in NBA circles that if it's January, there must be an Earl Watson trade rumor out there somewhere. The 6-foot-1 point guard from UCLA has been the subject of trade rumors virtually every season he has been in the league since Seattle took him with the 40th overall pick of the 2001 draft, although he has been traded only once -- as part of a four-team deal in 2006 in which he went from Denver back to Seattle.
"He's been in the league and knows the players he's guarding, their tendencies. He's heady, he plays extremely hard, and the last couple games he's really kept us steady and given us a chance to win," Thunder coach Scott Brooks said. "You get better by practicing hard against your teammates, and Russell is getting better because he's practicing against Earl every day."
Watson would seem to be a perfect fit for two of the top teams in the NBA, the Los Angeles Lakers and Boston Celtics, both of whom are seeking depth at point guard. But Los Angeles has nothing to match Watson's salary ($6.2 million) that would be of interest to Oklahoma City, nor does Boston -- at least nothing that matches up salarywise.
With the three-team deal between the Thunder, Bobcats and Mavericks apparently dormant, other trade possibilities are bound to pop up between now and the trade deadline.
But can Presti receive more than a second-round pick and some financial relief?
Well, if you are playing GM the same way I am, the best option seems to be to wait another five weeks, wait for a better offer and let Watson keep doing what he's doing. Eventually, someone will get him on the cheap. But the guess here is that the selling price will be a little higher than it was when the Thunder were ready to let the trade to Charlotte go through, especially if Watson keeps averaging 10 assists as he has the past two games.
And Watson's thoughts?
"I talked to [agent] Dan [Fegan] and I told him: 'Don't call me unless I'm moving.' We talk about everything, but when it comes to that, I don't want to hear about scenarios, because then you get into the waiting game."
Still, Watson has to be waiting -- yearning, actually, for the sake of his own pride -- to hear he's at least worth more than a second-round pick and some cap relief.
The next six weeks will show whether he is.
Chris Sheridan covers the NBA for ESPN Insider. To e-mail Chris, click here.
Dimes past: Dec. 27-28 | 29 | 30 | 31 | Jan. 1 | 3-4 | 5 | 6 | 7 | 8 | 9 | 10-11 | 12
Two Guys From Buffalo Are No. 1
By Wayne Drehs | ESPN.com


CHICAGO -- They are an odd couple in professional sports, one of them a 7-foot, 285-pound NBA center, the other a 5-foot-10, 175-pound NHL right winger. One of them is black, the other is white. One of them looks like he's eligible for Social Security, the other doesn't look old enough to drive.
And yet Greg Oden and Patrick Kane have more in common than one might think. They are both 20 years old. They were both born in Buffalo. And they were both drafted with the No. 1 overall pick in the summer of 2007, Kane by the Chicago Blackhawks and Oden by the Portland Trail Blazers.
But here's where it gets interesting: According to the Elias Sports Bureau, dating back to 1970, they are the only pair to be born in the same city and drafted No. 1 overall in any of the four major sports in the same year.
So as strange as it may have seemed Monday night to see Kane standing next to Oden, the hockey player barely coming up to the chest of the basketball player, there was good reason for it. Ever since Oden and Kane were drafted No. 1 overall, four days apart in June 2007, Patrick Kane Sr. had hoped to get the two together.
Oden, who said he had never before met a No. 1 overall pick in any sport besides basketball, was impressed. The 7-footer was born in Buffalo but moved to Terre Haute, Ind., with his mother and younger brother when he was 9. Like Kane, he returns to Buffalo each summer to visit his family. But although he had been aware of the connection between him and Kane since 2007, the two had never met before Monday.
"I knew of him, but I didn't realize he was such a big deal," Oden said. "I didn't realize he made the All-Star team and was having so much success. He's a cool dude.
"It's pretty special for us to both be from Buffalo and be able to say that, at the time, we were the No. 1 pick. It speaks to how hard we both worked that we both earned that No. 1 spot."
•
For the full Wayne Drehs story, click here.
Elias Sports Bureau

The Knicks had 30 assists on 39 field goals Monday. It's the third time this season the Knicks have gotten an assist on at least 75 percent of their shots from the floor in one game. They did not do that in a single game the previous two seasons.
By Andrew Ayres
ESPN.com

MONDAY'S BEST
Mehmet Okur, Jazz
: Okur dropped a career-high 43 points on the Pacers (13 of 19 field goals, 14 of 15 free throws) in a 120-113 win over the scoring spree that is Indiana hoops. The Jazz hold a half-game lead over the Mavs for the final Western Conference playoff spot.
---

MONDAY'S WORST
Caron Butler, Wizards
: Butler scored six points on 2-for-13 shooting in a 97-91 loss to the Bucks. He has shot just 27 percent in the Wiz's past four games, all losses. The Wiz have seven wins and are hearing footsteps of the Thunder (six W's) in their bid not to be the NBA's total dregs.
---
QUOTE OF THE NIGHT
"Don't you get the feeling like we've seen this movie before? We're like a writer with writer's block. We can get the first couple of chapters written fairly efficiently and fairly well, but getting to the ending -- we just can't seem to write the correct ending."
-- Wizards interim coach Ed Tapscott, whose team typed and then deleted a fourth-quarter lead for the 12th time this season
By John Hollinger | ESPN.com

A very interesting article in Monday's (Portland) Oregonian pointed out how the Trail Blazers have changed their travel habits to accommodate the players' sleep needs. I predict that in five years, every team in the league will copy Portland in this regard, although the change is particularly important for a far-flung team like the Blazers that makes so many long flights and time-zone changes.
In a way, it's amazing it has taken this long for a team to start implementing time-zone strategies. In particular, the early-morning or seriously late flight times mentioned in this story amaze me. Anyone who covers the league has dealt with these issues and quickly developed a passion for flying at midday whenever possible instead of shorting his sleep with an early-morning flight. Why an NBA team that has its own charter plane would willingly shortchange its sleep is beyond me.
• Read all five Hollinger Insider Gems.
ESPN Research

Tim Duncan was drafted with the first overall pick in 1997. He has played his entire career for the Spurs under Gregg Popovich. That's 860 games with one coach. Only four players in NBA history have played more games for one coach.
Most Games With One Coach, NBA History

Name
Games
Coach
Karl Malone
1,172
Jerry Sloan
John Stockton
1,159
Jerry Sloan
Bob Cousy
917
Red Auerbach
Alvan Adams
880
John MacLeod
Tim Duncan
860
Gregg Popovich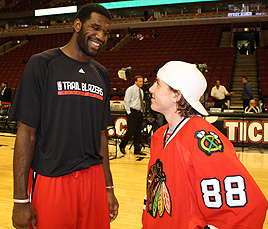 Wayne Drehs/ESPN.com
In a meeting of the 2007 No. 1 picks from the NBA and NHL, Blazers center Greg Oden and Blackhawks winger Patrick Kane talked about their shared Buffalo roots (see Box 2).