Bill Baptist/Getty Images
Starting for the injured Tracy McGrady, Von Wafer fired in a career-best 23 points for the Rockets.

Barry Gossage/Getty Images
Shaquille O'Neal posted 26 points, 10 rebounds and 3 blocks to lead Phoenix to its third straight win.
To Reach the Next Level, the Rockets Need McGrady

HOUSTON -- Tracy McGrady wasn't there. And yet he was everywhere.
In Houston's first game after announcing its star guard would be out for at least two weeks to work on a sore knee (and, many suspect, a bruised psyche), the Rockets made two things abundantly apparent: First, that they have enough talent to compete with anyone, even without McGrady ... and second, that they have no chance of beating the West's elite unless he's there.
Playing without both McGrady and Ron Artest, Houston gave the Western Conference-leading Lakers everything they could handle for three quarters on Tuesday before ultimately falling short 105-100 before a Toyota Center-record crowd of 18,557.
Amazingly, the Rockets didn't seem to miss their two key perimeter scorers much in the first three quarters. Houston scored on its first six trips and shot 60 percent for three quarters, and Yao Ming destroyed Andrew Bynum in the paint, outrebounding him 17-1.
But after being outscored through three quarters 23-20 by Von Wafer -- you know, the Von Wafer -- Kobe Bryant took over the game in the fourth. He pitched a 13-0 shutout on his opposing number in the final stanza that included a game-winning 3 with Shane Battier "right in his grill," helping the equally injury-riddled Lakers overcome a rough night from Bynum.
Meanwhile, Houston didn't have a go-to guy around to answer Bryant's charge. After several weeks of timid play, McGrady and the Rockets agreed he'd sit out for at least two weeks and basically pretend it's the offseason, working on strength and conditioning in order to get him fresh for the stretch run and, hopefully, easing some of the pain in his surgically repaired knee.
"I looked back on some of the film; it was hard," said McGrady before the game. "Some of those games I had some fast breaks [where] I was actually petrified at times to go to the basket or to have a fast break and to jump off my leg. I was. I'm not ashamed to admit that.
"I'll go back to my old regimen in the summertime. I will act like it's July, go to the track and do my normal offseason workout. I've already started that."
Of course, some would argue T-Mac started acting like it was July several weeks ago -- part of an ongoing is-this-guy-really-hurt-or-is-he-just-a-wimp debate that is impossible to know the answer to without spending some quality time inside McGrady's knee. Houston seemed ready to move on without him before the game, with Rick Adelman declaring it was time to worry about the players who were there and healthy, but that would have been easier if the Rockets hadn't been reminded so clearly of T-Mac's absence down the stretch.
Bryant matched Houston's total with 11 points in the final 6:16, the final three putting the Lakers up 102-100 with 27 seconds left, and that's when things unwound for Houston. Rafer Alston missed two foul shots that could have tied the game, but the Rockets were down by three with seven seconds left and got another chance to tie.
Instead of going to McGrady and relying on him to make the right decision, the ball went to Aaron Brooks in the corner, who couldn't escape and threw it inside to Yao Ming, who turned, surveyed his options, and then let nearly the entire clock expire before missing a meaningless two-pointer with one second left.
It was amazing the Rockets were in this game at all given some of the ragtag lineups they employed. With McGrady, Artest and Luther Head all sidelined, Carl Landry was pressed into service as a small forward and played the bulk of crunch time there. Brooks was guarding Trevor Ariza for much of the second quarter, Brent Barry took a shift guarding Bryant, and we had our first Dikembe Mutombo sighting of the year when he played for four minutes in the first half.
But the Lakers had to grind this one out as well. Bryant had to serve as the backup point guard since Sasha Vujacic and Jordan Farmar were out; Lamar Odom returned and gutted out a 10-point effort on a sore knee after a scoreless first half; and little-used subs Sun Yue and Josh Powell both saw some burn in the second half.
The difference-maker, in the end, was Bryant's presence, and McGrady's absence.
"I think it's just need," said Lakers coach Phil Jackson of Bryant's late-game heroics. "I think it sends him to another level."
"I'll take that shot every day of the week," said Battier. "That's probably the least efficient shot you can give him on any given Kobe possession, a 35-footer with a hand in his face. That speaks to his talent."
Meanwhile, the Rockets left the arena appreciative of a strong team effort, yet knowing that moral victories weren't going to cut the mustard in a cutthroat Western Conference playoff race.
And while no sane person would count Houston out -- not after what the Rockets did in the second half last season -- it's abundantly clear what they lack without their top playmaker. Houston took only eight foul shots all night, one of which came on a technical foul, and mustered just 18 points in the fourth quarter.
Thus, Tuesday cemented that the Rockets find themselves in a very strange dilemma moving into the second half of the season. Yes, they're capable of winning it all if they ever get healthy. But there's only one guy who can take them to the next level, and they're not sure he's interested in doing it.
John Hollinger writes for ESPN Insider. To e-mail him, click here.
Dimes past: Dec. 29 | 30 | 31 | Jan. 1 | 3-4 | 5 | 6 | 7 | 8 | 9 | 10-11 | 12 | 13
Next Time Miles Plays, Blazers Lose Big
By Andrew Ayres | ESPN.com

Cancel that order for a Hoveround power chair. And move all those threatening e-mails from LMiller@realbitterblazer.com to the spam folder.
Darius Miles is clearly no longer "medically unable to play."
The former Trail Blazer had 13 points in 12 minutes of action in the Memphis Grizzlies' 102-87 loss Tuesday at the hands of the Cleveland Cavaliers. He made 4 of 6 field goal attempts and sank 5 of 7 free throws.
Most importantly, if the 27-year-old forward plays Friday against the visiting Jazz (or any other game, for that matter), he'll hit the magic threshold -- 10 games played -- that revokes his status as "medically unable to play."
That means his $9 million salary for this season and next will go back on Portland's salary cap, making the Blazers a luxury tax-paying team this season and depriving them of $9 million in cap flexibility they would have had next summer.
Miles has played in nine games -- six preseason games for the Boston Celtics, then three regular-season games for the Grizzlies. Miles has not played for Portland since surgery on his right knee in November 2006. Blazers president Larry Miller e-mailed the other 29 teams last week and threatened legal action if Miles was signed.
Memphis did it anyway. The Grizzlies visit Portland on Feb. 18.
Miles Ahead: When the Bell May Toll for Portland's Cap Dreams
Date
Opponent
Challenge
Friday
Utah
Avoid vegan ninja squad and giant bear trap FedEx'd courtside from Portland
Monday
Detroit
Ignore Blazers fans holding candlelight vigil for their lost cap room
Jan. 21
at Charlotte
Duck angry Blazers mob when you announce pregame that you're retiring
Jan. 23
at New York
Inform Knicks not to try the ol' "Marbury is medically unable to play" ruse
TrueHoop: Do Referees Get Down About Blown Calls?
By Henry Abbott | ESPN.com
My question is: Do you think that a referee feels any responsibility for the outcome of the game?
When the referee goes over the tape of the game, which he should do, does he feel any responsibility for the blown call, and the effect it had on the outcome? I doubt many refs look at this blog, but if one does, I would love a response. However, I do know what one supervisor of officials in a college conference once told me when I was in a discussion with him about officiating. He told me that "no ref has ever been responsible for winning or losing a game."
That statement has bothered me for a long time.
• To read the entire TrueHoop blog, click here.
By Maurice Brooks
ESPN.com

TUESDAY'S BEST
Orlando Magic
: It was raining 3-pointers in Sacramento as the Magic established an NBA record for triples in a game by making 23 in a rout of the Kings. The old mark of 21 was set in 2005 by the Toronto Raptors.
---

TUESDAY'S WORST
J.R. Smith, Nuggets
: Maybe he's more comfortable coming off the bench. Plugged into the starting lineup for injured forward Carmelo Anthony, Smith went 1-for-14 from the field for two points.
---
QUOTE OF THE NIGHT
"I think Jason [Terry] was right there trying to contest the shot and he kicked his leg out. The league told us that once you kick your leg out this season, it's automatically an offensive foul. It was a tough one to swallow."
-- Mavericks forward Dirk Nowitzki, who scored 44 points, on the Nuggets' Chauncey Billups, who drew a late foul on Terry that led to the winning free throws
What's Going On With Tyson?
By John Hollinger | ESPN.com

I've been getting a lot of "what's up with Tyson Chandler" e-mails lately, and I'm not really sure what the problem is ... but clearly he seems a little off. At first I wondered if it was exhaustion, since the Hornets have little depth and Chandler had a fatigue issue in Chicago, but he's playing only 31 minutes a game, so fatigue seems an unlikely explanation for his struggles.
Whatever it is, he's not playing anywhere close to last season's level. It's most notable on the boards, where he's nearly three rebounds per 40 minutes off last season's pace, but he's also down to 54.9 percent from the floor. The latter mark might partly be a result of the Hornets' continued masochistic plot to give him post touches, but it doesn't explain why he's scoring two points per 40 minutes less.
Certainly, the Hornets need him near peak efficiency to avoid embarrassments like Monday's 101-95 home loss to the Knicks, in which David Lee had a field day in the paint against Chandler and the Hornets, while Chandler had a relatively quiet 10 points, 12 boards and three turnovers, with no free throw attempts or blocks. The Hornets came into this season expecting to challenge for the top spot in the West; as things stand now, the Playoff Odds suggest they might not even host a first-round series, and part of the reason has been Chandler's unexpected struggles.
• Read all five Hollinger Insider Gems.
Pistons Can't Protect Big Lead
Elias Sports Bureau

Detroit led Charlotte by 10 points in the third quarter on Tuesday night, but the Bobcats rallied to win 80-78. Last Wednesday in Portland, the Pistons also lost a game in which they held a double-digit lead in the second half. It had been more than seven years since the Pistons, within a span of one week, lost two games in which they led by 10 or more points after halftime. They did that in November 2001 against Philadelphia and Atlanta.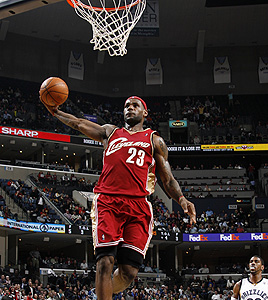 Bill Baptist/Getty Images
LeBron James recorded the 19th triple-double of his career and his second this season, finishing with 30 points, 11 rebounds and 10 assists in the Cavs' win against the Grizzlies.