Nathaniel S. Butler/Getty Images
Bayless had only scored 53 points in his previous 18 games as a pro. Thursday, he dropped in 23.

Garrett W. Ellwood/Getty Images
The Suns lost 119-113 in overtime to the Nuggets to fall to 2-5 when Shaquille O'Neal doesn't play.

Gary Dineen/Getty Images
During one stretch of Thursday's loss to the Bulls, the Cavs' LeBron James missed 13 straight shots.
Bayless, Not Oden, Is Rookie To Lead Blazers Past Nets

EAST RUTHERFORD, N.J. -- Having a breakout NBA game felt better than making a hole-in-one in golf. In fact, it felt better than making two holes-in-one.
That was the opinion of Jerryd Bayless, and he knows of that which he speaks.
There are three distinct athletic exploit memories that'll forever stick in Bayless' head, the third of which happened Thursday night as the rookie third-string point scored a career-high 23 points in a 105-99 victory over the New Jersey Nets.
"I'm a basketball player, so I think I have to say this is a better feeling. Golf is something I rarely do, I used to do it a lot with my father when I was younger, but I really don't do it anymore. Playing in the NBA and having a good game here is something I'd much rather have than that."
The notion of Bayless being more of an impact player for the Blazers than Greg Oden would have seemed preposterous as recent as a couple days ago, back when Steve Blake was putting together his best stretch of games all season and Bayless was riding the pine, pressing more than producing in the scant playing time he was receiving behind Sergio Rodriguez.
But when Blake suffered a shoulder separation Wednesday night in Philadelphia and flew back to Portland on Thursday (he is expected to miss 7-10 days, coach Nate McMillan said), Bayless knew he was going to get his opportunity.
He came off the bench behind Rodriguez, but he was on the floor for the final 9:08 of a fourth quarter in which he scored 11 of Portland's 37 points.
It was an overall performance so rock-solid and steady (6-for-9 from the field, 11-for-11 from the line) that McMillan said he'll consider moving Bayless into the starting five Saturday for Portland's final stop on this four-game road trip, in Charlotte.
But whether McMillan can coax a little more out of one of his permanent starters, Oden, will likely remain a more pressing concern for the Blazers over the long haul. Oden sat the final 18 minutes of the second half and finished with just two points and one rebound in 13 1/2 total minutes of playing time, his second consecutive exceedingly underwhelming performance.
Oden was thoroughly outplayed by New Jersey's Brook Lopez (17 points, six rebounds, two blocks) when the two were on the court together, although Lopez was unable to do much of anything defensively against LaMarcus Aldridge in the fourth quarter when he (eight points), Travis Outlaw (nine points) and Bayless carried the bulk of the offensive load.
"For me, I want to be out there. I want to help the team, I want to contribute. But a lot of time, with matchups against quicker five men that are really four or three men, a lot of times that doesn't really work, and it's not my day," Oden said.
Oden's inconsistency has been one of the hallmarks of his delayed rookie season. He leads the team with 11 double-doubles, but this was the 12th game in which he scored four points or less, and this was the fourth time that he grabbed just a single, solitary rebound.
Asked what he tried to do Thursday to avoid a repeat of his dud the previous night, Oden said: "I thought it was play with some energy, try to be more lively out there, try to get this team some pep in my step. But I tried doing that tonight, got a couple of fouls, and there it goes."
Instead, the energy came from a 20-year-old who had accounted for a total of only 53 points in his previous 18 games, a player whose first taste of sudden success came half a lifetime ago when he was a 10-year-old standing in the tee box of a par-3 at the Mountain Shadows resort, watching the flight of a small dimpled orb as it sailed straight toward the flag 120 yards away.
"I hit it, and it was one bounce and in. It hit the flagpole and went in. The second one was with my friends in high school. One of my boys, his dad worked at a course in Chandler, and we went out there messing around and decided to play nine. It was a par-3 again, I just hit it, and this one rolled in. But I didn't turn that one in. I didn't get the plaque for that one, but I did have to buy the Gatorades."
Now, Bayless has a new memory that'll stay as clear in his head as those old ones -- the memory of the night when he wasn't just wearing an NBA uniform, but became an NBA player.
Chris Sheridan covers the NBA for ESPN Insider. To e-mail Chris, click here.
Dimes past: Dec. 29 | 30 | 31 | Jan. 1 | 3-4 | 5 | 6 | 7 | 8 | 9 | 10-11 | 12 | 13 | 14 | 15
TrueHoop: Do You Have Any Creative Dunk Ideas?
By Henry Abbott | ESPN.com

Joe Alexander's people promised yesterday that if he makes the NBA's Dunk Contest, he will deliver two never-before-seen, gimmick-free dunks.
And I thought: What's wrong with gimmicks?
I thought Dwight Howard's sticker dunk was a highlight of that contest in recent years.
Aaron Barzilai of BasketballValue.com has an idea for a dunk that would be extremely tough. But it would bring the house down if somebody could pull it off.
He describes the move:
The dunker puts a digital camera (instead of a cupcake) on the back of the rim. Then, on his dunk, he jumps up, grabs it, and takes a picture of himself throwing it down. As the crowd is going crazy, the dunker can then run over to the TV cameras and show the world the picture he just took on the digital camera's screen. Might be hard for Nate Robinson to pull it off, but it seems like at least Dwight Howard probably could do it.
It is 99 percent likely that camera ends up with a picture of the floor, or the ceiling, or something. Also, you'd need a digital camera that takes a picture the instant you push the button, instead of those that delay half a second. That would be a deal breaker.
Might be simpler with a little video camera. Then you can just grab it and smile into it as you dunk.
• To read the entire TrueHoop blog, click here.
Looking Ahead: Friday Doubleheader On ESPN
ESPN Research

Hornets at Cavaliers, 8 ET
The Cavaliers are the 10th team in NBA history to win their first 19 home games of a season. The Hornets have won three straight against the Cavaliers and are trying to sweep Cleveland for the second consecutive season. The key for the Hornets is to get to 97 points. New Orleans is 18-1 when scoring at least 97 points this season. The Hornets are 5-11 when scoring less than 97 points this season. Hornets are 18-7 since starting the season 5-5. Chris Paul has 2,497 career assists in 257 games. Assuming Paul can get three assists, he will become the second-fastest to 2,500 assists in NBA history, behind only Oscar Robertson.
Magic at Lakers, 10:30 ET
A potential NBA Finals preview? Orlando is 6-3 this season against teams in the West's top eight, including a three-point victory over the Lakers earlier this season. The Magic have won five straight games overall, while the Lakers are coming off a loss in their last game to the Spurs. The Lakers have only lost two straight games once this season, and interestingly enough their second loss came against the Magic on December 20, after losing to the Heat the night before.
By Maurice Brooks
ESPN.com

THURSDAY'S BEST
Kenyon Martin, Nuggets
: He got it done on both ends of the floor, scoring 24 points, including a key 3-pointer with 29.6 seconds left in overtime, to lead Denver past Phoenix. He also had eight boards and seven steals.
---

THURSDAY'S WORST
LeBron James, Cavaliers
: The final numbers look good -- 28 points, 14 rebounds and seven assists -- but James struggled with his shooting touch all night missing 20 of 28 shots from the floor (including 13 in a row) and he turned the ball over eight times.
---
QUOTE OF THE NIGHT
"They told me I'm going to be out a few weeks with this fracture of my wrist. I really don't use my right hand, anyway."
-- Cleveland guard Delonte West, who was injured in a collision with Derrick Rose in the first quarter
By John Hollinger | ESPN.com

Washington might be terrible, but one bright spot has been Nick Young. The second-year swingman has been blowing up of late, posting career highs in three of his past four games.
Yes, career highs. Yes, in three of his past four games. On Wednesday, he had 33 points in a 128-122 loss to the Knicks, coming on the heels of 30, 12 and 28 during his previous three games. In that stretch, he was 43-of-60 (71.1 percent) from the floor and 9-of-15 on 3-pointers after opening the season 11-for-48.
Young always has been able to get his shot off, but now it appears he's getting comfortable with finding his midrange looks against NBA defenses and getting used to spotting up for 3s as well.
The next step is using those skills to get shots for other people, too. During this four-game stretch, Young has averaged 25.7 points ... and 1.2 assists. He had the worst pure point rating among perimeter players as a rookie and hasn't improved his court vision much in his second year, although he has cut down on his turnovers some.
• Read all five Hollinger Insider Gems.
Sixers' Miller Hitting Triples

Jason Smith talks with TrueHoop's Henry Abbott about the resurgence of the 76ers and guard Andre Miller's improved 3-point shooting.
NBA Today
Cavaliers Detour In Chicago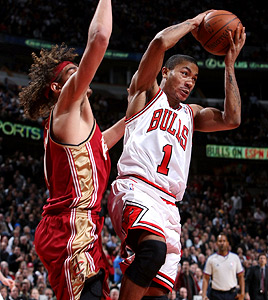 Gary Dineen/NBAE/Getty Images
Derrick Rose had 16 points and six assists for Chicago, which outscored Cleveland 15-6 in overtime of Thursday's 102-93 win. It was the Cavaliers' third loss in the past seven games.