Phelan M. Ebenhack/AP Photo
What The Scouts Are Saying, Part 2

A handful of teams have already played 41 games. Everyone else isn't far off.
So ...
Just as we did after the first quarter of the season, we've reached out to four advance scouts (granting the condition of anonymity) to get their up-close views from courtside on some of the league's major developments halfway through the regular season.
West scout on how many teams are capable of winning it all:
"I've got five. Boston, Cleveland and L.A. are the obvious choices. And you still have to have San Antonio in that group. But I really think the best team in the league right now is Orlando.
"I absolutely think they're that good. They've got so much offensive firepower and they've improved so much defensively. Everybody on that team is a 3-point shooter spaced around the big monster [Dwight Howard] down low. How many teams have 6-9 guys [Hedo Turkoglu and Rashard Lewis] who can handle the ball in a pick-and-roll? Hedo's game has just gone to another level. He's making the game look easy.
"The East is going to hinge on who gets Orlando in the second round. And if it's Cleveland, I'm going to pick Orlando in that series. I might be crazy, but Cleveland likes to go small when they really want to score. But Orlando has Hedo at the 3, Rashard at the 4 and Howard at the 5. I'm going to have to pick the Magic just because of their size."
East scout on Orlando's secret weapon:
"Jameer Nelson is my favorite player on that team. He makes shots. He defends. And now he's making decisions. People look at his stats and only see 5.4 assists [per game] and think he can't really run a team. But you show me a point guard who plays with a big post-up threat [like Howard] who gets a lot of assists. He doesn't have the luxury that Chris Paul has, where his team is running 50 pick-and-rolls a game for him. No point guard wants to see Jameer Nelson right now."
East scout on the Lakers' secret weapon:
"They're very good. You can talk about their injuries and their [issues on] defense, but they're ridiculously good. [Trevor] Ariza has really changed them. He's like a little version of Scottie Pippen now. Michael [Jordan] always had Scottie to chase guys around and now Ariza is filling that role for Kobe. The Lakers like to finish games with Ariza and he's making just enough jump shots for them to keep him out there. So now Kobe gets to guard the [lesser scorer] in the fourth quarter. He always used to have to take on the other team's big gun."
West scout on what happened to the Celtics after their 27-2 start:
"It's not a sprint. This is a marathon and you can't play at the level Boston likes to play at all year long. I think KG put his foot down a little too hard on the gas at the beginning and I think it caught up to them when they went out on the road and the schedule got a little tougher. They came out too hard out of the gate in the first 30 games. But they're going to be fine. They know how to win now, so they're going to be there. But I will say that the loss of [James] Posey does stick out a little more than I thought it would."
West scout on why Chicago's Derrick Rose should be leading the Rookie of the Year race:
"Every time I see him, he's unbelievable. He can get anywhere on the floor with the dribble when he turns on the jets. And I think [Kirk] Hinrich coming back really helps. It helps Rose save energy and learn from a very good, disciplined, basic point guard. And then when it's winning time, he's got the ball in his hands and he's making all the plays.
"Just wait until he becomes a consistent jump shooter. It's just a matter of time; his jumper doesn't look broke to me at all. And it'll make his life so much easier. Look how much he's able to get to the rim now when people are playing him to drive.
"I keep saying that I want to see Rose, Chris Paul and Deron Williams play in a one-on-one tournament. It would be awesome. [Rose has] the size, quickness, same type of handle. He's got enough skills to play with those guys and would not be embarrassed at all."
East scout on why Memphis' O.J. Mayo should be leading the Rookie of the Year race:
"He plays with maturity. He has some traits that remind me of Brandon Roy. He's not as strong as Roy, but he plays with a lot of poise.
"He can flat-out score in a lot of different ways. I've been impressed by him because his team is not the most talented and they've won a few games they probably shouldn't have won. And I think it's directly related to [Mayo's] play.
"I don't buy that he doesn't make people better [as much as Rose does]. He makes [Marc] Gasol better. He helps Rudy Gay a lot. Maybe he was a little selfish in one game I saw him play, but even then he was such a talented sucker. He takes what he can get. If you know you can get to the basket, a layup is a good shot."
East scout on which team is second-best in the West behind the Lakers:
"San Antonio. They've got the experience and they've really upgraded offensively.
"People are going to talk about Denver because they've been winning a lot more with Chauncey [Billups], but what does that equate to in the playoffs? They're so short-handed with bigs that they still might not win a first-round series.
"New Orleans is flawed, too. They have no depth. [Tyson] Chandler and Peja [Stojakovic] have to pick it up. That team is not quite good enough for Posey to be a big help. His braggadocio isn't as loud as it was in Miami and Boston."
West scout on which of the nine teams in the race for the West's eight playoff spots will miss out on the postseason:
"I'm thinking Utah, because I think injuries are what's going to decide it and they've already got a bad injury with [Carlos] Boozer. But that obviously means Houston should look out, too, and Dallas ... I keep thinking that they're going to be OK but they're having so much trouble scoring. Something just doesn't look right there.
"Maybe I'm kind of ducking your question. All I know for sure is that an injury is what's going to kill somebody. It's getting harder and harder to win on the road, so can Utah continue to maintain without [Boozer]? You don't even want to go to Memphis or Minnesota or Oklahoma City right now. On their home floor, with nothing to lose, these young teams are dangerous. They're growing up."
Marc Stein is the senior NBA writer for ESPN.com. To e-mail him, click here.
Dimes past: Dec. 29 | 30 | 31 | Jan. 1 | 3-4 | 5 | 6 | 7 | 8 | 9 | 10-11 | 12 | 13 | 14 | 15 | 16

Mavs owner Mark Cuban has heard some of the talk around Big D that we referenced in our visit with Dirk Nowitzki in Box 5.
The suggestion, specifically, that Cuban would be wise to start shopping Nowitzki to launch a more drastic makeover of a team that -- despite the February 2008 acquisition of Jason Kidd -- has been sliding since a stunning first-round exit to Golden State in 2007 after a 67-win regular season and a trip to the 2006 Finals.
Cuban typically doesn't say much this time of year, knowing that he'll be bombarded with trade questions given the Mavs' reputation for trigger-pulling at the deadline.
Yet he did chime in rather emphatically earlier this week in an attempt to squelch any notion that he's prepared to field offers for the 2007 MVP.
"We aren't going to pull a Pau and trade Dirk," Cuban said, referring to the Grizzlies' controversial starting-over surrender of Pau Gasol to the Lakers on Feb. 1, 2008.
"We are trying to find deals that help us [improve around Nowitzki]."
---

The Mavs indeed completed a minor deal Friday to import Matt Carroll (right) from Charlotte in hopes that Carroll can provide some sort of boost to the Mavs' woeful outside shooting beyond Nowitzki and Jason Terry.
First-year coach Rick Carlisle, though, contends that "inconsistency at the defensive end" has been the bigger shortcoming for a team that has had struggled mightily to score when it can't get out in transition.
Yet far more troubling, from this seat, is Dallas' frequent lack of passion this season, which many Mavs insisted would cease to be an issue once they were liberated from the hard-driving Avery Johnson in May ... and which has already raised questions about how the Mavs are responding to the new regime.
Or as venerable local columnist and talk-show host Randy Galloway, Johnson's staunchest defender, wrote in Friday's Fort Worth Star-Telegram: "With Avery Johnson gone, who's to blame?"
Said Carlisle on his weekly radio show Friday with Galloway on ESPN Radio in Dallas: "I had no delusions that this would be an easy situation at all. I had tremendous respect for the job that Avery did here and what he was able to accomplish.
"It's a good roster. We had some growing pains early with [a 2-7 start] and we struggled, but we figured it out and got it on track. Now we've hit another tough stretch again, but I like the team. I like the guys. I know we're capable of playing at a high level.
"I know a lot of people are ready to write us off, and if you want to go on record right now and say that, then that's your choice. But with over half the season to play, I'm not ready to do that. I've got a lot more faith in this team than you do if that's the case.
"I know the schedule's [getting more] difficult, but I'm not going to live in this town and work in this town and be in this kind of a high-profile position and be talking about how bad we are and how everything sucks. ... When you show up here and you work for Mark and you've got a full building and people that are expecting a high level, you can't be walking around giving into lower expectations or talk about that. It just doesn't work."
---

On Friday night, Stephon Marbury was spotted sitting courtside for Orlando's victory over the Lakers at Staples Center in seats that belong to Lakers executive vice president of business operations Jeanie Buss, daughter of Lakers owner Jerry Buss and coach Phil Jackson's paramour.
Good timing, Steph.
On Wednesday night in San Antonio, we had a chance to check in briefly with Jackson and ask why the Lakers haven't expressed an interest in signing Marbury, who has been living and training in L.A. while in exile from the Knicks.
Jackson acknowledged that "a little bit of a dialogue" between Marbury and the Lakers has resulted from Steph's initial request for courtside seats for the Knicks game at Staples on Dec. 16, as Marbury has permission from his Knicks bosses to speak with other teams. Jackson went on to describe Marbury as a player with "a real dynamic game" and insisted that he wouldn't have any fears about Marbury's history of clashing with coaches.
But Jackson also said firmly: "We haven't really considered it."
Marbury, of course, isn't even a free agent yet, as suspicions grow among rival teams that Knicks president Donnie Walsh is intent on keeping the 32-year-old through the Feb. 19 trading deadline just in case an unforeseen trade opportunity presents itself in the next month.
Yet Jackson also contends that the injury absence of point guard Jordan Farmar (knee) isn't as troubling as it looks for the Lakers because Lamar Odom is a trusty ball handler ... and because there's apparently still some in-house hope that Farmar could be back before the All-Star break.
So Boston, as we've been discussing here since New Year's Day, remains the only contender with a confirmed interest in Marbury ... provided that Steph actually leaves the Knicks before March 1 so he retains playoff eligibility this season.
You'd think, if the Lakers did have a serious interest, that they'd have run this past Kobe Bryant by now.
Said Kobe on Wednesday night: "I haven't heard a whisper about that."

A handful of leftover hot topics from my recent visit to snowy Orem, Utah, for the annual D-League Showcase:
There were a handful of hopefuls not on assignment from NBA teams who impressed with their play at Utah Valley College, which wasn't easy in that environment.
Reason being: Apart from the two home games played by the Utah Flash, who have a pretty raucous following by D-League standards, there was no noise or energy in the building to feed off. It's hard to say how many fans would have turned up in perfect circumstances, but last week's very wintry weather in Utah undoubtedly gave potential customers another reason to stay home, which means players who looked into the stands saw nothing but scouting types from the NBA and Europe who weren't going to cheer anything ... while scrutinizing every move.
The players who coped the best and came up most in our discussions with executives from the big leagues in attendance were Dakota guard Blake Ahearn (above, right), Bakersfield forward Derrick Byars, Albuquerque guard Will Conroy, Bakersfield guard Trey Johnson, Idaho guard Coby Karl and Iowa forward Courtney Sims.
All of them rank as prime candidates to be called up to the NBA on a 10-day contract. Yet as one NBA personnel expert said: "There are about 10 guys in the D-League who are good enough to be on a roster, but with so many teams worried about money these days, I'm not sure many will get call-ups."
---
Jazz forward Kyrylo Fesenko was sent down to the Utah Flash on the second day of the Showcase. Pistons guard Alex Acker played just four games this month in a brief stint with the Fort Wayne Mad Ants, but two of them were in Orem.
The reaction to both developments was generally the same from NBA team representatives.
"With the trade deadline coming up?" said one Western Conference executive. "They were being showcased."
Detroit's interest in moving Acker -- preferably for nothing in return beyond a future second-round pick -- is definite, with the Pistons looking to shed at least one salary (Acker and Will Bynum are the top candidates) to drop below the NBA's $71.15 million luxury-tax threshold.
---

There wasn't a bigger name on the Showcase floor than Lakers and Heat castoff
Smush Parker
.
Yet you can imagine the depths of the chemistry concerns that NBA folks have about giving Parker another shot when a 27-year-old with his shooting range, length, athleticism and experience -- at a time when so many teams need help at point guard -- can't get one more gig.
He didn't help himself in Utah, either. Playing for the Rio Grande Valley Vipers -- he's been toiling all season in the tiny Texas town of Mission near the Mexican border in case you've had Smush withdrawals and didn't know where to look -- Parker clashed loudly with Vipers coach Clay Moser during the Vipers' first game.
Living up to his reputation for being less than manageable, Parker reacted angrily when Moser summoned him to the bench after Smush picked up two quick fouls in the first quarter. Instead of considering the possibility that Moser was trying to increase his chances of being around to play in the fourth quarter, Smush came to the conclusion that former Magic, Kings and Warriors scout was trying to impress the NBA types in the stands with his coaching acumen.
The bickering and angry glances continued throughout Rio Grande's 102-78 loss to the Reno Bighorns, all of which was hard to miss in such an empty, quiet gym. So it came as zero surprise that, by week's end, Parker had left the D-League to sign a contract with a team in China, where job seekers with NBA name recognition are in high demand these days, now that the Chinese have relaxed their rules restricted playing time for foreigners. Well-known American exports to Yao Ming's old league this season include Bonzi Wells, Kirk Snyder, David Harrison and, from the coaching ranks, Bob Weiss and Sidney Moncrief.
---
The consensus is clear when you speak with D-League watchers: Salaries have to go up to improve the quality of the league.
As discussed here in November, players such as Karl and Parker who are placed in the A classification earn only $25,500, with B and C players making $19,000 and $13,000. Player per diem on road trips? It's $30 in the D-League, compared to $114 in the NBA.
The question, of course, is who would fund a salary increase? The NBA? NBA owners? Neither camp is eager to spend more, as you can imagine. (The league is eager, by contrast, to point out that salaries are augmented by free in-season housing and full medical benefits.)
And the money issues -- compared to the comparative riches players can make in foreign leagues -- are offset somewhat by the fact that D-League players know that they're working in the most thoroughly scouted league in the world ... and might be offset further in the future if those players see that the affiliations between NBA teams and D-League clubs are getting stronger. But discussions on how to make that happen remain in the preliminary stages.
The variables are complicated. Three of the D-League's 16 teams are currently owned and operated as true minor-league feeder systems by NBA franchises, but the dismal state of the economy suggests that the so-called baseball model will remain a rarity, no matter how much certain NBA organizations would like to emulate the Spurs (Austin Toros), Thunder (Tulsa 66ers) and Lakers (L.A. D-Fenders). It likewise takes a creative imagination to picture the D-League filling 30 rosters even if it did get to the point that every NBA team wanted its own affiliate.
There's a definite feeling among some insiders that next season's rumored expansion to 18 teams (with new franchise in Portland, Maine, and Springfield, Mass.) is going to dilute the talent pool further. The league's counter there is that expansion actually makes the D-League more credible in the quest to attract the world's best players not on NBA rosters.
Yet you also hear that a growing number of NBA teams are eager to have more control of the basketball-operations side with their affiliates, which sounds promising if you, like me, are a fan of the baseball model. The challenge is figuring out how to make that sort of hybrid system work, especially when the Spurs, Thunder and Lakers are already all in.

The idea that Miami would send
Shawn Marion
to Toronto before the Feb. 19 trading deadline is a natural on multiple levels and, according to one insider, has been "circulating for awhile." But ongoing discussions toward a possible Marion-for-Jermaine O'Neal trade, according to NBA front-office sources, are not the only talks Pat Riley is having these days.
Two obvious factors that favor Toronto:
1. Marion could slot in between Raps cornerstones Chris Bosh and Andrea Bargnani and provide the clear upgrade at the wing position that Toronto president Bryan Colangelo -- who drafted Marion in Phoenix in 1999 -- has been seeking via trade for weeks.
2. O'Neal, if healthy, could address one of Riley's biggest needs, since the Heat have no dependable center. Better yet, O'Neal carries a hefty contract that expires after the 2009-10 season, whether or not he can shake his persistent knee troubles. The contract expires just in time for the summer, when Riley will be trying to re-sign Dwyane Wade and put a marquee player next to him. (Sacramento, for the record, could swing this sort of Marion deal as well, by sending Miami pass-happy center Brad Miller and little-used Kenny Thomas, both of whom possess contracts expiring after the '09-10 season.)
However ...
Plugged-in sources say that Riley wants to see how O'Neal, who only returned to the Raptors' lineup Friday, holds up physically in a handful of games before taking the discussions any further. And as stated above, sources indicate that there are other teams in contention for Marion, most notably Dallas in a trade that would feature Josh Howard going to Miami for Marion.
Yet it remains to be seen (a) whether Miami ultimately decides that it would rather gamble on O'Neal's vulnerable right knee in spite of his Toronto's struggles because quality centers are harder to find and (b) whether Dallas is prepared to surrender Howard for Marion and risk losing Marion without compensation this summer.
Howard obviously isn't a center, but the 28-year-old would appear to fit better alongside Wade and rookie Michael Beasley than Marion, since he wouldn't cut into Beasley's minutes at power forward like Marion sometimes does.
Howard also has a contract that fits into Miami's long-range plans, with a salary of $10.4 million this season, $11.4 million next season and a team option for 2010-11 at $12.3 million. Acquiring Howard now would give the Heat almost a season and a half to gauge how he functions as a Wade sidekick, with no obligation to slice into their future salary-cap space if they don't like how it looks.
Because its original three-way deal with Charlotte and Oklahoma City featuring Raymond Felton unraveled last week, Dallas still has Jerry Stackhouse's virtual expiring contract ($7 million this season, only $2 million guaranteed next season) to facilitate such a swap. A package of Howard and Stackhouse works for Marion cap-wise.
---

Felton's immediate response to the collapse of his move to the Mavs was to uncork a 23-point, nine-assist, six-rebound, one-turnover performance in Detroit that included the game-winning shot in a Bobcats upset.
The Bobs, in other words, might not be heartbroken that they said no to the aforementioned three-way deal, especially with rookie D.J. Augustin out indefinitely.
Interest in Felton, however, remains high, given that the former No. 5 overall pick from the 2005 draft is playing on an expiring contract that pays him $4.1 million this season.
It's believed that the Bobcats remain open to moving Felton -- who'll be a restricted free agent this summer -- but sources say Charlotte has not yet budged from its longstanding mandate that the deal must also involve someone else taking on the contract of out-of-favor center Nazr Mohammed.
The three-way exchange with Oklahoma City worked for the Bobs on three levels. They would have replaced Felton with a veteran (Earl Watson) whose contract expires after next season, shipped Mohammed to Dallas and acquired a long-coveted center (DeSagana Diop) whom Charlotte wound up trading for Friday in a much smaller deal with Dallas for Matt Carroll and Ryan Hollins.
---
It looked for a while like this might be a historic season in terms of per-game scoring margin. The Celtics, Lakers and Cavaliers all sported a double-digit average scoring margin for weeks, in a league in which three teams have never maintained a per-game differential of at least 10 points in the same season.
But now we're just down to the Cavaliers, who will undoubtedly struggle (as Boston and L.A. did) to maintain their current per-game average of 11.9 points more than the opposition with Zydrunas Ilgauskas and Delonte West sidelined.
Why is Professor Hollinger always stressing the importance of this stat ... and especially this season?
It's because the only three teams in history with a positive per-game point differential in the 12s -- L.A. Lakers in 1971-72 (12.3), Milwaukee in 1970-71 (12.3) and Chicago in 1995-96 (12.2) -- all went on to win the championship.

Five questions with Mavericks forward Dirk Nowitzki:
Q: We're already down to nine teams playing for eight playoff spots in the West ... and your team is in ninth at what's basically the halfway point. How worried are you that the Mavs could actually miss the playoffs?
A: It's been hard lately because we haven't had Josh [Howard]. So if Jet [Jason Terry] and I don't score 30, we're having trouble winning. Obviously you can't win with [only] two reliable scorers. But Josh has missed at least a month. I think we are still right there, but obviously we've got to get healthy.
Q: I'm sure you've heard people around town say it's time to blow this team up. It hasn't even been a full year yet since the Jason Kidd trade, but how worried are you that management might actually listen and consider trading you?
A: I've always said that I know this is a business. Cubes [Mavs owner Mark Cuban] has been great to me and he's a loyal guy, but in business I know that that stuff doesn't mean anything.
I've said it in the past when people [in Dallas] said we should try to get Shaq or try to get Kobe: If this franchise can get better by me leaving, then I understand. If they feel like I can't take this franchise any farther than where we got a couple years ago [when the Mavs advanced to the 2006 NBA Finals], then, hey, I'm happy to let someone try to take this over.
Q: Happy? I always thought you wanted to finish your career in Dallas.
A: Of course I do. I love this organization. I think if I did go somewhere else and even if I won the championship, I don't think it would feel the same. I've poured my heart and soul into this franchise. That's all that's missing for us here. We've done everything else.
Q: I know earlier this season you spoke about possibly taking a pay cut in the future if it could help the Mavs bring in more help for you. Where do you stand on that now?
A: My answer on that is that it's still all open right now. All the options are open. It's still [almost] two years away.
Q: What are "all the options?"
A: I could opt out [after the 2009-10 season and test free agency]. I could try to re-sign for less so we can sign somebody else. I could [decide to] not opt out. But I really haven't thought about it too much. We'll see what the future holds with my contract, but I'm still trying to make this [team] work.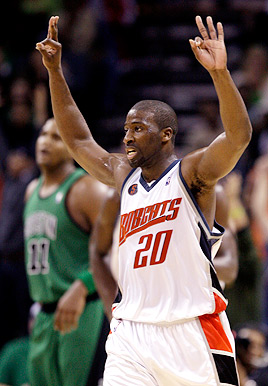 AP Photo/Chuck Burton
One trade involving Raymond Felton has already fallen through, but interest in the Charlotte guard remains high. (See Box 4.)

"I know it's a sore subject sometimes, but the trade ... I still think it's a good thing."
Knicks coach Mike D'Antoni, reflecting on the bold move his former team made nearly a year ago -- Feb. 6, 2008 -- when the Suns swapped Shawn Marion for Shaquille O'Neal.
D'Antoni actually said this a month ago when he was back in Phoenix for the first time since his contentious May move to New York. The comment barely got a mention amid reams of media coverage of his emotional reunion to the desert, probably because there were so many other story lines in play that day. But I found it in my notebook and felt it appropriate to share now given what Shaq has done since D'Antoni's claim.
Starting with that home win over the Knicks on Dec. 15 and entering this weekend, O'Neal had played in 10 of the Suns' past 12 games and averaged 21.9 points, 10.3 rebounds and 2.0 blocks ... while also shooting an eye-popping (by Shaq standards) 67.6 percent from the line. Phoenix was 8-2 in those 10 games, with the only losses coming in crunch time: Portland on the road Dec. 18 and the Christmas Day home heartbreaker against San Antonio.
The Suns start a six-game swing through the Eastern Conference on Sunday -- including a visit to Madison Square Garden to complete their season series with the Knicks -- so we should probably wait to see where they are at the end of that trip before proclaiming that Phoenix still merits consideration in the same zip code of its usual status as a contender in the West. Especially after the Suns rested O'Neal on Thursday in Denver so he could deal with Al Jefferson on Friday, only for the Suns to lose by two at home to Jefferson's Wolves regardless.
Yet it certainly appears that the injection of athleticism provided by Jason Richardson along with O'Neal's increasing friskiness has led to more of the balance between run-and-gun ball and smashmouth stuff that Suns president Steve Kerr was hoping for, thereby hushing some of the loud early skepticism that greeted Terry Porter's arrival as the replacement for D'Antoni.
"He's very determined to prove something," D'Antoni says of Shaq, who turns 37 on March 6. "And any time you have him like that, it's good. And I thought he was good last year, too."

Nick (Cleveland): Any substance to the idea that Marcus Camby could go to the Cavs for Wally Szczerbiak and a first-rounder? He would be the perfect fit in Cleveland.
Marc Stein: There's substance only from the perspective that this would be the only kind of deal that the Clips would accept for Camby. Taking back a contract shorter than Camby's incentives-laden deal, in other words.
He's got the most cap-friendly contract of any of the big names in Clipperland, and Donald Sterling is not in the mood to add any more money to the payroll after his (relatively) open checkbook of the past few years failed to prevent the Clips from winding up in a race to avoid this season's worst record.
If a deal like this ever did go down, though, it would be a total steal for the Cavs. A dream. Which is probably why we shouldn't even be addressing it.
How valuable is a future first from the Cavs going to be? That pick and Wally's expiring contract isn't nearly enough for Camby.
Andy (Las Vegas): Tell Nick that Camby fits even MORE perfectly in Detroit ... and can be traded for Rip Hamilton, who would fit in nicely with Baron in L.A.
Stein: We repeat: Donald Sterling is not going to take back a deal longer than Camby's. Rip just signed an extension.
Jason (Cleveland): Steiny Mo: Have any of your sources brought up this Camby deal? You MUST elaborate before you send the entire city into an uproar.
Stein: Sorry. I was purely responding to a chat-room hypothetical. (Later learned that this scenario was tossed out in one of the Cleveland papers recently).
So I don't want to suggest that this Camby-to-Cleveland idea is in any way live. One source who would know described it to me as a "fan fantasy."
I should also say that while such a scenario is indicative of the KIND of move that the Cavs have the capability of making with Wally's expiring contract -- IF they decide to mess with their good chemistry -- most observers still expect them to make a trade before the deadline only if they can get a big-timer from the Vince Carter/Michael Redd class. They wanted another big man even before losing Zydrunas Ilgauskas, but there's also a feeling in Cavsland that they're deep enough to survive injuries to Big Z and Delonte West as long as they stay in the one-month to six-week range.

Is it reasonable to expect the Spurs to acquire another sleeper-turned-stalwart like Roger Mason -- Oklahoma City's Nick Collison is a Mason-like trade target highlighted by ESPN The Magazine's Ric Bucher in the latest issue -- before the Feb. 19 trading deadline?
And what was the league's reasoning for not punishing Portland after the threatening e-mails sent by the Blazers last week intended to dissuade teams from signing Darius Miles?
NBA on ESPN Radio host Marc Kestecher seeks those answers from Marc Stein in their usual Thursday chat.
NBA on ESPN Radio
Jason Smith is back hosting ESPN's NBA Today podcast and, with the trading deadline just 30-some days away, reconnects with Marc Stein to gauge the likelihood of deals involving Shawn Marion, Jermaine O'Neal, Josh Howard and Tracy McGrady.
• Listen to the podcast