Harry How/Getty Images
Kobe Bryant did not let a dislocated finger or LeBron James prevent a decisive win.

Jesse D. Garrabrant/NBAE via Getty Images
After hitting a game-winning buzzer beater, Dirk Nowitzki's shot is celebrated by Antoine Wright.

Charles Krupa/Associated Press
Paul Pierce, Rajon Rondo and Kevin Garnett savor a replay of Bill Walker's dunk during a blowout.

Noah Graham/NBAE via Getty Images
Hurt Clips Marcus Camby, Jason Hart, Chris Kaman, Mike Taylor and Baron Davis sit out a loss to Minn.

Bill Haber/Associated Press
Tyson Chandler injured his left ankle during the second quarter of the Hornets' win over the Pacers.

Kent Smith/NBAE via Getty Images
Emeka Okafor dunks on Tim Duncan here, but the Spurs took an 86-84 win over the Bobcats.
Supporting Cast Helps Kobe Win Duel With LeBron

LOS ANGELES -- "Who did daddy play tonight?" LeBron James asked LeBron Jr. as they stood in a Staples Center hallway.
"The Lakers," the younger LeBron said.
That wasn't the answer LeBron was looking for.
"Who plays for the other team?" he pressed.
"Kobe," his son responded.
LeBron Jr. had it right the first time. This wasn't about the marquee matchup (as if to emphasize the hype heading in, two hours before the Lakers played the Cavaliers, the whiteboard that displays scouting reports in the visitors locker room had only two numbers: 23 and 24). Cleveland wasn't KO'd by Kobe Bryant. It was about the Lakers' size and depth and a stronger-than-usual commitment to defense overwhelming an injury-depleted Cavaliers squad for a 105-88 victory, which was more about the practical matter of home-court advantage than an accurate forecast of an NBA Finals matchup.
At the moment, the Lakers (32-8) are ahead of the Cavaliers (31-8) and would start the series at Staples Center if the teams met in the NBA Finals. The Cavaliers can only hope and assume things would be different if they weren't missing the injured Zydrunas Ilgauskas and Delonte West.
"You've got to be full strength," James said -- to the media, not his son. "One thing right now, we're not full strength. One thing Z does is get one of those bigs out of the paint. Delonte being out, that hurts us too."
Although the Lakers were without backup point guard Jordan Farmar and sometimes-starting forward Luke Walton, they still had the superior depth that made the difference, while Kobe and LeBron played to a statistical draw (20 points, 12 assists, 6 rebounds for Kobe; 23 points, 9 rebounds, 4 assists, 4 steals for LeBron).
"They've got more talent than just Kobe Bryant," James said. "Pau [Gasol] and Andrew [Bynum] and [Sasha] Vujacic and Lamar Odom ... they've got a lot of guys that can play the game of basketball."
Two of those guys happen to be 7 feet tall, an advantage the Lakers emphasized throughout the game by going to Gasol and Bynum against the overmatched Ben Wallace and Anderson Varejao. It's something Gasol seemed a little perturbed that they don't do with more consistency.
"It felt really good," said Gasol, who made 11 of 13 shots and grabbed 12 rebounds. "It's something I've said a few times, we have two 7-footers that can be extremely productive and can do a lot of damage in the paint. It doesn't really matter who we play against. It's really hard to match up with us if as a team we play aggressive and make a conscious effort to get the ball in the post and force the defense to match."
Bynum had 14 points and 6 rebounds (one shy of his rebound total for the previous three games) and the Lakers had plenty to carry them while Bryant figured out how to play with a dislocated finger.
The one thing you can count on when the Lakers play LeBron's Cavaliers is Kobe being hurt. He injured his shoulder 17 minutes into their first meeting in the 2003-04 season and had to miss their next game as well. The next season he suffered a severely sprained right ankle midway through the first period and missed that game and didn't come back until the rematch a month later. The Cleveland Curse struck again just a couple of possessions into the game when Bryant jammed his hand while guarding James and dislocated his right ring finger.
"I was just going for the ball and my finger just popped out," Bryant said. "I thought I was done, to be honest with you."
X-rays taken after the game were negative. Bryant also said it did not affect the torn tendon in his right pinkie finger he suffered last season, which still has not been surgically repaired. He didn't want to miss the Olympic games while recovering, and then he didn't want to miss any games once the NBA season drew near. So he opted to play through it, figuring that it would take a freaky, drastic play for him to do more damage to the pinkie. At first, from afar, it seemed this was the play. But it was another finger, and after Lakers athletic trainer Gary Vitti popped the digit back into place, Bryant continued playing even though it remained "really, really painful" an hour after the game.
He said he shot the ball off his index and middle fingers the rest of the night, and managed to loft in a 3-pointer followed by a couple of high-arcing shots over James on back-to-back possessions in the fourth quarter, sandwiched by a long jump shot by James.
That brief "man-on-man sort of thing" (Phil Jackson's words, most certainly not mine) was the only highlight of the supposed showdown, even though the two spent much of the night guarding each other. It wasn't a complete referendum on who's better, and the only definitive answer came when LeBron was asked which of the two commercial pitchmen was funnier.
"Who's funnier?" LeBron repeated, incredulous that the question could even be asked. "I'm funnier. What kind of question is that?"
Give LeBron the edge in humor, and Kobe the edge in willpower and playing through pain, something he did again Monday night.
We won't call either one The Man, not after a day spent honoring Dr. Martin Luther King Jr. We'll let LeBron have the last word on that topic.
"You always hear about who leads," LeBron said. "Kobe Bryant, the leader. Is LeBron James a leader? You talk about leaders, Dr. Martin Luther King will never be matched. No one will ever match his leadership, what he was able to do."
J.A. Adande joined ESPN.com as an NBA columnist in August 2007 after 10 years with the Los Angeles Times. Click here to e-mail J.A.
Dimes past: Jan. 1 | 3-4 | 5 | 6 | 7 | 8 | 9 | 10-11 | 12 | 13 | 14 | 15 | 16 | 17-18 | 19
Kobe Dials Up The Defense On LeBron
By Eric Neel | ESPN The Magazine

LOS ANGELES -- The elite baller has to think in terms of the long haul. The mission is 82 games long, and those 82 games are mere prelude. You can't think in terms of single games, even when they come against one of the best teams in the league. You can't focus on particular matchups, even when they mean squaring off against your toughest rival.
Each night is just another point along the arc you follow toward your ultimate goal. All games are equal.
But some games, it seems, are more equal than others.
In the moments before Monday night's game against the visiting Cleveland Cavaliers, Lakers coach Phil Jackson, the NBA's high priest of the long haul, explained that Kobe Bryant might indeed dial it up for the season's first showdown with LeBron James. "I think Kobe comes to the game looking for a challenge night in and night out," he said, reminding us that Zen's implicit corollary is bulldog intensity and a constant desire to prove yourself against the best.
Bryant asked for the chance to guard James from the jump Monday night (he and Trevor Ariza fought for the opportunity, but as Bryant said, "big brother won out"), often picking James up just steps inside the half-court line, and doggedly chasing him through picks from one side of the floor to the other. Bryant (despite scoring 20 points, dishing out 12 assists and hitting a couple of dazzling runners in the fourth quarter) never got in a groove offensively after dislocating the ring finger on his shooting hand in the first quarter, but his defensive effort on James was right on time.
James got some clean looks and could sometimes get to the basket, but with Bryant shadowing him and going chest-to-chest, arms waving, he had to work hard to get into space on every possession. James ended the night shooting just 36 percent from the floor (1-for-4 in the fourth quarter).
"You have to make adjustments from play to play even," Bryant said. "It's an ongoing thing. LeBron has such a high basketball IQ, you cannot show him one coverage all the time."
"Kobe did a good job of harassing him," said Lakers assistant Kurt Rambis. "And it helped raise the level of our intensity as a group."
Bryant was aware of the psychological benefit for his teammates of his getting up on the King. "Against teams where the head of the snake is a 2-guard, it's a lot easier to set the tone, because then I'm on him," he said after the game. "I'm on him, and it makes it easier for them to follow my lead that way."
No one man can stop James on his own. Bryant got weakside help throughout the game from Ariza, Lamar Odom and Pau Gasol. "We tried to be aggressive defensively," said Gasol. "We tried to force them to make the extra pass and not give LeBron easy looks and easy penetrations."
At their best Monday night, the Lakers, who have sometimes been a timid defensive team this season, fed off each other's commitment to stopping James' attempts to both score and pass. "One hundred percent," said Odom in the postgame locker room. "You've got to load up on him. There's no way we're going to leave our best player on an island with him ... We played hard [as a group]. Everybody is going to get a good night sleep tonight."
True enough. They'll rest easy because they got a statement win against one of the best teams in the East, and because they left nothing in the tank.
And most of all they'll rest easy because the head of their own snake bared his fangs and knew Monday wasn't just any other game.
"If he's going to go off for a big night, I'll sleep much better if the big night was done on me," said Bryant after the game. "If he's going to have a big night, I'd rather take the responsibility for that."
Buzzer-Beater Scoreboard Now Goes To 11

By ESPN Research
Game-winning shots made as time expired (so far this season):
• Monday at NOR -- Chris Paul hits a fadeaway 3-pointer for a 103-100 New Orleans Hornets win over the Indiana Pacers.
• Monday at PHI -- Dirk Nowitzki hits a turnaround 7-footer over Reggie Evans in the Dallas Mavericks' 95-93 win over the Philadelphia 76ers.
• Jan. 7 at PHX -- With the score tied at 110 apiece and 0.9 seconds left, Mike Dunleavy inbounds the ball to Danny Granger and he connects on a 3-pointer at the top of the key as time expires for Indiana in a 113-110 win over Phoenix.
• Jan. 3 vs PHI -- Tony Parker has quick feet. And a quick mind, too. Parker gets an offensive rebound with 0.9 seconds left, turns and hits a high-arching 15-footer at the buzzer, and the San Antonio Spurs beat the Philadelphia 76ers 108-106 after blowing an early 21-point lead.
• Jan. 2 vs ATL -- Vince Carter hits a long 3-pointer at the buzzer in overtime and the New Jersey Nets rally from a 20-point halftime deficit to beat Atlanta 93-91.
• Dec. 25 at PHX -- Roger Mason hits a 3-point FG from the corner as time expires to give the Spurs a 91-90 win over the Suns.
• Dec. 23 at IND -- Devin Harris hits a 22-footer from the top of the key at the buzzer to give the New Jersey Nets a dramatic 108-107 victory over the Indiana Pacers.
• Dec. 2 vs LAL -- Troy Murphy tips in a missed shot at the buzzer as the Pacers complete an improbable 118-117 victory over the Los Angeles Lakers.
• Nov. 24 vs UTAH -- Larry Hughes hits a 22-foot jumper as time expires to give the Chicago Bulls a 101-100 win over Utah.
• Nov. 6 vs HOU -- Brandon Roy makes a 30-foot jumper as time expires in overtime to lift the Portland Trail Blazers to a thrilling 101-99 win over the Houston Rockets.
• Oct. 31 vs ORL -- Rudy Gay hits an 18-foot jumper as time expires to give the Memphis Grizzlies an 86-84 win over the Orlando Magic.
By Andrew Ayres
ESPN.com

MONDAY'S BEST
Jason Kidd, Mavs
: You want to let him shoot mostly uncontested 3s? This is what can happen. Kidd makes 6 of 8 3-pointers in Dallas' 95-93 road win over Philadelphia. Had 22 points and 12 boards, too.
---

MONDAY'S WORST
Amare Stoudemire, Suns
: Blame it on Brian Scalabrine's D. Amare misses all seven FG attempts in 30 minutes of a 104-87 road loss to Boston. His three-point night was a season-low total.
---
QUOTE OF THE NIGHT
"It was like holding up a wall. Go home, knock out the foundation in your house and hold up the wall. When it's about to fall on you, that's what it's like guarding Shaq."
-- Celtics forward Kevin Garnett on guarding Shaq
By Chris Sheridan
ESPN.com

NEW YORK -- Of all the people who were appalled by the end result of Ben Gordon's game-tying 3-point attempt with 11.8 seconds left, perhaps no one was more horrified than Larry Hughes.
In his mind, he should have been the one out there taking that shot.
And in his mind, he would have come a lot closer than Gordon, whose shot missed everything. Yep, an air ball.
Hughes sat out because of a coach's decision for the fourth straight game Monday, a 102-98 loss to the New York Knicks that gave both teams the same number of losses: 24. Hughes headed back to Chicago afterward with his teammates, though both he and the Bulls are hoping that won't be the case much longer.
"We've all talked, and we're definitely on the same page as far as that goes," Hughes said. "If I'm not going to be here, then everybody can move forward. And if I need to move on, I'm fine with that."
The Bulls have given Hughes' agent permission to speak to other teams and seek out potential deals, and one team insider claimed there was "some interest" -- although a majority of teams are turned off by Hughes' contract, which pays him $12.8 million this season and $13.6 million in 2009-10.
"I've heard some here and theres, but right now it's all rumors. There has been some interest expressed from both sides, East and West, but right now I'm showing up and trying to be professional about the situation and get through it," Hughes said.
Hughes, acquired last season from Cleveland in the trade known around Chicago as the Ben Wallace salary dump, has started only six of the Bulls' 41 games and is averaging 12.0 points -- almost three below his career average and a full 10.0 below what he averaged in his final season in Washington four years ago.
He has not played at all since logging seven minutes against Portland eight days ago.
"I still feel I'm still a starter, so want to go somewhere where I can start," Hughes told ESPN.com. "I think [a trade] is possible, but right now it's about working with the numbers -- it's not the talent, it's about the salary cap and all that stuff. But I still think it's a high possibility. I definitely think it's above 50-50."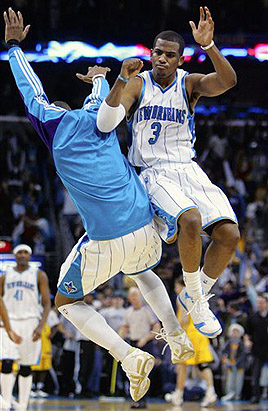 Bill Haber/AP Photo
Chris Paul celebrates with Antonio Daniels after hitting the game-winning shot against the Pacers. It was the 11th such buzzer-beater of the season (See Box 3).
By Elias Sports Bureau

Kobe Bryant scored 20 points in the Lakers' win over the Cavaliers on Monday, bringing to 17,340 Kobe's total of points scored in 602 games played during the George W. Bush administration -- the second-highest points total by any NBA player during a single presidential administration.
Kobe fell 83 points short of the record of 17,423 points scored (in 642 games) by Alex English during Ronald Reagan's eight years in the White House.
OK, to honor the end of one presidential administration and the start of another, we have listed below the players who scored the most points in regular-season NBA games during each presidential administration since the NBA's birth (it was then known as the Basketball Association of America) in November 1946.
Quiz your friends on Tuesday, whether you're at an inaugural ball or you're watching on television -- and, of course, always properly attribute the information to Elias Says.
Hail To The Chief Scorer
President
NBA's Top Scorer
Harry Truman
George Mikan
Dwight Eisenhower
Dolph Schayes
John Kennedy
Wilt Chamberlain
Lyndon Johnson
Wilt Chamberlain
Richard Nixon
Kareem Abdul-Jabbar
Gerald Ford
Bob McAdoo
Jimmy Carter
George Gervin
Ronald Reagan
Alex English
George H.W. Bush
Michael Jordan
Bill Clinton
Karl Malone
George W. Bush
Kobe Bryant