NBAE/Getty Images
For different reasons, Dwyane Wade, Elton Brand and Danny Granger were on our experts' minds.

Gary Dineen/Getty Images
The Bulls lost despite having an advantage in fast-break points, points in the paint and on the boards.
Surprises, Disappointments, and Midseason NBA Awards
With the All-Star break rapidly approaching, ESPN's Jamal Mashburn and Tim Legler and ESPN The Magazine's Chris Broussard weighed in on the first half of the season with their biggest surprises and disappointments. The trio also handed out a few awards.
What team or player has been the biggest surprise in the NBA so far?
Jamal Mashburn: Devin Harris. Even though we knew what he could do with the Mavericks, and he was traded for a future Hall of Famer in Jason Kidd, he has really stepped into a leadership role for the Nets. And while nobody thought they'd have a chance at a playoff run, if they play a little bit of defense and get hot they should have a shot. Harris has expanded his offensive repertoire and can penetrate and score. Before, when I thought of him, I just thought of quickness. Now he has shown he can shoot. He's benefited from the change of scenery and the freedom his coaches have given him.
Atlanta Hawks. Last season they took the eventual world-champion Celtics to seven games in the first round of the playoffs. Sometimes a little success can lead to teams getting full of themselves, but the Hawks have kept their foot on the gas. Mike Woodson was in trouble at one point, they lost Josh Childress in the offseason, got a new GM in Rick Sund and even ownership was in flux. They have a lot of built-in excuses to pack it in, but they haven't done that.
Tim Legler: Miami Heat. I knew they were going to be a lot better than last season, but to be four games over .500 and to surpass their win total from last season by seven by mid-January is a surprise. I didn't think they could do that with a rookie point guard and with Michael Beasley, who has yet to become the starter they'd hoped for. It comes down to a healthy Dwyane Wade. And it just goes to show you how great he is.
Danny Granger. I never thought he'd be a guy who could average over 25 points per game. Mike Dunleavy being out helped because Granger got more touches, but he has worked so hard at making himself a great scorer between his ballhandling and his midrange game, and now he's a legitimate 3-point shooter. He's got the whole package, and he's doing it against great defenders.
Shaquille O'Neal. He has looked better than he has in years. He didn't look this good when he won a title with the Heat. He's back to the point where if you play him single-coverage he's going to score on you. He's going to dunk on you or get a three-point play or get to the foul line. It's inexplicable. But one thing I've noticed is they are not playing him a lot in back-to-backs. Maybe that's helped him. They've been resting him in the second night of back-to-backs. He has much more spring and explosiveness since before he left L.A. You could make an argument that he's the second-best center in the West behind Yao Ming.
Chris Broussard: Orlando Magic. They look like the best team in the league. Going into the season, no one thought they were an East contender, until they swept the Spurs and the Lakers.
Cleveland Cavaliers. They are a big surprise because they have started out very well. The team's personality has changed from last season, and you can credit LeBron James' leadership. Last season, the team gave up a lot of games, and they never managed to reach as many regular-season wins as they should have.
Dwyane Wade. His leadership has been phenomenal. They've surprised us all with their intensity and ability to beat good teams, especially with their new coach, Erik Spoelstra.
---
What team or player has been the biggest disappointment?
Mashburn: I think a lot of people would point to the Sixers, but I understand why they are where they are. They overachieved last season. They surprised people with their effort and style of play in wanting to get into transition a lot. They played small and got after it on the defensive end. It has surprised me that they haven't been able to integrate Elton Brand better.
Baron Davis. He is a franchise player and the Clippers have talent, but they haven't had success. That speaks to how important chemistry can be.
Legler: Sixers. Philly is hot right now, but they were a big disappointment earlier in the season. They had a coaching change and I know Elton Brand went out for a while, but I thought adding him to the mix would turn them into a top-three or -four team in the East. They have really struggled and changed their identity by adding Brand.
Clippers. I thought by adding Marcus Camby and Baron Davis to go along with Chris Kaman that they would be a top-10 team and a playoff contender in the West. The fact that Davis was hurt in the preseason and those guys didn't play together much has affected them, and from what I hear, Davis has pretty much just shut it down mentally.
Broussard: Philadelphia 76ers. They have won 7 of their past 8 without Elton Brand, so they've started to play well and get back in the East hunt. Since Brand has been out, the 76ers have actually been better. We'll see how he plays Saturday when he returns.
Rockets. Initially, Ron Artest was acquired to challenge the Lakers in the West, but their lack of healthy players has plagued them. They won't ever be healthy enough to get Tracy McGrady, Artest and Yao Ming all on the same page at the same time.
---
Who are your winners for the major awards?
Mashburn: MVP: LeBron James.
Rookie of the Year: I'd probably have to pick Derrick Rose, but you have to consider Brook Lopez. He's played tremendously and he's a walking double-double. You can't forget O.J. Mayo and his smoothness. Still, Rose has kept that team in the playoff hunt, and playing point guard in the NBA is a tough position to step into and be successful right away.
Coach: Everybody mentions Mike Brown, but my guy would be Stan Van Gundy. He's done a remarkable job of putting his imprint on that team; of not only shooting a lot of 3s and featuring Dwight Howard, but the defense. He's done a remarkable job when you consider he doesn't have much of a bench.
Legler: MVP: LeBron James. He has finally elevated his defense to the point where he's the leader on that team, which is the No. 1 defense in the league. He's gone from a guy who basically played defense 60 or 70 percent of the time and took plays off to a guy who could get consideration for the Defensive Player of the Year award. That's how far he's come with his desire and intensity. He sets the tone on defense.
ROY: Derrick Rose. Some people have been getting caught up with O.J. Mayo and his scoring numbers, but playing point guard in the NBA is the most difficult transition for any rookie to make. And it's not even close. To be a guy who's not only running the team, but also has been called on to score for them in late-game situations, that's a lot of pressure. I think he's going to be a star.
Coach: Mike Brown. When you look at their numbers, they are the No. 1-ranked defensive team, and second in offensive field goal percentage. The spread between their offensive field goal percentage and defensive field goal percentage is ridiculous. It's like seven or eight percent. That directly points to how well the team is coached. That's about preparation defensively and that's about putting guys in the right place to get good looks offensively. The way they go about their business shows they are a championship-caliber team.
Broussard: MVP: LeBron James.
ROY: Derrick Rose.
Coach: Mike Brown.
Dimes past: Jan. 1 | 3-4 | 5 | 6 | 7 | 8 | 9 | 10-11 | 12 | 13 | 14 | 15 | 16 | 17-18 | 19 | 20
Inauguration of the TrueHoop Network
By Henry Abbott | ESPN.com
Today is about change. Mainly, change at the top of the United States of America's org chart.
But there's one other little change I'm pleased to let you know about.
Starting right now, ESPN, TrueHoop and many of the best independent basketball blogs out there are now officially working hand in hand as the TrueHoop Network.
The TrueHoop Network, as fueled by the efforts of a growing list of favorite basketball bloggers (check out that new little drop down on the right) and newly hired ESPN editor and top-notch blogger Kevin Arnovitz will find and foster excellence in online basketball writing.
We will connect the best basketball blogs out there to the best readers out there: TrueHoop readers.
Not wanting to overstate things, but I think we have an opportunity, over the next several years, to change how sports are covered.
• To read the entire TrueHoop blog, click here.
By Maurice Brooks
ESPN.com

TUESDAY'S BEST
Paul Millsap, Jazz
: He looked healthy for the first time in almost two weeks (bruised right knee), tallying 28 points and grabbing 15 rebounds as Utah edged Minnesota.
---

TUESDAY'S WORST
T.J. Ford, Pacers
: The reserve point guard managed to take 14 shots in just 28 minutes of work, but he only made four of his attempts in an 18-point loss to the Spurs.
---
QUOTE OF THE NIGHT
"He is one of those types of players that when he gets it going, it's kind of hard to stop him. In clutch situations, when we needed a bucket, he was hitting big shot after big shot."
-- Atlanta forward Josh Smith on teammate Mike Bibby, who made 12 of 21 shots, including five 3-pointers, on the way to a season-high 31 points.
By John Hollinger | ESPN.com

My quick two cents on the theoretical Jermaine O'Neal-for-Shawn Marion deal: I sure hope Miami is getting something else out of this besides just O'Neal. Marion, at this point, is a better player, and perhaps more significant is the fact he's a much, much healthier player. There's really no reason for Miami to take on an extra year at $20 million for a center who can't stay healthy. If they'd wanted to do that they should have just kept Shaq.
If the Raps are going to throw in a draft choice or involve a third team and send some other tokens Miami's way, then it's at least worth talking about. But a straight Marion-O'Neal swap, or a Marion-and-Marcus Banks-for-O'Neal swap, seems to be a hugely unnecessary risk on the Heat's part, and one that pretty much nukes any benefit of the Shaq trade that brought them Marion in the first place.
• Read all five Hollinger Insider Gems.
Everyone Hitting Freebies
Elias Sports Bureau

The Jazz downed the Timberwolves 112-107, and they did it on the strength of hitting 93 percent of their foul shots, making 27 of 29. That came on the heels of shooting 92 percent from the line -- 22 of 24 -- in their most recent game, Saturday at Dallas. Utah became the first NBA team this season to shoot 90 percent from the line, while making at least 20 free throws, in each of two consecutive games.
In case you haven't been keeping track, the collective NBA free-throw percentage this season is a creditable 76.9 percent. There has been only one season in the history of the league in which the percentage finished that high: in 1973-74, when the league shot a record 77.1 percent.
Introducing TrueHoop Network

Jason Smith is joined by TrueHoop's Henry Abbott to promote the launch of a new blog network.
NBA Today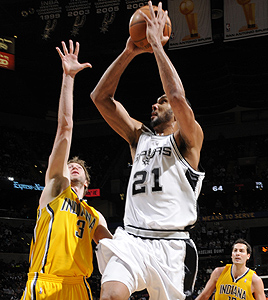 D. Clarke Evans/NBAE via Getty Images
Tim Duncan scored 27 points and pulled down 10 rebounds as the Spurs roughed up the Pacers 99-81 to reach the halfway point in first place in the Southwest Division.