Jonathan Ferrey/NBAE/Getty Images
LeBron, who finished with 14 assists, seemed to always make the perfect play against the Blazers.

Don Smith/NBAE/Getty Images
Jeff Green, who scored 26 points, hit this jumper at the buzzer to lift the Thunder past the Warriors.
LeBron Shoots Cavs To Win

PORTLAND -- LeBron James had no high-flying dunks, no highlight-film finishes and no crowd-pleasing rejections.
What he did have was 34 points and 14 assists in Cleveland's 104-98 win over the Trail Blazers, and for that reason the rest of the league should be very, very afraid.
Instead of dunking and driving, James put on a jump-shooting clinic on a stunned Blazers defense that did everything right and still ended up being burned. Portland closed off the lane to his drives right from the opening tip, when James blew past Nicolas Batum along the left baseline and went up for a rim-rattler, only to be met up high by Greg Oden and swatted.
That theme resounded for most of the game -- Portland brought an extra defender to the strong side any time James had the ball on the wing and held him to four free throws and only one dunk.
However, James' answer was superior -- to take one quick dribble to either side and effortlessly loft a midrange jumper over a helpless Blazers defender. His shot chart looked like something out of Richard Hamilton's files rather than the James chronicles: Just seven of his 30 shots came in the paint, but he was 7-of-17 on midrange jumpers and 3-of-6 on 3-pointers.
"He shot the ball very well tonight," Cavs coach Mike Brown said. "I was happy with the shot selection he had, he didn't force anything, [and] his balance was good. He's worked extremely hard on it and [assistant coach] Chris Jent has done a nice job working with him and making sure he gets those things right."
"That's fine with me," James said of Portland's strategy. "That's something I worked at in the offseason. If guys are gonna close the interior, just stay on the exterior and make shots. Most of my shots were jump shots tonight, but I felt really comfortable."
That, mind you, was when he wasn't taking advantage of all the defensive attention by playing the drive-draw-and-kick game so well he looked like a 6-foot-9 version of Steve Nash. James dished 14 assists while spoon-feeding a 33-point night to Mo Williams, and even played the point for a stretch of the second quarter when Sasha Pavlovic and Wally Szczerbiak were Cleveland's other perimeter players.
And when the Blazers adjusted, so did James.
Portland began trapping him out high in the fourth quarter, determined to get the ball out of his hands. All James did was wait for precisely the right minute to loft it over to Williams, who closed out the Blazers' chances with two late 3-pointers that took a four-point lead to eight with 46 seconds left.
"He found me, and I was ready," said Williams. "Obviously with [Zydrunas Ilgauskas] and [Delonte West] out I have to be more aggressive and make shots."
"We tried to get the ball out of LeBron's hands, but he picked us apart," said Joel Przybilla.
But this night was all about James and his ability to lift up a weary and injured Cavs team on a night they desperately needed it. Minus Ilgauskas and West, the Cavs' offensive options are far more limited, and the defensive attention on James all the greater.
Yet he carried the Cavs on his back once again, most notably in the third quarter. James accounted for all but two of the Cavs' 21 points in the period, scoring 14 points on his own -- all of which came on long jumpers -- while assisting a Williams 3-pointer and setting up two free throws by Anderson Varejao with another dish. The only bucket that didn't involve him came when Wally Szczerbiak (an unsung hero with 10 boards) grabbed an offensive rebound and dished to Varejao for a dunk.
In leading the Cleveland victory, James gave the Cavs an important bounce-back win following Monday night's loss in Los Angeles -- something that's becoming a trademark of this squad, which is now 8-0 following losses.
"It's a tribute to our guys," said Brown. "They come out after a loss and they are just real focused, and it showed tonight. They didn't hang their heads, they just came out and played."
Of course, if James keeps hitting jumpers like this, how the Cavs play after losses doesn't figure to matter much -- it's likely to become an exceedingly rare event.
John Hollinger writes for ESPN Insider. To e-mail him, click here.
Dimes past: Jan. 5 | 6 | 7 | 8 | 9 | 10-11 | 12 | 13 | 14 | 15 | 16 | 17-18 | 19 | 20 | 21
Baron's Lost Season In Los Angeles
By J.A. Adande | ESPN.com

LOS ANGELES -- Baron Davis will have to wait till next week before he can resume that Clippers tradition of waiting till next year.
Davis has missed the Clippers' past 10 games with a bruised tailbone but hoped to play in his return to Oakland against the Golden State Warriors on Sunday. Now that won't be happening after he said he tweaked his hamstring Tuesday night. The earliest he'll be back now is against the Chicago Bulls next Wednesday.
"Hopefully by Wednesday I can have a good solid foundation, where I can just get back on the court," Davis said.
From there? It sounds like he'll try to make the best of a lost year.
"I'm just approaching the rest of the season with a positive attitude," Davis said. "I'm not paying attention to what our record is, [it's about] how good we can become or how fast we can get it done."
Most people would have a better feeling about the economy than the Clippers' season, which features an injury list that has gone from ridiculous to absurd: Marcus Camby (sprained left ankle) Zach Randolph (sore left knee) and Chris Kaman (strained left arch) also missed Wednesday night's game.
Davis has had a variety of ailments himself, getting the flu during training camp, tearing a ligament in his finger during the preseason, and now this. After playing in all 82 games for the Warriors last year, Davis is back to his injury-prone ways that limited him to an average of 56 games the previous five seasons ... which means he's subjected to the old questions about his ability to stay on the court.
"You ask our trainers and our training staff about how hard I work," Davis said. "They know how much I want to be on that floor."
Halfway through the season, Davis has been completely dipped in life in Clippers Country. He said he doesn't believe the franchise is cursed.
"Every team has to go through some hard times," Davis said. "Hopefully this will be our tough time. I don't really care about what happened in the past. I'm all about what's going on now and what's going to happen in the future."
The future will just have to wait a little longer. Next week at the earliest.
Sources: Olympiacos Eyeing Marbury
By Chris Sheridan | ESPN.com

NEW YORK -- Stephon Marbury to Greece? It is being considered on both sides of the Atlantic Ocean.
Representatives of the Greek club Olympiacos contacted the New York Knicks earlier in the day in an effort to begin a dialogue on what it would take to get Marbury released from his contract, sources told ESPN.
Olympiacos recently lost Josh Childress for six to eight weeks after he returned to the United States for surgery to repair a sports hernia, and the club is seeking to acquire a replacement player in time for the start of the Top 16 phase of the Euroleague season, which begins Jan. 29 and runs through March 12.
• To read the entire story, click here.
By Maurice Brooks
ESPN.com

WEDNESDAY'S BEST
Andrew Bynum, Lakers
: Forty-two points being scored by a player in a Lakers' uniform is nothing new, but this time it wasn't Kobe (although he did have a triple-double). Bynum had a career-best 42 points and pulled down 15 rebounds against the Clippers.
---

WEDNESDAY'S WORST
Devin Harris, Nets
: For the second game in a row, Harris struggled (six points). The leading candidate for the league's Most Improved Player award, he missed 10 of 11 shots before aggravating a rib injury.
---
QUOTE OF THE NIGHT
"It's just embarrassing, really. They got whatever they wanted -- wide-open shots, drives, layups."
-- Dallas forward Dirk Nowitzki after the Mavericks gave up 133 points in a 34-point loss to the Bucks
Young Players Lifting Wolves
By John Hollinger | ESPN.com

Minnesota lost Tuesday night, but again looked pretty good doing it thanks to the improvement of their young players. Randy Foye has settled in as a starting 2 who periodically shifts to the point, Rodney Carney has taken Rashad McCants-Kardashian's spot in the rotation and played reasonably well, and even Sebastian Telfair has been showing a pulse.
But the best development may be the play of Kevin Love off the bench. He had 12 points and nine rebounds Wednesday night in the loss to Utah and averages an amazing 14.7 boards per 40 minutes on the season. In fact -- shhhh! -- Love now has a better PER than O.J. Mayo. (Love is at 16.48, Mayo at 15.66.) Which, one would think, would quiet down quite a bit all the flak Kevin McHale has taken about the draft-day trade of the two.
• Read all five Hollinger Insider Gems.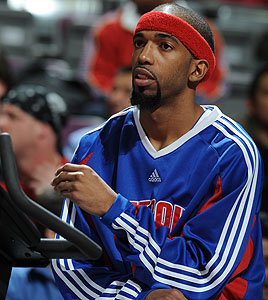 Allen Einstein/NBAE via Getty Images
After starting his first 611 games with the Pistons, Richard Hamilton came off the bench in their win against the Raptors. Hamilton, who has been with Detroit for seven seasons, scored seven points.
Thunder's Green To the Rescue
Elias Sports Bureau

Jeff Green's two-point field goal at the buzzer gave the Thunder a one-point win at Golden State. It was the franchise's first victory in a game in which it trailed in the final second since March 28, 2006, when Seattle's Ray Allen hit a game-winner against Memphis with three-tenths of a second left on the clock.
• Antawn Jamison scored 33 points and Caron Butler added 32 to lead the Wizards to a triumph at Sacramento. Jamison and Gilbert Arenas each have scored 30 or more points in the same game 11 times (the most for any pair of current NBA teammates) and Butler has done that with Arenas three times, but Wednesday's game was the first in which Jamison and Butler each scored at least 30 points for Washington.