AP Photo/Phelan M. Ebenhack
Jameer Nelson and the Magic were hounded by Rajon Rondo and the rest of the Celtics' defense.

Andrew D. Bernstein/Getty Images
Kobe Bryant tallied just 11 points and five assists, but the Lakers still cruised to the victory.
Celtics' Defense Stymies Cold-Shooting Magic
ORLANDO -- Obviously, the Magic are a very good shooting team, but sometimes you can love the 3-point shot too much. Even when you have great shooters like J.J. Redick, Jameer Nelson, Hedo Turkoglu and Rashard Lewis, if you build your offense around the 3-point shot, you're not going to win the big games.
The Celtics proved that in Thursday night's 90-80 win. Their defense was tremendous. They had a game plan of challenging the 3-point shot and keeping Nelson out of the paint, and they did a good job in both of those areas.
Magic center Dwight Howard was in foul trouble and wasn't much of a factor. Howard had one putback and only one strong power play. Kendrick Perkins is Boston's main interior defender and Kevin Garnett is always lurking. Garnett is the designated double-teamer, and Boston did a good job of neutralizing Howard.
In order for the Magic to win the big games as the season goes on, they are going to need Howard to get to the basket more. He really needs to work on taking the ball to the rim. He should have been able to take Perkins to school. He's much quicker and can jump higher than Perkins, but he never took advantage of that.
Also, although Orlando shoots the 3 well, the Magic need to get their 3-point shots from penetration and kickouts or by throwing the ball inside to Howard and letting him find the 3-point shooters. They need to go inside more and make the defense collapse, and then they will get even more open looks.
The Magic are the best 3-point shooting team in the league, but Turkoglu was the only one who shot well Thursday night (4-for-7 on 3s). The rest of the 3-point shooters struggled (7-for-22 as a team).
Boston went on that West Coast trip a few weeks ago and lost some games, and people started questioning whether they could defend their title. I don't think anyone is questioning that now. I like Boston best in the East, followed by Cleveland, and I have Orlando third. The Lakers are the best in the West and San Antonio is second right now.
The Celtics were playing a back-to-back. They went to Miami on Wednesday and shut the Heat right down. Then they turned around and did the same to Orlando.
One of the keys to the game was Rajon Rondo winning his matchup with Nelson. Even though Nelson came on at the end of the game, I think Rondo accomplished his objective of keeping Nelson out of the paint. Rondo picked him up end line to end line. By the time Nelson got the ball over half court, significant time was off the shot clock. This helped Boston keep Orlando from doing what they wanted to do.
Offensively, Paul Pierce (27 points, 10 rebounds, 4 assists) did a little bit of everything for the Celtics. He has played well these last two seasons, epitomized by last season's playoffs, especially Game 7 against Cleveland. He has expanded his game. He can shoot the 3, go to the basket, make runners and post up. He also defends and finds open teammates.
It seems like someone always steps up off the bench for the Celtics. Thursday night, it was Glen Davis' turn. He scored 16 points on 6-for-8 shooting and did most of his damage on jump shots.
The Celtics share the ball, always get good shots and never seem to be in a hurry. Meanwhile, as Orlando showed, when you come back from a road trip, the first game at home is usually a bummer.
Legendary coach and Hall of Famer Dr. Jack Ramsay serves as lead game analyst for the NBA on ESPN Radio.
Dimes past: Jan. 5 | 6 | 7 | 8 | 9 | 10-11 | 12 | 13 | 14 | 15 | 16 | 17-18 | 19 | 20 | 21 | 22
Bryant Learning To Play Through the Pain
By J.A. Adande | ESPN.com

LOS ANGELES -- Kobe Bryant caught the replay of his 81-point game earlier in the day Thursday, exactly three years after he scored the most points in an NBA game since Wilt Chamberlain's 100. Two things caught Bryant's attention: the lack of facial hair on the now scruffy-bearded Sasha Vujacic, and just how bad those 2005-06 Los Angeles Lakers really were.
"We were down 20 to the Raptors, who weren't very good at the time," Bryant said. "Our team just wasn't very good. We needed that type of effort from me just to keep us competitive in ballgames. That was true the entire season. Now we just don't need it."
All the Lakers needed from Bryant on Thursday was a ho-hum 11 points and five assists in a 117-97 victory over the Washington Wizards. Andrew Bynum followed up his 42-point, 15-rebound game against the Clippers the night before with 23 more points and 14 more rebounds, and five other Lakers scored in double figures.
If the team needed 70 more points from Bryant three years ago, a virtual night off like this is exactly what Bryant needs right now as he adjusts to playing with a dislocated right ring finger. It's his third game with the injury, which he suffered in the early going against Cleveland on Monday night when he tried to steal the ball from LeBron James.
Lakers athletic trainer Gary Vitti popped Bryant's finger into place and taped it to his pinky finger (which has a torn tendon itself and needs surgery). Bryant has had to adjust to shooting the ball off of his index and middle finger instead of all of his digits. It hasn't gone well, as he has made only 18 of 48 shots the past three games, tugging down his field goal percentage in what has been the most accurate shooting season of his career (currently 47.3 percent).
As he said after the Clippers game, "It's tough. The jumper, it's tough to get a rhythm going. Every shot is painful; some shots more than others. It's about getting used to that as the game progresses, but still trying to be effective in other areas."
There isn't much he can do to make it better or cause the pain to vanish. After the games, he has a therapist meet him at home and spends an hour pushing, pulling and wiggling the finger. No way Bryant could go for 81 points today.
"Now we just don't need it," Bryant said. "That was out of a necessity. It turned into one of those things where I was in an unbelievable rhythm."
He only uses extreme adjectives to describe the pain he's felt these days.
And the only 81 to be found in Staples Center on Thursday was Terrell Owens.
Heat's Mourning Retires In Good Health
ESPN Research

Alonzo Mourning, a seven-time All-Star who averaged 17.1 points and 8.5 rebounds over 15 seasons, officially retired on Thursday. The two-time NBA Defensive Player of the Year ranks 10th in league history with 2,356 blocked shots, and he is the Heat record holder in points, rebounds and games played.
Here is his career retrospective.
June 24, 1992: Mourning is selected No. 2 overall in the NBA draft by the Charlotte Hornets, behind only No. 1 overall pick Shaquille O'Neal.
Nov. 3, 1995: Mourning is traded to the Miami Heat in exchange for Glen Rice, Khalid Reeves, Matt Geiger and a first-round pick.
Oct. 16, 2000: Mourning, speaking publicly for the first time in two weeks since a routine team physical indicated a kidney ailment, offered an upbeat personal outlook for what had turned into a downcast period for a team that had hopes of giving South Florida its first NBA championship. Flanked by coach Pat Riley, two renowned kidney specialists and super-agent David Falk, Mourning revealed he is suffering from an advanced form of focal glomeruloslerosis, a malfunction of the kidney's waste-filtering mechanism. The disease causes protein to leak out of the blood and into the urine, leading to scarring inside the kidney that can progress to the point of requiring dialysis or a transplant. Medications cure the disease about half the time, and Mourning's doctors will treat him for at least four to six months to see if that works.
March 27, 2001: Mourning returns to the NBA and plays in his first game (against the Raptors) since the announcement of his kidney disease.
Sept. 13, 2002: Heat coach Pat Riley confirmed that Mourning will be out indefinitely because of his worsening kidney condition, with the Heat's star likely to miss the entire 2002-03 season.
July 16, 2003: Mourning signs a four-year contract with the Nets as a free agent.
Nov. 25, 2003: Mourning retires from the NBA due to a potentially life-threatening kidney disease, focal glomerulosclerosis, the same kidney disease that forced Sean Elliott to retire in 1999.
Dec. 19, 2003: Mourning undergoes a transplant of his left kidney, the donation made by his cousin, Jason Cooper.
Nov. 3, 2004: Mourning plays his first game since his kidney transplant.
Dec. 17, 2004: Mourning is traded to the Toronto Raptors with Aaron Williams, Eric Williams and two first-round picks in exchange for Vince Carter.
Feb. 11, 2005: Mourning is waived by the Raptors.
March 1, 2005: Mourning re-signs with the Heat.
June 20, 2006: The Heat win the NBA Finals. Mourning wins his first NBA title.
Dec. 19, 2007: Mourning tears patellar tendon and is out for the season, likely ending his career. Mourning refused to be wheeled off the court on a gurney and instead limped off with the help of two teammates.
Jan. 22, 2009: Mourning officially retires rather than mount another comeback.
By Maurice Brooks
ESPN.com

THURSDAY'S BEST
Paul Pierce, Celtics
: He showed off his all-around skills, leading the defending champions, who have notched seven straight victories, in points (27), rebounds (10) and assists (4).
---

THURSDAY'S WORST
Courtney Lee, Magic
: The rookie shooting guard struggled in his 18 minutes of court time against the Celtics, missing all five of his shot attempts (zero points) and not giving out a single assist.
---
QUOTE OF THE NIGHT
"Well, I'll wash the dishes and take out the trash and clean the windows. Whatever you want me to do, dear."
-- Former Heat center Alonzo Mourning to wife Tracy at his retirement press conference
Three Years After Kobe's 81
ESPN Research

As disappointing as this season has been for the Raptors, things could be worse.
Three years ago to the day (Jan. 22, 2006) the Lakers played the Raptors at Staples Center and Kobe Bryant went off for 81 points on 28-for-46 shooting (he was 18-for-20 from the line).
His 81 points are the second-highest single-game point total in NBA history.
Most Points In A Game NBA History

Player
Points
Date
Opponent
Wilt Chamberlain
100
3/2/62
New York
Kobe Bryant
81
1/22/06
Toronto
Wilt Chamberlain
78
12/8/61
Lakers
David Thompson
73
4/9/78
Detroit
Wilt Chamberlain
73
11/16/62
New York
Wilt Chamberlain
73
1/13/62
Chicago
Another Big Night For Bynum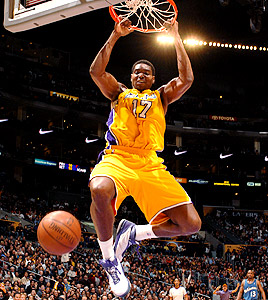 Noah Graham/NBAE/Getty Images
Although Andrew Bynum didn't fire in a career-high 42 points like he did the night before against the Clippers, he still led the Lakers in scoring, posting 23 points and grabbing 14 rebounds in another win for L.A.
Elias Sports Bureau

Here's a follow-up on Wednesday night's late game, in which the Lakers beat the Clippers 108-97. The headliners were Andrew Bynum (42 points) and Kobe Bryant (18 points, 12 assists, 10 rebounds), who became the first teammates to score 40 points and post a triple-double in the same game since Vince Carter and Jason Kidd did it for the Nets in April 2007.
But how about Clippers rookie DeAndre Jordan who scored 23 points on 11-for-12 shooting, including 10 dunks! Over the past 10 seasons, only two other players dunked 10 times in one game: Shaquille O'Neal (four times) and Dwight Howard (once).
• The Celtics extended their winning streak to seven games with a 90-80 victory at Orlando, snapping the Magic's own streak at seven straight wins. It was only the fifth game in NBA history between teams that were both at least 25 games above .500 for the season and on winning streaks of six or more games.

Jason Smith and Frank Dale debate whether the Clippers or the Kings are the worst team in the NBA.
NBA Today