AP Photo and Getty Image

We're going to do it, as always, just like the coaches do it.
Instructions for how to select All-Star reserves were e-mailed to all 30 teams Friday, with the head coaches in each conference asked to vote for seven players -- but none of their own -- by Tuesday at 3 p.m.
Each coach's list of seven submissions for the Feb. 15 show in Phoenix must include two forwards, two guards, one center and two wild cards, with those picks to be ranked from 1 to 7 to give each vote a point value for tiebreaking purposes. To increase the likelihood that the seven guys having the best seasons are indeed selected, coaches are also invited to ignore the listings on the official All-Star ballot if they feel a player can play multiple positions.
Results of the coaches' secret balloting will be revealed Thursday. Using all of the above guidelines, here's how our benches would look:
EAST RESERVES
Forwards: Paul Pierce (Boston), Danny Granger (Indiana)


We issue the same caution on Pierce as we give whenever
Kevin Garnett
comes up these days: Don't stare too hard at the stats. Pierce hovers at a new level of clutch ever since his NBA Finals MVP performance, even if his numbers don't look as gaudy as they did when he was younger. He's a lock.
Giving the other forward spot to Granger was tougher, given our longstanding reliance on the team-success doctrine. Yet this is an East with only six teams over .500, so even us team-success sticklers have to lighten up. That's especially true when Granger (26.1 ppg, 5.1 rpg, 3.4 apg) has been the most efficient small forward in the league not named LeBron James ... and when the Pacers, despite their unsightly 16-27 record, are still in playoff contention. (Did we mention those wins over the Celtics and Lakers while Mike Dunleavy was out injured?)
Guards: Joe Johnson (Atlanta) and Jameer Nelson (Orlando)



Johnson is merely the best Summer of 2010 free agent who no one ever talks about. His all-around brilliance (21.7 ppg, 6.0 apg, 4.5 rpg) has also helped the not-so-deep Hawks withstand injuries to Josh Smith and Al Horford, comfortably maintaining Atlanta's membership in that exclusive East six-pack of teams with winning records.
On this scorecard, meanwhile, Nelson places ahead of Devin Harris, Mo Williams, Rajon Rondo, Derrick Rose and any other on-the-rise East guard you want to name … for two reasons: 1. His statistical efficiency (.506 shooting from the field, .881 shooting from the line and .443 shooting on 3-pointers) has been Steve Nash-like. 2. Of the many reasons Orlando appears to have made the jump into the Boston/Cleveland stratosphere, little Jameer's increasing dependability -- when doubts about Orlando's backcourt were so loud in October -- might be the biggest.
Center: Chris Bosh (Toronto)

Bosh is listed on the All-Star ballot as a forward, but the rules -- as I'm sure you've memorized by now after hearing this lecture for a few years running -- allow the coaches to vote for players at the position "most advantageous for the All-Star team" and "not necessarily the one he plays most often during the season."
The league's memo to the coaches contains these exact words for cases like East center, where the only worthy backups to starter Dwight Howard are Charlotte's Emeka Okafor and New York's David Lee: "The position at which he is listed on the All-Star ballot should have no bearing on your vote."
So ...
Bosh goes here with his solid portfolio (23.1 ppg and 9.8 rpg) and without dwelling too much on the Raps' struggles with injuries and everything else. To counter any protests we simply wish to repeat pretty much everything we said to rationalize why Indy's substandard record shouldn't hurt Granger.
Wild cards: Devin Harris (New Jersey) and Mo Williams (Cleveland)


I'm guessing I'll be in the minority on this one, but I really wanted to make room for a second Cav to go with two players each from Boston and Orlando -- symmetry and all that. So Williams is the pick with Harris in spite of his modest statistical production (16.3 ppg and 4.0 apg) by All-Star standards, given the huge intangibles boost he has given LeBron James' Cavaliers. Williams' impact really stands out when you scan the NBA map and take stock of how many big offseason moves have panned out so far. Since Mo is pretty much it.
Limiting myself to two Celtics and two Magicians means no reserve spot for Ray Allen, Rashard Lewis or Hedo Turkoglu. The other hard choice here, then, came down to Harris and teammate Vince Carter for the wild-card spot opposite Williams, which I narrowly gave to Harris to acknowledge the sizable step he's taken after giving us no hint in his first 25 games as a Net last season that he was headed for the league leaders in scoring.
If the Nets hadn't slipped so far below .500 with a five-game skid through Friday's play, I'd have probably chosen Harris and Carter, since Vinsanity has been special, too, ratcheting up his trade value at a time when many presumed that his hefty contract would be near impossible to move at 32. I'll go out on a limb and concede that there's a far greater chance, in real life, that we'll see Carter than Williams on the East squad.
The Line's 1-7 East Order:
1. Johnson, 2. Pierce, 3. Bosh, 4. Granger, 5. Nelson, 6. Harris, 7. Williams
WEST RESERVES
Forwards: Dirk Nowitzki (Dallas) and Pau Gasol (Los Angeles Lakers)


Nowitzki suckered in his critics with a so-so November after turning 30 over the summer. Now? He's producing at a rate reminiscent of his MVP season in 2006-07 season. Let's face it: If the coaches were selecting the starters, Dirk would be a unanimous selection at forward alongside Tim Duncan.
But it's handy to have him available here to help us make it a European sweep with Gasol at the backup forward slots. You will find All-Stars with gaudier numbers than Pau's 17.5 points and 9.1 rebounds per game and 55.7 percent shooting -- and injuries to Carlos Boozer and Carmelo Anthony have created frontcourt openings that might not have been there otherwise -- but Kobe Bryant and Phil Jackson would be the first to concur that the Spaniard's arrival, as much as anything, is what has pitched the Lakers so far ahead of everyone else in the West. He has to be in Phoenix.
Guards: Chauncey Billups (Denver) and Brandon Roy (Portland)


You've surely seen what's happened to the Nuggets since Billups arrived in early November -- Denver is 27-13 despite playing without Anthony for 12 games -- and what's happened to the Pistons since Billups left. As with Gasol, Chauncey has changed the way we think about his new team without stats that slay you.
Then there's Roy, who has the flashy numbers (averaging 22.3 points, 5.2 assists and 4.7 rebounds) and the Billups-like prominence with his team. He was a somewhat surprising reserve selection by the coaches in 2008, but there will be no suspense this time, even in a conference teeming with good guards.
Center: Shaquille O'Neal (Phoenix)

Unlike the East, we've got options here without, say, needing to slide Gasol into this slot. Minnesota's Al Jefferson has a valid claim to a spot on the West bench, as the catalyst for a 14-27 team that's 8-2 in 2009 under new coach Kevin McHale. Golden State's Andris Biedrins has less of a claim with the Warriors mired at 13-31, but the Latvian lefty is at least worth a mention as the one double-double constant in a season filled with injuries and turmoil for the Dubs.
However ...
Like so many of our colleagues, we've been swept up in Shaq Fever. Picking O'Neal as Yao Ming's backup will inevitably be slammed as a lifetime-achievement selection or a sentimental choice because the Suns are hosting All-Star Weekend, but O'Neal's revival at 36 -- even allowing for all the problems Phoenix is suddenly having again -- has been one of the stories of the season.
I think we can all agree that the story only gets better if the West's coaches heed the growing calls to vote Shaq (eight 20-point games since Christmas after just eight last season) into the same All-Star locker room with Kobe and Phil.
Wild cards: Tony Parker (San Antonio) and Carmelo Anthony (Denver)


Who would be surprised if Steve Nash gets a reserve spot? Coaches everywhere love him and figure to be mindful of the Phoenix factor. Fact is, though, that the Suns awoke Saturday sitting ninth in the West. They haven't played well enough to merit three All-Stars; even two is a stretch after what we've seen from them this week. So with Amare Stoudemire starting and Shaq filling our void at center, our beloved Nash is omitted here, victimized by the slight statistical hit he's taken in trying to keep the Suns glued together through their bumpy transition from Mike D'Antoni to Terry Porter.
But the wide gap between the top nine teams and the bottom six makes our team-success mandate more relevant when selecting the West's reserves, which is why we couldn't quite squeeze Jefferson in here. Injuries did increase Big Al's chances, but Parker and Anthony are the choices in spite of the time they've missed, just ahead of Utah's Deron Williams, Dallas' Jason Terry and New Orleans' David West … as well as unexpected late-arriving contenders like Oklahoma City's Kevin Durant and Utah's Paul Millsap.
The Line's 1-7 West Order: 1. Nowitzki, 2. Gasol, 3. Billups, 4. Roy, 5. O'Neal, 6. Parker, 7. Anthony
Marc Stein is the senior NBA writer for ESPN.com. To e-mail him, click here.
Dimes past: Jan. 7 | 8 | 9 | 10-11 | 12 | 13 | 14 | 15 | 16 | 17-18 | 19 | 20 | 21 | 22 | 23

Michael Heisley's pursuit of Avery Johnson in Memphis made a lot of sense. The Grizzlies are a ridiculously young team that could use a firm hand. And they don't get much firmer than Johnson, who would also come with the credibility of a highly successful four-year run in Dallas … no matter how messy it was with the Mavs at the end.
Yet you can likewise understand why Johnson passed. The Grizz have some undeniably interesting kiddies on their roster: O.J. Mayo, Rudy Gay and Marc Gasol are the main three. But Johnson is guaranteed to receive $4 million for each of the next two seasons after this one from Mavs owner Mark Cuban.
The Lil' General, in other words, can probably afford to avoid taking a job with a team in a questionable market that puts him up against San Antonio, New Orleans, Houston and Dallas … just in his division.
Far tougher to comprehend is why Heisley, after being rebuffed by Johnson, felt such a rush to summon Lionel Hollins from Milwaukee for a third stint coaching with this franchise. I get that there's an obvious level of comfort for Heisley after Hollins served as Memphis' coaching bridge between Hubie Brown and Mike Fratello for four games in the 2004-05 season, but the Grizz had two former NBA head coaches on the bench as assistants to Marc Iavaroni -- Johnny Davis and Kevin O'Neill -- to get through the rest of the season. If the Grizzlies commissioned a more thorough coach search and didn't like what they found, Hollins was still going to be available.
Gay's growing dissatisfaction and an increasingly negative atmosphere around the team, according to sources close to the situation, were among the primary factors that led to Iavaroni's dismissal. Yet it was less than two years ago, you'll recall, when Iavaroni was hired away from Phoenix by Heisley and outgoing team president Jerry West as one of the league's hottest assistant coaches. Now Iavaroni's supporters wonder how he was ever supposed to succeed with a group so young that Gay, in his third season, ranks as a veteran … and after Memphis' much-maligned decision to deal Pau Gasol to the Los Angeles Lakers on Feb. 1, 2008.
Hollins, 55, will take over as Heisley's hand-picked fallback to Johnson, but he's going to be greeted with undeniable skepticism no matter how much ownership support he has. Hollins posted an 18-46 record in his previous two turns as the Grizzlies' interim coach.
---
This week's 10-day signings -- Anthony Tolliver to New Orleans, and Courtney Sims to Phoenix -- mean that there are 15 unclaimed roster spots in the league.
The Suns, Nuggets and Raptors are carrying 13-man rosters with two spots open, but Phoenix is over the $71.15 million luxury-tax threshold while Denver and Toronto only recently dropped below the tax line.
The nine teams with one roster spot open are the Bobcats, Bulls, Pistons, Rockets, Lakers, Grizzlies, Heat, Bucks and Sixers.
Point guard Dee Brown, who has played with Washington and Phoenix this season and briefly occupied the Suns' roster spot that went to Sims, left the country this week to sign with Israeli hoops institution Maccabi Tel-Aviv.
---
Record vs. Winners
| | |
| --- | --- |
| Team | Record |
| Lakers | 12-6 (.667) |
| Magic | 11-7 (.611) |
| Rockets | 11-7 (.611) |
| Cavaliers | 8-6 (.571) |
| Spurs | 9-8 (.529) |
Turns out that the 2008-09 regular season might not go down as the long-awaited Revenge of the Eastern Conference.
Things looked bleak for the West early, but it had sliced the East's seemingly comfortable edge in head-to-head games to 134-116 entering Saturday's play. Which supports the theory that the East's revival -- as it attempts to post a winning record against the West for the first time this decade -- is really a three-team enterprise (Boston, Cleveland, Orlando) in a conference otherwise flush with mediocrity.
Yet the whole league, frankly, is looking a bit top-heavy these days. Only six teams (table, right) possess records over .500 in games against teams with winning records through Friday.

Five questions with Knicks forward David Lee:
Q: Pretty much every player we've asked this says they love playing in Mike D'Antoni's system. How did you think you'd fit in when you heard he was going to be your coach?
A: For every person that said that it'd be a good fit [for me], I think there were some people that said, "Well, they want a Dirk Nowitzki-style guy that can just sit out there and shoot." So I looked at what Amare Stoudemire has done in the past and -- obviously I'm not the player that Amare is -- but I knew if I could get in shape and really get the pick-and-roll going ... I knew I could be effective. It's been a blessing for me for Chris [Duhon] to come here. Chris and I have developed a good relationship as far as the pick-and-roll and that's the center of his whole offense.
Q: Were you really out of shape?
A: In years past I would have been in great shape for how we were playing, but I think I started in the preseason probably about 10 pounds heavier than I should have been. Once I got in better shape, I got a lot of my explosiveness up to a level that I haven't had since I was in college and high school. I've dropped about 15 pounds since the season started already. Now I just keep working on that 15-footer and trying to expand my game.
Q: What's the state of your 15-footer at this point? How much can you improve it at this stage of your career?
A: I think it's gone from being nonexistent to now where you play and guys will close out and they'll actually try to take away the jump shot, which is good. Believe it or not, I've gotten to the point where I think mechanically it's where I want to be. Now it's about continuing to have confidence in my shot. I'll have games where I hit four or five jumpers and feel great. And then I'll have games where I'll miss one badly ... great shooters in this league don't worry about that. Ray Allen will air ball two in a row and swish his next three.
Q: Can this team really tune out all the talk about the summer of 2010? I imagine it's not as easy as it sounds.
A: Part of playing in New York is knowing you're going to have to deal with that stuff. When you sign with a New York team, whether it's basketball or baseball or whatever, you kind of understand that there's going to be constant media focus on everything. With what I've personally been through in the last three years, between Larry Brown, Isiah [Thomas], all the players, all the [Stephon] Marbury stuff, I've pretty much seen 20 years of drama in three years. But I personally think I'm stronger for having gone through all that.
Something I've learned is that there's athletes that go to New York and kind of thrive off the pressure and there's guys that go there and are a little uncomfortable. I never averaged 10 rebounds in college. I never averaged 15 points in college. So it's something that I think I've taken as kind of a challenge, knowing that every game you go out there you can't play badly, because you can go from being the man to the mule in New York City in about a week's time.
Q: What about all the trade speculation? You have to be one of the league leaders when it comes to being mentioned in potential deals. How do you handle that?
A: I talk to [team president] Donnie Walsh and some of those people. I've tried to keep it as simple as possible and take everything as a compliment. It's not as though [the Knicks are] trying to get rid of me. It's other teams that are coming in and offering stuff. I love New York. I love playing here, but I understand it's a business. I'd love to play the rest of my career in New York City, but I try to control the things I can control and keep playing ball to the best of my abilities.
The one frustrating part is that it's constantly talked about and constantly an issue and friends and family always saying, "I saw this, I saw that." The first thing I learned when I got to New York is not to read the paper and not to read the Internet. That's like rule No. 1. So I just hear about [trade speculation] when friends will call and say, "We heard you're going to Denver or we heard you're going to Portland." I don't concentrate on that too much because, if I focused on that, I think I've been traded about 65 times in four years.

"We slobber at the thought of defense."
Boston's Kevin Garnett, dishing one of his go-to lines about the Celtics, which we pass along now because the defending champs just played some positively drool-worthy D in Thursday night's 90-80 triumph in the Magic Kingdom.
For all the concern about its depth, as well as its lack of dependable size outside of Garnett and Kendrick Perkins, Boston sure seems to use its high energy, active hands and overall defensive focus to blanket the Magic's array of 3-point bombers and neutralize Dwight Howard better than anyone. With three guys managing some success in single-team coverage against the self-styled Superman -- Perkins, Glen Davis and KG -- those Orlando shooters are hugged tight when they're on the move or stationary, which often frustrates the Magic to the point that the ball stops moving.
Don't forget that, in this case, Orlando had four full days of rest after completing a stunning road sweep of the Western Conference division leaders (Spurs, Lakers, Nuggets) that finally had the hoops public drooling ... while Boston played host to Phoenix on Monday before a road game Wednesday in Miami. You figured that the Magic would at least manage 90 points, which hasn't happened in either of the teams' meetings this season.

The latest signals out of Milwaukee indicate that forward
Charlie Villanueva
should be classified as the most likely Buck to leave Brewtown, despite the persistent presumptions among rival executives that the Bucks are eager to shed Michael Redd's contract and Milwaukee's recent talks with Memphis on a swap of
Ramon Sessions
and rookie
Joe Alexander
for Grizzlies guard
Mike Conley
.
A disclaimer is needed, though.
Word is Milwaukee would actually prefer to ignore trade interest in Villanueva, who has hushed doubts about his ability to adapt to hard-driving new coach Scott Skiles by playing quite well since switching to a sixth-man role. The reason Milwaukee has to listen is the same reason why Charlotte nearly parted with Raymond Felton in a three-way deal with Dallas and Oklahoma City earlier this month and why New York has to weigh every David Lee proposal that comes in when Felton and Lee are flourishing, too.
Villanueva, Felton and Lee (and Sessions, too, incidentally) will all be restricted free agents in July. And their current employers almost certainly can't afford to match the offer sheets those restricteds are sure to receive in July for various luxury-tax and free agent-chasing reasons. The Bucks, Bobcats and Knicks are thus faced with losing those prime assets without compensation in July if they don't swing a trade in the next month or no later than June in conjunction with the draft.
---
Washington is generally regarded as the team that has the strongest interest in trading for the Bulls' very available
Larry Hughes
, especially now that Hughes -- who left the Wiz in the summer of 2005 for a lucrative free-agent deal in Cleveland -- has only one year left on his contract after this season.
And you can safely assume that Gilbert Arenas would push for such a swap, because he remains a big fan of Hughes dating to their time together with Washington and Golden State.
Yet the Wizard whose contract interests Chicago most -- possessed by big man Etan Thomas and which expires after the 2009-10 season, like Hughes' deal -- just suffered a knee injury that appears to have snuffed out any possibility of a Hughes return to D.C. before the Feb. 19 trading deadline.
---

Celtics coach Doc Rivers keeps saying that he hasn't abandoned hope of trying to convince
P.J. Brown
to come out of retirement for one more half-season of work.
So Doc will undoubtedly be encouraged to hear that Brown is not "officially retired," even though that's how the 39-year-old described himself in a recent interview with the New Orleans Times-Picayune.
The only way to officially retire is to send a retirement letter to the league office. But Brown hasn't done that, probably because the concept of players filling out formal paperwork when they decide to retire is a bit of an NBA myth.
You often hear and read about such retirement letters, but the league this week clarified that a player leaving the game with guaranteed money still on his contract is the only scenario that requires players to submit such a letter, which usually occurs in conjunction with some sort of injury-forced departure from the game.
Neither Brown nor Miami's Alonzo Mourning, who announced this week that he's not coming back to the Heat, left their teams with money still owed.
One Point Of Clarification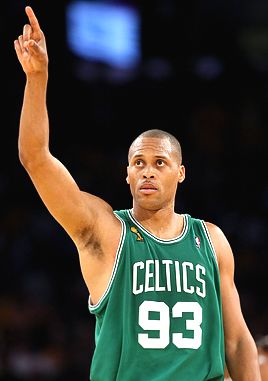 Stephen Dunn/Getty Images
P.J. Brown insists that he is not interested in another short-term comeback with the Boston Celtics are winning a championship with them last season, but it must be noted that Brown's recent declaration that he's "officially retired" isn't as official as it sounds. (See Box 5.)

The expected "scandal" in All-Star voting was averted Thursday night when the league announced that
Chris Paul
had nudged past
Tracy McGrady
in the final balloting for guards in the Western Conference.
So when NBA on ESPN Radio pregame host Marc Kestecher asked him to grade how the fans did with their votes, Marc Stein could only register what he described as two "minor quibbles."
The first: Joe Johnson, Jameer Nelson or Devin Harris -- Johnson is the pick here -- over Allen Iverson at guard in the East.
The second: Dirk Nowitzki over Amare Stoudemire at forward in the West.
NBA on ESPN Radio
The Bobcats and Mavericks could have satisfied the salary-cap requirements on last week's Matt Carroll-for-DeSagana Diop swap without Charlotte including the little-used Ryan Hollins.
Charlotte and Dallas, however, could not have thrown Hollins into the deal without the raw center's consent.
Kobe Bryant remains the only player in the NBA with a specific no-trade clause in his contract, but Hollins was part of that exclusive club which came to prominence last season when Devean George took advantage of a little-known league rule that prevents certain players with one-year contracts from being dealt without their permission to pull himself out of Dallas' trade with New Jersey in February for Jason Kidd.
The rule dictates that players on a one-year contract -- but who are also eligible for Early Bird or Full Bird free-agent rights at the end of that contract -- cannot be traded without their consent, because Bird rights are not transferrable to a new team in one-year deals.
The athletic-but-unpolished Hollins was one of 13 such players in the club this season … as is George yet again. But Hollins -- unlike his new teammate last February -- had zero hesitation when asked to sanction this deal. Knowing that the Mavs, after shedding Diop, had no true backup center behind Erick Dampier, Hollins was eager to come to the Western Conference to try to kick-start his career with the athletically challenged Mavs after two-plus seasons of limited opportunities with the Bobs.
The 24-year-old had to forfeit his Bird rights as a result, which means George remains the only Mav who falls under this classification. Yet it's a good time, as trade season gets serious, to identify the 17 players in the league who still have a say in trades like Hollins did. They break down into three groups.
Group 1: Bryant is the only player in the NBA with unlimited veto power on all trades.
Reason being: No-trade clauses in the NBA, as we've discussed here before on numerous occasions, are extremely rare. To get one, players must (a) have at least eight seasons of service time, (b) have spent at least four seasons with the same team and (c) be an unrestricted free agent with the right to negotiate a no-trade clause into a new contract with his old team.
Most NBA stars who would have the stature and/or leverage to request a no-trade clause sign their first big-money deals well before their eighth pro season and frequently sign extensions to those big contracts as opposed to going onto the open market and then re-signing with their current team as Bryant did in the summer of 2004. Many stars, then, are never even eligible for a no-trade clause, because the NBA does not allow such clauses to be added to contract extensions. They're only permissible in new contracts.
Group 2: One-year Bird cases like Hollins and George.
A team must receive permission from the player to trade him if he has signed a one-year contract (excluding options) and if the player (a) can become an Early Bird free agent at season's end (player completes a two-year contract or finishes two consecutive years with the same team), (b) can become a Full Bird free agent at season's end (player completes a three-year contract or finishes three consecutive seasons with the same team) or (c) has accepted a qualifying offer for the fifth season of a Rookie Scale contract.
Players on the following list lose their Bird rights and become a non-Bird free agent at season's end if, like Hollins, they give consent to be traded in these circumstances.
Atlanta:
Mario West
Boston:
Eddie House
* and
Sam Cassell
Chicago:
Ben Gordon
Dallas: Devean George*
Denver:
Anthony Carter
Detroit:
Walter Herrmann
Miami:
Chris Quinn
*
New Orleans:
Ryan Bowen
Oklahoma City:
Robert Swift
Orlando:
Adonal Foyle
San Antonio:
Michael Finley
*
* House, George, Quinn and Finley would no longer be on this list if they exercised their player option for 2009-10 … and players are permitted to pick up options during the season. Who could ever forget Milt Palacio doing so at the trade deadline in 2002 so he could be included in a deal which sent Tony Delk and Rodney Rogers to Boston for Palacio, Randy Brown, 2002's No. 22 overall pick (which Phoenix used on Casey Jacobsen) and a future All-Star guard named Joe Johnson?
Group 3: Players who, as restricted free agents in the previous offseason, signed offer sheets with other NBA teams that were matched.
A team that exercises its right of first refusal to retain a restricted free agent cannot trade that player for one year without the player's permission. The player -- there are only four in the league at present after Cleveland's Anderson Varejao came off the list in December -- also can't be traded to the team that gave him the offer sheet for one year.

Dwight Howard's rising popularity. Marc Iavaroni's (lack of) job security. The possibility that Stephon Marbury might actually go to Greece to resurrect his career. ESPN's NBA Today podcast host Jason Smith dials into Stein Line HQ to get the latest on all those newsy topics.
Listen to the inteview


Scott (Sydney, Australia):
What do you think the Pistons' problems are?
Marc Stein: There are two main issues.
1. Everyone could see that they needed to move Rip or Iverson to the bench -- if only to lift some tension off the team -- but Curry inexplicably took way too long to do so when it seemed like everything in Motown was on hold until he made a decision.
2. This team realistically has a limited ceiling even if Rip suddenly flourishes in a sixth-man role. Even if Iverson, Rip and Rasheed reverse their season-long dips in productively and the lineup change leads to better offense from a group that has missed Chauncey even more than it anticipated, Detroit is going to be no more than a spoiler in this East. You can't expect more from the Pistons when they're clearly a team in transition and when there are three full-fledged powerhouses in the way, no matter what Detroiters have come to expect every spring.
The consolation, of course, is that the Billups-for-Iverson trade gave Detroit so many options this summer and next summer in terms of reloading. I'm sure it's hard for Pistons fans to console themselves with that kind of thinking in the middle of the season, but this franchise is in an envious position even when the team is stuck in a funk like we've seen this month.
Eric (East Lansing, Mich.): "Limited" ceiling or not, I could still see the Pistons squeaking back into the Eastern Conference finals. If Orlando grabs the No. 1 seed, then the winner of the 4/5 series -- which looks like it'll be Detroit against Atlanta -- plays the Magic. Am I crazy? Or can this team still manage to beat the Hawks and Magic come playoff time? (We are Dwight Howard's kryptonite.)
Stein: Crazy is too strong, but you're banking almost totally on fortuitous seeding in the scenario you describe. Does Detroit still like its chances of winning a series with Orlando? I'll buy that part of your claim. But beating the Hawks and the Magic back-to-back would be way tougher than you make it sound. (I'd also say Boston's D bugs Dwight even more than Detroit's.)

Rob (Towaco, N.J.):
Why are the Spurs still considered contenders?
They were lucky to beat the Lakers last week -- Roger Mason wasn't fouled and Trevor Ariza didn't travel at the end -- and then they were killed by the Sixers, barely beat the Bulls and are struggling against the Bobcats today.
Seems to me that you "analysts" are too afraid to count out a team that has been successful over the years. All good things must come to an end. I just wish some of these experts would have the stones to say it. You guys seem to be so scared of being wrong sometimes.
The Spurs are a middle-of-the-pack team. Accept it.
Stein: Not sure which "experts" you've been following, because my impression is that the Spurs have been written off in a big way by a lot of my colleagues and still rarely get mentioned with the Celtics, Lakers, Cavs and now Magic.
I also couldn't disagree more with your view of their current status.
The Spurs remain the only team in the West that we KNOW can get to the finish line. In the NBA, where there are maybe four active coaches who've won it all, that means even more than it does in the other sports.
The Spurs also happen to have their deepest backcourt in years and more offensive firepower than they've had in some time. Are they short one big man? Sure. Do the Celts, Lakers, Cavs and Magic all wish they had one more dependable big? Ditto.
So if keeping San Antonio in the championship conversation makes me "scared," you can go ahead and say that I'm scared to death. Because there's no doubt in my mind that the Spurs are the West's biggest threat to the Lakers IF Duncan, Parker and Ginobili are all healthy in May and June.