Noah Graham/NBAE/Getty
Going up against Tim Duncan, Andrew Bynum posted 15 points, 11 rebounds and four blocked shots.

Garrett W. Ellwood/Getty Images
Chauncey Billups scored 22 points and Nene added 28 on 12-for-12 shooting to lead Denver past Utah.
Bynum: Sometimes 15 Is Greater Than 42

LOS ANGELES -- Andrew Bynum is starting to get it, but not getting it enough to recognize that scoring 15 points against Tim Duncan on Sunday was a better performance than scoring 42 points against a decimated Clippers front line, or dropping 23 points in 27 minutes against a youthful Washington Wizards squad.
Those other two games had nothing to do with the playoffs, which are all that matters in the NBA. This looked more like a postseason possibility, and if Bynum can play Duncan to a 15-15 standstill while managing to help out on Tony Parker as well, and if Manu Ginobili is going to be this erratic, then the series would be a short one. Back on their home court and back at full strength, with Jordan Farmar's surprisingly early return from a knee injury completing the restoration of the full roster they lacked in a narrow Spurs victory at San Antonio on Jan. 14, the Lakers pulled away in the second half for a 99-85 victory.
Bynum was in the middle of it all. He had 11 rebounds and four blocked shots. He guarded Duncan one-on-one and held his own. He made 7 of 8 free throws to pick up his points on a day his field goal attempts weren't falling (4-for-10). The only thing he didn't do was acknowledge this was the best game of his recent run of three straight double-doubles.
"I still think I went out there and played better the other two nights because my field goal percentage was better," Bynum said.
"My career high in points, that was a real special game for me," he added later.
Well, he is only 21 years old. Sometimes young people lack perspective. They think Jay-Z's "The Blueprint" was a better album than Public Enemy's "It Takes a Nation of Millions to Hold Us Back." They think dunk-fests and scoring sprees are better than defensive lock-downs.
At least Bynum is a young man with a fast learning curve. He heard the criticism he received for totaling 12 rebounds in three games (including a 20-3 rebounding clinic at the hands of Dwight Howard) and responded with games of 15, 14 and 11 rebounds.
Phil Jackson didn't do too much celebrating on Bynum's 42-point night, reminding the media that "there's two ends of the game." Not wanting to completely ruin Bynum's party, Jackson didn't bother to remind him that his counterpart, Clippers rookie DeAndre Jordan, set his own career high with 23 points that night.
"I didn't want to take it down," Jackson said after he emerged from the locker room. "I just let it sit there. I think he'll know."
Bynum gets it. You don't have to project him into the Hall of Fame yet, but you do have to expect him to continue to improve based on what we've seen so far.
At the start of the season, he didn't pick up where he left off when he was injured last season, although that didn't keep the Lakers from signing him to an extension that guarantees Bynum $42 million. Big money and little progress is the leading cause of agitation among fans. Ironically, it's the older people who need to have patience when it comes to Bynum.
"Andrew's an enigmatic person," Jackson said. "He doesn't show a lot of emotion. But he does get to work. He's a guy that's learning how to be a pro. He's learned that over the last year. He's learned how to work hard and improve."
It was evident in his shot-blocking Sunday. Recently he had been looking a step behind, cursed with bad timing, swatting away in futility after the ball sailed by. On Sunday he was on time like the Switzerland railway against the Spurs.
"That's a tribute to Kareem [Abdul-Jabbar] working with me and just talking to me," Bynum said. "Watching film with me, telling me where I should have been on a particular play versus where I was. Just learning when guys are gonna shoot. Sometimes I'm kind of stuck in between, I don't know whether to go to him or stay in my role. Today I kind of baited Tony [Parker] into taking the shot."
That provided a small answer for the pick-and-roll problem posed by Parker, on one play managing to stick close enough to Duncan to discourage a pass, then leaving in time to block Duncan's shot. He followed Parker down the lane and blocked a layup from behind. He altered a Ginobili shot, blocked a Duncan layup and even knocked down a Duncan jumper.
If Bynum was every bit the defensive presence of Duncan on Sunday, he also displayed a touch of Duncan stoicism. That's in character. He never screams out, "Don't you realize I didn't go to college and have barely played 200 NBA games?" He doesn't seem exceptionally happy when things go well.
"That's the way I'm supposed to play," Bynum said. "If I go out there and I play hard and good things happen and I put the extra work in, that's what's supposed to happen. That's what the Lakers drafted me for and paid me for."
Now if he can only realize that if he plays more games like this, and doesn't rack up a string of 40-point nights, the Lakers will feel they've gotten their money's worth.
J.A. Adande joined ESPN.com as an NBA columnist in August 2007 after 10 years with the Los Angeles Times. Click here to e-mail J.A.
Dimes past: Jan. 10-11 | 12 | 13 | 14 | 15 | 16 | 17-18 | 19 | 20 | 21 | 22 | 23 | 24-25
Adande Chat: Judge Manu By How He Plays In the Playoffs

Manu Ginobili (San Antonio): How many seasons do I have left if I keep throwing my body down the lane?
J.A. Adande: It's not about the number of seasons, it's about the number of seasons at a high level. Maybe Ginobili has just played too much basketball, all of those playoff games, all of those international games. He's so dependent on his legs, on being active, anticipating and getting places, that I don't think he can adjust his game (the way, say, Jordan and Barkley did later in their careers) as he slows down. These playoffs will be a big test to see if he still has it. Last year he didn't and the Spurs were cooked because of it.
Daniel R. (Redwood, Calif.): J.A. do you think the Pistons made the right choice by trading for AI?
J.A. Adande: Even if it isn't working out, I would do this trade again if I'm Detroit. They weren't going to get past Boston, Cleveland or Orlando with Billups, so why not try something different? And if it doesn't work out (as it hasn't so far) then they're not stuck with Iverson and his contract beyond the end of the season.
To read the entire chat, click here.
NBA Next-Level Data: Advantage Rondo
ESPN Stats and Analysis

With Rajon Rondo running the show, the Celtics raced out to a 27-point halftime lead on the way to a comfortable 124-100 win against the Mavericks on Sunday. Here is a look at how Rondo's performance measured up against the Mavericks' Jason Kidd.
Comparing Point Guards: Rondo vs. Kidd

Player
Points
Assists
Turnovers
Steals
Deflections
Boston's Rajon Rondo
13
14
2
4
6
Dallas' Jason Kidd
6
5
1
0
0
By Maurice Brooks
ESPN.com

SUNDAY'S BEST
Al Jefferson, Wolves
: He powered his way inside for a season-high 39 points and pulled down nine rebounds to help Minnesota win for the ninth time in 11 games, topping the Bulls 109-108 in overtime. He was 16-for-29 from the floor and 7-for-10 from the line.
---

SUNDAY'S WORST
Kirk Hinrich, Bulls
: Chicago was minus-12 with the guard on the floor and his 0-for-7 shooting (one point) and three turnovers had a lot to do with it.
---
QUOTE OF THE NIGHT
"I'd be lying if I said I wasn't. I think I can do more to help us win basketball games."
-- Pistons guard Allen Iverson, who admitted he was frustrated after Detroit fell to 20-19 since acquiring him from Denver.
Will Jefferson Be An All-Star?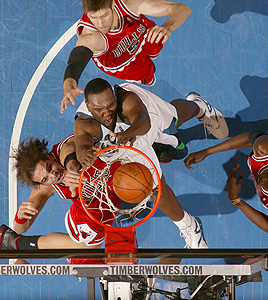 David Sherman/NBAE/Getty Images
"I hope he gets in, because he deserves it," said Minnesota's Randy Foye about teammate Al Jefferson (above). "He's the leader of this team, leading scorer, leading rebounder, and we're one of the hottest teams in the league."
Mourning On Oden and Bynum

Recently retired Alonzo Mourning says he was happy to be involved in the game when centers ruled because now it's more of a perimeter game. He also gives his thoughts on Greg Oden and Andrew Bynum.
Herd with Colin Cowherd
Elias Sports Bureau

DeAndre Jordan had 20 rebounds Sunday in his fourth career start. Only three other active players had a 20-rebound game in at least one of their first four career starts: Shaquille O'Neal, Tim Duncan and
Aaron Gray
.
• Lionel Hollins was named head coach of the Grizzlies on Sunday, for his third turn in charge of that franchise. Only two other men have had three separate stints as head coach of one franchise: Bob Bass, who had four tenures with the Spurs, and Cotton Fitzsimmons, who had three with the Suns.
• The Kings lost on Sunday to the Raptors, dropping Sacramento to 0-18 in interconference games this season. That's the longest such losing streak to start a season in NBA history. The previous record was 17 consecutive losses in interconference games to start a season, by the Nuggets in the 1997-98 season.