Chris McGrath/NBAE/Getty
Tracy McGrady's shooting touch was out of reach down the stretch in a loss to New York.

Ned Dishman/Contributor/Getty Images
If a rampaging Shaq is in the neighborhood, chances are members of the Wiz will hit the deck.

Layne Murdoch/Contributor/Getty Images
Philly's Royal Ivey really checks into the scorers' table during the Sixers' loss to the Hornets.

Larry W. Smith/Contributor/Getty Images
OKC no longer has the NBA's worst record, reason for Nenad Krstic and Desmond Mason's joy.

Gary Dineen/Contributor/Getty Images
Luc Richard Mbah a Moute and Joe Alexander couldn't stop Brian Cardinal and the Wolves (10-2 in '09).
Rip To My Lou: Alston Slams Teammates After Loss To Knicks

NEW YORK -- Of all the moves in Rafer Alston's repertoire, this was the rare one that he pulled off away from the court.
It's called the Rip Job, the time-honored, always-risky move where one calls out one's teammates for being selfish. Alston pulled it out of his bag of tricks in his hometown Monday night, trashing the Houston Rockets following their 104-98 loss to the New York Knicks.
"We played selfish tonight," Alston said, beginning a monologue that repeatedly came back to that opening statement. "They were able to capitalize off our selfishness, and we have to decide whether we're going to play one-on-one, or we're going to pass the ball to each other and play team ball."
With Yao Ming missing a second straight game because of a sore knee, the Rockets played their 31st consecutive game without their preferred starting lineup of Yao Ming, Tracy McGrady, Luis Scola, Alston and Ron Artest.
They expect to have that starting five back Wednesday night when they begin a stretch of playing 10 of their next 12 at home, but a return to health is not all it'll take to fix the upset chemistry in the locker room.
That'll only get better when two key players -- McGrady and Artest -- start to consistently buy into the key team offensive concept of moving the ball around.
The Rockets were the 22nd team to take a lead into the fourth quarter against New York, and on 21 previous occasions the Knicks came out on the losing end of the final score. But New York scored 16 of the game's final 20 points, and things actually started to go bad for the Rockets after back-to-back buckets by McGrady, the first a difficult 3-pointer with 6:14 remaining that electrified the crowd and gave Houston a 94-88 lead with 5:25 left.
The Knicks scored the next six points, McGrady missed his next four shots -- all 3-pointers -- and Artest had three 3-point misses of his own in the final two minutes to fuel the collapse.
One member of the Rockets pointed out that the team's victory the previous day in Detroit had been fool's gold because Houston had triumphed despite getting away from the passing and ball movement that have always been hallmarks of Rick Adelman's most successful teams. And one member of the Knicks said the Rockets seemed especially tired down the stretch.
Not coincidentally, the victory in Detroit coincided with the return of McGrady (six straight games) and Artest (nine of 10) from prolonged injury absences.
"One day you have this guy, the next day you don't have this, so the offense changes, the game plan changes, but one thing that shouldn't change is playing hard, playing together, playing with some passion," Alston said.
Asked to define what he meant by selfishness, Alston continued:
"Not playing with energy on both ends, being lazy, not running up and down the court, not sharing the basketball, not setting side screens. Just simple things," he said, not singling anyone out by name. "It's to a man. We got away from that for 6-7 games, then tonight we got back to playing selfish basketball."
At this point a year ago, the Rockets were only six games over .500 (26-20) but were three victories into what would become a 22-game winning streak -- the second-longest in NBA history.
Expectations were raised this year with the arrival of Artest and the hope that both Yao and McGrady could stay relatively injury-free, and being four games ahead of last year's pace -- with their next seven games against team with records of .500 or worse, five at home and two on the road (Memphis, Milwaukee) -- it is now time for the Rockets to be jelling with each other rather than yelling at one another.
This should, after all, be a championship-contending team, no?
"That's the million-dollar question; we don't know what the potential is for this team to be," Alston said. "I don't think we learned anything from winning 22 games; we're not playing nearly the way we were. We won 22 playing a passionate style of ball. We played together, we played hard, we played intense."
But on this night -- a night that should serve as a warning that the Rockets need to get on the same page quickly, or consider a major move at the trading deadline -- the most energy, passion and intensity was what was coming out of Alston's mouth afterward.
Ten games over .500 or not, Alston's words are far from reassuring for a team still a long ways away from being where they need to be -- physically and mentally -- to be a credible threat come playoff time.
Chris Sheridan covers the NBA for ESPN Insider. To e-mail Chris, click here.
Dimes past: Jan. 10-11 | 12 | 13 | 14 | 15 | 16 | 17-18 | 19 | 20 | 21 | 22 | 23 | 24-25 | 26
Meet Your Blogger: 48 Minutes Of Hell

TrueHoop introduces Graydon Gordian and Timothy Varner at 48 Minutes of Hell as the Spurs representatives in the new blog network:
You mounted an "ethical defense of Bruce Bowen" in 48 Minutes of Hell. Care to recapitulate your argument for the skeptical among us?
By the "skeptical among us" I believe you are referring to everyone.
My argument had several parts, but the most directly "ethical" of them had to do with the nature of the court as an ethical space. In short, I argued that the court (or the field or the ring) is not subject to the same ethical laws as regular society. The most extreme example of this is the difference between punching someone in public and doing so inside the confines of a boxing ring. The idea is that an act (such as punching) has no inherent ethical value but can only be judged by the context in which it occurs. And this context is not arbitrarily determined.
A concrete organization (the National Basketball Association) decides which acts are acceptable on the court and which are not. It even has the ability to go back and review an action in order to determine whether it deserves further punishment. I guess what I am trying to say is that there really is no such thing as the ethical and the unethical in professional sports; there is only the legal and the illegal.
And given how infrequently Bruce Bowen is reprimanded by the league, it suggests to me that his actions are inside what they determine to be acceptable. Some would argue that there is a code beyond the law, an unwritten ethical code of the court. I would argue that, although this idea is not without merit (and certainly something I fully subscribe to when playing), such notions recede into the background when it is your professional responsibility to do everything within your power to win.
To read the full blogger introduction, click here.
Not A Night Of Shooting Artest-ry
Elias Sports Bureau

Ron Artest made only one of his 10 three-point field-goal attempts in Houston's loss to the Knicks on Monday night. It was only the third time this season than an NBA player took at least 10 shots from beyond the arc and made no more than one. The two others to do that were also 1-for-10: Nate Robinson and Chauncey Billups.
• Chris Paul had 27 points, 15 assists, 10 rebounds and seven steals in the Hornets' 101-86 win over the 76ers on Monday night. The NBA has officially recorded steals for individual players since the start of the 1973-74 season. Over those 36 seasons, Paul is the first player to reach all four of those statistical levels in one game.
• Peja Stojakovic scored 26 points, despite not going to the free-throw line, in New Orleans' win over Philadelphia on Monday night. That ties the most points that Stojakovic has scored in his three seasons with the Hornets in a game in which he did not make a foul shot.
• Shaquille O'Neal scored a game-high 29 points and made nine of 10 free-throw attempts in Phoenix's 103-87 win at Washington on Monday night. It was the first time in six years that Shaq made at least 90 percent of his free throws in a game in which he attempted 10 or more foul shots. He last did that on Jan. 31, 2003, when he went 12-for-13 (.923) from the line to help the Lakers beat the Kings.
• The Rockets led the Knicks 80-74 at the end of the third quarter on Monday night, but New York rallied to win 104-98. The Knicks had been 0-21 this season in games in which they trailed heading into the fourth quarter. Prior to Monday night, they were the only team in the league that had not won a game in which it was behind entering the final period.
• Minnesota defeated Milwaukee 90-83 on Monday night, overcoming a rough night for Sebastian Telfair, who was 3-for-13 (.231) from the field, with six turnovers. Only one other player in Timberwolves history had such a low field-goal percentage (minimum 10 FGAs) and at least that many turnovers in one game. That was Christian Laettner, who was 2-for-13 (.154), with six turnovers in a loss at Orlando in April 1994.
By Andrew Ayres
ESPN.com

MONDAY'S BEST
Chris Paul, Hornets
: CP3 had 27 points, 15 assists, 10 rebounds and seven steals for his fifth triple-double of the season, and the Hornets defeated the 76ers 101-86. That's three steals away from the first quadruple-double since David Robinson in 1994.
---

MONDAY'S WORST
Mike Bibby, Hawks
: Netting a season-low two points (14 below his average) on 1-of-6 shooting in 32 minutes of action helps explain a 95-79 loss to Miami. Five turnovers too.
---
QUOTE OF THE NIGHT
"As a dad, right now my kids don't even talk about me. They talk about Kobe and LeBron, and I could say, 'Look at what your daddy did.'"
-- Suns center Shaquille O'Neal, who had 29 points in a win over the Wiz. Shaq daddy is five points shy of tying Hakeem Olajuwon for seventh all-time on the NBA scoring list.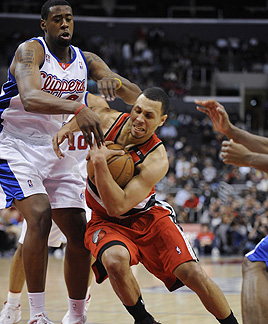 AP Photo/Phil McCarten
Blazers guard Brandon Roy could not be stopped by DeAndre Jordan or any other Clipper en route to 33 points and a 113-88 win
ESPN Research


Indiana's
Danny Granger
ranks fourth in the NBA in scoring average. The first three players (
Dwyane Wade
,
LeBron James
and
Dwyane Wade
) will be starters in the 2009 All-Star Game.
Granger may not make the All-Star Game, despite averaged 26.1 points per game. Will he be snubbed like the players listed below? The All-Star reserves will be announced on Thursday.
High PPG, No All-Star Love

Name
Year
Pre-ASG
Post-ASG
World B. Free, SD
'78-79
28.7
28.8
Dick Barnett, NY
'65-66
28.4
16.9
Purvis Short, GS
'84-85
27.8
28.4
D. Wilkins, ATL
'84-85
27.2
27.7
Dale Ellis, SEA
'87-88
26.6
24.7
* (min: 35 games played)
John Hollinger
ESPN.com

It's bad enough that Utah lost by 20 to Denver on Sunday night and fell into ninth place in the West, but now the Jazz are also confronted with the possibility that
Andrei Kirilenko
may need foot surgery -- something he'd been hoping to postpone until the offseason. The division race is rapidly getting away from the Jazz, and although
Carlos Boozer
is expected back in a few weeks, they may have to confront the possibility that their team will never be healthy this year, not even for a game.
Utah still has the goods to make the postseason despite all its injuries -- today's Playoff Odds project the Jazz to finish 45-37, two games ahead of Dallas -- and I maintain a healthy respect for what this team can accomplish if healthy. But if Kirilenko steps out, then it seems increasingly unlikely that we'll see the Jazz make a deep playoff run unless they make a major trade at the deadline.
For the rest of the Insider gems, click here