NBAE/Getty
According to Tim Legler, Allen, Nowitzki and Kapono are three of the best shooters in the league.

Andrew D. Bernstein/Getty Images
Gerald Wallace was taken to the hospital after the game to be checked for a possible collapsed lung.

Melissa Majchrzak/NBAE/Getty Images
Ronnie Brewer led Utah with 23 points, but the Jazz couldn't slow down Manu Ginobili in crunch time.

Joe Murphy/NBAE/Getty
The Grizzlies dropped their 10th game in a row, spoiling the 2008-09 debut for coach Lionel Hollins.
Shooting the Perfect Jump Shot is an Art

Editor's note: Former 3-point shootout champ Tim Legler breaks down the top marksmen in the game today.
Dirk Nowitzki
,
Jason Kapono
,
Kyle Korver
and
Vladimir Radmanovic
are all guys with phenomenal strokes. Nowitzki presents problems to defenses those other guys don't because he is seven feet tall. Plus his release is perfect.
Richard Hamilton is not necessarily your classic 3-point shooter, but you'd have to include him with those guys as one of the best shooters because of his array of shot-making skills, both off the screen and off the dribble. Plus his stroke is pretty much perfect. Peja Stojakovic is still one of the top shooters.
Steve Nash doesn't get nearly any catch-and-shoot opportunities. He's always shooting off the dribble. The problem is that he's always got the ball. It's very difficult to shoot the percentages that he shoots off the dribble, but he's a guy that usually has minimum percentages in the low 40s up to mid-40s from the 3-point line. He's also over 90 percent from the foul line and over 50 percent from the field. That's a ridiculous combination.
There's a statistical club called the 170 club. You have to shoot over 40 percent from the 3-point line, 50 percent from the field and 80 percent from the line. I had never heard of it until a reporter pointed out that I was leading the category in 1995-96. That is the biggest hallmark of what a truly great shooter is. Not only is he a great 3-point shooter, but he takes good enough shots from other spots on the floor that he's over 50 percent overall. There are only a few guys each year that can finish the year in the 170 club. It's a good measuring stick to see what guys have a lot of versatility as shooters.
Ray Allen is actually someone I thought was starting to slip a little bit, but he's having one of his best seasons in years. I said probably eight years ago that Allen is one of the best shooters on the planet, and he has to go down as one of the greatest ever. The thing about him that you can't really say about the others on this list is that he doesn't have any weaknesses as a shooter. He can shoot 3s off screens, which is one of the hardest things for any player to do. It's very difficult to come off a screen at 24 feet and be able to shoot a 3 on balance and shoot it well.
Guys like Kapono and Korver need to be stationary, facing the basket and then catch the ball and shoot. They have great strokes and great range, but being able to shoot off screens is a different thing. Allen can also shoot off the pick-and-roll when he's already got a live dribble. That's another very difficult thing to do. He can also shoot off screens on the baseline, and he can obviously spot up and catch and shoot as well.
All great shooters have classic releases. If you did a freeze frame of all their releases, they'd look nearly identical. They all have perfected their strokes. The ball is leaving their hands at the same place and touching their index fingers and middle fingers last every time. There are not a lot of guys in the league, unfortunately, that have that kind of mechanics. Another way to judge a shooter is how easily they shoot the ball. Signs of a good shooter can be seen in their body motion and how compact and efficient they are with their mechanics. It's amazing sometimes when you see a really good shooter. They can just flick their wrists and the ball travels 24 feet. And with some other guys you can just tell it's more work for them to get the ball there, because they don't have the proper mechanics.
I used to think shooters could be taught. And I work a lot as a shooting instructor individually with players and at camps, and I'm getting more and more convinced that shooters are born. You can certainly get better with coaching and repetition, but there is no question there is some sort of natural ability, whether it's depth perception or muscle memory, that gives the best shooters an advantage. But the ones that take it to the highest levels in the NBA also have ridiculous work ethics. They will just shoot so much early in their playing days and growing up that by the time they get to the NBA there is not a shot on the court that ever makes them feel uncomfortable. They've taken so many thousands of shots from every spot on the floor. All of them have something special inside that you can't teach. I've tried. I worked with enough kids who just won't be able to pick it up. They just don't have that high level of connection between their eye and their body and the rim. It's a very special thing.
Unfortunately, there aren't as many great shooters in the league as there used to be. If I went down every roster and made a list of the truly great shooters, the list would be a third of what it would have been 15 years ago. I think more and more guys have developed into more athletic, drive-to-the-basket players. They want to attack off the dribble and get to the rim. It's just become a bigger part of what guys want to do.
Here are my top shooters in the league:
1. Ray Allen
2. Dirk Nowitzki
3. Jason Kapono

Peja, Allen, Nowitzki, Kapono. That would be the best 3-point shooting contest in the league right now, especially when you consider they've all won it before. Peja (2002-03), Allen (2001), Nowitzki (2006) and Kapono (2007-08). That would be my dream contest. I think you'd have the highest percentage of total makes of any contest ever.
Rudy Fernandez is one young guy to keep an eye on. It's amazing to me that for a guy with his frame that he shoots the ball as well as he does. He's just going to get better and better, and of all the guys mentioned above, he's probably the best athlete. He's a little bit special. He's in the dunk contest this year. I don't think he'll win the dunk contest, but Fernandez is a guy who could probably be competitive in both someday.
ESPN analyst Tim Legler is a regular contributor to the Daily Dime.
Dimes past: Jan. 12 | 13 | 14 | 15 | 16 | 17-18 | 19 | 20 | 21 | 22 | 23 | 24-25 | 26 | 27
Chatting With Stephon Marbury

Alvaro (Chile): Stephon, would you consider going overseas with a big contract even if Boston wants you, but for less money?
Stephon Marbury: I want to play in the NBA, so overseas will have to wait. When I spoke about playing overseas I meant going over there when I was finished in the NBA.
Scott (Austin, Texas): The rap on you is that you have been a selfish player. How would you respond to that comment? How do you think your teammates would respond?
Stephon Marbury: I do not know why people would say that. I do not shoot the ball 25 times a night. I have averaged eight assists per game throughout my career. I was always the person that was basically the blame guy when things went wrong, and I understand that comes from being the highest-paid player. But look at the number of shots per game taken in my career and you will see it is not that many. So I do not believe I am a selfish player. I go on the court to win and that is it.
To read the entire chat, click here.
Bobcats Are Learning How To Win From the Master
By J.A. Adande | ESPN.com

LOS ANGELES -- Because this is Larry Brown we're talking about, we won't say he's saving the best for last. We'll simply say this latest coaching job could be his best yet, even better than his winning record in a year and a half with the Clippers.
Brown's Charlotte Bobcats are in close proximity to the playoff picture, sitting a game and a half out of the eighth Eastern Conference spot after a double-overtime victory over the Los Angeles Lakers on Tuesday night.
Perhaps Brown doesn't deserve the credit for this latest W, since the Bobcats have beaten the Lakers in five of their past six meetings, including three in a row at Staples Center. But this team has gone from his initial observation that "I really didn't believe we could win any games," to one that has taken off after the trade of Jason Richardson to Phoenix for Boris Diaw and Raja Bell, and now has won six of its past eight games and 12 of the past 20.
On Tuesday the Bobcats won even after they watched an agonized Gerald Wallace slouch off to the locker room after absorbing a hockey check-style flagrant foul from Andrew Bynum with 2:08 left in the fourth quarter. Wallace was taken to the hospital for a CT scan to check for a collapsed lung or possible broken ribs.
The Lakers lost Kobe Bryant in the first overtime to the opposite of a flagrant, a bump of Shannon Brown as Brown dribbled from the sideline toward the middle of the court. Bryant had scored 38 points, and brought the Lakers back from a five-point deficit at the end of regulation with two jumpers, a 3-pointer and a pass to Derek Fisher for the game-tying 3-pointer.
But the Bobcats withstood the Lakers' resilience and Charlotte's own miscues (such as seven consecutive missed free throws in the fourth quarter). Now cue Jim Mora: playoffs!?!
"It's still early right now," Emeka Okafor said. "We definitely have that on our list of things we want to accomplish."
Brown has been there in every one of his previous eight NBA stops except that disastrous season with the Knicks two years ago, and you knew he wasn't going out like that. Back in the game at 68, he's still got it.
"He's a very detailed person," Okafor said. "That's what I think we lacked, was attention to details. You've seen the results."
It's not that Brown has changed. Others have come around on their perspective.
"As a young player, I didn't see the game for all that it was, so I didn't appreciate the qualities that he had as a coach," said Bell, who spent his first two seasons in the league with Brown in Philadelphia. "This time around, as a guy who's seen the game and understands it a little better, I've been able to see him in action and on the fly, tweaking his game plans.
"He's got this ability to know where everybody is on the court. He has a photographic memory. He can tell you where you were supposed to have been and [what you] should have done. I've played for a lot of guys; I've never seen anybody who can do that. It's been fun. And I think he's been a little easier on me now that I'm a vet."
Brown likes rookie point guard D.J. Augustin (currently injured) and has little use for Adam Morrison (healthy, but barely playing), and will probably fall in and out of love with this roster as he is known to do. For now, though, they're still in the early stages of Life with Larry, and that's a good time for almost every franchise.
"My thing is, we just want to get better," Brown said. "We want to get better every day and we want to see our kids improve, and I think we've seen that."
By Maurice Brooks
ESPN.com

TUESDAY'S BEST
Mo Williams, Cavaliers
: LeBron James notched a triple-double, but he wasn't even the best player in a Cleveland uniform. Williams had 43 points (seven 3-pointers), 11 assists and eight rebounds in a seven-point win against the Kings.
---

TUESDAY'S WORST
Marc Gasol, Grizzlies
: The rookie center didn't do a good job impressing his new coach, going 0-for-5 from the floor and grabbing just two rebounds in 20 minutes of action.
---
QUOTE OF THE NIGHT
"They are the best team in the East. Two words -- Dwight Howard -- explain it. He is the most dominant player since Shaquille O'Neal -- hands down."
-- Indiana forward Danny Granger after the Pacers were clobbered by the Magic.
Bobcats Shock Lakers In L.A.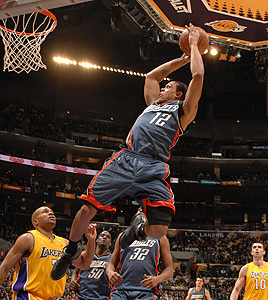 Noah Graham/NBAE/Getty Images
Shannon Brown came off the bench to score five of his 14 points in the second overtime to help the Bobcats stop the Lakers 117-110.
Elias Sports Bureau

Mickael Pietrus scored 27 points and grabbed 10 rebounds in Orlando's win over Indiana. Pietrus did not play in any of Orlando's previous 12 games. The last NBA player to have that many points and rebounds after missing 10 or more of his team's games was Alonzo Mourning. Mourning scored 38 points and had 10 rebounds for Miami on Jan. 6, 1996, after missing the Heat's previous 12 games with a foot injury.
• The Spurs beat the Jazz 106-100 on Tuesday night. San Antonio has now won the past 28 games in which it scored at least 100 points, the longest current streak of its kind in the NBA.
• Kobe Bryant, who was held scoreless in the first quarter, scored 38 points in the Lakers' double-overtime loss to the Bobcats. Those are the most points scored by a player in a game in which he failed to score in the opening quarter since Jan. 4, 2007. The player to do it that day was none other than Kobe Bryant, who scored 42 points in a 132-128 overtime win at Sacramento.
John Hollinger
ESPN.com

Anyone else noticing what Greg Oden has done lately?
On Monday night he made all seven shots from the field in Portland's rout of the Clippers, and that came on the heels of strong efforts against Washington (18 points and 10 boards) and a week earlier against Milwaukee (24 and 15). He has four straight double-figure scoring outings, and has earned 27 free-throw attempts in those four contests.
Yes, he wasn't exactly facing the league's scariest interior defenses, but take a look at his full-season numbers. He's averaging 15.2 points and 12.3 boards per 40 minutes, shooting 55.7 percent from the field and carrying a PER of 17.35. All in all, I'd say that's a very respectable performance for a guy who hadn't played in a year and was coming off microfracture surgery, and his numbers are still going up.
• I wasn't surprised that I got a lot of e-mails objecting to the omission of Paul Pierce from my All-Star subs. What did surprise me was how many of them objected, specifically, to my putting Rajon Rondo on the team ahead of Pierce.
Part of this is because Pierce is a figurehead for the Celtics in a way that Rondo isn't, and partly this is because Pierce is a reigning Finals MVP.
But he also has a couple of points in his defense: He's played 36.5 minutes per game to Rondo's 32.4, and he didn't have a puzzling December slump like Rondo did. Additionally, Celtics fans point out that Pierce is the Celtics' go-to scorer, while Rondo is the fourth option.
Still, two major factors pull me in the direction of Rondo. The first is that Pierce's numbers are down this season, again, and that's tough to just gloss over. Second, Rondo is, hands down, the NBA's best defensive player at his position. Pierce is a quality defender too, of course, but Rondo is in a different category, and given that he also rates ahead of Pierce in PER, it doesn't seem like a difficult call from here.
For the rest of the Insider gems, click here