Andrew D. Bernstein/NBAE/Getty
Baron Davis and Marcus Camby both came off the bench in their return to the lineup for the Clippers.

Jeff Zelevansky/Getty Images
Although he is an outstanding shooter from deep, 3-pointers aren't the only shots Jose Calderon excels at.

Bill Baptist/NBAE via Getty Images
The Sixers celebrate after Samuel Dalembert's swat of Tracy McGrady sealed a 95-93 win over Houston.

AP Photo/Alex Brandon
Nuggets coach George Karl could not talk his way out of a 94-81 road loss to the Hornets.

AP Photo/Elise Amendola
Eddie House hit a career-high eight 3-pointers in Boston's 119-100 win over the Kings.

AP Photo/Bill Kostroun
Nets center Brook Lopez did not let Raptors star Chris Bosh go untouched.
Clippers Get Two Important Pieces To the Puzzle Back

LOS ANGELES -- Either they are in denial, or irrationally exuberant, but the 10-35 Los Angeles Clippers think they have a pretty good team. The disclaimer? "Once we get everyone healthy," a refrain that can be attributed from virtually everyone in the organization, from head coach and general manager Mike Dunleavy to point guard Baron Davis.
On Wednesday night, the healing process began when Baron Davis took the floor for the first time since New Year's Eve in the Clippers' 95-75 loss to the Chicago Bulls at Staples Center. Marcus Camby also returned to action after a five-game absence.
Davis' reintroduction into the Clippers' lineup was a rocky one. In 21 minutes off the bench, he managed only three points on 1-for-10 shooting, while dishing out four assists.
"I felt a little rusty," Davis said. "I wasn't disappointed in my effort. I just have to continue to get stronger."
Davis bruised his tailbone on Oct. 29 when he took a nasty fall during the Clippers' second game of the season. He continued to play, but the first third of the Clippers' schedule was a slog for Davis, who never quite found his game. After a particularly brutal eight-game stretch during which he missed two of every three shots, Davis went on the shelf officially.
In addition to Davis, big men Chris Kaman, Zach Randolph and Camby have all missed significant time. In recent games, the Clippers have suited up the league-mandated minimum of eight players.
The team's depleted roster has compounded the slowness of Davis' recovery. "He hasn't really been able to practice," Dunleavy said. With few healthy teammates, Davis has been limited to two-on-two drills, which don't offer the same kind of conditioning as full-contact practice.
"Not having any practice time, five-on-five felt a lot different than playing one-on-one or two-on-two," Davis said. "I just have to find my legs at this point and work my way back into shape."
Davis entered the game with 5:37 left in the first quarter, and looked very sharp. On his first possession, he executed a seamless drive-and-kick with Clippers swingman Ricky Davis. On the next trip down, Davis delivered a beautiful no-look pass on the break to Eric Gordon, who missed the easy layup.
"I thought Baron, when he first came into the game, looked OK," Dunleavy said. "Then as he went along, he had a hard time finishing and getting shots."
The rust was evident in Davis' shooting game. He missed a couple of layups, and looked creaky on a series of contested jumpers.
Despite his inauspicious return, the optimists have some evidence to back up their hopefulness. Prior to the Clippers' injury bug, the team went 6-6 during a stretch between Thanksgiving and mid-December, with meaningful wins over Portland, Houston and Miami.
Though Davis shot the ball poorly, he and Randolph established a formidable two-man game for the Clippers. Camby anchored the interior defense and the team's rebounding attack, while Gordon emerged as a legitimate scoring option. For a short while, the Clippers looked like a respectable, middle-of-the-pack team in the West.
Soon after that, their high-priced talent joined Kaman on the sidelines. Randolph suffered a bruised left knee on Dec. 22. Davis' departure from the lineup occurred nine days later. Then, on Jan. 17, Camby went down with a sprained left ankle.
As the Clippers piled up losses with their ragtag lineup, empathy turned into grumbling. Dunleavy made a veiled suggestion to the Los Angeles Times story that agents often tell their players to take their time returning from injury. Meanwhile, reports began to surface that there was resentment in certain corners of the Clippers' locker room over the glacial pace of recovery among the big-name players.
For many in Los Angeles, the contrast came into focus last week when the Clippers faced the Lakers at Staples Center. While Kobe Bryant gritted his way though a dislocated finger on his shooting hand, the Clippers' M*A*S*H unit was in street clothes on the bench.
Davis never enjoyed the honeymoon both he and the organization hoped for when he made his homecoming to Los Angeles. His charisma and confidence haven't translated into any tangible success for his team, as the Clippers appear headed to the NBA Draft Lottery for a third consecutive season. But his return might finally allow the Clippers to figure out who they are as a team.
"So far we haven't been able to get that chemistry," Davis said. "When we get everyone back, we'll find that identity."
Kevin Arnovitz is an NBA editor for ESPN.com.
Dimes past: Jan. 13 | 14 | 15 | 16 | 17-18 | 19 | 20 | 21 | 22 | 23 | 24-25 | 26 | 27
Calderon: No Free Throws, So We Gaze At His Other Numbers
By Chris Sheridan | ESPN.com

EAST RUTHERFORD, N.J. -- Raptors guard Jose Calderon turned comedian after the game Wednesday night, saying the reason he didn't go to the free throw line all night was because he was sick of talking about his streak, so he had made a determined effort not to drive to the hole.
Maybe he should have driven to the hole with 22 seconds remaining, because he opted for a 19-foot jumper with the Raptors leading the Nets by a point, and the shot missed.
And it's a certainty that Calderon wouldn't have been making any postgame funny talk -- nor would Raptors coach Jay Triano have been good-naturedly laughing off being compared to former Spanish National Team coach Jose Garcia-Reneses (the coach who refused to start Calderon in all but one game of last summer's Olympics) -- had Nets guard Devin Harris not missed the final shot of the game, a step-back 20-footer after he broke Joey Graham's ankles on a between the legs pull-back dribble in Toronto's 107-106 victory.
But this was a night for Calderon's free throw streak to remain intact, for Triano to get away with benching Calderon for a key 2 1/2-minute stretch midway through the fourth quarter, and for the Raptors to eke out an important victory that evened the season series between the teams at 2-2. The latter is something that could become awfully important if these are the two teams fighting for the final Eastern Conference playoff berth in mid-April.
"You get that shot nine times out of 10, and I hit that shot like 98.6 percent of the time," Harris said. "I just didn't put enough up on it."
It's probably fair to say Harris won the statistical battle between the point guards, finishing with 25 points, 10 assists, three steals and just one turnover to Calderon's 17 points, 11 assists, three steals and two turnovers.
But the most telling stat was the field goal percentage for the two players -- Harris missing 10 of his 17 attempts and going 1-for-4 on 3-pointers, while Calderon shot 7-for-13 overall and 3-for-5 on 3s.
Calderon's streak of consecutive free throws remained at 86, still 11 shy of the record set by Micheal Williams of the Minnesota Timberwolves in 1993, while his field goal percentage rose from .510 to .511, his 3-point percentage from .464 to .470, and his league-leading assist-to-turnover ratio went from 4.28 to 4.31. (Sixteen of Calderon's free throws have come on technical foul shots, according to the good folks at the Elias Sports Bureau).
Everyone getting the point here?
With so much attention being paid to Calderon's free throw streak, it has been easy to lose track of the fact Calderon's accuracy from all over the court has been phenomenal, too.
The Raptors' poor record, along with a stint in which Calderon missed 11 of 12 games because of a hamstring injury, will keep him out of consideration in voting among Eastern Conference coaches for All-Star reserves (Triano voted for Harris as one of his guard choices, by the way). But that shouldn't disguise the fact this is a player not only leading the league in free-throw percentage and assist-to-turnover ratio, he's also third overall in 3-point shooting (behind Anthony Morrow of Golden State and Matt Bonner of San Antonio) and first overall among guards in field-goal percentage (a shade ahead of Ray Allen and Jameer Nelson).
Not bad for a guy who shot 16 percent on 3s his rookie season, 33 percent the next season and 43 percent a season ago.
His secret?
A big, old rubber band.
In discussing Calderon's shooting prowess beforehand, Triano explained how the Raptors were so frustrated three years ago by Calderon's poor shooting stroke -- his flaw was that he flared his right elbow out -- that one day Triano, then an assistant to Sam Mitchell, grabbed a long rubber band that players use for leg stretching exercises, attached it to Calderon's forearms just below the elbow and told him to try shooting that way, which kept Calderon's elbow tucked at his side.
The trick was so successful, Calderon used it over the summer when working on his shot (he said he also would position himself one inch from a wall on his right side and practice that way, knowing that if he flared his elbow out he'd scrape it against a cinder block surface).
"It was to help concentrate, but you could not do more than 10 shots in a row with the rubber band because it hurt too much," Calderon said. "But I'd keep shooting without the band, and I'd keep shooting the same way."
The rubber band method is now being used to reconstruct Roko Ukic's shot, but that's a story for another day (or, more likely, another season).
For now, Calderon's free throw streak remains intact -- and the rise in his other numbers (with a big assist from a key missed jumper by Harris) helps explain why the Raptors, despite a record they're embarrassed by, remain in the picture in the cluttered Eastern Conference playoff race.
Another Game, Another 3-Pointer For Billups
Elias Sports Bureau

Chauncey Billups has played only 42 games for the Nuggets, but he became just the second player in Denver's NBA history to fashion a streak of 30 consecutive games with at least one 3-point field goal. (It's four games shy of the longest streak of Billups' career: 34 straight games for the Pistons in 2005-06.) The only other player with a 30-game streak for the NBA Nuggets was Michael Adams, who made at least one 3-pointer in 79 consecutive regular-season games overlapping the 1987-88 and 1988-89 seasons.
By Maurice Brooks
ESPN.com

WEDNESDAY'S BEST
Kevin Durant, Thunder
: He filled up the box score, posting 35 points, 10 rebounds, six assists and four blocks to lead Oklahoma City to a 114-102 victory over the Grizzlies. The Thunder closed the game with a 14-0 run.
---

WEDNESDAY'S WORST
Monta Ellis, Warriors
: In just his third game of the season (ankle injury), the shooting guard continued to look for his stroke, missing 9 of 11 shots and finishing with seven points in a 117-93 loss to the Mavericks.
---
QUOTE OF THE NIGHT
"I just always try to bring energy. It's all confidence and the team. Even when I was missing, they kept telling me, just shoot it."
-- Knicks guard Nate Robinson after scoring 20 of his 24 points in the fourth quarter in a victory against the Hawks.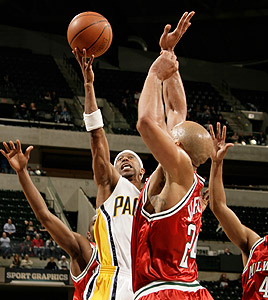 Ron Hoskins/NBAE/Getty Images
With leading scorer Danny Granger out with a sore knee, T.J. Ford picked up the slack on offense by tying his career high with 34 points as the Pacers beat the Bucks, 107-99.
John Hollinger
ESPN.com

In response to my All-Star reserves column, several Cavs supporters were asking about Mo Williams' exclusion from my list. I'm sure those messages will get more vociferous after he hung 43 points on the hapless Kings on Tuesday night. While that certainly helps his résumé, I maintain my position that the Cavs are a one-star proposition until further notice.
That can be seen in any number of ways -- for starters, three Eastern point guards (Devin Harris, Jameer Nelson and Rajon Rondo) have been superior, and for another he's got an awfully high turnover rate for a guy who mostly has to spot up.
But perhaps the most convincing exercise is this one: "If Player X were traded to the Cavs, whom would I consider their second-best player?" In other words, if Vince Carter were traded to Cleveland, everybody would consider him the Cavs' No. 2 guy, and Williams would get bumped down the list. Nobody can seriously argue otherwise. You can make the same argument with several other players; in fact, before Zydrunas Ilgauskas was hurt, most thought of him as the Cavs' No. 2 gun.
So it seems a little dishonest to stick Williams on the All-Star team ahead of such players just because he's in a better situation. (Not to mention a little frustrating for anyone in Milwaukee who watched him blatantly mail it in on D the past two seasons while awaiting his parole.)
Regardless of my feelings, I suspect Williams may make it -- Rajon Rondo and Ray Allen are likely to split the "third Celtic vote" and enable Williams to sneak in as a result, along with Nelson, Harris, Danny Granger, Chris Bosh, Paul Pierce and Joe Johnson.
However, Tuesday night's game probably won't have anything to do with it. Coaches' ballots were due Tuesday, and most probably didn't wait on the outcome of a Cavs-Kings game to make their picks.
For the rest of the Insider gems, click here

When the rosters were released for the The T-Mobile Rookie Challenge on Wednesday, the biggest snub was the Timberwolves' Kevin Love, who is currently ranked second in the ESPN.com Rookie Rankings.
While the folks in Minnesota aren't happy, David Thorpe of Scouts Inc. says the omission isn't that shocking:
"It is not surprising that Love was not shown any love by the league's assistant coaches. They left one of the NBA's best rebounders off the rookie All-Star list. He is one of the best screeners, too, with amazing hands and a gifted set of passing skills.
"Love did not start the season strongly, and this league's scouts and assistant coaches are quick to make judgments, but slow to change them. A survey of the league's executives or its head coaches would likely reveal a different finding. Guys in charge best appreciate the talents Love brings to every game. They pine for a player who does the little things as well as he does.
"Averaging nine points and eight rebounds in less than half the game suggests he does some of the big things well also, and his teammates and coaches are certainly saying to Love, 'No worries, big fella, keep doing what you're doing and you'll be playing in the Sunday game really soon.'"