Fernando Medina/Getty Images
Orlando's Stan Van Gundy and his trio of All-Stars have emerged as one of the league's best teams.

Barry Gossage/Getty Images
When push came to shove, Tim Duncan and the Spurs were too strong for the Suns on Thursday.

Fernando Medina/Getty Images
Although LeBron got free for this dunk, the Magic did a good job of keeping him out of the paint.
There Is More To the Magic Than Just Launching 3-Pointers

ORLANDO -- Dwight Howard entertained reporters with stand-up quality Stan Van Gundy impersonations, Jameer Nelson teased rookie Courtney Lee about his wardrobe choices, and everyone howled in unison about the sweater that veteran Anthony Johnson -- known as "dad" in this otherwise youthful locker room -- threw on.
It was a festive scene in the Magic locker room, and why not. On a day when they followed up three All-Star selections with a nationally televised 99-88 smackdown of East-leading Cleveland in which they led by as much as 25 in the fourth quarter, it essentially served as the Magic's coming-out party.
Yes, they had won some other big games this year, but this one felt a little different -- both due to the one-sidedness of the affair and the fact that the All-Star selections announced an hour before tip-off (coaches selected Nelson and Lewis as reserves to join starter Howard) showed how seriously people have begun to take the Magic.
It was such a good day that Van Gundy proclaimed himself to be "as reasonably happy as an NBA coach can be in the midst of a season."
More importantly, perhaps, the Magic stopped the idea that they're dependent on their 3-point shooting. All season we've been hearing about how the Magic live and die by the 3-pointer and how that might hurt them in the playoffs. But if they take 31 3s, make only 11, and still beat the tar out of the team with the league's best record ... well, then what?
"I don't ever really look at that." said Van Gundy of the 3-point attempts, which were nearly half their total of 80 shots. "For the most part, I liked the shots we got. We stand our guys behind the line to open up the floor, but I think that's good. If you look, we shot 31 3s -- but we scored more points in the paint than they did. It all works together."
The secret here is that the Magic are much more than just a 3-point shooting team. They get points in the paint from their spacing that opens up driving lanes for Nelson and Hedo Turkoglu and post chances for Howard and Lewis.
And most importantly, they're a defensive juggernaut -- something the nation has seemed slow to catch on to, perhaps because they don't' play the overtly physical, Bad Boys type of D that we typically associate with great defensive teams.
Instead, Orlando shuts down opponents with a combination of a great system, a dominating interior defender in Howard, and again, the 3-point line -- Orlando gives up the fewest made 3s of any team in the league.
On Thursday, the Magic were at their suffocating best. How suffocating? Check this out: From the 5:03 mark of the second quarter to the 4:58 mark of the fourth, Cleveland scored 24 points.
That's a 2 and a 4. 24 points in 24 minutes, or one full half of basketball, against the league's No. 2 offense and the game's best player.
Defend like that, and you can shoot 0-for-31 on 3s and still win.
"We locked in," said Howard, who dominated inside with 22 points and 18 rebounds. "We made them take tough shots, we all talked and communicated, and that's the stuff we have to do in order to be a great team."
"Dwight was as good defensively as he's been in a long time tonight," said Van Gundy. "In the second half our defense was outstanding. All five guys were right on their assignments. I thought we made great effort and showed great discipline."
Thursday's formula was to keep LeBron James out of the paint and off the free-throw line -- he shot 10-for-27 with only six trips to the line. They had a bit of help in this regard from an officiating crew that allowed them to be physical on the perimeter -- with one particularly egregious ride-along by Turkoglu setting Cavs coach Mike Brown off on a tirade against official Bob Delaney -- but they also loaded up on James and forced him to contend with Howard when he got close to the rim.
"We just tried to keep him out of the paint as much as possible," said Nelson. "We're happy he took as many jumpers as he did because he's probably the best finisher in the game. He's unstoppable in the paint."
It also may have helped that James spent a chunk of the pregame warm-up period playing in a four-on-four halfcourt game -- and playing fairly hard, I might add -- that saw Zydrunas Ilgauskas looking very close to game shape. James said he's done the pregame scrimmage thing before this season, though not in a while, and perhaps he's so indestructible that it had no effect on him. As for Ilgauskas, Brown said he may return Friday night against the Clippers.
That's the one asterisk next to this win for Orlando, because the Cavs were without both Ilgauskas and Delonte West -- two shot-makers who could have made the Magic pay for loading up so heavily on LeBron.
But isn't it always something with these guys? Isn't there always some reason we come up with to avoid putting them on the same level as the Celtics, Lakers and Cavs?
"I want to stay under the radar. We don't necessarily need the credit," said newly minted All-Star Nelson.
They're starting to get it, though, and after Thursday, perhaps one more misunderstanding will fall by the wayside. It's not just that they're a run-and-gun 3-point outfit, it's that they're a 3-point shooting team that also defends.
So the Magic can survive long droughts at the offensive end intact and rely on their D to keep them in the game. Then, when the 3s start falling -- as they finally did in making 4-of-6 at the start of the fourth quarter to blow the game open -- it's all over.
It's a potent combination, as their opponents have already become well aware. And after providing a quarter of the Eastern Conference All-Star roster and appending Thursday's exclamation point to a 35-10 start, it appears the outside world has finally taken notice as well.
John Hollinger writes for ESPN Insider. To e-mail him, click here.
Dimes past: Jan. 14 | 15 | 16 | 17-18 | 19 | 20 | 21 | 22 | 23 | 24-25 | 26 | 27 | 28 | 29
Howard Ready To Put On His Coaching Cape
By Maurice Brooks | ESPN.com

Magic center Dwight Howard is known for gobbling up errant shots, swatting balls into the stands and leaping tall buildings in a single bound.
With a skill set like that, the league's leading rebounder and shot-blocker must be looking forward to working with the Hawks' Al Horford and the Rockets' Luis Scola when he serves as an assistant coach for the Sophomores at the T-Mobile Rookie Challenge & Youth Jam during All-Star Weekend, right?
Not exactly.
"I'm can't wait to work with [Detroit's] Rodney Stuckey so that I can help him with his point guard skills," said the 6-11, 265-pound Howard. "You know how all the little coaches want to coach the big men? Well, I'm a big coach who wants to coach the little men."
Howard will get the chance to match wits against another MVP candidate. Heat guard Dwyane Wade is on the coaching staff for the Rookies.
Howard is not overly worried about whether he can help the second-year players extend their dominance over the freshmen. The Sophomores have won the game six straight times.
"I'll get the chance to see what it feels like to coach in the NBA," Howard said. "I might even use the plays we use with our team.
"There is no pressure. I'm going to do my best to use my athletes like [Philadelphia's] Thaddeus Young and try to get out and run. On defense we're going to keep their bigs from getting in the paint. We got a couple of guys who can really play."
It is going to be a busy three days for Howard in Phoenix. Besides coaching, he will also attempt to defend his title in the dunk contest against Memphis' Rudy Gay, New York's Nate Robinson and Portland's Rudy Fernandez.
Howard, who received a record 3,150,181 fan votes, will cap off his weekend by starting at center for the Eastern Conference during the All-Star Game.
"I'm looking forward to coaching," Howard said. "I never would have imagined being the leading vote-getter for the All-Star Game. This all should be a lot of fun."
Maurice Brooks is an NBA editor for ESPN.com.
KB24 On Top of Most Popular Jersey List
ESPN Research

Orlando's Dwight Howard may have received the most votes for the NBA All-Star Game, but when it comes to the league's most popular jersey, it should come as no surprise to find the Lakers' Kobe Bryant leading the rankings.
Howard is 12th on the list, which is based on sales from the NBA Store and NBAStore.com since the beginning of the season.
1. Kobe Bryant, Lakers
2. Kevin Garnett, Celtics
3. LeBron James, Cavaliers
4. Chris Paul, Hornets
5. Allen Iverson, Pistons
6. Pau Gasol, Lakers
7. Paul Pierce, Celtics
8. Dwyane Wade, Heat
9. Derrick Rose, Bulls
10. Nate Robinson, Knicks
11. Steve Nash, Suns
12. Dwight Howard, Magic
13. Ray Allen, Celtics
14. David Lee, Knicks
15. Carmelo Anthony, Nuggets
By Maurice Brooks
ESPN.com

THURSDAY'S BEST
Manu Ginobili, Spurs
: He took advantage of the free opportunities throw his way, going 18-for-18 from the line on the way to a season-high 30 points against the Suns. He also pulled down nine rebounds.
---

THURSDAY'S WORST
LeBron James, Cavaliers
: When he wasn't complaining to the officials, he was busy missing shots, going 10-for-27 from the floor in a loss to Eastern Conference power Orlando.
---
QUOTE OF THE NIGHT
"Not taking anything away from the 12 players who made the All-Star team, as each is deserving, but if you're telling me that Carmelo Anthony is not one of the top 12 players in the Western Conference, then I say you need to have your head examined."
-- Nuggets vice president of player personnel Rex Chapman after Anthony was not selected as a West reserve
Representing the Host City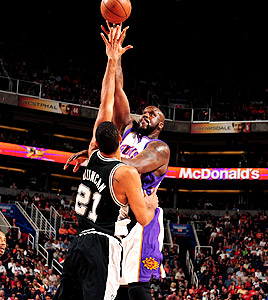 Barry Gossage/Getty Images
Shaquille O'Neal and the Suns lost Thursday to the Spurs,114-104, but Shaq received some good news earlier in the night when he was selected for his 15th All-Star appearance.
Stop the Maggette Bashing
John Hollinger
ESPN.com

All anyone talks about is what a horrible contract Corey Maggette has, but check out what he's been doing lately. He averaged 20.7 points on 55.0 percent shooting in January, taking 104 free throws in just 11 games. He did it while only playing 31 minutes a game, too. For a guy who's making less than Jamal Crawford, that hardly sounds like he's obscenely overpaid.
Recently, Golden State experimented with Maggette in a sixth-man role, and it appears to agree with him. He's played extremely well in his eight games off the bench, and for a one-dimensional gunner like he is, it might be the best role for him anyway; that way the other starters can still get their shots, while more of Maggette's come when non-scorers are sharing the floor with him.
Regardless, let's not write off the Maggette era in Golden State just yet. He's on a five-year deal and has played exactly 27 games, and in the past 11 of them he's been amazingly effective.
For the rest of the Insider gems, click here
Who Is On the Trading Block?

Chris Sheridan joins Jason Smith to talk about Jose Calderon and previews an upcoming column on trade assets in the NBA.
NBA Today
Nash's 18 Helpers Not Enough
Elias Sports Bureau

Steve Nash had 18 assists in the Suns' 114-104 loss to the Spurs in Phoenix. San Antonio's entire team had 16 assists. It was the second time this month that Nash had more assists than the opposing team in a game his club lost. On January 21, Nash out-assisted the Knicks, 19-17, in a loss in New York. Before then, the last player to do that was the Hawks' Joe Johnson against the Nets on March 31, 2006. No player had done that in a double-digit loss since Bimbo Coles of the Heat on Dec. 13, 1994 at Philadelphia.
• The Spurs beat the Suns with Manu Ginobili scoring 30 points, Tony Parker 26 and Tim Duncan 20. San Antonio is 4-0 this season in games in which Duncan, Ginobili and Parker each scored 20 or more points, but before this season the Spurs won only three of the seven games in which each member of that trio scored at least 20 points.