Allen Einstein/NBAE via Getty Images
Meet The Harpers: Best Players Who've Never Been All-Stars

You know the All-Star starters. You know the All-Star subs.
You, then, are ready for the East and West editions of our All-Harper Team, which honors the best active players who have never made it to the All-Star Game and is named in tribute to two Stein Line favorites who were snubbed throughout their careers: Derek Harper and Ron Harper.
Eligibility for the Harpers is restricted to active players who have never made an All-Star roster and have at least three full seasons of experience. That's the cutoff because it's too early to start throwing around the "S" word when we're talking about rookies (Derrick Rose), sophomores (Kevin Durant) or even the best third-year All-Star aspirants (Rajon Rondo and Paul Millsap).
EASTERN CONFERENCE
Forwards: Tayshaun Prince (Detroit) and Hedo Turkoglu (Orlando)


Their games are totally different, but these two have tons in common. In the Pistons' recent heyday, when they were an annual threat to send three representatives to the All-Star Game, Prince was always the fourth Piston who got squeezed by
Chauncey Billups
, Rip Hamilton and
Rasheed Wallace
. Now it's happening to Turkoglu in Orlando.
Dwight Howard
,
Rashard Lewis
and
Jameer Nelson
are going to Phoenix next month, even though we're fairly sure Magic coach Stan Van Gundy would tell you that he asks Hedo to do more than any of them.
Prince's problem, of course, is that he's known for his versatility and sticky D, which are priceless qualities in day-to-day NBA life but not exactly appreciated at All-Star time. Turkoglu, meanwhile, has been overlooked for a second straight season even though his fearlessness and ability to make all sorts of shots and plays would undoubtedly look good in an All-Star setting.
There's a reason Prince is likely to be the last Piston standing in Detroit from the team that went to six consecutive Eastern Conference finals … and why the greatest fear in the Magic Kingdom is not matching up with Boston and Orlando but figuring out how to afford re-signing Turkoglu this summer, given all the money Orlando has invested in Howard, Lewis and Nelson. The reason: Prince and Turkoglu are certifiable cornerstones of their respective teams.
With or without All-Star status.
Center: Emeka Okafor (Charlotte)

Fond as we are of
David Lee
-- whom we all know is a power forward masquerading as a center anyway -- Okafor is the slam-dunk choice here.
Free throws aside, Okafor's offense has picked up noticeably since the December arrival of set-up man Boris Diaw, supplementing the rebounding and shot-blocking that nobody questions. There's a bonus, too: Okafor is quietly hushing the doubts about his durability, having appeared in 141 consecutive games entering Friday's play.
Add it all up and Okafor is as close to the All-Star stratosphere as he's ever been, benefiting from Larry Brown's influence as much as anyone's in Charlotte.
Guards: Mo Williams (Cleveland) and Mike Bibby (Atlanta)



It's no secret that we wanted Williams on the current East squad because of the difference he's made all over the floor in Cleveland in spite of his less-than-flashy stats. Yet instead of repeating all that, we're just going to give the floor to LeBron James, who says it better than we could: "They always say when you win, individual accolades will take care of [themselves]. But sometimes it doesn't happen. We all believe that Mo's an All-Star and the reason we've had the best record in the NBA right now. … Just look at the wins and losses from last year to this year with really only one addition: Mo Williams."
As for Bibby, well, if he hasn't made an All-Star team by now it'll probably never happen. He was the Tay Prince of his day in Sacramento -- perennially fourth on the Kings' list of attention-getters behind Chris Webber, Peja Stojakovic and Vlade Divac -- and really hasn't been sufficiently recognized for how much he's helped Joe Johnson in Atlanta. Philadelphia's Andre Miller is another veteran QB still waiting for his first All-Star invite, but no active player has racked up more All-Star frustration than Bibby.
Sixth man: Andre Iguodala (Philadelphia) and Josh Smith (Atlanta)


I tried choosing between them. But I couldn't.
So allow me to get away with one and submit two sixth men.
Neither of these 2004 draftees can claim they've been blatantly snubbed yet -- like veteran snubbee Richard Jefferson and the other five guys on the East Harpers -- but they are both blossoming two-way players who have increasingly shown All-Star potential as well as an unquestioned capacity to entertain us above the rim. That's why we couldn't resist sneaking Iguodala and Smith in together, although Milwaukee's Jefferson also could have snagged this spot.
WESTERN CONFERENCE
Forwards: Al Jefferson (Minnesota) and Stephen Jackson (Golden State)


We get a lot of chat questions and e-mails asking why we're never as hard on the Wolves for what they got back in the
Kevin Garnett
trade as we are on Memphis for what the Grizzlies took back for
Pau Gasol
. And we've pretty much stopped answering those questions, because it should be pretty obvious by now. Seriously, people: Did the Grizz get anyone in the Pau deal remotely capable of doing the damage Big Al does?
Jefferson didn't make this All-Star team, but he's not going to be eligible for future editions of the Harpers no matter how much you want to dock him for his defensive shortcomings. He's one of only three 20-and-10 guys in the league at the minute, while also ranking as the most feared back-to-the-basket scorer in the game now that Tim Duncan is more of a face-up kind of killer. So you have to believe that Big Al -- after all the publicity that came with this season's near-miss -- will be an All-Star next February … assuming next season's Wolves don't start 6-25 and that he won't have to compete with such a strong sentimental push to get Shaquille O'Neal on the West squad.
I'm guessing you also won't be surprised to hear that we find Jackson -- one of our all-time faves -- almost as irresistible, even though Captain Jack's actual All-Star window might well have passed with his 31st birthday approaching in April. He certainly won't be setting any efficiency records with the Dubs if he stays there for the duration of his recent contract extension, but that's something we tolerate more than most, having years of exposure to the kind of clutch shot-maker/defender/winner Jackson can be when he's at his peak.
Center: Marcus Camby

Amazing, isn't it?
Zydrunas Ilgauskas, Jamaal Magloire, Brad Miller, Theo Ratliff and Dale Davis have been All-Star centers this century.
Marcus Camby, the NBA Defensive Player of the Year in 2006-07 and currently the league's No. 2 rebounder and shot-blocker behind Dwight Howard, has not.
Camby is a frustrating 0-for-13 in his attempts to finally reach the All-Star stage, but he acknowledged recently that he had no illusions about a breakthrough in his not-so-lucky 13th season thanks to the injury-riddled Clippers' 10-35 record entering Friday's games.
The good news? It might not be too late for Camby, who's in greater demand at nearly 35 than he's ever been. He should have a prominent role in Clipperland (or wherever he goes) for the next few years as long as his health cooperates.
(We also feel a duty, as a fellow lefty, to at least mention Camby's teammate Zach Randolph in this section, although we concede that the much-maligned Randolph would probably have to be a 30-and-15 guy -- with his team on pace for at least 50 wins -- to get the coaches to end his All-Star drought.)
Guards: Deron Williams (Utah) and Kevin Martin (Sacramento)


These picks obviously need the least elaboration, since we're talking about two bona fide sensations.
With or without applying our aforementioned mandate that Harpers candidates must have at least three full seasons of experience, D-Will is the runaway choice for the best player on this list. It's not much consolation, obviously, but he's clearly the best player in the game who has never been named as an All-Star. Which could force David Stern to make an interesting choice -- D-Will or Carmelo Anthony -- if an injury in the West creates a roster opening for a commissioner's pick.
Martin isn't quite at that level, but he's another young Harper who'll be off this list sooner rather than later. This season, realistically, was the ultra-efficient swingman's first legit crack at a West reserve spot, but an ankle injury that cost him 22 games and the Kings' own eyesore of a record (10-37) ruled him out.
Sixth man: Lamar Odom (Los Angeles Lakers) and Jason Terry (Dallas)



It's only right to keep things even, so we're going with a two-man tie for the final West spot as well, which seems doubly appropriate when you remember both of the sixth men in question have made a full-time transition to that role this season for the first time in their pro careers.
Odom has undeniable All-Star talent and a flair-filled floor game uncommon for players his size, which makes him perfect for this occasion. This is already his 10th season, but you figure he'll be challenging again for his All-Star breakthrough starting next season, based on the growing assumption in Lakerland that Odom -- who's going nowhere in the short term because of his knowledge of L.A.'s system and his ability to step in immediately for either Pau Gasol or Andrew Bynum -- will be signing elsewhere in the summer as an unrestricted free agent.
Terry did attract long-shot consideration from the coaches for the current West squad, leading all reserves in scoring with a career-best 20.3 points per game, but the 31-year-old's most likely payoff at this point with Dallas in a state of transition is the Sixth Man Award he's favored to win.
Next in line for us here is Phoenix's Jason Richardson, who only narrowly misses out thanks to his long-held status as a prolific scorer and his presence on another list in All-Star lore: Richardson, Michael Jordan, Dominique Wilkins and Harold Miner are the only two-time champions of the dunk contest.
Marc Stein is the senior NBA writer for ESPN.com. To e-mail him, click here.
Dimes past: Jan. 15 | 16 | 17-18 | 19 | 20 | 21 | 22 | 23 | 24-25 | 26 | 27 | 28 | 29 | 30

Five questions with 13-year NBA veteran Bryon Russell, who is attempting a comeback at 38 after losing almost three years to knee trouble:
Q: What motivated you to try to get back to the league after such a long layoff?
A: I didn't really want to stop. I had to stop because of my knee injury [with Denver in November 2005]. … I've been working out every day, lifting, shooting. You name it, I've been doing it. I definitely feel like physically I'm [back] in shape. I can run up and down the court with the best of them. I feel like I can still play a good, solid 15-20 minutes [in an NBA game].
Q: How optimistic are you that you'll get one more shot?
A: If teams need someone who can play defense, rebound and shoot the ball, maybe they'll take a look. Some of these teams need an experienced veteran. They may say, "We don't know what Bryon Russell has done for the last three years," but I think the league still needs guys like myself. Good guys, well-spoken, no trouble. I think I can definitely still shoot the ball, stay between the guy I'm guarding and the basket. If they need some leadership, if they want to take the chance, I know the game.
Q: You were a second-round pick who went to the NBA Finals three times. So even if you don't get another opportunity, is it fair to say you can be satisfied with how your career played out?
A: I could have won me a ring, but I have no regrets. The goal when I started was just to get into the NBA. I was very fortunate. I played with a lot of good teams and lot of greats.
Q: It's been more than 10 years now, but you know I've got to ask you: Did Michael Jordan get away with a push-off on the last shot of the '98 Finals?
A: You already know the answer.
Q: Do you get sick of seeing that clip?
A: You can speed [the replay] up or slow it down, it's still [a push-off]. My momentum was going that way, but a helping hand is always [a factor]. I just think no referee had the [guts] to make the call. It was all about Michael Jordan back then. Who would make that call in my favor? He was the face of the NBA. A few refs told me [later], "I'd have called a foul." I said, "Who you foolin'?"

Aaron (Beverly Hills, CA):
Have people gone overboard in trying to keep players off the All-Star team who play for losing teams? If a player is putting up numbers just because he can put a lot of shots up on a bad team, then of course he shouldn't be an All-Star. But guys like Chris Bosh who are great players deserve to be All-Stars no matter what their team's record is. Right?
Marc Stein: Overboard? Wouldn't go that far. But I can't lie: Watching C-Webb and GP passionately argue this topic on TNT last week had me asking myself some of the same questions.
I understand the argument: All-Star Weekend is supposed to recognize individual brilliance, so why do know-it-alls like me have to be so stuck on the team-success thing at All-Star time when that's what the playoffs are for? Webber made a provocative point about how he never had the opportunity to coach or make draft picks when he was on bad teams and when he said that we're all too quick to "throw players away" from teams with losing records.
However …
Even after hearing all that, I still can't get winning out of my system. Nothing is more impressive than winning. So I'm sure I'll always favor factoring team success into All-Star selections. The key word is factoring. Don't make it the only consideration, but don't blindly separate stats from the standings, either.
Jameer Nelson? Mo Williams? Those guys have been major difference-makers on elite teams, which to me is like a statistical category unto itself. They're not just putting up nice numbers because they get to live off Dwight Howard and LeBron James. Terry Pluto wrote a great column in the Cleveland paper detailing all the ways MoWill has changed the Cavs as the only significant newcomer to a team that has made a big-time jump since last season. On this scorecard? That makes him an All-Star.
I should also add that a lot of us know-it-alls are taking our cues from the coaches. They're increasingly making winning a priority when they cast the real votes.
I would join the protests with more conviction if they were making this policy some sort of absolute. You can't rule out every player from a losing team, and you can't say that every starter on a top team is an All-Star candidate. But I don't think the coaches are doing that.
You already know where I stand on Bosh and Danny Granger: They've been too good individually not to be All-Stars, especially in a conference with so many sub-.500 teams, and when their teams have been hit with major injuries. But I feel just as strongly about Jameer and Mo. They might not be stars with the global stature of, say, Vince Carter, but the impact they've had on their respective teams is starry in its own way.

"I guess there's a lot of Fullerton alumni."
Spurs swingman Bruce Bowen, giving us the answer he knew we wanted to hear when we asked if he had a theory to explain how he missed out by less than 70,000 votes on the most unlikely All-Star Game start in the history of fan balloting.
Our former college classmate from Cal State Fullerton was obviously kidding. Bowen is well aware that the only plausible explanation for him earning more votes than Carmelo Anthony, Dirk Nowitzki and Pau Gasol among Western Conference forwards -- in a season that finds the 37-year-old averaging just 3.0 points per game and mostly coming off the bench behind summer signing Roger Mason Jr. -- is his popularity in China after numerous offseason visits there.
Not so clear, though, is whether the NBA plans to use Bowen's near-election -- as well as New Jersey's Yi Jianlian's finishing third among forwards in the East -- as a nudge to heeding the louder-than-ever clamor for changes to the voting system.
The initial assumption is probably not. Frustration is only rising domestically with the thousands of votes players with Asian connections are getting since online ballots were introduced, but the notion of taking the vote away from the fans or making them share the selection of starters with coaches and media types seems needlessly drastic considering that the All-Star Game (a) is synonymous with the idea that the fans have a major say and (b) isn't even a game that counts. Even a seemingly simpler tweak -- such as giving more weight to ballots punched in arenas compared to ballots punched online -- is hugely problematic because it would undoubtedly expose the league to charges of singling out and punishing its fan base in Asia.
Yet you have to believe that NBA commissioner David Stern will be forced to field a question or three about the voting process during his annual All-Star Game news conference on Valentine's Day. This represents one more subject he'll wish he didn't have to touch on his first public visit to Phoenix since the suspensions of Amare Stoudemire and then-Sun Boris Diaw during that unforgettable Spurs-Suns playoff series in 2007, but it's going to be impossible for Stern to avoid it after the league narrowly dodged what would have easily been the biggest All-Star controversy ever, certain to drown out the outcry generated at the time by the Lakers' A.C. Green starting in 1990 and Chicago's B.J. Armstrong starting in 1994. Combined.
Someone please remind me, next time we convene for a SportsNation chat, to open up the floor for suggestions on how to make All-Star balloting better or more "fair" than it is now. Even though most of the NBA's pundits seem to agree that the fans voted for eight of the 10 starters they "should" have chosen, I keep hearing and reading about how badly the system needs an overhaul. The issue there is that appealing, sensible proposals for making changes to the balloting process are in short supply … assuming you agree that Stern is not about to shut down online voting so soon after inviting the whole world to join us.

Feb. 1, 1984.
I actually have a decent recollection of that day.
I was a geeky freshman at El Toro High School in Southern California. And I remember the date mainly because the inimitable Bernard King, my favorite player at the time, went for 50 points in Dallas that night, just one night after scoring 50 points in San Antonio. I didn't find out until doing more research this week that Bernard was the first player to pull that off since Wilt Chamberlain did so 20 years earlier, but what I did grasp about the gravity of back-to-back 50s back then was more than enough to give me ammo to taunt the other rotisserie geeks who habitually congregated near my locker to dissect box scores in the days before it was called fantasy.
History, however, tells us King's eruption was merely the second biggest basketball story of the day on Feb. 1, 1984. That's the same day David Stern, after several years as Larry O'Brien's legal and business ace, was elevated to the throne of NBA commissioner.
Which means Super Bowl Sunday stands as Stern's 25th anniversary as The Commish.
Longest-Tenured Commissioners
Major Team Sports (North America)

League
Name
Years
NHL
Clarence Campbell
31
NFL
Pete Rozelle
29
NHL
Frank Calder
26
NBA
David Stern
25*
MLB
Kenesaw Mountain Landis
25
*-Active
All-time NBA Commissioners

Name
Years
David Stern
1984-present
Larry O'Brien
1975-84
Walter Kennedy
1963-75*
Maurice Podoloff
1946-63
* Title changed from president to commissioner in 1967
Three Highs Of The Stern Era
1. The implementation of the first salary cap in major team sports
It's true that Stern took over as commissioner with the league already reveling in the resurrected rivalry between Larry Bird's Boston Celtics and Magic Johnson's Los Angeles Lakers … and with Michael Jordan mere months away from being drafted by Chicago.
Yet it's also true that financial problems plaguing several teams -- combined with the image problems caused by myriad drug scandals -- had the league at an all-time low in terms of stability until Stern drove home the NBA's first collective bargaining agreement, along with a first-of-its-kind antidrug policy.
The installation of a $3.6 million salary cap for each team starting with the 1984-85 season -- Stern helped hatch the concept of a cap before he was actually commissioner -- was the first step toward establishing a viable future for the 23-team league. The gradual rise from there in television and marketing revenues led to the 30-team league we see today.
2. The globalization of the American professional game
The NBA had no relationship with the sport's international governing body (FIBA) before Stern, who changed all that in 1987 by arranging a visit to Milwaukee for the national team from the mighty Soviet Union to play the Bucks, followed by the Atlanta Hawks' summer trip to the Soviet Union in 1988.
Not long after those breakthroughs, less than five years into his reign as commissioner, Stern had suddenly convinced FIBA chief Boris Stankovic to allow NBA players to participate in the Olympics. That, of course, led to the formation of the original Dream Team which -- with Michael, Magic, Larry, Charles Barkley and Co. forming what is generally regarded as the greatest sports team ever assembled -- captivated the world at the 1992 Summer Games in Barcelona and began the movement that would establish basketball as the No. 2 sport on a global scale behind only soccer.
The world caught up faster than anyone imagined, humbling Team USA in three successive international competitions between its gold medals in Sydney in 2000 and Beijing in 2008. Yet you won't hear anyone complaining about the impact the global movement has had on Stern's league, which, as of Jan. 6, could boast 77 international players from 32 countries and territories.
Although widespread skepticism still greets Stern's dreams of European expansion, growing the league's business interests abroad (primarily in China) and broadening the NBA's niche in what he refers to as "the digital revolution" are Stern's pet projects in these late stages of his career.
3. The comparisons with Pete Rozelle
Stern has faced a steady stream of crises in recent years, before we even get to the list of lows.
The infamous Indiana-Detroit melee in November 2004 that seemed to set public opinion of NBA players back years. The hostile reaction from his own players to the dress code instituted before the 2005-06 season in the wake of that melee. The equally hostile response to the synthetic basketball that was issued at the start of the 2006-07 season … and promptly bounced out of the league by Stern on Jan. 1, 2007.
But Stern's list of business and social triumphs over the past quarter-century is far longer, which is why -- in spite of his many detractors -- he's frequently mentioned as one of the two most influential sports commissioners of modern times alongside Rozelle, who famously presided over the NFL for nearly 30 years.
"The league had a lot of problems," Kings co-owner Gavin Maloof told The Associated Press this week, reflecting on his family's sale of the Houston Rockets in the early 1980s just before Stern took charge. "… There was no fan interest, no big TV contract. … David single-handedly saved the NBA."
Even Dallas Mavericks owner Mark Cuban -- who has paid nearly $2 million in fines in his eight-plus years of head-butting with the league office -- acknowledges the link between Stern and his NFL counterpart, telling ESPN.com: "No question David is up there [with Rozelle]. He has done amazing things for the league."
Three Lows Of The Stern Era
1. The L-word
The NBA was the last of the major sports leagues in North America to face a work stoppage that cut into the regular season, but it finally happened in 1998 with a lockout that nearly wiped away the entire 1998-99 season.
Stern and NBA Players Association chief Billy Hunter ultimately reached an agreement that salvaged a 50-game schedule, but the length of the labor dispute and the damage it caused to the league's popularity -- not helped by the first-ever cancellation of the NBA's signature All-Star Weekend and Jordan's second retirement from the Bulls after leading Chicago to its sixth championship in a span of eight seasons -- are unhappy memories which nag at Stern to this day.
That's largely because the league could be headed for a similar standoff (or worse) in what might prove to be the greatest test of Stern's tenure. The league's current labor agreement expires at the end of the 2010-11 season, with rumblings growing louder by the day that Stern's owners will respond to the deepening global economic crisis by pushing for shorter contracts and other drastic changes to the salary-cap system as part of the most aggressive restructuring yet to the sport's economics.
So it's largely on Stern to find the middle ground for his owners and players that can prevent the NBA's second lockout, which looms as a possibility just one year removed from the ballyhooed summer of 2010, when LeBron James, Dwyane Wade and Chris Bosh headline what might be the most anticipated class of free agents in league history.
2. The conspiracy theories
The supposed "frozen envelope" at the first NBA draft lottery which, as legend has it, allegedly enabled Stern to ensure that the New York Knicks would land 1985's No. 1 overall pick and the right to select Georgetown's Patrick Ewing.
The stubborn allegations that Stern brokered a secret pact with Jordan for him to announce his unexpected first retirement from the Bulls in October 1993 so that the league wouldn't have to proceed with an investigation into No. 23's reported gambling activities.
Game 6 of the Lakers-Kings showdown in the 2002 Western Conference finals, when L.A. was awarded 27 free throws in the fourth quarter to the Kings' nine and ultimately forced a Game 7 that it won in Sacramento.
Those are only a few prominent examples of the unending conspiracy theories during Stern's reign that have attached themselves to the NBA like no other sport, which has proven to be increasingly annoying because he's been powerless to stop them, no matter how much evidence Stern can stack to the contrary … such as the four championships and two draft lotteries won in the past 20-odd years by the small-market, thoroughly unglamorous San Antonio Spurs.
Taking note of the Spurs' success and how several young stars wound up being drafted by teams that don't play in glitzy markets -- such as Shaquille O'Neal (Orlando), Yao Ming (Houston), LeBron James (Cleveland) and Greg Oden (Portland) -- Hall of Fame writer Mark Heisler of the Los Angeles Times observed in June: "The NBA actually bends over backward to avoid even the appearance of doing anything wrong … amid ever-increasing accusations it's fixing everything. Let's put it this way: If it is fixing anything, it's doing a really lousy job."
3. The Donaghy scandal
The stunning discovery in July 2007 that veteran referee Tim Donaghy had gambled on games he officiated was quickly branded by Stern himself as the "worst [thing] that could happen to a professional sports league."
Yet he has gratefully been proven wrong so far, which is why the Donaghy scandal is amazingly only No. 3 here.
Although it's undeniably true that Donaghy betrayed what Stern went on to call "the most sacred trust" that a league has with its fans -- resulting in a 15-month jail sentence for Donaghy and the hiring of a former Army general, Ronald Johnson, to take charge of the league's officiating program -- damage to the league would appear to be minimal some 18 months later.
There has yet to be a single concrete suggestion that other referees, league officials or team representatives had any connection to Donaghy's activities. Better yet for Stern, this story somehow generated very little discussion throughout last season and has again been mostly dormant this season, apart from the attention Donaghy briefly commanded during the NBA Finals.
Things could certainly change if there are new allegations in coming months, with Donaghy eventually expected to release a book on the subject. To date, though, fallout from the "worst" episode in NBA history actually could have been much, much worse, unappetizing as it was for Stern to have to deal with Donaghy questions on the Finals stage in June.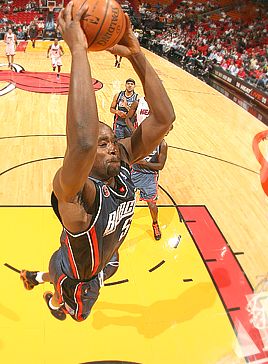 Victor Baldizon/NBAE via Getty Images
Emeka Okafor's emerging offense in Charlotte has helped push him into the category of best players never to make the All-Star team (See Box 1.)

David West over Carmelo Anthony in the West. Jameer Nelson and Rashard Lewis over Ray Allen, Rajon Rondo and Mo Williams in the East.
Marc Stein joins NBA on ESPN Radio studio host Marc Kestecher to discuss some of the snubs and surprises from Thursday night's announcement of the All-Star reserves in each conference.
NBA on ESPN Radio

Two more of their players named as All-Stars? And a come-from-behind home win over Cleveland on national TV? All on the same night?
When he put his weekly call into Stein Line HQ, NBA Today podcast host Jason Smith inevitably wanted to talk about a pretty memorable Thursday in late January for Jameer Nelson, Rashard Lewis and the rest of the Orlando Magic.
• Listen to the interview