Nathaniel S. Butler/NBAE/Getty Images
Kobe Bryant was driven to the greatest scoring night in new Madison Square Garden history.

AP Photo/Kathy Willens
Andrew Bynum may be hurt, but he can still smile and appreciate Kobe Bryant's big night.

Andrew D. Bernstein/Getty Contributor
Chris Paul lies on the court after injuring his groin during the Hornets' loss to the Trail Blazers.

Ned Dishman/Contributor /Getty Images
Grizzlies center Marc Gasol ended a 12-game losing streak, topping JaVale McGee and the Wiz.

AP Photo/Rick Scuteri
With his Suns taking a 129-81 win over the Kings, Amare celebrates drawing an offensive foul.
What Motivated Kobe's 61? Here Are Five Reasons

NEW YORK -- Bernard King will want to read on, because it was his 24-year-old scoring record at the new Madison Square Garden that fell Monday night at the hands of Kobe Bryant.
Michael Jordan will want to read this one all the way through, too, because it was his record -- the most points by a Knicks opponent -- that also fell on this night, a surreal evening when the Lakers recovered from a piece of devastating news by riding the back of one of the game's all-time great players, a living legend who put on an absolutely brilliant offensive performance.
The question they'll want answered: What got into Kobe?
What exactly motivated Bryant to score 61 points in the Lakers' 126-117 victory over the New York Knicks?
The answer, actually, is fivefold:
• The need to lift up his team following the news of Andrew Bynum's knee injury, which will sideline him 8-12 weeks, and the accompanying need to show the world that he can still carry the Lakers offensively like he could three or four years ago.
• His desire to not spend the rest of the night being berated by Spike Lee, since the two were scheduled to review Lee's latest documentary into the wee hours of the morning "and I didn't want to hear an earful from him, so that was added incentive. Seriously," Bryant said.
• Throughout the summer he spent with Knicks coach Mike D'Antoni on Team USA, it was a common occurrence for random players to predict they'd drop 50 on D'Antoni's team when they came to the Garden. Dwyane Wade was the only one to outright threaten to drop 50 on the Knicks (if D'Antoni did not give him enough playing time in Beijing), but several of the players chimed in with similar boasts. "Do not underestimate the trash talking that was going on between us this summer," Bryant said.
• The need to teach Knicks forward Wilson Chandler a lesson or two about what happens when an opponent makes Bryant look bad, as Chandler did on an isolation play to end the first quarter when he made a nifty block of Bryant's driving layup attempt. The next five or six times Bryant got the ball matched against Chandler, he buried every shot he took.
• His memory of an early-morning encounter with a Knicks fan in the weight room of the Four Seasons Hotel on Central Park South, where Bryant was working out Monday.
"There's a lot of electricity in this town now. I go to lift weights in the morning, and people aren't talking about how many points are you going to score tonight, they're talking about the Knicks getting a win. So D'Antoni has definitely come here and revitalized this city," Bryant said.
Actually, few if any single-night events over the past decade revitalized Madison Square Garden quite as much as this night did, though Knicks fans who were not in attendance will be sad/appalled/mortified to learn that at least half of the sellout crowd seemed to be favoring the Lakers, and the "M-V-P" chants echoing throughout the building occasionally bordered on the deafening.
Bryant claimed he had no idea the arena scoring record (set by King against New Jersey on Christmas Day in 1984) was within reach when he went to the line with 2:33 remaining and sank his final two free throws -- making him 20-for-20 from the line for the night, including 11-for-11 in the fourth quarter -- to reach 61 points, saying afterward that it was "a blessing" while joking that his career has progressed somewhat since he played his first game in the Garden as a rookie "nervous as heck and weighing about 80 pounds soaking wet."
I have a crystal clear memory of the then-18-year-old Bryant's very first night playing at MSG early in the 1996-97 season. I was sitting no more than 12 feet away from him, and I can clearly recollect him staring wide-eyed from the bench at his new teammate, Shaquille O'Neal, while wearing a dreamlike gaze on his face that seemed to be saying: "I can't believe I'm on the same team as Shaq."
Each of their careers has moved through relative highs and lows in the ensuing years, and on Monday at the Garden, the Lakers could have started feeling badly about themselves, snakebitten even, following the news earlier in the day that Bynum's injury -- a torn medial collateral ligament -- will keep him sidelined at least until April.
Suddenly, what had been the Western Conference's only powerhouse team was looking like it would be a bit more mortal between now and June.
And just as suddenly, Bryant sent a message loud and clear to the rest of the Lakers that he, and they, were not going to let this ruin them.
"You know, you could see in the first five minutes it was going to be like that," said Lakers coach Phil Jackson, who wryly noted afterward that Bryant and Pau Gasol (31 points) ignored his halftime admonition to move the ball around a little more in the second half.
But with Bryant making his first two attempts from behind the 3-point arc and continually hitting from all angles, then repeatedly driving and drawing fouls in the fourth (when Gasol wasn't manhandling the Knicks' undersized front line), the night was his, the electricity in the building was palpable, and the standing ovation when he exited was of the likes not seen in this building since Patrick Ewing returned in a Seattle uniform back in the 2000-01 season.
"Nights that Kobe's on fire, he burns hot," Jackson said.
So while Bryant spent the rest of the evening reviewing Lee's latest documentary, and the rest of the Lakers enjoyed an extra night on the town before heading to Toronto for stop No. 4 on their current five-game trip, the Lakers still were due to awake Tuesday to the realization that as great as this one particular night was for one particular player, there's a long, tough road ahead as they move forward without their center, who hobbled through the Garden with a 6-plus-foot-tall black crutch propped under his shoulder to keep his weight off his injured knee.
And when we get to April and May -- and maybe even June -- the condition of that 7-footer on crutches is going to matter a whole lot more to the Lakers than anything Bryant did back in early February on a strangely balmy day in New York City, a day that ended with Bryant heating up like no player had ever done before at the corner of 33rd and Eighth.
And to King, Jordan, Chandler, D'Antoni and that anonymous Knicks fan in the Four Seasons weight room, you now have an explanation as to what motivated Bryant to pull off the performance he did.
And to LeBron James, you now should be fully aware what the arena scoring record is when you make your last MSG appearance of the regular season on Wednesday night. The magic number will be 62.
Chris Sheridan covers the NBA for ESPN Insider. To e-mail Chris, click here.
Dimes past: Jan. 21 | 22 | 23 | 24-25 | 26 | 27 | 28 | 29 | 30 | Jan. 31-Feb. 1 | Feb. 2
Nelson Injury Could Open All-Star Door For Mo Williams
By Maurice Brooks | ESPN.com

Cavaliers nation was rightfully upset when the All-Star reserves were announced last week and Mo Williams' name was nowhere to be found.
Well, it looks as if this season's second-biggest snub (regardless of record, the Wolves' Al Jefferson belongs in Phoenix) might make it to the All-Star Game after all.
Magic point guard Jameer Nelson dislocated his right shoulder in Monday night's 105-95 loss to the Mavericks. He is scheduled to have an MRI on Tuesday, and if he is unable to play in his first career All-Star Game, Williams is the most likely candidate to be added to the East roster when David Stern selects the injury replacement.
Orlando, Boston and Cleveland have been the top three teams in the Eastern Conference all season, yet the Magic have three All-Stars, the Celtics two and the Cavaliers have just one.
Williams, who is Cleveland's second-most important player, is averaging 17.3 points, 4.2 assists and 3.3 rebounds per game. He is shooting almost 40 percent on 3-pointers and 94 percent from the line and has helped guide the Cavs to a 37-9 start.
If he isn't selected to replace Nelson, it will likely be because commissioner Stern chose to add a third member off the defending champions.
Ray Allen made the team as an injury replacement a year ago and is playing better this season. Allen, who is shooting a career-high 50 percent from the field and 94 percent from the free-throw line, has been the most consistent player for the Celtics, who have the NBA's best record (40-9).
Teammate Rajon Rondo has done a great job of making sure the Big Three get their touches, is a pest to opponents on defense and is in every conversation about the top point guards in the East. The only way he would be chosen over Allen, however, is if Stern decides to replace a point guard with a point guard.
Philadelphia's Andre Iguodala and New Jersey's Vince Carter are two less likely candidates.
By Andrew Ayres
ESPN.com

MONDAY'S BEST
Kobe Bryant, Lakers
: A-ha! This 61-point effort is proof positive No. 24 wants to play in New York and leave the Lakers. (That's a joke. Can't wait to hear that one uttered in all seriousness.)
---

MONDAY'S WORST
James Posey, Hornets
: With CP3 hitting the deck, this is a bad time to be cold. Posey's got a pocketful of shooting woes, see. He has made only one field goal in the last three games, all New Orleans losses.
---
QUOTE OF THE NIGHT
"We tried to do the rope-a-dope a little bit where he might shoot himself out, but he didn't. He just kept on going."
-- Knicks coach Mike D'Antoni, whose team was treated like soap-on-a-rope by Kobe Bryant
By ESPN Research

Lakers guard Kobe Bryant had one of his big scoring nights. Here's how his 61-point night ranks with some of the all-time big nights in the history of the franchise.
Most Points By A Laker, Single Game

Player
Date
Points
Kobe Bryant
Jan. 22, 2006
81
Elgin Baylor
Nov. 15, 1960
71
Wilt Chamberlain
Feb. 9, 1969
66
Kobe Bryant
March 16, 2007
65
Elgin Baylor
Nov. 8, 1959
64
Jerry West
Jan. 17, 1962
63
Elgin Baylor
Dec. 8. 1961
63
Kobe Bryant
Dec. 20, 2005
62
Shaquille O'Neal
March 6, 2000
61
Kobe Bryant
Feb. 2, 2009
61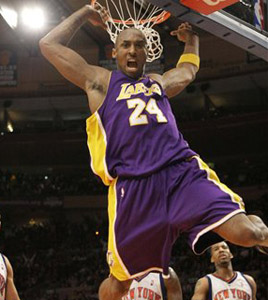 AP Photo/Kathy Willens
From early on, it was clear Kobe Bryant was not out to get rebounds or dish the rock. It was the full-fledged scoring Kobe.
Playoff Hopes Face Extinction
By John Hollinger
ESPN.com

Toronto cemented its status as the league's most disappointing team with a brutal weekend that included lopsided home losses to both Milwaukee and Orlando. I had thought the return of Jose Calderon would get this team back on a playoff trajectory, especially after Calderon's return accompanied a three-game winning streak.
But now we can pretty much write them off. The Raptors are 19-30 and their next two games are against the Cavs and Lakers; it seems pretty much inconceivable that they could rally from 19-32 and get the 20-11 finish that they'd need to nab a playoff berth.
•
Read the four other Insider gems
By Chris Broussard | ESPN The Magazine

As great as Baron Davis can be, he's just not motivated playing for a lousy team in his hometown. Plus, his body has been fragile his whole career, so logic says that should only become a bigger problem with age.
So offer Davis ($11.25 million) and Marcus Camby ($10 million) to Dallas for Jason Kidd ($21.372 million). This trade works under the salary cap, immediately puts Dallas near the top of the Western Conference, and saves the Clippers $61.65 million over the next four years.
• Read the five fixes for Clippers