Fernando Medina/NBAE/Getty Images
Without Jameer Nelson, it is a stretch that Dwight Howard and the Magic can reach the East finals.

Ron Hoskins/NBAE/Getty Images
The Pacers slowed down Al Jefferson, but Kevin Love and other Timberwolves picked up the slack.

Bill Baptist/NBAE/Getty Images
Dating back to 2007, Yao Ming and the Rockets have won 14 straight February games.

NBAE/Getty Images
Rajon Rondo and Mo Williams are two of the favorites to replace Nelson (middle) in the All-Star Game.
Q&A: Jameer Nelson's Injury and the East Race
Editor's note: With Jameer Nelson's injury making news, we asked ESPN analyst Jamal Mashburn to break down the Magic's prospects and the East race.
Did you see Orlando as a true title contender before Jameer Nelson's injury?
Jamal Mashburn: I did. I thought the Magic could definitely win the East. They base their game around Dwight Howard and his ability to dominate the paint. They've surrounded him with 3-point shooters like Hedo Turkoglu and Rashard Lewis, but Nelson was a big part of their plans. With his improvement this season -- he was having a career year -- he really took them to another level.
Last season, the Magic's biggest question mark was their point guard play, with the rotation of Nelson, Carlos Arroyo and Keyon Dooling. This season, they committed to Nelson, and he seemed to really respond. It obviously gave him a boost of confidence that showed in his All-Star level of play. You also have to look at the Magic's record on the road. They've been one of the best in the league away from home, and to me, that's the mark of a championship team.
Do you still consider the Magic a title threat?
Mashburn: Questions remain about whether Nelson is going to have surgery, but if he is done for the season, I don't think the Magic are a championship contender. They have a serviceable backup in Anthony Johnson, but he doesn't play the same role as Nelson. Now they'll have to spread the ballhandling duties with Turkoglu, who will become kind of a point forward. That might work in the short term, but it won't work well over the long haul. He's not a great distributor. He's more of a scorer.
Which available point guard would Orlando be smart to pursue?
Mashburn: Stephon Marbury could be available, although we know he's still with the Knicks for right now. Jamaal Tinsley could be available. I think both of those guys could add something to this club, but the question is: Are the Orlando Magic willing to take a risk with guys who might have character issues and carry a little bit of baggage? When I played on the Miami Heat under Pat Riley, he was sometimes willing to take those risks because he knew the window of opportunity to win a title might not stay open long for several reasons -- injury, bad luck or whatever it might be.
Whom the Magic pursue and how aggressively they pursue him will say a lot about whether the Magic consider themselves true championship contenders. They could look at their team and say they are a young group and don't need the excess baggage, but at the end of the day, the window for a championship is going to be open for only so long.
Should Orlando trade Turkoglu, who can opt out of his contract after this season, for a point guard?
Mashburn: I wouldn't trade Turkoglu. He's provided a lot to the team. In my mind, he's an All-Star. His versatility is so valuable. Ideally, you want to pick somebody relatively cheap. Kind of how the Lakers got Pau Gasol last season. I don't know that a steal like that is out there now, but I wouldn't trade one of the Magic's big pieces for a point guard. I'd rather wait to see how things shake out with Marbury.
Boston and Cleveland have been jockeying for the top seed in the East and hoping to avoid Orlando (the prospective three seed). If Nelson is unable to return this season, which would Boston and Cleveland prefer to face in the second round of the playoffs -- Orlando or the four seed?
Mashburn: If I'm Boston or Cleveland, I'm automatically shooting for the No. 1 seed. That's my goal, no matter who is below me or what potential matchups are out there. Because once you start looking at the standings and saying that a team like the Magic could be a little bit undermanned, you start to take them lightly if you happen to play them.
It will be interesting down the stretch, but I think both Boston and Cleveland will be fighting to the finish for that top seed. Usually teams rest guys down the stretch, but I don't think we'll see that this season.
Who's your pick to win the East and why?
Mashburn: Even though the Celtics are playing great basketball right now, I have questions about their bench. Last season, it was a strength, but they lost James Posey to free agency and P.J. Brown is gone. They've received some productive minutes from Eddie House, and Tony Allen has shown signs as well as Glen Davis and Leon Powe, but those guys are effort guys, and there are still some inconsistencies as far as the team's ability to score points when the Big Three are on the bench.
That's why I like Cleveland. The Cavaliers have a lot more depth. Mo Williams has added a lot to that team and should have been an All-Star. Now they have a steady hand at point guard, and when LeBron James goes to the bench, they have somebody who can run the show. Zydrunas Ilgauskas is a valuable big guy, and their bench, especially once they get Delonte West back, is another real asset. West has added a lot to that team besides 3-point shooting. He's added a degree of toughness and defense they needed. Those are all the reasons why, in my opinion, the Cavs are the best team in the East right now.
Former NBA star Jamal Mashburn is a contributor to the Daily Dime.
Dimes past: Jan. 22 | 23 | 24-25 | 26 | 27 | 28 | 29 | 30 | Jan. 31-Feb. 1 | Feb. 2 | 3
What's the Deal With Chris Bosh?

Raptor Fan (Toronto): Would somebody please hand Chris Bosh a freakin' tissue? Sunday was the second time this year he has whined about Raptor fans booing him and/or the Raptors during a game. Please ... If it wasn't for us fans he or no player would be making their millions. We have every right to boo or cheer who we want during a game. Remember Tracy McGrady and Vince Quitter? They still get booed at the ACC. Get your act together Bosh or you'll be next. Thanks Chad, I needed a place to vent.
Chad Ford: Now do you understand why the Bosh rumors are flying? I can't speak to the veracity of Stephen A. Smith's report. However, the word around the league is that Bosh wants to leave. Bryan Colangelo says Bosh hasn't told him that. Bosh has said he hasn't told Colangelo that. But what about Bosh's agent? Or someone else close to Bosh? Even if it's never been said, isn't the writing on the wall? The question is: Is Colangelo better off doing something now or waiting until this summer? There's arguments for both approaches. It sounds pretty strongly like Colangelo is taking the latter approach. I've heard from a couple of NBA teams that he's been pretty strong in telling them he's not trading Bosh right now. But if the right offer came along ... wouldn't he have to look at it?
Mark (Indy): I know it's still a little early but in this year's draft does it look like there is going to be much of a difference between having the fourth pick and having the 12th? It just doesn't look like there are a lot of top of the line players out there this year.
Chad Ford: That's right. Blake Griffin has the chance to be great. So do Greg Monroe and Ricky Rubio. After that, I think there is a lot of talent, but not superstar talent. I'm not sure it's even starting talent. I think many of the guys we have listed in the lottery could turn out to be role players in the NBA.
• To read the entire Ford chat, click here.
Allen's 3-Pointer Rescues Celtics in Philadelphia
Elias Sports Bureau

Ray Allen's 3-pointer with 0.5 seconds remaining in the fourth quarter gave the Celtics a 100-99 win at Philadelphia on Tuesday night. It was the third time this season that a player made a game-winning shot from beyond the arc with less than one second remaining in the game to give his team a one-point victory. The other players this season who made a 3-pointer to turn a two-point deficit into a one-point victory in a game's final second were Hedo Turkoglu (at Portland, on Dec. 9) and Roger Mason Jr. (at Phoenix, on Dec. 25).
• Richard Jefferson returned to his old home court for the first time Tuesday night and scored a game-high 27 points in the Bucks' loss to the Nets. It was the most points scored by an ex-Nets player in his first game back in New Jersey since Bernard King scored 36 points for the Warriors on Feb. 15, 1981.
• Randy Foye scored a team-high 19 points in Minnesota's 116-111 win against the Pacers on Tuesday night. That was the most points the Timberwolves scored in a game, without an individual recording at least 20 points, since they beat the Bulls 127-74 on Nov. 8, 2001, with a team-leading 17 points from Joe Smith.
• LeBron James scored 33 points but did not make a field goal in the second half in Cleveland's win against Toronto on Tuesday night. That tied the most points scored by any NBA player in the past 10 years in a game in which he did not convert a field goal attempt after halftime.
By Maurice Brooks
ESPN.com

TUESDAY'S BEST
Vince Carter, Nets
: He was struggling with his shot so he found other ways to make sure his pal Richard Jefferson didn't leave town with a win. Carter tallied 15 points, 12 assists and 10 rebounds -- his fifth career triple-double -- as the Nets crushed the Bucks 99-85.
---

TUESDAY'S WORST
Elton Brand, Sixers
: Jameer Nelson isn't the only one with shoulder problems. Brand, who rushed back from a separated right shoulder in December, was limited to nine minutes against the Celtics, scoring zero points and grabbing just three rebounds.
---
QUOTE OF THE NIGHT
"We just force-fed Yao. When you've got a horse like that in the middle, he can make so many mismatch problems. We found him, he found us and that's how we got it done."
-- Rockets guard Aaron Brooks, after Yao Ming had 28 points, eight rebounds and four blocked shots against the Bulls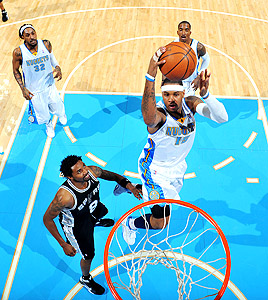 Garrett W. Ellwood/NBAE/Getty Images
For the Spurs' game against the Nuggets on Tuesday, coach Gregg Popovich gave Tim Duncan and Tony Parker the night off, while Manu Ginobili was sidelined with a bruised hip. Denver's Carmelo Anthony took advantage of the situation, scoring 35 points in a 104-96 win.
By John Hollinger
ESPN.com

One guy to watch in L.A. is Chris Mihm. The Lakers will have to move Pau Gasol to center and Lamar Odom to power forward in order to cover Andrew Bynum's absence, but that also leaves the Lakers vulnerable to big, physical teams -- as the Celtics showed in last year's Finals.
Enter Mihm. He missed almost all of last season with foot problems but is healthy again. The reason he hasn't played much this season (72 minutes) has been the quality of the Lakers' other frontcourt players. He's played reasonably well, though, with a 13.48 PER and 40-minute averages of 15.0 points and 12.2 boards.
By Ric Bucher
ESPN The Magazine

It's the first rule in Management 101 -- establish a clear line of authority. That means either firing or extending Chris Mullin, the Warriors' VP of operations. He was the team's architect until last summer, when team president Bobby Rowell and owner Chris Cohan negotiated extensions for both Stephen Jackson and coach Don Nelson without Mullin's knowledge. Sources say Rowell, after aligning himself with Nelson, is having second thoughts, and that Mullin, who is in the last year of his deal, could be re-signed even though there have been zero talks. But simply re-signing him won't be enough. They have to give him a three-year deal -- as in one more than Nellie -- providing the leverage to keep the latter from telling every young player on the roster he's about to be shipped out. Maybe it's not possible at this stage, having bagged Mullin's right-hand man, assistant GM Pete D'Allesandro, but money and power can be awfully persuasive.
• Read the five fixes for the Warriors