Nathaniel S. Butler/NBAE/Getty
Kobe scored 61 at MSG on Monday. LeBron had only 52 Wednesday -- and 11 dimes and 10 boards.

Glenn James/NBAE via Getty Images
Jason Terry (20 points) pumped up the fans and helped the Mavs hold off the Trail Blazers.

Nathan Denette/The Canadian Press
Kobe Bryant followed up his 61-point night with 36 points in Toronto. Next: Boston on Thursday.

Layne Murdoch/NBAE via Getty Images
Chris Paul, missing his first full game with a groin injury, talks with fill-in Antonio Daniels in a loss.

Joe Murphy/NBAE via Getty Images
Rookie guard O.J. Mayo drove for 32 points in Memphis' 104-93 win over visiting Houston.

Ned Dishman/Getty Contributor
Devin Harris rolled in 26 points in front of a Washington crowd chanting a fired coach's name.
Comparing Kobe's 61 Points At MSG To LeBron's 52

NEW YORK -- First of all, let's get one thing straight:
The notion that LeBron James did not want to score 62 points, that he did not want to break Kobe Bryant's 48-hour visiting-player scoring record at the new Madison Square Garden, is utterly, patently and absurdly false.
He didn't break the record, but he came pretty darn close, and he wanted it from the get-go. You could see it in the way he started going off early in the first quarter, you could sense it beforehand during a casual conversation in which James made mention of Kobe's zero rebounds and three assists two nights earlier, and you could feel it in your bones if you had spent enough time around the two of them this past summer and witnessed their competition for the alpha dog role on Team USA.
LeBron lost his composure only once in his postgame interview Wednesday night following Cleveland's 107-102 victory over New York, taking exception to a question that insinuated he had acted like a loner at one point early in the game, walking to the bench with his head hung.
NBA on ABC: Kobe vs. LeBron


Kobe and LeBron go head-to-head on Sunday (ABC, 3:30 ET) as the Lakers visit the Cavs.
"Not true. No. By myself?" James asked incredulously. "I'm too outgoing to be by myself. I don't like being by myself."
I'd be the first to admit that maybe I'm reading too much into it, but it was the one time all night when LeBron showed a little incredulity, and to me it was because of the underlying insinuation that James was some kind of a loner -- a term folks around the NBA often use in describing one of Bryant's peculiarities.
The two became what James called "good friends" during their time on Team USA during the Olympics in Beijing this past summer, when James led through his words and actions at practice and on the team bus and Bryant led through his work ethic. At one point, James boldly declared himself the leader of the team. (And it should be noted that he did so without being prompted.)
So James and Bryant remain rivals in many ways, not the least of which is their ongoing battle to be the most popular player in the world. People close to James say it bothered him that Bryant was the one getting the lion's share of the rock star treatment in China, and it had to come as a surprise to James that the Madison Square Garden crowd did not rally behind him in anything even remotely resembling the way it had showered Bryant with affection two nights earlier, the crowd becoming so vocally pro-Lakers at certain points that retired Indiana Pacer Reggie Miller couldn't resist the urge to text-message Spike Lee during the game to bust his chops about it.
On this night, the crowd gasped here and there for LeBron as he accumulated his points, but the house was 99 percent behind the home team, and truth be told, LeBron did not put on the kind of mesmerizing offensive performance that Bryant did.
Still, LeBron's 52-point, 11-assist, 10-rebound outburst Wednesday was more of an all-around killer line than what Kobe had along with his 61 points, and James deftly ducked all Kobe comparisons after he had joined Michael Jordan as the only visiting players to reach 50 points twice at the new Garden and became the first NBA player since Kareem Abdul-Jabbar in 1975 to have a 50-point triple-double.
When James spoke most eloquently, it was in talking about the building he was playing in -- and how special he feels every time he enters the arena on 33rd and Eighth Avenue that sits smack dab on top of Penn Station.
"I can't say that this is the same as any other road game, because it's not. This is the mecca of basketball. A lot of things have happened in this building, great history, the fans have seen a lot. Like Kobe said, this is the last building that's still alive," James said. "It's just a different feeling coming into this building, it feels like you're on stage playing the game of basketball more than playing on the court, because of the fans and the way the lighting is in here."
If James had not drifted off to his left on several of his five missed 3-point attempts, and if he had not missed three of his 19 free throws, if he had attacked the basket with just a little more regularity, that 61-point record of Bryant's might very well have fallen.
But the record was clearly out of reach as this game entered the final minute, and James knew it. He glanced over at three of his friends sitting courtside and shook his head with a hint of disgust as the teams came out of a final timeout with 11.3 seconds remaining and James still sitting one rebound shy of a triple-double.
He wanted that last rebound badly, and his eyes absolutely lit up when Chris Duhon's late jumper glanced off the rim. James went after it hard, tumbling into a courtside cameraman after he grabbed it with 1.9 seconds left and saved it inbounds, and the entire Cavaliers team mobbed him afterward for giving that last extra dose of effort that locked up the triple-double.
"It's just the type of player and person he is. I have no answer for it. I don't know why he's able to do some of the things he does," Cavs coach Mike Brown said.
Bryant won't play again in this building until next season, and the same goes for James unless the Knicks and Cavs meet in the playoffs.
Kobe and LeBron will see each other in person Sunday when Los Angeles finishes its current five-game road trip in Cleveland, and the two will have a chance that afternoon to measure themselves against each other not by what they did earlier in the week in New York, but by the outcome of their matchup at the Quicken Loans Arena.
Both teams, along with the Celtics, have stubbornly refused to become the first of that trio to reach double figures in losses, and the question of who is the better player and who has the better team cannot even begin to be answered until we have Sunday's result and this season's playoffs to look back upon.
But know this: It has to bother LeBron that Kobe is clearly more of a fan favorite at Madison Square Garden than he is right now, and I'd put money down and say that when James makes his next visit to the building, he'll have Kobe's 61 in his sights again -- whether he's ready to admit it by then or not.
For now, we're left to debate which was more impressive -- Kobe's 61 or LeBron's 52-point triple-double -- as we await their 2009-10 trips into town. And we're left to start the countdown to July 1, 2010, when Knicks fans are hoping and praying that an opponent scoring record is something James will never have to worry about again -- unless he's trying to stop someone from breaking it.
For that to happen, James will have to be a member of the Knicks.
And if you don't think that is a realistic possibility, you probably also believe that Kobe's 61 meant nothing to James. Believe me, it did. And believe me, he had his sights set on 62 just as strongly as he had his eyes glued to the basketball when it came off the rim and gave him his triple-double.
He'll want the 62 next season, too, and my advice to anyone willing to bet a dollar on an over-under of 61½ in next season's two Cavs-Knicks games: Take the over, then make room in your wallet for a rectangular piece of paper with George Washington's portrait on it. He'll get the 62, and then we can start looking ahead to 2010-11, when the big question might be whether he'll eclipse Bernard King's record for most points by a Knick. For that, he'll need only 61.
Chris Sheridan covers the NBA for ESPN Insider. To e-mail Chris, click here.
Dimes past: Jan. 23 | 24-25 | 26 | 27 | 28 | 29 | 30 | Jan. 31-Feb. 1 | Feb. 2 | 3 | 4
Fast Start Triggers Warriors' Rout Against Suns
By Ric Bucher | ESPN The Magazine

OAKLAND, Calif. -- Someone might want to check the DNA of the Warriors' players and patent a vaccine from it, because they've somehow remained immune to a plague that would leave most teams dizzy and disoriented. Injuries, front-office turmoil, jarring trades and even locker room squabbles haven't dented their sense of well-being.
Certainly no team has suffered more demoralizing last-second losses this season, which has even created an undertone of caution among Oracle Arena's notoriously exuberant fans. And still, the energy of the entire roster -- including currently exiled rookie Anthony Randolph -- remains amazingly robust. Although the Clippers fold their collective tent the minute an opponent builds a sizable lead, the Warriors, with only a few exceptions this season, so far have refused to accept their bottom-dwelling status.
Case in point: Wednesday's 124-112 win over the Phoenix Suns, a triumph far more decisive than the final score. The Warriors led by as many as 25 points, and Phoenix never dropped the lead to less than 10 points after the first quarter. Stephen Jackson celebrated his first career triple-double (30 points, 11 rebounds and 10 assists) as the Warriors tied their season highs for 3-pointers (13) and assists (29).
"We've begun to trust each other," Jackson said. "We're gaining confidence in each other."
All this a mere 48 hours after watching a double-digit lead disintegrate into an overtime loss to the San Antonio Spurs, the Warriors' third home collapse in a nine-day span. But if "We Believe" was Golden State's rallying cry two seasons ago, "We Can't Remember" seems to be the current mantra.
"You have to have a short memory," said Kelenna Azubuike, who scored 19 of his 25 points in the first quarter. "We understand as a team there are going to be nights when it's going to be very disappointing. You just have to keep playing."
The Suns, meanwhile, seem to have adopted the slogan, "We Can't Forget." As in, they can't let go of the time less than two years ago when they would've happily joined the Warriors in giving the scoreboard operator carpal tunnel syndrome. Now, quite simply, they are a team that can't play defense as well as the Spurs nor score as well as -- well, as well as they could two years ago or the Warriors can now.
Playing as if their record were 34-15 rather than 15-34, the Warriors needed less than two minutes to build a 14-2 lead. With Azubuike going 4-for-4 from beyond the 3-point arc, Golden State produced its first 40-point-plus quarter of the season for a 43-30 lead.
"We just never really recovered from that first quarter," Suns coach Terry Porter said. "It was just a TKO."
He was particularly astonished by Azubuike's performance.
"He hadn't hit many 3s this year," Porter said. "I don't know if that kid has attempted four 3s in a game."
That might be part of Phoenix's problem. For the record, Azubuike has taken 118 3s this season and made 45 percent of them, and now has made four 3s in a game four times in his career, including once earlier this season.
Granted, the Suns still have a winning record, and the Warriors are still lottery-bound. But right now, you'd never know it.
By Maurice Brooks
ESPN.com

WEDNESDAY'S BEST
LeBron James, Cavaliers
: He grabbed a rebound with 1.9 seconds left in the game to become the first player since Kareem Abdul-Jabbar in 1975 to record a triple-double in a game he scored 50 or more points.
---

WEDNESDAY'S WORST
Monta Ellis, Warriors
: Three different Golden State players scored at least 25 points in the Warriors' 124-112 win over the Suns, but Ellis, who missed all seven of his shots from the floor, wasn't one of them. He finished with just two points in 28 minutes.
---
QUOTE OF THE NIGHT
"I got to be honest, I didn't think I would make it. There was a bunch of people on me, but it went in. I'll take it."
-- Nuggets forward Carmelo Anthony on his winning runner against the Thunder with 5.3 left to play
O'Neal Comes Up All Nines
Elias Sports Bureau


Jermaine O'Neal
made nine field goals, collected nine rebounds and -- here comes the hard part -- blocked nine shots for the Raptors in Wednesday's loss to the Lakers. Since the NBA began keeping track of blocked shots in 1973, only one other player had exactly nine field goals, rebounds and blocks in one game -- the Whopper, Billy Paultz, who had three nines for San Antonio in a loss at Atlanta on Dec. 16, 1977.
• Orlando didn't miss a beat without its injured All-Star, Jameer Nelson. Anthony Johnson scored a team-high 25 points in Nelson's place to lead the Magic in a romp over the Clippers. It was only the sixth game of Johnson's well-traveled NBA career in which he was his team's outright scoring leader, and the first time since March 5, 2006 with Indiana.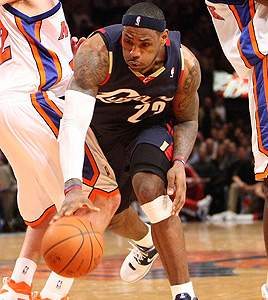 Nick Laham/Getty Images
According to ESPN Research, LeBron James is the fifth player to register a triple-double while scoring at least 50 points. Wilt Chamberlain and Elgin Baylor accomplished the feat twice, while James, Kareem Abdul-Jabbar and Richie Guerin each did it once.
Anything You Can Do, I Can Do
By John Hollinger
ESPN.com

The league's announcement of a H-O-R-S-E game at All-Star Weekend is outstanding news and long overdue. Now we're all waiting expectantly to see who will be selected for the event. Here's who I'm hoping they'll pick:
Kobe Bryant: A master shot-maker from anywhere on the floor. You know he'll pull out something crazy with either hand that nobody else can replicate.
Kevin Love: His ability to fling in 90-footers from the other baseline makes him a wild card in this event.
Manu Ginobili: Another guy with every shot in the game in his arsenal. Plus, he's a lefty, so he can do some things from angles that right-handed players can't reach.
Vince Carter: Finally, a game Carter can play without being criticized for being too soft. Like Manu and Kobe, he packs an incredibly diverse arsenal, plus he'd throw in some crazy 360s that nobody else could replicate.
Larry, Make Room For LeBron
By ESPN Research

Cavaliers forward LeBron James had one of the best all-around nights of his young career. Here's how his triple-double, including 52 points, ranks since the ABA-NBA merger in the 1976-77 season.
Most Points In Triple-Double Since Merger

Player
Date
Points
LeBron James
Feb. 4, 2009
52
Larry Bird
March 15, 1992
49
Michael Jordan
April 13, 1989
47
Larry Bird
Feb. 14, 1986
47
Alvan Adams
Feb. 22, 1977
47
Vince Carter
April 7, 2007
46
Tracy McGrady
Feb. 23, 2003
46
Isiah Thomas
Feb. 8, 1983
46