AP Photo/Charles Krupa
Celtics guard Ray Allen, on floor, looks for a foul call that never came against the Lakers on Thursday.

Jesse D. Garrabrant/Getty Images
Pacers guard Brandon Rush and his brother, Sixers guard Kareem Rush, talk during warm-ups.

Melissa Majchrzak/Getty Images
Jazz forward Carlos Boozer slaps hands with teammate Deron Williams before the Mavs game.
Was Allen Fouled On His Last Shot? Depends Who You Ask

BOSTON -- On the day he was named an All-Star, Ray Allen was treated like a rookie on the final play of the game. At least that's the way he saw it.
Derek Fisher? He didn't quite agree.
Allen had a chance to hit a second straight game-winning 3-pointer, two nights after he did it in Philadelphia, but his last-second attempt fluttered toward the basket like a dying quail and never got anywhere near the net, sending the crowd home angry, leaving Allen feeling as though he was robbed, and allowing the Lakers to be able to boast that they had ended the Celtics' 12-game winning streak right in the center of Beantown after snapping Boston's 19-game winning streak back in Los Angeles on Christmas Day.
"I was fouled on it. I was pushed, and I think I did twist my ankle [on the release]," Allen said. "I got pushed into the shot, but what can you do about it? It was on the side, and he rode me into that shot.
"I've always said, at end of games referees let you play. You set screens that somewhat may be murderous out there, and guys scream and complain about it, but I do think referees do let us play at the end of games," Allen said. "What was disappointing about this one was when Kevin got his fifth foul, such a chippy foul, and it somewhat set the tone of how the rest of the game was going to be played. And then when it comes down to a shot that's going to determine, everybody swallows [their whistles]."
Kevin Garnett's fifth foul came with 6:14 remaining in regulation, and he went out with his sixth foul -- a legitimate call after he shoved Fisher after Pau Gasol slapped the ball away -- just under two minutes later, leaving the Celtics to play the final 9½ minutes of the 110-109 overtime loss without their emotional and defensive leader.
From there, the defending champs were anything but the picture of confidence and cool. The two most egregious instances of making the wrong decision at the wrong time came from Paul Pierce, who twice passed the ball to Glen Davis for important shots in the final two minutes of regulation, with Davis missing both times.
The Celtics also had a poor possession on the final play of regulation, managing to get off only an off-balance fling by Eddie House after inbounding with the score tied at 101 with 7.7 seconds left.
Near the end of overtime, Davis committed a loose-ball foul against Lamar Odom after having his shot blocked by Gasol, and Odom's two free throws turned the Lakers' 109-108 deficit into a 110-109 lead with 16 seconds left.
The Lakers had a foul to give, and Fisher gave it with 3.0 seconds left. Then came the play on which Allen claimed he was fouled. He quickly inbounded the ball to Davis and then got the ball back and drove to his right, stopping above the top of the key to squeeze off what could have been the game-winner.
"Well, I knew if he was taking the ball out, I knew it was coming to him," Fisher said. "Any basketball player in the world would know that if you need a shot at the end of the game, you're not going to have Ray Allen inbound the ball and then just watch. So I told Pau that the dribble handoff was coming, and as Davis stepped to the ball and handed off, I tried to make sure I busted through over the top to keep Ray going and having to shoot off the move. But it was Pau's length that really made it difficult for him to get a good look at the basket."
"How much contact did I make?" Fisher said, repeating a question. "I don't think I made any contact with him. As he caught the ball, we were running together and I was getting through [the screen]. So if that's a foul, I guess so, but in terms of when he goes into the shooting motion, there's definitely no contact there. But the game wasn't decided only by that one particular play."
Indeed it wasn't, but the defensive aspect of how it ended was reflective of an increased level of intensity from the Lakers when they didn't have the ball -- especially in comparison to the last time they visited this building, that night back in June (Phil Jackson claimed not to remember any of it, citing "amnesia") when their season ended with a 39-point defeat at the hands of the Celtics.
Los Angeles held Boston to 45 percent shooting, scored 24 points off 16 turnovers, held the Celtics to just 20 points in both the first and fourth quarters, used Kobe Bryant extensively as the primary defender on Rajon Rondo, and allowed Boston to have only a two-point advantage (50-48) in the paint. That last item is the most important, given the loss of Andrew Bynum having left the Lakers as vulnerable inside defensively as they were last June when the Celtics dispatched them in six games.
So the Lakers emerge from this one not only with the league's best record (40-9) but also with an unblemished 5-0 mark on a lengthy road trip that wraps up Sunday in Cleveland, where they'll try to become the first team to defeat the Cavs at the Q this season. They also have the tiebreaker edge over the Celtics if the two reach the Finals again, plus the knowledge that the right combination of defensive intensity and last-second defensive savvy (Fisher keeping Allen off-balance, foul or no foul) can at times be relied upon to replace what Bynum was bringing.
"It was a statement game more for ourselves, knowing we didn't necessarily play well for three quarters and still managed to find a way to win this game," Kobe Bryant said.
Pierce's take: "The thing we've got to realize is it's not the end of the world. It's still a long season, our goals are still the same, nothing changes. It'd have been nice to get this win if it comes down to a tiebreaker, but it shows we've still got work to do, and we will continue to do it."
Chris Sheridan covers the NBA for ESPN Insider. To e-mail Sheridan, click here.
Dimes past: Jan. 24-25 | 26 | 27 | 28 | 29 | 30 | Jan. 31-Feb. 1 | Feb. 2 | 3 | 4 | 5
Think About the Big Picture, Philadelphia Fans
By Eric Karabell | ESPN.com

All might seem lost in Philadelphia these days. The Eagles fell a game short of the Super Bowl. The Flyers are in their annual post-All-Star Game swoon. The Phillies haven't won the World Series since, what, October? And now the 76ers have lost their best player with a season-ending shoulder injury.
The thing is, this might not necessarily be bad news at all. Sure, a long run through the Eastern Conference playoffs -- well, let's say any run at all -- would have appeared more feasible with Elton Brand doing his 20-and-10 thing every night. That's why the 76ers gave the power forward $80 million over five years in the first place, so they could have some long playoff runs. But even the most optimistic Philly fan was pretty aware this 76ers team wasn't in for a long playoff run, and Brand wasn't delivering 20 and 10 anyway. A playoff berth remains likely even if the team loses a few more than it wins, but an NBA title? Um, not this season. Sorry, Philly, you really can't get greedy, not yet.
OK, so now the 76ers will be going generic for the final two-plus months, rather than Brand name. Think about it this way: Would you prefer to have the current watered-down Brand painfully slogging through reserve minutes like we've seen the past week, risking future seasons as well? Brand didn't even hit a shot in two of those six games since he came back from missing a month. It wasn't good for anyone. There are three ..., well, now that Jameer Nelson will be playing left-handed ping pong with Brand, two loaded teams in the East fully capable of winning a title, and the 76ers aren't capable of beating them in a series. Be realistic, Philly fans.
The Sixers were actually playing pretty decent basketball sans Brand, winning seven consecutive January games at one point, employing a more entertaining running style and letting Andre Iguodala do what made him an exciting, productive player the previous two seasons. Iguodala, Andre Miller and Louis Williams, most notably, had raised their play as Brand watched. The 76ers do lead the league in fast-break points per game, after all, and that's not Brand's game anyway. Thaddeus Young can continue his development as a starter. Finally, rookie power forward Marreese Speights had picked up more meaningful minutes, and thrived with them. Speights is already first in John Hollinger's player efficiency ratings among all first-year players, so giving him more than 20 minutes per night can only accelerate his emergence.
The 76ers, who beat the Pacers on Thursday and didn't look like they missed Brand very much, are good enough to play with any team on a given night, so the short-term affect of losing Brand isn't likely to torch the team's legitimate playoff hopes. The Celtics needed a Ray Allen 3-pointer with less than a second left to win Tuesday's battle in Philly, and Brand played only nine minutes. A Rockets team with, for a change, all its horses blew a late double-digit lead and lost at home to Philly a week ago, with Brand playing little role in the comeback. And the Brand-less 76ers looked very good in mid-January netting 20-plus point wins over the Blazers and Spurs. A No. 7 East seed remains a decent possibility, just like last season, along with a quick playoff exit. There was no other way for this season, at this point, to end, and that's with or without Brand.
What the 76ers should worry about are the long-term effects of losing Brand, which is why shutting him down and having surgery fix the problem is clearly the wisest course of action. Nobody wants another Jeff Ruland situation, 20 years later after the farm was dealt for him. Brand was listed as day-to-day much of this week, and the team said his shoulder was healing properly, even as it was getting weaker and more painful. Coaches and teammates said all the right things, about working him into the lineup at his pace, getting a contribution. The smartest thing anyone in the organization said, however, came from center Samuel Dalembert: "We want him healthy, but we also want him for the next four years."
Philly's average season is no more torched than it was 24 hours ago. It hurts to look ahead, but getting Brand healthy for the fall -- the next four falls, really -- should be the prime objective, not chasing a playoff dream this season.
Eric Karabell is an ESPN.com senior writer, and former ESPN NBA editor. To e-mail Karabell, click here.
The More Things Change, the More They Stay the Same
Elias Sports Bureau

The Lakers snapped the Celtics' 12-game winning streak with a 110-09 overtime victory. Los Angeles, which ended Boston's 19-game winning streak on Christmas Day, becomes the fifth team in NBA history to snap two winning streaks of at least 12 games in the same season. The Lakers are the first of those five teams to do so with two wins against the same opponent.
By Maurice Brooks
ESPN.com

THURSDAY'S BEST
Samuel Dalembert, 76ers
: Now that Elton Brand is gone for the season, Philadelphia is going to need a lot more games like this from its center, who posted 18 points and grabbed 20 rebounds in a win against the Pacers.
---

THURSDAY'S WORST
Dirk Nowitzki, Mavericks
: The NBA's fourth-leading scorer (25.6 points per game) had a rough night of shooting, going 6-for-20 from the floor for only 14 points in a 28-point loss to the Jazz.
---
QUOTE OF THE NIGHT
"We can make it work, we just have to make it work. It's as simple as that."
-- Sixers forward Andre Iguodala on playing the rest of the season without star big man Elton Brand
Williams Carries the Load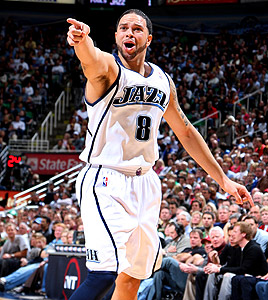 Melissa Majchrzak/NBAE/Getty Images
Deron Williams did more than his share in Utah's win against the Mavericks, scoring 34 points and giving out 12 assists despite playing with a deep thigh bruise.
Suns Aren't Getting It Done
By John Hollinger
ESPN.com

Speaking of disappointing contenders, what's the Suns' excuse? They came in reasonably healthy and had Shaquille O'Neal playing Wednesday night, yet gave up 41 first-quarter points to the Warriors en route to a 124-112 shellacking. Kelenna Azubuike, who allegedly had Amare Stoudemire guarding him, scored 19 points in the first quarter.
This is par for the course for the Suns, unfortunately. They are 19th in defensive efficiency, which is notable because it's worse than they ever did under Mike D'Antoni -- before the current administration brought in its commitment to defense, in other words. Obviously Stoudemire's D, or lack thereof, has been a major component, but defensive effort has been an issue at several positions. Perhaps that shouldn't surprise anyone, since the team is composed almost entirely of offensive players.
The loss dropped the Suns to 4-8 in their past 12 games, and they sit only percentage points ahead of Utah for the last playoff spot in the West. But unlike Utah, which has dealt with myriad injuries, the Suns are basically healthy -- they just are not playing well. With road games in Detroit, Philadelphia and Cleveland leading into the All-Star break, it's possible they could check back into Phoenix with a lottery spot staring them in the face.
Earning Some Pocket Change
By ESPN Research

Besides making him one of the most popular players in the league, when Orlando's Dwight Howard put on the Superman costume and flew through the air en route to winning the slam dunk contest last year, he also became $35,000 richer.
That is the same amount of dough that Toronto's Jason Kapono took home after repeating as champion of the 3-point shootout.
Here is a breakdown of the prize money for All-Star Weekend.
All-Star Game
Winning team: $35,000
Losing team: $15,000

Rookie-Sophomores Game
Winning team: $15,000 per player
Losing team: $5,000 per player

Shooting Stars (split between team)
First Place: $45,000
Second Place: $33,750
Thirrd Place: $16,875
Fourth Place: $16,875

Skills Challenge
First Place: $35,000
Second Place: $22,500
Third Place: $9,000
Fourth Place: $9,000

3-Point Shootout
First Place: $35,000
Second Place: $22,500
Third place: $15,000
Fourth - 6th place: $4,500

Slam Dunk
First Place: $35,000
Second Place: $22,500
Third Place: $16,125
Fourth Place: $16,125