Glenn James/NBAE via Getty Images

Friday marked the one-year anniversary of the
Phoenix Suns
' trade for
Shaquille O'Neal
. Saturday is
Steve Nash
's 35th birthday.
You can safely assume that the celebrations for both occasions were on the humble side.
There simply isn't a lot of happiness in the desert these days. Not with the Suns following the Arizona Cardinals' Super Bowl heartbreak by fading anew into chaos, prompting Suns management to explore the team's options for multiple changes before the Feb. 19 trading deadline, all of which is happening with much of the NBA world soon to descend upon Phoenix for All-Star Weekend.
Nash didn't even make the West All-Stars for the first time since he went back to the team that drafted him, which only adds to the Suns' public suffering, but he did consent to discussing several pertinent topics in a chat with ESPN.com that originally was intended to commemorate his birthday milestone.
Here's Nash on:
How he feels his body is holding up at 35:
"I feel great. I'm definitely more 'experienced.' But mentally and physically, I don't feel like I've changed that much. I feel just as capable as ever.
"And I think there are some positive changes as you get older. I'm a more accurate shooter. I'm better going both ways. I probably have more skills than I did five years ago.
"… I'm still planning to play three more years. Maybe in a few years, if I'm not playing at a high level, I'll have to re-evaluate that, but hopefully I can keep playing 'til I'm 38."
His current frustration level with the Suns' plight:
"It's been the toughest year of my career. By far.
"I went through some things early in my career in Dallas that were tough personally, but no one was really expecting us to do anything back then. The expectations weren't great like they are here in Phoenix, so this has been a lot tougher. … We've just been talking and talking and talking, and we can't seem to find the answers for how to make it work."
Whether he now sees major changes, such as the exit of Amare Stoudemire, as inevitable before the Feb. 19 trading deadline:
"We'll see. If we don't turn the corner soon, this franchise has every right to go in another direction.
"I can see why people say that [it's time to start rebuilding]. We have an older team, so if there are moves to be made that are better for the long term, I can totally understand why they would go in that direction.
"I still want things to improve for this mix of players, but, like I said, I haven't been able to find the answers."
His statistical drop this season from 16.9 points and 11.1 assists per game to 14.0 points and 9.6 assists:
"With our group of guys, everybody needs the ball. So I think part of it is that I've tried to accommodate all of our scorers.
"It kind of reminds me of my last year in Dallas. I was kind of over-accommodating at the beginning because we [traded for Antawn] Jamison and [Antoine] Walker.
"But I also think it's pretty obvious that if you're only taking nine, 10 shots a game, you're not going to score as much as you used to. I don't want to sound super defensive, but I think I've tried to sacrifice for the good of the team."
Charges that the numbers that helped him win two MVP awards wouldn't have been possible if he hadn't been playing in Mike D'Antoni's free-wheeling offense:
"There might be some validity to that. There are more possessions in his games, [there is] more spacing, more opportunities for guys who are skilled and smart. Having a chance to play for him took my career to another level.
"But I also feel like I should be able to adapt to any system. I played in a few All-Star Games before I played for Mike. I think my scoring numbers would be the same [as in previous seasons] if I was taking a few more shots."
The one-year anniversary of the trade for Shaq and where the Suns are now:
"I felt it was a gamble we had to take. With Shawn [Marion], as good as he was physically, we were just way too small as a team. The Lakers would just throw the ball up on the rim with [Lamar] Odom, [Pau] Gasol, [Andrew] Bynum, and it was like volleyball [for them]. "
"The challenge for us is that we still haven't found that balance on offense between going in to Shaq and finding that spacing and movement that everyone else needs."
Whether he ever second-guesses the decision to leave Dallas and best friend Dirk Nowitzki to return to the Suns when he was 30 and Nowitzki was 26:
"I think it would have been great. I know it would have been great, but how much time can you spend looking back? We've already played two-thirds of the time [apart] that we played together."
The theory that he and Nowitzki needed to go their separate ways to reach their full potential:
"I think we [got better in the years apart], but I don't think it's because we split up. Maybe a little bit, but I feel like I've improved almost every year of my career.
"Maybe people looked at that last year in Dallas and said, 'He's done, he's slowing down, he's going to break down.' But I went into that summer [of 2004] after losing in the first round extremely motivated to overcome that.
"I worked my tail off and made big improvements to my game and my [conditioning]. Those improvements were going to come whether I played for Phoenix or Dallas."
The possibility of reuniting with D'Antoni in New York or going home to Canada with Toronto as a 2010 free agent:
"Like I always say, my first priority is finishing my career here in Phoenix. If it came to the point that they break up our team or it's time to look elsewhere, obviously there would be worse places to go than Toronto or New York. I have connections to both places, on and off the floor.
Whether he'll consider the Suns' offer to sign an extension this summer to keep him from reaching free agency:
"All I can say right now is that I look forward to that conversation."
The prospect of retiring with those MVP awards but no championships:
"I would still look back on a great career. Not everybody can win it all, and not everybody can win as many games as I've been fortunate enough to win in my career.
"I feel like I've given it a hell of an effort. If it turns out that I wasn't good enough to win a championship or the teams I was on weren't good enough … if people want me to hold up my hand and say that's my bad, my responsibility, that's no problem. I'm giving it everything I have, so I can't really worry too much about what other people think.
"My No. 1 goal in basketball is to win a championship. No. 2 is to have fun and improve every year and enjoy my teammates."
Marc Stein is the senior NBA writer for ESPN.com. To e-mail him, click here.

A handful of quickie reactions and footnotes to the league's unexpected announcement Friday that
LeBron James
' epic triple-double at Madison Square Garden will now be recorded as a mere 52-point, 11-assist, nine-rebound classic:
•The league office actually makes after-the-fact corrections to box scores like this one -- deducting one rebound from LeBron's stat line and awarding it to Ben Wallace -- fairly regularly. Yet it rarely announces those changes.
• An announcement was made in this case, league officials said, because of the historical implications and widespread coverage of LeBron's feat. There hasn't been a player to post a triple-double with at least 50 points since Kareem Abdul-Jabbar did it for Milwaukee in 1975.
• This wasn't the first time this season the Cavs were hit with such a change. Zydrunas Ilgauskas was stripped of a blocked shot from a Dec. 6 game against Charlotte, which also was given to Wallace.
• The most recent example of such a high-profile ruling occurred in 1990, when Houston's Hakeem Olajuwon had a quadruple-double nullified after the league stripped him of an assist. The league also announced that box score amendment via press release.
• I haven't been in a fantasy league of any sort for about 15 years, so I'm going to have to let my main men Eric Karabell and Keith Lipscomb handle those implications. I do know that the league updates official statistics on box score changes whether they're announced or not.
• Cleveland Plain Dealer ace reporter Brian Windhorst raises an interesting point in his coverage that the league has yet to explain. Windhorst wrote: "The ruling was inconsistent with the stat crew's tallies during the game. Wallace tipped a handful of rebounds to teammates, a tactic he's perfected during his career and has been dubbed the 'Ben back-tap' by Cavs play-by-play voice Fred McLeod. Most of the time at arenas around the league, Wallace gets credit for these as rebounds. Yet the stats crew gave Wallace just one rebound in the game before NBA intervention while Wally Szczerbiak, who grabbed several of Wallace's tap-backs, ended up with an anomaly of 13 rebounds, the second-highest total of his career. The review of the film by the NBA, though, did not change any other of Wallace's uncredited back-taps or Szczerbiak's rebounds."
• After this episode? Which happened one day after Ray Allen was selected over Mo Williams as Jameer Nelson's injury replacement for the All-Star Game? Let's just say that David Stern shouldn't stop for fuel in Cleveland on the way to the fan fury that is sure to greet him in his first extended visit to Phoenix since the 2007 playoffs.
• One last thing: We checked with the league and were informed that Stern does not choose injury replacements for the All-Star Game based solely on which player has the next-highest vote total from the coaches. He can factor in position, citizenship, you name it.
A Fine (Season At The) Line

Jose Calderon
's streak of 87 consecutive drained free throws finally perished Jan. 30, but freebies aren't out of the news.
At least they shouldn't be.
In an encouraging development that has gone virtually unnoticed all season, NBA players are shooting free throws as well as they ever have, contradicting our reflex rant about how the game's basic fundamentals are in constant decline.
The league's collective free throw percentage, led by Calderon's 84-for-85 start through Thursday's games, was up to 77.1 percent. The raw breakdown: 28,150 free throws made in 36,514 attempts.
If that success rate holds, this season would match the NBA's previous single-season cumulative high of 77.1 percent in 1973-74, when the NBA had no teams in Canada and only 17 total franchises compared with the current 30. In '73-74, those 17 teams combined to make 27,294 free throws in 35,392 attempts.

"This has been worse than anything I could have imagined. I expected to win right away, be happy, be healthy.
"I didn't think I'd ever have to deal with the 'oft-injured' tag, but I'm just going to work that much harder to make up for it."
Sixers forward Elton Brand, acknowledging Thursday in a phone chat that he knows his durability is going to be doubted in a big way after he was forced to submit to season-ending shoulder surgery.
Philly had no hesitation signing Brand to a five-year deal worth just under $80 million in July even after an Achilles tear limited the former All-Star forward to just eight games in his final season with the Clippers. The fact that Brand made it into those eight games, when it was presumed that he'd miss the entire season like most Achilles patients do, only gave the Sixers more confidence in Brand's ability to recover fully from his first major health setback.
Now?
Brand gamely tried to postpone surgery until the summer by playing through the pain. He also told us that he already has reached out to famed Chicago training guru Tim Grover, who oversaw Dwyane Wade's recovery from a similar shoulder injury in February 2007, to start planning his post-surgery rehab program.
But Brand is also well aware of the sentiments you'd expect from the folks in Philly, which are encapsulated by the following lead to The Associated Press' coverage of Thursday's announcement that Brand's six-game comeback is over until October:
"Elton Brand has four more years to prove to Philadelphia he was no $80 million bust. Year 1 was a disaster."
There's not much Brand can say to counter that now. The Sixers were being widely second-guessed for signing him even before the shoulder injury because of their inability to successfully blend him in as a fast-breaking trailer to Philly's up-tempo holdovers, which led to coach Maurice Cheeks' dismissal on Dec. 13. Brand wound up averaging just 13.8 points and 8.8 rebounds in the 29 games he did play, lacking some of his usual explosiveness around the basket.
After back-to-back lost seasons, furthermore, Brand turns 30 on March 11.
And that will only raise the volume on local fears that this signing -- after Brand chose the Sixers when it initially appeared that he'd be staying with the Clips to team up with Baron Davis -- is destined to turn out like the ill-fated trades of Moses Malone, Charles Barkley and the No. 1 overall draft pick that turned into Brad Daugherty since the Sixers' last championship in 1983.
"Not giving the fans what they expected, for them not to be able to see me play in the playoffs, it's just real disappointing," Brand said. "When it rains, it pours.
"But I'm a realist. These things happen. I want to pay back the Sixers for believing in me. I'm not giving up."

We give you a few more dribbles of trade-deadline chatter that didn't make it into Thursday's
two-weeks-away alarm bell:
• NBA front-office sources say that the Bucks, having lost Michael Redd, Andrew Bogut and Luke Ridnour to long-term injuries, have made swingman Richard Jefferson available even though Jefferson is in his first season in Milwaukee.
Jefferson is a player Portland has liked in the past -- which is how we're sneaking this in under our West banner -- but the 28-year-old's contract stretches through the 2010-11 season once he exercises his $15.2 million option for that season after making $14.2 million in 2009-10. If the Blazers proved willing to take back Jefferson's money, they have Raef LaFrentz's expiring contract to make the trade work.
• Interest remains high in Minnesota sharpshooter Mike Miller, but NBA front-office sources say Rashad McCants is the swingman being shopped hardest by the Wolves.
Earning just $2.6 million in the final year of his contract, McCants would appear to be movable even though he has dropped out of the Wolves' plans.
• The latest rumblings out of Clipperland suggest that rookie Eric Gordon and center Marcus Camby are the only two players L.A. refuses to trade, which is another way of saying that the Baron Davis trade speculation isn't about to go away, no matter how unlikely it is in this economy for a deal to materialize before the deadline that forces Davis to leave his hometown.
This is the first season of a five-year, $65 million deal for Davis, with his under-fire boss (Mike Dunleavy) believed to be equally insulated from relocation with more than $10 million owed him over the next two seasons as coach/GM.
---
The Celtics are obviously doing just fine now, but it's impossible for them to run into San Antonio's
Tim Duncan
and not lament -- yet again -- what happened in the 1997 draft lottery.
It'll happen Sunday when the Spurs make their annual visit to Boston, where the locals will never forget the Celts' having the best shot at landing the No. 1 overall pick after going 15-67 in 1996-97 … only for San Antonio to leapfrog them.
The Celts landed the No. 3 pick and selected Chauncey Billups, who didn't become an NBA Finals MVP until seven years and four teams later.
As for Duncan, Sunday will mark his 872nd regular-season game for the Spurs, inching him closer to fourth place on the all-time list for games played under one coach.
Most NBA Games With One Coach

Name
Games
Coach
Karl Malone, UTH
1,172
Jerry Sloan
John Stockton, UTH
1,159
Jerry Sloan
Bob Cousy, BOS
917
Red Auerbach
Alvan Adams, PHO
880
John MacLeod
Tim Duncan, SAS
872
Gregg Popovich
---
The domestic sporting spotlight was ceded to the NBA this week with the passing of the Super Bowl.
And we've been swaying between the somber and the spectacular ever since.
Andrew Bynum is declared lost to the Lakers for eight to 12 weeks with his second major knee injury. Kobe Bryant immediately answers with a 61-point detonation at Madison Square Garden.
Within five days of his first All-Star nomination, Jameer Nelson suffers a shoulder separation that appears likely to result in season-ending surgery. LeBron James follows up that blow to the three-team excellence at the top of the East by packing 52 points, nine boards and 11 assists into what initially was believed to be a historic MSG triple-double.
Elton Brand's attempts to play through his own shoulder injury are aborted after six games when he and the Sixers decide that surgery can't be put off. The Lakers then lift us again by matching Boston's physicality in an OT thriller -- without Bynum -- to hush the skeptics and complete a season sweep of the Celtics.
What next?
We step wearily off the roller coaster to cap this crazy week by passing along a Page Six-style spotting from one of our Manhattan spies. Daniel C., we'll call him.
It seems that Daniel C. was getting off the treadmill at his local gym Tuesday morning, finishing his pre-work workout, when he spotted a familiar face headed for the basketball court.
Yup. It was Kobe dropping by for an 8:30 a.m. shooting workout on the morning after he dropped that Sixty-One on the Knicks.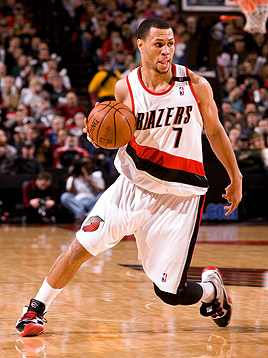 Cameron Browne/Getty Contributor
Brandon Roy wants to make sure his Blazers make the playoffs before making any bold predictions. (See Box 7.)

Five questions with Blazers guard Brandon Roy:
Q: Are you sensing that people look at you differently now that you're going to your second straight All-Star Game?
A: I think people look at me differently, but I'm still the kind of guy that has to continue to earn respect. I feel like that's just kind of the way people look at me … "got a lot early." I think the players respect me and coaches respect me, but I feel I can continue to gain the respect of maybe more fans.
Q: What do you do better now than you did a year ago?
A: I just think confidence. My confidence is a lot higher. I think making the All-Star Game last year and having to be the leader of this team at such a young age has developed me to be more aggressive, more assertive. I'm more vocal out there. But it's up and down. It's still only my third year. But I learned a lot in the first two.
Q: Have you guys managed to convince Greg [Oden] to stop beating himself up so much?
A: I think it's calmed down a lot; I think he's a lot more relaxed than he was in the past. … People just need to be patient with him. He's just a kid that just turned 21, sat out a whole season of basketball. He'll be fine. People want so much out of him. I just tell him: "Man, just relax and play your game and go at your pace. And when you're ready to explode, they'll be just as happy then as they would be if you did it now."
Q: This is a young team that gets dragged into a lot of trade speculation. How hard is that for you guys to block out?
A: Since my first season in this league, honestly, it's like at this point [of the season] it's always this big thing and then we don't make any [in-season] moves. I feel like we're not going to make any blockbuster trades, so I tell guys not to worry about it. If you read all the stuff they say in the media, we're going to make a trade every day.
And some of that stuff's just not realistic. Honestly, we don't even talk about it unless someone asks us about it. … I think the guys younger than me -- like Rudy [Fernandez] and [Jerryd] Bayless -- they just got here, so I can't see them going anywhere. I don't think they do, either.
Q: I get the feeling from afar that expectations are pretty high in Portland already. What would you say are realistic expectations for you guys looking strictly at this season?
A: We think just making the playoffs and giving ourselves a chance on that stage. We just want to get there first. Get some experience so when we're four, five years into our careers, these are things we've seen before and we expect. That's the No. 1 goal. I don't even want to look farther than that. Just make it and that'll be a whole new experience for us.

It's hard enough trying to choose which big-name visitor to Broadway had the better performance this week: Kobe Bryant with his 61-point detonation at Madison Square Garden on Monday night or LeBron James with his 52-point, 9-rebound, 11-assist masterpiece two nights later.
Yet that doesn't stop NBA on ESPN Radio host Marc Kestecher from making it even tougher on Marc Stein by asking him to settle on one of those two as the best player in the game. Kobe? Or LeBron?
NBA on ESPN Radio
On ESPN's NBA Today podcast, host Jason Smith dials into Stein Line HQ for the latest on the shoulder injuries that have taken down
Jameer Nelson
and
Elton Brand
, trade insights on
Amare Stoudemire
… and a sneak preview of Monday's ESPN.com NBA Power Rankings after the Lakers completed a season sweep of the Celtics without fallen
Andrew Bynum
.
• Listen to the interview