Lisa Blumenfeld/Getty Images
Kobe or LeBron? LeBron or Kobe? Maybe Sunday will help us figure out who's the best.

Andrew D. Bernstein/NBAE/Getty Images
Before they meet in the All-Star game, Tim Duncan and Kevin Garnett will lock up in Boston.

Nathaniel S. Butler/Getty Images
The Pistons' front court will try to keep the Suns at bay in Detroit on Sunday.
The Never-ending Debate: LeBron or Kobe?
ESPN analyst and former NBA All-Star Mark Jackson breaks down Sunday's Cavaliers-Lakers showdown in Cleveland and all the subplots surrounding the game.
Who's better, Kobe or LeBron?
Kobe Bryant
and
LeBron James
are two phenomenal talents, two all-time greats. People nit-pick too much and ask who's better or who's the best all-around player. I don't look at it like that. I say, give me either one of them, and I'll be happy. They are different players. Yes, Kobe's the more explosive offensive player. But to me, LeBron is more of a mixture of Magic and Michael. In a way, it's apples and oranges.
NBA on ABC Sunday schedule

• Spurs at Celtics, 1 ET, ABC, ESPN Radio
• Lakers at Cavs, 3:30 ET ABC, ESPN Radio
• Suns at Pistons, 8 ET, ESPN, ESPN360

Right now, in the situations they are in, they are being asked to do different things on the floor. Kobe needs to be a big-time scorer, serve as an offensive playmaker and defend. LeBron is usually asked to fill up more columns in the stat sheet. And some nights -- although it's becoming fewer and fewer -- they need him to do everything. The Cavaliers have made themselves better with the addition of
Mo Williams
, but I think the reason the Cavs are considered by some to be the best team in the East right now is a combination of the additions they've made to the roster in the offseason and the way LeBron has continued to elevate his game this year. They are obviously special players offensively, but don't forget that Kobe and LeBron are both proven players on the defensive end as well. In last year's playoffs, LeBron, in his matchup against
Paul Pierce
, helped push the eventual champion Celtics to seven games. He's an outstanding defender and is only getting better. This year he stepped up to the challenge and has really set the tone for the Cavaliers on the defensive end. Kobe has been a lockdown defender when needed for a while now. Both of them are among the elite defenders in the game today.
---
Do the Lakers or Cavs have a better supporting cast?
I think the biggest difference in Kobe's and LeBron's supporting casts is that one team runs the Triangle offense, and that's totally different from what the other does. With Mo Williams and the rest of the Cavs' supporting cast, there is a little more room for creativity on offense.
Derek Fisher
is not going to be asked to play pick-and-roll and make plays out of it. In the Triangle offense, he's a spot-up and knock-down shooter. That's what they need from him. They play a little bit differently when
Jordan Farmar
comes in the game, but that's something that's still developing because he was injured and is just now getting back into the flow. Both teams have big-time talent in the front court.
Pau Gasol
is a proven All-Star who can post and also keep the defense honest with his ability to knockdown the jumper.
Zydrunas Ilgauskas
is a talented center who can score on the block. And both of those guys help Kobe and LeBron by creating space on the floor because they have to be accounted for defensively at all times. The Cavs have given themselves an opportunity to realistically hope for a championship this year for the reasons I stated earlier. To be successful, teams need to adjust for injuries, and their bench has stepped up in the absence of
Delonte West
. The reason Williams has made such a big impact is that he is a score-first point guard who is not afraid of the big moment.
---
Did Mo Williams deserve to be an All-Star?
I don't have a problem with the commissioner's naming
Ray Allen
to replace
Jameer Nelson
on the East All-Star team. Actually, I thought Mo Williams should have been on the initial team selected by the coaches. My biggest problem was that he and Ray Allen were not included as reserves from the start. I thought those two guys should have been there instead of
Danny Granger
and
Devin Harris
. Guys who win should be rewarded. Both Allen and Williams have played such crucial parts in their teams' successes this year. You can make a case that Ray Allen was the Celtics' most important player during the first half of the season. And given the Cavs' record, they should really have two guys on the team.
Mark Jackson played 17 seasons in the NBA and is now an analyst for ESPN.
Dimes past: Jan. 24-25 | 26 | 27 | 28 | 29 | 30 | 2 | 3 | 4 | 5 | 6 | 7-8
Rating Kobe and LeBron Against the Celtics
By Henry Abbott | TrueHoop
The debate about the best player in the NBA, these days, usually comes down to some kind of shouting match about Kobe Bryant and LeBron James. But when they're talking about most skilled -- as in, the guy with the most creativity, body control, up-and-unders, flip shots, dunks, shakes, pivots, and all that -- Bryant has James by a country mile. It is easy to watch a
highlight reel of Bryant
and declare him better than James. While James can do more than any actual human, there's a lot of stuff in every Bryant highlight reel that even James can't do. Of course, there's a lot more to winning games than being creative, though. And in basketball, size is a skill. That's where the 6-foot-9, 250-plus pound James is much better than the 6-6, 205-pound Bryant.
Kobe vs. LeBron: Who's the best?


Marc Kestecher asks Marc Stein whether Kobe Bryant or LeBron James is the best player in the game today.

One tiny illustration of how that can matter: Down the stretch of the fourth quarter of the Lakers' game in Boston on Thursday, Kobe Bryant created some miracles for the Lakers by hitting three 3-pointers -- often with Celtics defenders draped all over him. But look at
the shot chart
for Bryant in the fourth quarter and overtime. Bryant never got to show off any creativity. Despite his limitless skill, he was never near that hoop with the ball when the game was on the line -- even with Boston's big mean basket protector
Kevin Garnett
on the bench with six fouls. Being near the hoop is valuable -- it gets you fouled, and it gets you or your teammates high-percentage layups and dunks. In the fourth quarter, Bryant missed two long 2-point jumpers. In overtime he missed all of his four long shots. The Lakers won, so there's nothing much to worry about here. And this small sample size doesn't prove much of anything. But to me it seems to fit a little bit of a trend. Out of the trio of
Michael Jordan
, LeBron James and Kobe Bryant, I suspect Bryant is the lifelong leader in catching the ball, and shooting it, without getting near the basket. The fact that Bryant can score so efficiently taking such difficult shots -- that's what makes him a miracle worker. He makes tough long shots all the time. But many times, if I were a coach, I'd prefer to see my superstar at the rim. It's a challenge to Bryant's game that is not present for LeBron James. Against that same Celtics defense, the
shot
charts
reveal, James gets to the rim time and again. No, this doesn't settle anything about who's better. And no, it doesn't mean Bryant doesn't outshine James in many aspects of the game. The thing to keep in mind, though, is that just as Bryant can make shots James could never even think of, the same is also true in reverse -- even if it's not as dazzling.
To read more from Henry Abbott and the rest of the TrueHoop Network, click here.
Pau Gasol On Life Without Bynum

Pau Gasol joined Colin Cowherd on The Herd on Wednesday, where he discussed, among other things, the effects of Andrew Bynum's injury and how he handles some of Phil Jackson's criticisms.
Colin Cowherd:
You've had a front-row seat to the emergence of Andrew Bynum. Now he's hurt. How does Bynum's injury change your role on the Lakers?
Pau Gasol:
With Andrew there, we both could be really effective alternating the post position, the center position and combining out there on the floor. It gave us a lot of size, and we were producing well together. Now, I'm not the only, but one of the low key presences. I'm going to have a few more minutes out there at the center position. It puts a little -- I wouldn't say pressure -- load on my shoulders as far as producing down low.
Cowherd:
Most European big guys -- and you're a European big guy -- have amazing skills sets, but you're not the classic back-to-the-basket guys. You probably really liked playing with Bynum, because he allowed you some freedoms to use all of your skills.
Gasol:
Right, I did enjoy, and I do enjoy, playing along with Andrew. It gives me the versatility that I kind of missed for a while. To be able to play more away from the basket and facing up, and when he's on the bench and I'm out there playing, it gives me a chance to play with my back to the basket. It gives me both looks, which I appreciate and feel comfortable with.
Cowherd:
Phil Jackson, interestingly, has been critical of the Lakers -- and Andrew Bynum, largely, because he doesn't play good enough defense. You guys will win and Phil will say, "We don't play any defense." Does it bother you as a big guy on that team when he often criticizes the big guys on his team for not playing any defense?
Gasol:
To be honest with you, I don't follow too much the papers and the comments after the game. I know what went well and what went wrong and what we could have done better. When I feel satisfied with the game overall, that means we played consistent defense and good, hard defense. And that we shared the ball offensively and played well offensively. But I'm very aware when I haven't don't my job defensively, or when we haven't done our job collectively on defense. So we just need to go work on it the next day in practice. So it doesn't really bother me. I think he does it to motivate us most of the time. From my point of view, I just try to get better the next day or try to do better the next game.
To hear the rest of Gasol's chat with The Herd click here


NBA players may have a bigger stage, more money, nicer cars … well, you get the idea. But when it comes to H-O-R-S-E, you have one thing they don't: home-court advantage. And we want to see the shots you've built around it. Upload a video of your go-to shot to your ESPN SportsNation profile and leave us a link along with your H-O-R-S-E stories in the comments below.
• SportsNation H-O-R-S-E contest.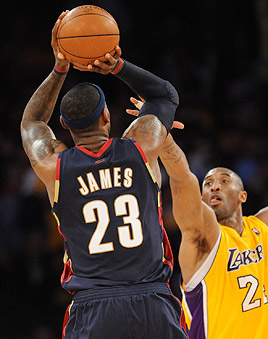 Noah Graham/Getty Images
LeBron James scored a game-high 23 when the Lakers and Cavs last met Jan. 19, but six Lakers scored 10 points or more, and L.A. coasted to a 105-88 win.
Who's Staying, Who's Going?
Marc Stein | ESPN.com

Marc Stein takes a look at players from the Suns and Pistons -- who will meet up at 8 ET on ESPN -- who may be on the move before the Feb. 19 trade deadline.
Can we really expect an Amare Stoudemire trade in the next two weeks?
Sources say it'll happen in-season only if the Suns can find a deal that delivers a mixture of top young talent and payroll relief. Which won't be easy.
Two examples (emphasis on examples) of what we're talking about: Stoudemire to Portland for Travis Outlaw, Jerryd Bayless, draft considerations and Raef LaFrentz's expiring contract is the first, based on the assumption that the Blazers will not be surrendering LaMarcus Aldridge even for Stoudemire, followed by Stoudemire to Chicago for Joakim Noah, Tyrus Thomas, draft considerations and Drew Gooden's expiring contract.
We repeat: These are not known to be active trade discussions. Although things could certainly change as the deadline gets closer, sources with knowledge of the Blazers' thinking and the Bulls' thinking maintain that (a) Portland has been unwilling to include Bayless in any proposed deal this season and (b) Chicago is growing increasingly reluctant to part with its best youngsters after some promising play since team chairman Jerry Reinsdorf's recent blast that the Bulls' first half was "a disaster."
Yet the Suns' phones figure to ring plenty as the deadline draws near, with Phoenix expected to consider any deal that doesn't involve Steve Nash as long as its roster and payroll objectives are met. The Suns have made it quite clear that Nash is not available, as slammed home by Ric Bucher in the latest edition of ESPN The Magazine, but no longer does Stoudemire have the same long-held status, reflecting the depths of the organization's frustration with the team's downward spiral since last season's humbling first-round exit after losing to San Antonio.
What's changed?
Last February's blockbuster deal for Shaquille O'Neal -- made in part because of the Suns' long-standing struggles to placate both Stoudemire and Marion -- has led to new tensions in the locker room after the promising signs seen late last season when Phoenix went on a 15-5 run before facing the Spurs in the playoffs and losing a heartbreaking Game 1 in double overtime. Finding room in the offense this season for both O'Neal and Stoudemire has proved tougher than any of the Suns' old challenges … with the defense and versatility Marion used to give them having been subtracted.
Another big change is Stoudemire's standing locally. The Suns used to presume that their fans would revolt if the 26-year-old -- who has made arguably the most convincing return from the dreaded microfracture knee surgery that this league has ever seen -- was traded away. That's no longer the case. Fan frustration with Stoudemire is tangible in Phoenix for the first time.
So …
With the Suns skeptical that they can move O'Neal in spite of a resurgence that has earned the 36-year-old a spot in the All-Star Game to be played in Phoenix next weekend, they are seriously exploring the possibility of embarking on a significant shakeup by trading away Stoudemire. And it's believed that Stoudemire is not opposed to going elsewhere -- somewhere he can be the clear-cut face of the franchise -- even though sources close to the All-Star power forward say that he has not asked to be moved.
---

San Antonio's desire to acquire one more big man (preferably a floor-stretching big man) to counter the Lakers and Boston is no secret.
The surprise stems from the rumbles I've heard about Detroit free-agent-to-be Rasheed Wallace, he who is chief among the Pistons unsettled by the realization that big changes are undoubtedly coming in that locker room, having legit interest in joining the Spurs to team up with his 2005 NBA Finals nemesis, Tim Duncan.
Don't see a real trade possibility here -- given that the Pistons are unlikely to take back anything other than expiring contracts for the expiring deals possessed by Wallace and Allen Iverson unless they have a chance to trade for someone like Stoudemire or Chris Bosh -- but it's something to file away for free agency.
• For more trade talk, click here
Allen An All-Star Yet Again

Celtics G Ray Allen talks with Dr. Jack Ramsay about being named to the All-Star team, making clutch shots and how well Boston is executing.
NBA Today