David Liam Kyle/Getty Images
The Lakers have stopped two double-digit Celtics' win streaks and the Cavs' 23-game home streak.

Larry W. Smith/Getty Images
Kevin Durant scored 39 points to pace the Thunder, who improved to 10-9 in their past 19 games.

Victor Baldizon/Getty Images
Dwyane Wade scored 22 and Shawn Marion had 10 rebounds for the Heat, who improved to 27-23.

Fernando Medina/NBAE/Getty Images
Dwight Howard had 30 points and 16 rebounds for the Magic, who are 2-1 without Jameer Nelson.
Lakers Hand Cavaliers First Home Loss

CLEVELAND -- The defining moment of the Lakers' road trip, according to coach Phil Jackson, didn't come here at The Q, where the Cavs' 23-game home winning streak came to an end, or in Boston, where the Celtics' 12-game win streak bit the dust, too.
So we'll get back to Phil in a moment, and instead focus first on the defining moment of this particular late afternoon victory near the frozen shore of Lake Erie -- and on the player who made that game-defining play.
He's the same guy who, when this road trip began, had never publicly uttered the words "Laker for life," whose expiring contract was more a focus than what seemed to be his expiring usefulness, and whose place in the Los Angeles Lakers' pecking order, at least in terms of importance, was somewhere between Derek Fisher's and Vladimir Radmanovic's.
That defining play came midway through the fourth quarter, after Lamar Odom had pretty much single-handedly turned this game around by scoring 15 points and grabbing 10 rebounds during a third period in which the Lakers turned a 61-51 halftime deficit into an 82-77 lead.
The Lakers' lead had grown to 10, but the Cavs had cut it to five by the time Pau Gasol missed a 15-footer and Odom grabbed the offensive rebound and laid the ball in. The lead was back up to seven, the Lakers had their mojo back, and Odom wanted to make sure everyone on the end of the Cavs' bench got an earful of what he was thinking.
"There was a couple guys there getting a little testy, which I don't mind if it's hard or physical play," Odom said. "I'm not going to say they were cheap shots or whatever, but fouls after the whistle and things like that, I don't think they're necessary. I didn't mean to offend anybody, but I was caught in the moment a little bit."
Odom continued to yap at Anderson Varejao after he checked back in moments later, Cavs coach Mike Brown searching for someone who was able to put a body on Odom and keep him off the offensive boards.
By then, however, it was already too late, and Odom's seven offensive boards among his season-high 17 rebounds and 28 points made the Lakers' newest starter the main catalyst in a 101-91 victory Sunday that sent the Lakers back to Los Angeles sporting a 6-0 record off an epic road trip in which they lost their best big man, traded a guy who started every game of the NBA Finals last June, and then had to finish off the journey with their best player, Kobe Bryant, slowed by the flu.
"These are the kinds of games we live for, especially coming off last year," said Odom, who planned to finish off his successful Sunday by attending Russell Simmons' Grammy Awards party after the team flew back to Los Angeles.
Just a guess, but it might have been a keen idea for someone at that party to pass along some kind of a trophy to Odom, telling him it was his award for "Best Comeback by a Performer Who Lately Has Been Challenging Michael Jackson for Hollywood Irrelevancy."
Odom's putback with 4:43 left was the beginning of the end for the Cavs, whose fans streamed toward the exits in the final minute with the outcome already certain.
"There was no boxing out," one woman complained to her pals as she made her way up the steep steps from Section 128.
"If you ask me, LeBron got nervous and let it get to him," another female fan was overheard saying.
James disagreed with the notion that the Cavs had slipped defensively, saying the Lakers had simply exploited certain matchups (Odom vs. J.J. Hickson above all others) in posting 30 first-quarter points and 31 third-quarter points. "We definitely never want to give up 30 points in two quarters in the same game. We've played some great basketball before tonight, I don't think defensively we were bad, it was offensively we weren't good."
That shortcoming started with James, who missed 15 of 20 field goal attempts and half of his eight free throws, and extended to All-Star snub Mo Williams, who followed up a 17-point first half with just two second-half points.
And while the Cavs were left only slightly reeling by their 10th loss of the season, the Lakers were about as gleeful of a road-weary team as you'll ever see -- especially given the fact that they haven't been in their own beds, much less their own time zone, since Jan. 27.
That was back when Andrew Bynum was in the latter stages of what was his best month as a pro, when Luke Walton was still sitting on the bench behind Vladimir Radmanovic at the start of games, before Bryant electrified Madison Square Garden and a nation full of Lakers fans by going off for 61 points in New York on the same day the Lakers got the bad news that Bynum would be out for 8-12 weeks with a knee injury.
By the time the Lakers were just two games into this 11-day voyage, long before they'd go on to become StreakBusters in Boston and Cleveland -- that was the time when the defining moment of this trip happened, Jackson said.
"There were two things. One, obviously, was Andrew going down and the immediate shock of one of our best players being on the floor, and the subsequent review of almost the same thing happening at the same time. The other thing was the subsequent game, Kobe coming out and [scoring 61], having the big, pick-me-up type of game that infused the energy of this club."
The Lakers finish the pre-All-Star Game portion of their schedule with a back-to-back set of a home game against Oklahoma City and a road trip to Utah.
Win 'em both, and they'll be boasting of a 43-9 record when the entire NBA gets together for a three-day party next weekend in Phoenix.
But even if they lose 'em both, there aren't many out there who are prepared at this point to shoot down the Lakers' status as the favorite to emerge from the West, Bynum or no Bynum. Not after a trip like this, a trip in which a hallowed arena scoring record, a 12-game winning streak and a 23-game winning streak all became their victims.
So let there be no doubt, at least as we stand here on the first full weekend of February looking ahead to the final 10 weeks of the regular season, who the best team in the NBA is right now.
It is the Los Angeles Lakers, and you'll have a hard time getting anyone in Boston, Cleveland and all points in between, and beyond, to disagree.
Chris Sheridan covers the NBA for ESPN Insider. To e-mail Sheridan, click here.
Dimes past: Jan. 26 | 27 | 28 | 29 | 30 | Jan. 31-Feb. 1 | Feb. 2 | 3 | 4 | 5 | 6 | 7-8
NEXT-LEVEL: Odom Leads Lakers Over Cavs
By ESPN Stats & Analysis

While the 28 points and 17 rebounds he pulled down against the Cavaliers were impressive, the Lakers' Lamar Odom also deserves kudos for the defensive job he did on Cleveland's LeBron James.
James made just 5 of 20 attempts for the game, including going just 1-for-6 with Odom defending him.
Kobe Bryant did not spend much time defending James, but James was the primary defender against Bryant from late in the second quarter on, limiting Bryant to eight points on 4-for-8 shooting.
LeBron James vs. Lakers By Defender

Defender
Field Goals Made
Field Goals Attempted
Kobe Bryant
0
2
Lamar Odom
1
6
Pau Gasol
1
5
Luke Walton
1
3
Trevor Ariza
1
2
Derek Fisher
0
1
Unguarded
1
1
Nash Sets Assist Record For Pistons Visitor
Elias Sports Bureau

Steve Nash fell one short of his career high with 21 assists in the Suns' 107-97 victory at Detroit. It was the highest assist total recorded against the Pistons in any of the franchise's 2,250 home games. Six players tallied at least 20 assists against Detroit in Pistons road games, but none since Norm Nixon in 1985.
• In a performance reminiscent of better days, Caron Butler scored 35 points and Antawn Jamison added 34 in the Wizards' 119-117 victory over the Pacers. It was the first time since 1991 that two Wizards/Bullets players other than Gilbert Arenas scored at least 34 points in the same game. The last players to do so were Bernard King (45) and Harvey Grant (34).
• Tim Duncan and Matt Bonner scored 23 points each in the Spurs' 105-99 victory at Boston. It was the first time in nearly six years that two starters in San Antonio's frontcourt scored at least 23 points in the same game. Duncan and Malik Rose did it against the Bucks on March 11, 2003.
Bonner made 10 of 17 shots from the field, marking the first time in his five seasons in the NBA, spanning 332 games, that he made 10 field goals in one game.
By Maurice Brooks
ESPN.com

SUNDAY'S BEST
Caron Butler, Wizards
: He heated up at the right time against the Pacers, scoring the final 15 Washington points, including an 18-foot jumper at the buzzer. He finished with 35 points and 13 rebounds.
---

SUNDAY'S WORST
Keyon Dooling, Nets
: In 32 minutes off the bench, the guard couldn't find his rhythm, going scoreless on 0-for-7 shooting from the floor in New Jersey's 17-point loss to Orlando.
---
QUOTE OF THE NIGHT
"The last four games have been pretty disgusting to me. I'm trying to be aggressive, but at the same time, I get myself in some bad positions when I get myself in the air and have nowhere to go. I've got to do a better job of taking care of the ball."
-- Jazz guard Deron Williams, who had six turnovers in a loss to the Warriors
Picture-Perfect Ending For Roy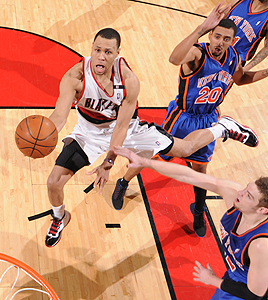 Sam Forencich/Getty Images
Portland's Brandon Roy went down the lane and coverted a driving layup as the final horn sounded to give the Blazers a one-point victory against the Knicks. Roy has two buzzer-beating game-winners this season.
Q&A: Denver's George Karl

ESPN.com's Chris Sheridan caught up with Denver Nuggets coach George Karl at the Meadowlands on Saturday night, and Karl had this to say:
On the Lakers' trade of Vladimir Radmanovic to Charlotte for Adam Morrison and Shannon Brown:

"I think Charlotte has done a great job of bringing in Larry Brown-type players, and they're seizing the opportunity of teams in the league making economic decisions on contracts.
"Right now, I think [Radmanovic] is kind of an underachieving talent, but [Boris] Diaw has upgraded his game [in Charlotte], and I think there's a chance you're going to see [Radmanovic] go to Charlotte and upgrade his skills, too, because I think Larry will use him.
"Larry likes guys like that who shoot the 3-ball, and I also think [Radmanovic] is very talented as a playmaker. "So I think you'll see an uptick in Radmanovic's performance."
On the Lakers after Andrew Bynum's injury and the Radmanovic trade:

"I think it'll be interesting to observe their defense. Because for us, their size was what was different from last year. "They had kind of played a big lineup a lot of minutes on the court, a very long lineup, and very seldom did you ever get them playing small. But I think now, you're going to be seeing a majority of their minutes they're going to be small."
On competing with the Lakers, who eliminated Denver in a first-round sweep last April:

"I think it gives us hope, but I still think they're the standard we've got to look at. I don't think you're going to see them lose a lot of games because of not having Bynum.
"Now will they be dominant to where the challenge of competing with them is too much? They were pretty dominant last year, but will they dip back to where someone has a matchup with them, or a situation against them where you can get some confidence and beat them in a series?"
By ESPN Research

The Magic's Dwight Howard isn't the only one trying to defend his dunk title during All-Star Weekend in Phoenix.
Brent Petway, the 2008 D-League dunk champion and a member of the Idaho Stampede, will battle Patrick Ewing Jr. (Reno), Keith Clark (Tulsa) and James White (Anaheim) Friday night at Dream Factory, which is modeled after NBA All-Star Saturday Night.
After looking at some of Petway's best jams (Watch), it would be interesting to have the NBA and D-League dunk champs face off.