Lisa Blumenfeld/Getty Images Contributor
Lakers forward Lamar Odom seems to be at his best when joined by Pau Gasol on the court.

Streeter Lecka/Staff /Getty Images
Ex-Laker Vladimir Radmanovic had three 3-pointers in his winning debut with the Bobcats.

Gary Dineen/Getty Images
Bucks guard Ramon Sessions had 26 points in Milwaukee's 124-112 win over the Rockets.
Writer's Bloc: What's Going On
It's that time of the season in the NBA, when the 30 teams reach a crescendo of activity.
Just in the past week or so, we've seen a 61-point game, a 52-point game with a triple-double that wasn't, the Celtics' and Cavs' winning streaks broken, a resurgence by the Lakers and the Spurs, the apparent disintegration of the Suns, several major injuries, volumes of trade talk and much more.
And now, as we approach All-Star Weekend and the trade deadline, both in the next 10 days, we've asked several of our key contributors for their notable observations.
Here are their takes on where the league's at and where it's going:
The Rise Of Odom
J.A. Adande, ESPN.com: One reason Lamar Odom is playing so well in Andrew Bynum's absence is he's playing alongside Pau Gasol more often. Of the seven lineup combinations Phil Jackson has used the most this season, the unit of Odom, Gasol, Kobe Bryant, Derek Fisher and Trevor Ariza has the highest plus/minus rating, at plus-68. Odom and Gasol are two of the best-passing big men in the game, and they seem to be even more active with and without the ball when they're on the court together.
• We know one place Amare Stoudemire won't be going: Toronto. A source said there was "No chance. Zero" that Stoudemire would end up with the Raptors. The player the Raptors want to move, Jermaine O'Neal, has another $23 million year left on his contract. That doesn't fit with Phoenix's desire to shed salaries. And the Raptors don't want to trade the player who would be the best hope for the Suns to rebuild, Chris Bosh, until they are absolutely forced to. Toronto doesn't think that moment has arrived yet.
Seems Everybody Wants A Deal To Be A Steal
Henry Abbott, ESPN TrueHoop: In the past week I have talked to fans of so many teams that are said to be centers of trade activity. And it's funny. People in Phoenix, Portland, New York, Atlanta, Toronto, Memphis, Dallas … they almost all seem to have that normal feeling of overvaluing the players they have. The only trades they want are ridiculously lopsided in their favor. Without some kind of steal, they'd rather stand pat. But there are two exceptions: Chicago and Golden State. Those people -- at least the ones I have talked to -- are like voters in the last election. They want change, they want it now and they want the new guy to have a decent jumper.
Can You Say 'Back-To-Back?'
Chris Broussard, ESPN The Magazine: Kobe has inserted himself firmly into the MVP race. I think LeBron's been the MVP all season, and I'm still leaning that way now. But he has a new challenger. Early on, Dwyane Wade was providing competition (though the unlikeliness of Miami winning 50 games was always going to kill his chances).
Then I thought Dwight Howard was gaining ground after leading Orlando briefly to the best record in the East. Now Kobe is coming on strong. Playing with a dislocated finger (again) and leading this team through Andrew Bynum's injury (again) only work in Kobe's favor, as far as MVP chances go. If he can lead the Lakers to the league's best record, he's going to have a heck of a case for repeating. Of course, LeBron has no All-Star teammates, which would make it hard not to reward him for 60 or so wins.
• I understand why Phoenix doesn't want to trade Steve Nash. He's become an icon in the Valley of the Sun and the team's fans would revolt if he was moved (that's reason enough not to deal him). But how does Nash fit into the Suns' plan to go young and build for the future, which is what they're doing now that they're aggressively shopping Amare and Shaq? Nash is 35 years old with 12½ years under his belt. He's only going to get worse.
Truth is, at this age, he's only an All-Star point guard in Mike D'Antoni's system. With any other coach he's a huge defensive liability who gives up more than he produces. I wouldn't advise the Suns to give him away, but if the right deal comes along, they should move him. While they'd love him to retire in Phoenix, he might leave to play in New York in a year and a half anyway, giving you nothing in return.
Ready To Come Out And Play?
Ric Bucher, ESPN The Magazine: Despite their losing record, the Warriors are convinced they are only one piece away from being America's most exciting underdog again, and they're apparently hoping to prove it before the Feb. 19 trade deadline.
League sources say the Warriors offered rookie Anthony Randolph and veteran Andris Biedrins to the Toronto Raptors for Chris Bosh, and while the Raptors were not interested, other sources say the Warriors are also taking a run at the Phoenix Suns' Amare Stoudemire, presumably with a similar offer.
All this was before Biedrins sprained his ankle Friday in Phoenix, so it's not clear what impact that might have on his immediate value. He is expected to be back playing before the trade deadline. If nothing else, the Warriors' willingness to move Randolph and Biedrins is more proof that the Warriors are ready to sacrifice long-term development for a team coach Don Nelson can win with now.
More Transaction Shenanigans
John Hollinger, ESPN.com: Look for a few veterans to take a monthlong siesta from their teams in a trade-and-waive scenario, much like Brent Barry did a season ago with San Antonio. High on the list of likely vacationers is another veteran Spur, Bruce Bowen. His deal for next season is only partly guaranteed, so San Antonio could include him in a trade with a team looking to dump salary. Then his new club could buy him out, pocket the cap savings and allow him to rejoin the Spurs.
• Money, money, money, money, money. Everything in the next 10 days will be driven by money, as teams look to cut salary to (a) get under a tax level that's going to be lower than originally anticipated, and (b) survive the impacts of the recession, which will be felt more heavily next season because season-ticket renewals and sponsorships are sold over the summer. Struggling small-market teams like Sacramento and Milwaukee will be among the most aggressive cost-cutters, but even good teams (Phoenix, New Orleans) could get involved. The challenge will be finding trade partners: Somebody has to add salary in order for another team to cut it.
• If Chris Paul can't play in the All-Star Game, it would be an absolute crime if Deron Williams weren't chosen as his replacement. I know Steve Nash is a sentimental choice since the game is in Phoenix, but Williams has been unbelievable of late: He's quietly riding a streak of four straight 30-point games, has made more than half his shots in six straight games and has double-figure assists in 10 of his past 13 contests. Despite struggling with an early-season ankle injury, he's been so good lately that his season PER is nearly identical to last season's.
Following The Money
Chris Sheridan, ESPN.com: Wasn't it James Carville who coined the term "It's the economy, stupid?" Hate to quote such a polarizing guy, but as we head full-steam toward the trade deadline, that's where 99 percent of my brain is focused, and what keeps popping back into my head is a prediction from a Western Conference general manager who told me recently that economics are going to play a much bigger role in trade-deadline activity than ever before.
That means teams just below the luxury-tax line (Raptors, Bulls, Heat, Rockets, Wizards, Magic) are unlikely to go back over it; teams with burdensome deals on their books for next season (Suns, Hornets, Kings) are going to have to settle for pennies on the dollar to shed those players; and teams with injured players whose salaries are being paid by insurance (Cavs: Eric Snow; Blazers: Raef LaFrentz) are holding what could turn into extra-valuable assets because of the real dollars-and-cents savings that come with acquiring one of them.
Losses Pile Up
Marc Stein, ESPN.com: I've heard a lot about what a great week the NBA just had in its first week out of the NFL's shadow. Pardon me if I'm not getting swept up in the hoopla. This is no slight to Kobe or LeBron or any of the many on-court dramas served up over the past seven days, but there were way too many major injuries in the same span for me to even think about using the G word.
Andrew Bynum's knee tear was discovered to be more serious than expected. Elton Brand was ordered to undergo season-ending shoulder surgery, with Jameer Nelson probably headed for the same. MVP candidate Chris Paul and Sixth Man Award front-runner Jason Terry suffered shorter-term setbacks that are long enough to worry their teams deeply. And then Al Jefferson's knee collapsed Sunday night in New Orleans to cap this depressing stretch with another season-ender. The NBA certainly had some magic moments in the post-Super Bowl spotlight, don't get me wrong, but the league lost a lot during The Week That Was. Too much for me to be feeling great about things.
Look For KG-Type Deal
David Thorpe, Scouts Inc.: Less than two years ago two friends brokered a trade that sent Boston to a title immediately. Minnesota got a star, and a foundation to build on. Amare is good enough to help a team get to a similar point. And Chicago (GMs John Paxson and Steve Kerr are friends) and Portland both have the assets to make the deal. Who gets it done?
• Failure is often the best teacher. And in any type of criteria used, Lamar Odom failed last season. In an eerily similar circumstance -- Bynum is hurt again -- Odom has a chance to redeem himself. The title might be in his grasp more so than either Gasol's or Bryant's. He can be that good.
• This season is once again proof that the NBA is far more of a coaches' league than people realize. Look at the impact coaches have had this season. McHale in Minnesota. Brown in Charlotte. Spoelstra in Miami. D'Antoni in New York. Hiring the right guy translates into players playing better. The wrong guy leads to the opposite. It's that simple.
Dimes past: Jan. 26 | 27 | 28 | 29 | 30 | Jan. 31-Feb. 1 | Feb. 2 | 3 | 4 | 5 | 6 | 7-8 | 9
By John Hollinger

Bucks guard Ramon Sessions had 44 points and 12 assists Saturday in Milwaukee's overtime loss to Detroit, which added more fuel to the "How on Earth Was This Guy Sitting Behind Luke Ridnour?" fire.
I've talked to multiple scouts who are lukewarm on Sessions because his instincts are more as a scorer than as a passer. But it's not like he's a terrible passer; he sees the open man and will get the ball to him, but he also has a nose for the basket. He averaged 15.6 points and 5.8 dimes when he played regularly in November, and now that he's back in the lineup it appears he's picked up where he left off.
Of particular note is his penchant for getting to the line. Sessions had 21 free throw attempts against Detroit. For the season, he averages nearly a free throw for every two field goal attempts, which is an extraordinarily high rate for a point guard.
This might not save Milwaukee's playoff hopes -- not with Michael Redd, Andrew Bogut and Ridnour all sidelined -- but the 22-year-old's play is a promising sign for the Bucks' future.
•
For all five Insider Gems click here
By Andrew Ayres
ESPN.com

MONDAY'S BEST
Marreese Speights, Sixers:
The rookie nets a career-high 24 points in 24 minutes, making 11 of 16 shots. His dunk spree in the second quarter helped Philly take control en route to a 108-91 win over the Suns.
---

MONDAY'S WORST
Tracy McGrady, Rockets:
Edges an equally bad Steve Nash (two points) by shooting 1-for-9 (3 points) in a road loss to the Bucks. Said McGrady: "Right now, we're just a team that doesn't know how to play defense."
---
QUOTE OF THE NIGHT
"Phil's system, great as it is, doesn't give a role player much opportunity. For Kobe Bryant, it's great. For Pau Gasol, it's great. But role players don't do much."
-- New Bobcats forward Vladimir Radmanovic, offering his views on his former team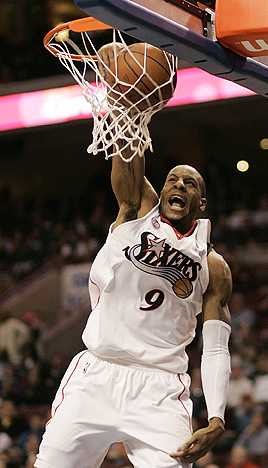 AP Photo/Tom Mihalek
76ers guard Andre Iguodala dunked the Suns. At 26-24, the current East No. 7 seed is in striking distance of a No. 4 seed and a home playoff series.
By Henry Abbott
ESPN TrueHoop

When the NBA disallowed one of LeBron James' rebounds, robbing him of his much-celebrated triple-double in Madison Square Garden last week, one of his fans went back through the tape.
Meticulously.
And found another play that certainly could pass as James' 10th rebound. TrueHoop reader DB writes:
"With 2:37 left in the first period LeBron briefly secured possession of a missed shot by the Knicks' David Lee, a split second before Lee slapped the ball out of bounds. Like the Ben Wallace rebound that was reviewed and corrected, this play happened so quickly that it looked like LeBron never had possession when Lee slapped it away, but he DID."
I looked up the play on Synergy video, and sure enough, it appears DB speaks the truth. James grabs the ball off the rim with two hands. After he has it for a millisecond, Lee pokes it out of bounds.
•
For the full TrueHoop blog entry, click here
By Andrew Ayres
ESPN.com

Minnesota center Al Jefferson's ACL injury will put him out for the season after 50 games.
He was on a great run, too, establishing himself among the elite of the game's young big men. In his past five games, he averaged 25 points and 14.6 rebounds. His overall averages of 23.1 and 11.0 made him one of only three 20-10 guys this season, joining Dwight Howard and Tim Duncan.
But his team was only 17-33 despite steady improvement under new coach Kevin McHale. Still, it wasn't the worst 50-game start Jefferson had been part of.
In his 2006-07 season with Boston, which marked his emergence as a young force in the paint, his Boston team hit its nadir in game No. 50, a 109-107 loss in Minnesota, dropping to 12-38.
Jefferson missed 14 games that season. The team went 4-10 without him, en route to a 24-58 mark in a season marked by Boston marking time for the lottery with hopes of getting its hands on Greg Oden.
Imagine if Boston did get the right pingpong ball; that's quite a logjam of young bigs with Jefferson, Oden and Kendrick Perkins.
Now imagine what Boston might look like had the KG deal never materialized. With Jefferson, it's probably not a Celtics team that could win the title last season, but certainly one more worth watching than that lottery-bound franchise of 2006-07.
By Elias Sports Bureau

Steve Nash scored only two points in 22 minutes of action against Philadelphia on Monday night. It's only the second time in his seven seasons with Phoenix that Nash played more than 20 minutes in a game and scored no more than two points.
O.J. Mayo had 22 points, 16 rebounds and five assists in Memphis' win against New Orleans on Monday night. Since the start of the 2000-01 season, only two other rookies had a 20/15/5 (points/rebounds/assists) game: LeBron James (in a double-overtime game) in November 2003 and Al Horford in March 2008.