Stephen Dunn/Getty Images
Kobe Bryant led all scorers with 34 points, but Kevin Durant held his own, firing in 31 for the Thunder.

Victor Baldizon/NBAE via Getty Images
Dwyane Wade flew the colors en route to 33 points, but the Nuggets rolled to a 98-82 win in Miami.

Al Bello/Getty Images
Vince Carter and Tim Duncan converse during the Spurs' 108-93 win. It was SA's 13th straight over NJ.

David Sherman/Contributor /NBAE via Getty Images
Jermaine O'Neal (22 points) had the upper hand on Wolves rookie Kevin Love in the Raps' 110-102 W.

Gary Dineen/Getty Contributor
Michael Jordan speaks in tribute to Johnny 'Red' Kerr during halftime of the Pistons-Bulls game.

AP Photo/Darron Cummings
LeBron can't believe this late turnover, nor his final foul that marred a 47-point night. Indy won 96-95.
Interviews Aren't the Only Thing KD Has Gotten Better At

LOS ANGELES -- If Kevin Durant seems a lot smoother in interviews these days, you can give partial credit to a video review session with his mom.
"My mom did a great job," Durant said. "She never had to talk to the media but she was a great speaker. I remember one time she played a clip for me, she watched it and she told me what I had to do."
Moms can do just about everything, but part of their job description entails helping their children to become self-sufficient and even self-critical. Durant didn't need Wanda Pratt's assistance to analyze his 43 percent field goal percentage as a rookie.
"When I look at tapes from last year and I see some of the shots I took, I would ask myself, 'Why?'" Durant said.
"Now I'm just being more patient. Knowing that the game, if I don't get a shot here, if I don't get a shot there, it's going to come back around to me. My teammates do a great job of looking for me. If I make a couple of shots in a row, they always make sure I get another shot. It's been fun this year. I'm just looking forward to getting better."
Maybe then he can even be an All-Star. He's making every other logical progression you could expect from a second-year player, taking his Rookie of the Year-winning numbers of 20.3 points and 4.3 rebounds per game and adding five points and two rebounds to the averages. Most of all, he's a better shot-taker and shot-maker.
Durant's at 48 percent this season. For a little perspective, Kobe Bryant has taken 13 seasons to get his field goal percentage to a similar number. Durant's 3-point percentage has gone from 29 percent as a rookie to 42 percent this year.
"I just told myself, every day come in and work hard," Durant said. "I think I've been taking that good approach. Hopefully I'll continue to do that."
You have to remind yourself that Durant's only 20 years old. He's a second-year pro with an older brother who's a senior in college.
He'll get better. It's a given. The question is, what heights will he hit? Can he achieve that exalted single-name status.
His coach, Scott Brooks, thinks Durant is halfway there.
"He does a lot of things that all the great offensive players do," Brooks said. "I keep challenging him: Rebounding and defending is what makes special players special. The Kobe Bryants and LeBron Jameses, they do it at both ends of the court."
Durant wasn't at his best in a loss to the Lakers on Tuesday night, but he overcame a slow start to score 31 points with 10 rebounds and four steals. Near the end of the game, Bill Simmons (who came out to Staples Center because he has Durant on his must-see-live-list) text messaged me to say "Durant is the new Ice Gervin or Alex English -- he's always gonna get his 30 to 35 even if he doesn't have it going."
At this rate, Durant will be more English than Gervin. Gervin had the distinctive game with that signature finger roll. (And he had the iconic poster on the frozen throne with the silver basketballs).
English slipped through the league at the height of its popularity, emerging practically unnoticed. He was the league's most prolific scorer during the 1980s. Not Bird or Jordan or Olajuwon. He was the first player to ever score 2,000 or more points in eight consecutive seasons. Not Wilt or Kareem. And yet...
I was at an All-Star weekend party in 2000 and English was standing next to Buck Williams. A top-10 scorer and a top-10 rebounder in the history of the NBA. It was clear from their height that they were basketball players, but the person next to me had to ask, "Who are they?"
I could see the same thing happening to Durant in retirement, unappreciated for his ability to score so much among the best players in the world.
To get burned into more memory banks, his team will have to win more, enough to get into the playoffs, enough to earn him consideration for the All-Star Game ... unless he starts putting up numbers so large he has to be chosen.
He'll be in the rookie-sophomore game and the new H-O-R-S-E contest, something which he hasn't had any time to practice for. He's been working so much on shooting good shots that his trick-shot arsenal is limited.
At this rate, it won't be long until he's in the weekend's showcase game, not one of the gimmick events. And if he ever does become more famous, there's always mom to help him with his public appearances.
J.A. Adande is an ESPN.com senior writer and the author of "The Best Los Angeles Sports Arguments." Click here to e-mail J.A.
Dimes past: Jan. 27 | 28 | 29 | 30 | Jan. 31-Feb. 1 | Feb. 2 | 3 | 4 | 5 | 6 | 7-8 | 9 | 10
Spurs' Popovich Is A Wine Connoisseur?
By Chris Sheridan | ESPN.com

EAST RUTHERFORD, N.J. -- Gregg Popovich took one quick look at a printout of this wine auction clip from The Wall Street Journal spotted the picture and declared: "Now that is a good bottle of wine."
The bottle was a 1994 Chateau-Margaux, and Popovich couldn't believe his ears when he heard there were several bottles of it available along with 1,500 bottles of Domaine de la Romanee Conti ("Fifteen-hundred bottles?!?!" Popovich exclaimed) in an upcoming auction to be held by Sotheby's.
The NBA connection in all of this -- aside from the now-distinct possibility that Popovich, a wine connoisseur, might enter a bid in that auction -- is that the wine collection being sold off is reportedly the property of Oklahoma City Thunder minority owner Aubrey McClendon, whose cash-flow problems (The Journal said he was forced to sell 94 percent of his holdings in Chesapeake Energy, once valued at $2 billion, to pay back margin loans) have led him to sell his entire 9,000-bottle wine collection.
Just in case you were wondering, the Thunder would not be allowed to sneak a case or two -- or 10 -- into any potential trade with the Spurs.
Such an arrangement would be sour grapes, because it would technically violate salary-cap rules, unless the bottles of wine were counted among the ubiquitous "cash considerations" that are included in so many NBA deals.
All-Quasar: The Best Not-Quite Stars
Ric Bucher | ESPN The Magazine
Editor's note: The following is excerpted from Ric Bucher's 8th annual All-Quasar Team, his celebration of some of the most significant, underappreciated players not in the All-Star Game. To see Bucher's full explanation of the All-Quasar Team and the 10 players selected for 2008-09, click here.
First Galaxy

Luis Scola, Rockets
-- Second Galaxy last season, he has been durable, consistent, defensively gritty and decidedly improved -- the antithesis of what the Rockets have been this season. The per-game numbers -- 12 points, eight rebounds -- might seem meager until you factor in that he's the team's fourth offensive option and least athletic starter. No one 6-foot-9 with a 4-inch vertical should be able to grab 18 rebounds in a game, yet he has done it twice this season.

Matt Bonner, Spurs
-- Shocked more than a few casual observers with his 23 points and eight rebounds in Sunday's win in Boston, but has ably filled the role of long-range shooting big man left vacant by
Robert Horry
this season. (Second in the league in 3-point shooting, only PF in top 15.) Can't match Horry's on-ball defensive versatility, but he doesn't brain-cramp on rotations the way Horry did, either. He's also the rare role player whose best performances have been on the road (6 of 7 3s in Utah, a double-double in Chicago.) Bonus points for being only the second player from the Live Free or Die state of New Hampshire in league history.

Trevor Ariza, Lakers
-- Jumped in front of, then picked,
LeBron James
coming at him in the open court with a full head of steam at crunch time, a feat that in itself is worthy of an award for temerarious service. Fact is, he has made a catalog of momentum-changing defensive plays this season, along with a few electric offensive ones that have elicited comparisons to Michael Cooper. That's astonishing praise for someone on his third team in five seasons, but it's a hallmark emergence for an All-Quasar.

Paul Millsap, Jazz
-- Selected at the risk of violating Rule No. 2, although Western Conference PF might be the deepest All-Star competition there is. What makes Millsap such a revelation is that he has no discernible go-to post move -- and hence few plays called for him -- yet he delivered a stretch of 16 consecutive double-doubles through late November and early December. He doesn't have
Carlos Boozer
's all-around game, but he has his approximate numbers through sheer effort. Anything sheer about a player gets extra attention from the committee.

Joel Przybilla, Blazers
-- The hard hat on a roster full of feathered chapeaus, you couldn't ask for a better backup for
Greg Oden
. Some stat-heads have him as the most efficient rebounder in the league. Has accepted his minutes' fluctuating wildly while the team accommodates Oden's up-and-down development, yet still has managed to collect five double-doubles, one more than all last season. Another guy who has improved his free-throw shooting (65 percent, career 54 percent) to keep himself on the floor at crunch time if needed. •
See Bucher's complete All-Quasars column
By Maurice Brooks
ESPN.com

TUESDAY'S BEST
Golden State Warriors
: Stephen Jackson scored 35 points for the Warriors, who shot 55 percent from the field, including 12-for-22 on 3-pointers, on the way to a 144-127 win against the Knicks.
---

TUESDAY'S WORST
Kevin Martin, Kings
: During one stretch against the Mavericks, he missed nine shots in a row, finishing just 4-for-15 from the floor. Sacramento had a +/- of -26 with him on the floor.
---
QUOTE OF THE NIGHT
"That last call, on the run, is the worst call that I have ever been a part of. I cannot imagine another worse call than that. It was an awful call, and for him to take away a basketball game from a team is irresponsible."
-- Cavs coach Mike Brown after Cleveland's controversial loss to the Pacers
Was This A Foul On LeBron?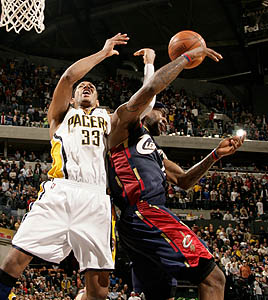 Ron Hoskins /NBAE/Getty Images
Danny Granger drew a foul on LeBron James off an alley-oop play with 0.2 seconds to go, and then he made 1-of-2 from the line to give the Pacers a 96-95 win against the Cavaliers.
Speights Needs More Minutes
By John Hollinger
ESPN.com

The Marreese Speights bandwagon is rolling again, and space on board is becoming limited. The Sixers rookie scored 24 points in 24 minutes last night to lead Philly past the Suns, his second straight double-figure game off the pine after he'd hardly played in the three previous contests.
Speights still leads all rookies in PER at 21.12; in fact, he's miles ahead of second-place Kevin Love. But he's playing only 15.5 minutes per game right now, something that should change drastically now that Elton Brand is out for the season.
At this point, Speights is outplaying starting center Samuel Dalembert (PER 13.40) so badly that it seems only a matter of time before he claims the starting job, even though his defense has been up-and-down and he's more suited to playing power forward. If so, he may provide an additional catalyst to the Sixers' surprising push in Brand's absence.
By Elias Sports Bureau

Ben Gordon's four-point play with 16.7 left in the fourth quarter was the winning hoop for the Bulls on Tuesday. It was the third time this season that Gordon converted a four-point play. Jamal Crawford (five) is the only player in the NBA with more four-point plays than Gordon this season. It was also the latest four-point play to give a team a lead since Andrea Bargnani hit one with nine seconds left on March 11, 2007.
• How's this for an efficient offense? The Spurs shot .526 from the field, .900 from the free-throw line and committed only six turnovers in their win over the Nets. San Antonio is the first team this season to shoot .500 or better from the field, at least .900 from the line and commit no more than six turnovers in a game. It is also the first time in San Antonio's NBA history that they accomplished this feat.
• The Mavericks outscored the Kings by 39 points Tuesday night with Jason Kidd on the floor. Kidd is the fifth player to be +39 or better in a game this season. The other four players to do it: Chauncey Billups (+48 on Dec. 2), Amare Stoudemire (+48 on Feb. 2), Dwight Howard (+41 on Jan. 9) and Hedo Turkoglu (+40 on Jan. 9).
• The Warriors and Knicks combined for 534 points in two games this season, an average of 267 points per game. That's the highest points-per-game average for any season series since 1991-92 when the Warriors and Nets averaged 276 points over a two-game series.