Glenn James/Getty Images
Kevin Garnett and the Celtics outscored the Mavericks by 13 in the fourth quarter to rally for the win.

Gary Dineen/Getty Images
Bulls rookie Derrick Rose had a strong game, scoring 18 and giving out six assists against the Heat.

Rocky Widner/NBAE/Getty Images
Jerryd Bayless and the Blazers head to the All-Star break with a record of 32-20 after Thursday's loss.
Celtics Refuse To Go Away Quietly

DALLAS -- It will be recorded as merely the second-most enjoyable Thursday night in Dallas that Kevin Garnett, Paul Pierce and Ray Allen have ever spent together.
Just don't forget how high that bar actually is.
Rewind to another TNT Thursday back in March 2008 and you'll recall that the Celtics' trio of All-Stars used their only Big D stop of the season to complete a rare sweep of the dreaded Texas Triangle ... victories back-to-back-to-back over San Antonio, Houston and Dallas.
"That kind of served notice to a lot of people," Allen said of the happy memory.
Yet you're tempted to put this TNT Thursday right up there, even if the Mavericks didn't dress Jason Terry, because of the comeback the Celts uncorked at American Airlines Center when it would have been easier to just let the seconds tick right down into the All-Star break.
After outscoring the Mavs single-handedly in the fourth quarter and drawing a key offensive foul on Dirk Nowitzki to help seal an unlikely 99-92 triumph -- nudging the Celtics' record to a gaudy 44-11 -- Pierce helpfully broke down their options.
"It can go one of two ways," Pierce explained, referring to the Celtics' 15-point deficit midway through the third quarter and the subsequent ejection of Doc Rivers after Garnett was hit with his fourth and fifth fouls late in the third.
"You can say the coach is out of the game and it's the last game before the break and you can pack it in. Or it's, 'What you gonna do, guys?'"
What the Celtics had to do, after racking up an unsightly 20 turnovers through three quarters, was let defensive guru Tom Thibodeau coach the fourth quarter and keep Garnett rooted to the bench for the first 7:16 of the fourth with those five fouls.
Yet they still had Leon Powe, who ushered Nowitzki to a run of seven straight misses on a night that the Mavs' lone All-Star, with 37 points, was shredding Garnett and anyone else Boston put in front of him. They had Rajon Rondo playing the sort of tireless all-around game that reads as though it came straight off of Jason Kidd's résumé: 19 points, 15 rebounds and 14 assists. They likewise had Ray Allen ignoring a hyperextended thumb -- and the team's suggestions that he at least cover it up with something -- to manufacture 20 points in 35 minutes, when it wouldn't have surprised anyone if Allen hadn't played.
Most of all, though, they had Pierce, eagerly and repeatedly catching the ball in the middle of the floor to attack the hosts and dominate crunch time. Pierce had 18 of his 31 points in the final period, sandwiching two midrange daggers over Devean George around the turnover he drew by stepping in for Powe on a key possession to take an elbow to the face as Nowitzki prepared to square and shoot.
Dallas? The Mavs could manage only 17 fourth-quarter points with Terry out injured. Plus, Josh Howard (who needed a cortisone shot in his left wrist to play) was forced to watch the final 3:47 after Pierce fouled him out, and Dallas made just four trips to the free-throw line in the fourth compared to Boston's 15. Pierce had nine of them, sinking eight in Boston's ninth successive road victory.
The Celts thus became just the third team in history -- along with Dallas in 2006-07 (44-9) and Philadelphia in 1980-81 (44-10) -- to reach the All-Star break with 44 victories. Mavs coach Rick Carlisle, meanwhile, tried to take all the post-game blame, lambasting himself for not chasing the ball out of Pierce's hands with more fourth-quarter traps and double-teams.
"When you sit in this chair," Carlisle said, "there are times you have to be man enough and you've got to be honest enough to say that you blew it. ... This one's on me."
Yet it surely didn't help the short-handed Mavs that they were facing a team determined not to backslide after last Thursday's home loss to their hated rivals from Los Angeles, as Boston did after losing to the Lakers in L.A. on Christmas Day. That defeat in December sent the Celts into a 2-7 tailspin that ranks as the unhappiest memory of the Garnett-Pierce-Allen era. The response to Boston's home defeat to the Lakers has been noticeably better, with back-to-back wins in New Orleans and Dallas to offset Sunday's fall-from-ahead L to San Antonio.
"I guarantee you everyone on the top four or five teams would say it the same way," Allen said. "The work is definitely harder [on a title contender]. When you're on a losing team, you go into the All-Star break and you just know you have a certain number of games left. We're planning on playing a long time, so you think about so many more things. There's never, like, a moment of relief."
Said Pierce: "The [2-7 skid] was really the first bit of adversity that we've had in the regular season. Last year, I thought we kind of cruised the whole way through until the playoffs. It was a little bit of adversity [after Christmas], but we got through it. We're not going to get down or lose confidence now."
Marc Stein is the senior NBA writer for ESPN.com. To e-mail him, click here.
Dimes past:
Jan. 28
|
29
|
30
|
Jan. 31-Feb. 1
|
Feb. 2
|
3
|
4
|
5
|
6
|
7-8
|
9
|
10
|
11
|
12
By Marc Stein | ESPN.com

DALLAS -- If the Mavericks make a deal before the Feb. 19 trading deadline, it won't be because of Jason Terry's busted hand.
Not with Terry insisting to anyone in Mavsland who will listen that he can get back on the floor as early as Feb. 20.
It's difficult to imagine Terry being cleared to play again that soon -- given that he only just got through surgery Monday to stabilize the fractured fourth metacarpal in his left hand -- but Terry revealed Thursday that he's hoping to convince his bosses to let him play just 11 days after the operation when the Mavs go to Houston for an ESPN game.
"Now you know my secret," Terry joked.
The Mavs' second-leading scorer (19.9 ppg) and NBA Sixth Man Award contender went on to concede that it'll ultimately be the Mavs' call how soon to let him return, which will depend largely on how Terry looks when the team returns to the practice floor Tuesday after the All-Star break.
The Mavericks, though, are quietly hopeful that Terry's absence will be limited to three weeks, because the injury is in his non-shooting hand and because the 31-year-old has shown a high tolerance for pain over the years. Before the hand was broken in a Feb. 7 home win over Chicago, Terry missed only 12 games in his 9 1/2 pro seasons.
"I wanted to play tonight," he said.
The Mavs continue to be active on the phones in advance of next Thursday's trading deadline but continue to insist that any further moves they make are bound to be on the small side.
NBA front-office sources said that longtime Mavs target Raymond Felton -- whom Dallas nearly acquired last month in a three-way deal with Charlotte and Oklahoma City that ultimately collapsed -- is far more likely to stay with the Bobcats than go in the season's final seven days of trading.
There have been media reports all week indicating that the Mavs are chasing New Jersey's Vince Carter, but club sources have stressed repeatedly that they have no intention of including Josh Howard in such a deal, likely ruling out any notion of a Carter-Jason Kidd reunion.
One team source said Thursday that the Nets would have to include rookie center Brook Lopez to change that stance, which obviously isn't happening.
As for Boston, when asked about Stephon Marbury or any other potential newcomers for the stretch run, Celtics coach Doc Rivers said Thursday during his pregame chat with reporters: "If something happens down the road, I'll take it. But I'm not waiting for it."
Beasley Ties Heat Rookie Record
By Elias Sports Bureau

Michael Beasley made 9 of 10 field-goal attempts in the Heat's 95-93 win at Chicago. Beasley tied the team record for highest field-goal percentage in a game by a rookie (minimum 10 attempts), set by Kurt Thomas in 1996 (also 9-for-10).
By Maurice Brooks
ESPN.com

THURSDAY'S BEST
Rajon Rondo, Celtics
: He may not be headed to Phoenix as an All-Star, but he sure looked like one against the Mavericks, notching a triple-double of 19 points, 15 rebounds and 14 assists.
---

THURSDAY'S WORST
Jason Kidd, Mavericks
: For proof that all misses aren't the same, watch the tape of Kidd launching a combination of airballs and bricks on the way to a 1-for-8, 3-point performance against the Celtics.
---
QUOTE OF THE NIGHT
"I got in my rhythm. We had a play that was working. I got into my sweet spot and took the shots."
-- Celtics forward Paul Pierce after scoring 18 of his 31 points in the fourth quarter
Game-Winning Jam For Marion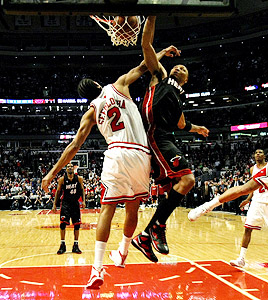 Jonathan Daniel/Getty Images
Dwyane Wade found a cutting Shawn Marion for a dunk with 1.1 seconds left to play, lifting the Heat to a 95-93 victory against the Bulls.
By John Hollinger
ESPN.com

As the losses mount, we have to give more and more consideration to the previously unthinkable idea that the Pistons might miss the playoffs entirely. Detroit's home loss to the Hawks last night was its sixth in the past seven games at the Palace; the Pistons are 5-12 in their past 17 games and have exactly one double-figure win since New Year's Day.
The Pistons rate a 62.8 percent chance of making the postseason according to today's Playoff Odds, the worst their hopes have looked all season. Detroit has also slipped to a lowly 20th in the Power Rankings, behind the likes of New Jersey and Charlotte.
Having given up more points than they've scored on the season, the Pistons better come out of the All-Star break refreshed: They start the second half with a seven-game stretch against winning teams -- five of which are on the road -- that could end up defining their season.
Catching Up With David Stern

David Stern discusses the state of the NBA in the struggling economy, All-Star Weekend, officiating and more.
The Herd