Noah Graham/Getty Images
The Thunder rescinded their trade for Tyson Chandler, making him teammates with Chris Paul again.

Victor Baldizon/Getty Images
Jermaine O'Neal scored 13 points in his first game with the Heat -- a 111-104 loss to the Wolves.

Jesse D. Garrabrant/Getty Images
Carmelo Anthony had 26 points and 14 rebounds to help the Nuggets overcome an early deficit.

Andrew D. Bernstein/Getty Images
Steve Nash's Suns are clicking, topping the 140-point mark for the second straight game.
Trades Are About More Than Who Got The Best Player

On the eve of the trade deadline, I realized there was one thing I hadn't bothered to do for any of the trades that had been proposed, completed or rescinded: check the stats of the players involved.
I didn't spend much time wondering how the new players would affect team chemistry, either. All I did was look up the salaries to see who made what and when the contracts ended.
We can't use the standard criteria to grade trades these days. Half the time, it isn't whether a trade gets a team closer to a championship; it might be whether the trade helps the team stay in town. The Kings play before dwindling crowds in an old, tiny arena in one of the smallest markets in the league. The Hornets play in a New Orleans arena that has yet to return to pre-Katrina levels (which wasn't great for business in the first place). They are facing financial crises.
That's why the Hornets tried to send young, athletic big man Tyson Chandler to Oklahoma City for the older Joe Smith and the unfulfilled potential of Chris Wilcox. By shaving salary, getting under the luxury tax, avoiding the dollar-for-dollar tax and reaping the bonus paid to teams under the threshold, the Hornets could have pocketed $15 million next season. But the Thunder canceled the trade when their medical staff would not clear Chandler.
The Kings sent two of their best players, Brad Miller and John Salmons, to Chicago for Andres Nocioni and a bunch of expiring contracts. The upside for Sacramento? About $10 million in payroll savings next season.
You want to hear about savings from your tax accountant, not your favorite team. Fans want a shot at a championship, not a trip to the lottery.
Speaking of lotteries, the prospect of Robert Horry signing a contract with the Spurs for trade purposes (the way Keith Van Horn did to facilitate the Jason Kidd trade last season) made me think of a great way to reward the fans who keep attending games throughout this recession. The next time a team needs an extra contract to make a trade work, why not give it to a random season-ticket holder? No need to sign a real player if he's never going to suit up. Might as well toss a couple million bucks to a loyal customer and allow him to brag that, technically, he was in the NBA.
Here's a more serious proposal: abolish the luxury tax. It was an artificial creation in the first place, implemented to keep big spenders from overwhelming the league, designed in part because the owners couldn't be counted on to exercise fiscal responsibility all on their own. Now that the real world has encroached on the NBA the desire to save money, payrolls will go down naturally. Teams won't spend what they literally don't have. No need to add punitive taxes that have become the driving force behind the trade market.
It's one thing to create cap space. At least that brings the hope of signing better players one day. There's no excitement generated by slipping below the tax threshold, unless you're one of those people who gets thrills from reading a spreadsheet.
Without the luxury tax, teams wouldn't feel compelled to cut their payrolls to a target number. There might not be the urgency to dump salaries ... and we could get back to arguing over who got the best players in a trade.
J.A. Adande is an ESPN.com senior writer and the author of "The Best Los Angeles Sports Arguments." Click here to e-mail J.A.
Dimes past: Jan. 31-Feb. 1 | Feb. 2 | 3 | 4 | 5 | 6 | 7-8 | 9 | 10 | 11 | 12 | 13 | 18
Different Day, Same Result As Suns Hammer Clippers
By Kevin Arnovitz | ESPN.com

LOS ANGELES -- The label "interim head coach" usually comes with dubious distinction -- but not for Phoenix Suns temp Alvin Gentry. Just 48 hours after he took over for the departed Terry Porter in Phoenix, Gentry has achieved hero status.
"We're looking forward now," Suns point guard Steve Nash said. "If we continue to build cohesion and understanding in an up-tempo system, we'll be a better team."
When he replaced Porter, Gentry promised to revive the up-tempo style of the Mike D'Antoni era, and that's exactly what he did against the hapless Los Angeles Clippers on consecutive nights. The Suns followed a 140-100 thrashing of the Clippers on Tuesday in Phoenix with a 142-119 romp Wednesday night at Staples Center.
"Running is a mentality," Gentry said. "You have to develop that mentality. That's what we're going to try to do the last 30 games."
MOST POINTS IN REGULATION GAME
Past 10 seasons
| | | |
| --- | --- | --- |
| Team | Date | Points |
| Nuggets | March 16, 2008 | 168 |
| Bulls | April 14, 2008 | 151 |
| Warriors | Feb. 10, 2009 | 144 |
| Grizzlies | Jan. 3, 2007 | 144 |
| Suns | Feb. 18, 2009 | 142 |
| Suns | Feb. 17, 2009 | 140 |
| Warriors | April 8, 2008 | 140 |
| Nuggets | Nov. 24, 2006 | 140 |
| Suns | March 31, 2006 | 140 |
| Pacers | March 23, 2003 | 140 |
The Suns are off to a good start. On Tuesday, Phoenix racked up 107 possessions. Wednesday night's breakneck pace was only slightly less frenetic.
Despite perceptions to the contrary, the Suns played at a fairly brisk pace under Porter, ranking fifth in the league in possessions per game. For Gentry, dusting off the old playbook isn't about pace, but about offensive philosophy.
"In this system, spacing becomes the most important thing. It allows Steve avenues and lanes to the basket where he can create opportunities for his teammates," Gentry said.
That's all well and good for Nash. The question confronting Gentry and the Suns is whether Nash can create those opportunities in the offense retooled for Shaquille O'Neal. Can a team execute a possession in seven seconds or less when it takes that long for its center to rumble down the court to the low block? Gentry isn't concerned.
"I've argued with everyone all along that we can run with Shaq in the lineup. We've proven that," Gentry said. "There are enough dead-ball situations so that we can try to punish teams inside also."
That formula worked for O'Neal and the Suns on Wednesday night. He tallied 16 points in 25 minutes on a combination of post sets and putbacks -- none of which disrupted the seamless flow of the Phoenix offense. All 325 pounds of O'Neal huffed it up and down the hardwood perfectly well, thank you. He even ignited the break in the first quarter with Nash, playing the role of ball handler on a pretty coast-to-coast sequence.
"It was a beautiful play by the big fellah," Nash said. "He told me to run with him. I tried to take it off him twice, but I couldn't, and he gave it back to me for a layup."
Shaq, the Suns' assist man on the break?
"Improbable, but beautiful," added Nash.
Kevin Arnovitz is an editor for ESPN.com and the TrueHoop Network.
NEXT LEVEL: Hornets 117, Magic 85
By ESPN Stats and Information

Wednesday was a productive day at the office for the Hornets' Chris Paul -- 36 points and 10 assists in a 32-point drubbing of the Magic.
Paul played 33 minutes, and while he was on the floor, the Hornets were plus-28 in points over the Magic with a 17-6 assist-turnover ratio.
Hornets With And Without CP3

Statistic
Paul on the floor
Paul off the floor
Minutes
33
15
Point Differential
+28
+4
Field Goal Percentage
64.2
46.2
Assists
17
6
Turnovers
6
1
By Maurice Brooks
ESPN.com

WEDNESDAY'S BEST
Amare Stoudemire, Suns
: The big man had 42 points and 11 rebounds to lead Phoenix, which beat up on the Clippers for the second straight night in a 142-119 road win.
---

WEDNESDAY'S WORST
Andre Iguodala, Sixers
: He didn't exactly make the most of his 27 minutes of action against the Nuggets, going 1-for-6 from the floor and grabbing a single rebound before fouling out.
---
QUOTE OF THE NIGHT
"I think that a DUI is unacceptable. That can't happen, and I've got to challenge other people, not just celebrities or jocks. You have to really think before getting behind the wheel after you've been drinking."
-- TNT NBA analyst Charles Barkley, who is returning to work after a six-week leave of absence following his drunken-driving arrest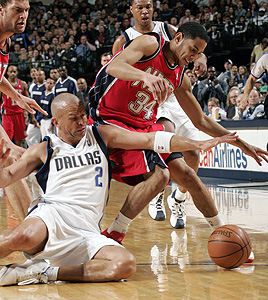 Glenn James/Getty Images
Jason Kidd was all over the court against his former team, posting 23 points and 10 assists in Dallas' 113-98 victory against New Jersey.
Telfair Finally Scores 30 Points
By Elias Sports Bureau

Sebastian Telfair's career-high 30 points offset 37 by Dwyane Wade in the Timberwolves' 111-104 victory at Miami on Wednesday. Telfair, playing in the 322nd game of his NBA career, was the first player to score 30 points in a game for the first time after having already played more than 300 games in the league since Rafer Alston posted his first 30-point game last March in the 531st game of his career.
Celtics Need Help On the Wing
By John Hollinger
ESPN.com

According to the Boston Globe, "the Celtics will be counting on Gabe Pruitt and Brian Scalabrine to provide a spark off the bench." Replace the two names above with the words "a wet match" and you have some idea of Boston's predicament.
With Tony Allen likely out for the rest of the regular season with a thumb injury, Boston's wing depth suddenly becomes a glaring weakness. And remember, they're counting on two 30-somethings in the starting lineup to pull them through -- both of whom have been nicked up in previous seasons.
Add it all up and you have to think Boston will make a move for wing help before the trade deadline. Or at least try. The problem is the Celtics have limited options -- they have no expiring contracts of note this season and only a couple of small ones in 2010, and even their first-round pick is of limited value since it's likely to be 28th, 29th or 30th.