NBA/Getty Images
Deals for Brad Miller, Thabo Sefolosha and Rafer Alston made the Bulls, Thunder and Magic winners.

Melissa Majchrzak/NBAE/Getty Images
Kendrick Perkins had 12 points and 11 rebounds while picking up the slack for the injured Garnett.

Allen Einstein/Getty Images
The Spurs are going to need more nights like this from Duncan (18 points, 18 boards), with Manu out.
Trade Deadline: Who Made The Best Moves?
The trade deadline has come and gone without a single big name changing his zip code. Still, some of the players that traded places do have the potential to be difference-makers.
We asked six of our key contributors to weigh in on which team made the best moves. According to most of our experts, it was the Oklahoma City Thunder.
Winner: Oklahoma City Thunder

Ric Bucher, ESPN The Magazine:
Only two teams actually tried to improve themselves, talent wise, so it's between Orlando acquiring
Rafer Alston
and OKC snaring
Thabo Sefolosha
.
Winner: Thunder, because they gave up a late first-round pick to get 1) a player at a position of need -- shooting guard -- especially with Desmond Mason injured, and 2) a player who is assuredly better than anything they could get late in this year's draft.
Alston fills the gap left by the injured Jameer Nelson, but what happens when Nelson is healthy again? Now you're paying Alston more than $5 million to be a backup point guard and endangering your team chemistry. Maybe it works out fine, but in the OKC deal, there is no downside.
Henry Abbott, TrueHoop: Oklahoma City has been, under Sam Presti, all about draft picks and future cap space. It's a good strategy. Give up assets today for the chance to be great in the future.
But under new coach Scott Brooks, Kevin Durant, Russell Westbrook and Jeff Green are starting to show signs of being able to win now. And Presti has made his moves to open the window a little faster. Sure, the Tyson Chandler trade was rescinded ... but trading a pick for can-do big guard Thabo Sefolosha fills a need, and more importantly shows the future is becoming the present for the upstart Thunder.
Kevin Arnovitz, ESPN.com: It might not be the splashiest deal of the day -- and it's certainly a fall-off from the Tyson Chandler trade -- but I like Oklahoma City's acquisition of Thabo Sefolosha for a late first-round draft pick.
Oklahoma City has incredible offensive firepower on its roster. What OKC needs now are some players like Sefolosha who can give them some length and toughness on the wing. For the Thunder to become a perennial playoff team in the West, they'll need a defensive stopper or two, and Sefolosha can excel in that regard. He can guard four positions and rebound the ball without hurting them offensively. In other words, he can provide the Thunder some reliable glue for all those nice pieces.
David Thorpe, Scouts Inc.: It might have been the last trade announced, and it involves only one current NBA player, but I love OKC grabbing Thabo Sefolosha for a late first-round pick.
First and foremost, I know Sam Presti intends to build his team on both ends of the court, not just with offensive firepower. Westbrook fits that plan, and now, so does their (soon-to-be) new starting shooting guard. Thabo is a real pest on defense, though he's less of a lock-down guy than someone who gets his hands on lots of basketballs. Dribble drives, guard-to-wing passes, finishes at the rim -- Thabo finds a way to disrupt all of them with his feel, length, and desire to make plays on that end.
He's improved as an athlete on offense, and he's an excellent passer. I suspect he'll be a better shooter, too, once he gets consistent minutes. The Bulls are loaded at his positions (yes, he can play two spots and defend three) so I understand them moving him. But the Thunder added a guy who should be part of their rotation as they evolve toward playoff relevance.
Winner: Chicago Bulls

J.A. Adande, ESPN.com: The Bulls managed to obtain good players and salary cap flexibility, a rare combination these days. Various teams sought either Sacramento's Brad Miller or John Salmons. The Bulls wound up with both.
Now they have a skilled big man, something they've lacked pretty much since 2002 -- the last time Miller was in Chicago. They have an up-and-coming guard in Salmons, providing some insurance if Ben Gordon leaves after this season, and if they ever finally part ways with Kirk Hinrich (doesn't it seem as if they're always about to but never do?).
And Miller's contract expires in 2010, which will give the Bulls a chance to go after one of the prime free agents. In the meantime, they can jump right back into the playoff race this season.
Winner: Orlando Magic

Jon Barry, ESPN: The deal that made the most sense to me was Rafer Alston going to Orlando. Obviously with the loss of Jameer Nelson, they needed a point guard, so I think that's an excellent pickup, since they didn't have to give up anything important except a first-round pick.
I don't think this moves them past Boston and Cleveland, but I do think it solidifies them as the third-best team in the East. I think they'll secure that spot now for sure. And once you get into the playoffs, you never know what can happen.
I think it's going to be a smooth transition for Alston and the Magic. He is a better defender than Nelson. He's proven he can play with stars like he did in Houston with Tracy McGrady and Yao Ming the past several seasons. He's proven he can run a club, and he's a 3-point shooter, granted an erratic one. He can get hot, though and, let's face it, that's how Orlando plays.
I love the move. Nelson is a little bit better but, with Alston, you're not losing as much at that position as much as you might think.
Dimes past: Jan. 31-Feb. 1 | Feb. 2 | 3 | 4 | 5 | 6 | 7-8 | 9 | 10 | 11 | 12 | 13 | 18 | 19
Best Way To Get Duncan To Open Up
By Chris Sheridan | ESPN.com

NEW YORK -- Contrary to popular belief, Tim Duncan is actually a pretty interesting, talkative guy. It's just a matter of catching him at the right time and bringing up the right subject.
And if the subject is classic cars, Duncan -- who collects them and plans to collect more -- is a virtual motormouth.
The Spurs' shootaround had just ended, and Madison Square Garden was virtually empty Tuesday morning when ESPN.com asked Duncan to name his Fave Five classic cars -- and not necessarily the ones he owns.
Duncan thought so long and hard before choosing his top 5, he actually listed them in descending order while also acknowledging that he is an occasional reader of Hemmings Motor News, the parts bible for classic car collectors.
Duncan's Top 5:
No. 5: 1966 Pontiac GTO
Duncan does not have one of these early Motown muscle machines, but he is looking. And if he had a spare minute Thursday night in Detroit when the Spurs played the Pistons, he could have quizzed Pistons broadcaster Rick Mahorn on the merits of the '66 GTO versus the '71 GTO. (Mahorn owns a '71 ragtop that he purchased new.)
No. 4: 1969 Dodge Charger
Another one on Duncan's wish list rather than in his garage, this muscle car was what Bo and Luke Duke were driving in the early '80s TV series "The Dukes of Hazzard." Cool Wikipedia fact: Of the 89,199 Chargers produced by Dodge for the 1969 model year, 260 were produced with sunroofs.
No. 3: 1955 Chevrolet Bel Air convertible
Duncan has one of these, fully restored with a white interior and exterior. He purchased it after a buddy in California spotted it on a lot and gave him a heads up.
No. 2: 1968 Chevrolet Camaro
Duncan owns one of these, too, a hardtop model in all black. It is equipped with a 502 crate motor, which Duncan explained is a high-performance replacement engine that can be special ordered.
No. 1: 1950 Mercury
Duncan called this one a "lead sled" (say it so it rhymes), and he was entertained later in the day upon hearing a story of how this writer's dad, Bob, was once a 14-year-old having a white-knuckle moment in the back seat of a brand new '50 Merc when he and three friends drove from Wauwatosa to North Lake, Wisconsin, at speeds in excess of 100 mph back in '50 or '51. "Tell Tim that is a very fast car," the senior Sheridan said.
Spurs coach Gregg Popovich did not have any white-knuckle moments to recall -- only a heartbreaking one that any former teenaged baseball card collector can relate to -- when discussing his most favorite car, a 1963 Chevrolet Impala SS with a 283, 4-barrel-engine that he owned when he was a high school student growing up in Merrillville, Indiana.
"I went off to the Air Force Academy, and my mom sold it," Popovich said.
By Maurice Brooks
ESPN.com

THURSDAY'S BEST
Deron Williams, Jazz
: He struggled with his shot all night, but still knocked down a key jumper in the closing seconds of Utah's five-point win against Boston. He finished with 18 points and 10 assists.
---

THURSDAY'S WORST
Detroit Pistons
: What's going on in Detroit? The Pistons have lost five in a row, 14 of 19 overall and 10 of their past 12 games at home. They are also 4-9 with Richard Hamilton coming off the bench.
---
QUOTE OF THE NIGHT
"The new bone is already starting to lay down, which means the healing process is underway. We're thinking that it will be two to three more weeks from tonight."
-- Spurs coach Gregg Popovich on Manu Ginobili, who is sidelined with an ankle injury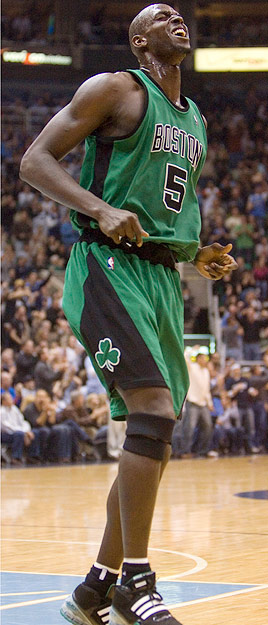 Melissa Majchrzak/NBAE/Getty Images
All-Star forward Kevin Garnett strained his right knee late in the second quarter of the Celtics' 90-85 loss to the Jazz.
TD Pulls Down 18 Boards Again
By Elias Sports Bureau

Tim Duncan had 18 rebounds in the Spurs' win over the Pistons in Detroit. It was the 31st time in Duncan's career that he grabbed at least 18 rebounds in a road game, but it was the first time he did so since Feb. 1, 2007 at Phoenix.
By John Hollinger
ESPN.com

And then there were 12.
With news that Mike Dunleavy might not play another game this season, and Danny Granger limping off the court in the second quarter with a foot injury, I think we can put a fork in the Pacers.
Indy has shown it's too cost-conscious right now to use its expiring contracts to get back another player anyway, so the Pacers were always going to be at a disadvantage post-trade deadline. Now that they're 4.5 games out and two of their best players are hurt, it's officially white flag time.
With Indy joining Toronto on the sidelines, that leaves Charlotte, New York, New Jersey, Milwaukee, Chicago, Philadelphia, Detroit and Miami chasing the final four playoff spots in the East. Six games separate them in the standings, but the upcoming schedule tends to favor the teams at the bottom of the pack.
As a result, according to this morning's Playoff Odds, none has better than a 77 percent chance (Philadelphia) or worse than a 19.2 percent chance (New York) of making the playoffs.
How Far Can the Blazers Go?

Chris Broussard says the Blazers won't win a first-round playoff series with their current roster.
The Herd