NBAE/Getty Images
Life Can Be Rough At The Top

The disappointment is palpable. Inevitable and understandable, too.
You can still remember those 20 dizzying days in February 2008 during which Pau Gasol, Shaquille O'Neal and Jason Kidd all were traded. You obviously want that every February now.
So you are bound to be underwhelmed when the face of Trade Deadline 2009 is either Rafer Alston or Tyson Chandler.
Can't blame you. Not when the deal with potentially the biggest effect on the title race is Alston going to Orlando to be Jameer Nelson's new stand-in. Not when the most memorable deal of the deadline is Chandler's trade getting rescinded one day after consummation. Not when the third contender for face of the deadline is probably David Stern, after the commissioner used his All-Star Weekend pulpit to issue his first public warning that the salary cap and luxury tax thresholds will be going down, when much of the league already was freaked out about the effect of the global economic crisis on basketball business.
Add it all up, and you quickly conclude that the Lakers and Lakers lovers must be the only folks getting any satisfaction out of this week's developments.
Yet, I can't say the deadline was a major disappointment at Stein Line HQ, because we had a feeling this deadline never had a chance. You know our long-held stance that the run of trades that began with Allen Iverson's move from Philadelphia to Denver in December 2006 through Iverson's trade from Denver to Detroit at the start of this season is the most epic two-year run of swaps this league has ever seen. With such high standards to live up to -- and after hearing on a daily basis from executives all over the NBA map how financially strapped they increasingly feel -- I'd say we did pretty well to come as close as we did Thursday to a Shaq trade to Cleveland.
There also were some strong rumblings out of Phoenix on Friday to suggest that Shaq would have been traded to Cleveland had the Suns learned the severity of Amare Stoudemire's eye damage one day sooner.
As for trying to pinpoint a few teams that did well as the trade buzzer sounded, Orlando certainly did well to find a proven starting point guard at the 11th hour. Sacramento cleaned up its payroll better than the Maloof brothers could have dreamed when the week began. But we keep getting drawn to the same team.
Kobe's.
Even the big-market Lakers felt they had to make two payroll-slashing trades this month, dumping Vladimir Radmanovic to Charlotte for Adam Morrison and Shannon Brown, and then paying the Grizzlies to take Chris Mihm. If that doesn't slam home how tough times are, nothing will.
But it's also true that the inability (or financially motivated reluctance) of countless contenders to improve their rosters -- coupled with the league's raging injury epidemic -- has only strengthened the Lakers' position as the best team in the league as March beckons. You know how we work around here: Power Rankings are a Monday enterprise. Yet it feels quite appropriate, as we assess a month that began with the Lakers learning Andrew Bynum would be out for at least the rest of the regular season with another knee injury, to take note of how vice-like L.A.'s hold on the top spot appears after the passing of the most important date on the February calendar.
The Celtics just lost Kevin Garnett to a knee injury that has quietly concerned the reigning champs all season. Boston also felt it had to pass on a deadline deal for an ideal James Posey replacement -- Andres Nocioni -- because Nocioni's contract is even richer than the deal Posey received from New Orleans, which the Celts felt they couldn't match this past summer.
The Cavaliers ultimately couldn't complete a deal for Shaq or Milwaukee's Richard Jefferson, even though they were blessed with a trade asset Boston could only dream of: Wally Szczerbiak's $13.8 million expiring contract. Cleveland thus is forced to compete with Boston, San Antonio and many other playoff teams for any decent veteran free agent who can secure a buyout before March 1 to retain playoff eligibility.
The Spurs, meanwhile, remain the only team in the West that realistically can play with L.A. in a seven-game series, thanks to the non-moves and injury woes dragging down the rest of the conference. Yet it still was a very disheartening week for them, with Manu Ginobili being ruled out for at least two weeks because of a new foot problem (after offseason ankle surgery on the other foot) and with the Spurs believing they were close to a deal with the Clippers for Marcus Camby, only for L.A. to ultimately say no to a package featuring Bruce Bowen, Fabricio Oberto and promising rookie George Hill.
It's safe to say the Alston trade won't be troubling the Lakers, either. Clutch as the trade was for the Magic, with Nelson headed for season-ending surgery and Tyronn Lue and Anthony Johnson clearly not filling the void, Alston can help Orlando only so much. There were plenty of skeptics about the Magic's ability to beat Boston or Cleveland in a playoff series even with Nelson.
On this scorecard, though, all those injuries stand out as the league's greatest source of disappointment these days. The Lakers already have proved they have the depth to get to the NBA Finals without Bynum, but it's a totally different tale for the teams that have lost these prominent names: Garnett, Ginobili, Nelson, Stoudemire, Chandler, Dallas' Jason Terry, Utah's Carlos Boozer, Houston's Tracy McGrady, Charlotte's Gerald Wallace and two major absentees each for Milwaukee (Michael Redd and Andrew Bogut) and Indiana (Danny Granger and Mike Dunleavy). Don't forget that Philadelphia's Elton Brand and Minnesota's Al Jefferson also suffered season-ending injuries recently in what's been a brutal month for NBA health.
I don't disagree that this deadline probably will be remembered more for what didn't happen than what did, but scrolling through that injured list is what really brings me down. Shaq, Stoudemire and Vince Carter all were generating legit offers right up to 3 p.m. ET Thursday. There have been worse deadlines, folks. Much worse.
Marc Stein is the senior NBA writer for ESPN.com. To e-mail him, click here.
Dimes past:
Jan. 31-Feb. 1
|
Feb. 2
|
3
|
4
|
5
|
6
|
7-8
|
9
|
10
|
11
|
12
|
13
|
18
|
19
|
20

Whether it's the mere fact that his name was in deadline-day trade talks or that he wanted his trade to Cleveland to go through and it didn't, this much we know: Shaquille O'Neal is not happy.
Shaq has launched one of his famed media strikes in the wake of the talks between the Suns and the Cavs, which ultimately did not deliver an O'Neal deal Thursday.
As for LeBron James ...
He's averaging 55 points per game since the Cavs declined to part with Wally Szczerbiak's $13.8 million expiring contract on deadline day. So if he's mad, Cleveland might not mind if he stays that way.
One theory holds that the Cavs went for Shaq -- after failed attempts to acquire Antawn Jamison, Caron Butler, Marcus Camby and Amare Stoudemire -- just to show LeBron that they would do anything necessary to win a championship before James' free agency in 2010.
I dispute that theory.
Sources with knowledge of the Cavs' thinking insist they were seriously interested in acquiring Shaq. The deal didn't happen because Cleveland insisted on trading Ben Wallace and Sasha Pavlovic to the Suns, which would have sliced only $5.5 million off the Phoenix payroll next season. The Suns were holding out for a package of Szczerbiak and Pavlovic, which would have erased nearly $20 million in 2009-10 obligations.
I also dispute the theory that Shaq's hulking presence would have gotten in LeBron's way, as we've seen in Phoenix with Stoudemire.
The Cavs really don't run the ball. They mostly score out of sets and long have lacked a down-low scoring threat. In the playoffs especially, when transition baskets are harder to come by, there would be undeniable value in having Shaq as an option to play through and take defenders away from James and Mo Williams or to use as a dangerous decoy. Cleveland certainly has the shooters to put around him as well.
Furthermore, don't forget how well Phoenix played initially after acquiring Shaq at midseason in 2008, back when he was just trying to fit into a new team. If he could adapt to Mike D'Antoni's system on the fly, I think he could handle Mike Brown's.
Which is why I don't think we've heard the last of Shaq to Cleveland. The impression I get is that the Cavs still like the idea.
---
Have to correct some errant bookkeeping from yours truly in a
trade-chatter column
earlier this week.
The trade Detroit made to send Alex Acker to the Clippers for a future swap of second-round picks did better than get the Pistons within $20,000 of the luxury-tax threshold.
It actually got them $479,649 under the $71.2 million tax line because, according to NBA front-office sources, $500,000 in potential All-Star bonuses to Rasheed Wallace and Richard Hamilton also will be dropping off Detroit's payroll along with Acker's $711,517 salary.
The Pistons were $731,868 over the NBA's tax line before shedding Acker's contract. But they now also will be able to shed the $250,000 bonuses in Wallace's and Hamilton's contracts, which were deemed "likely" bonuses and thus counted against Detroit's cap. Yet since neither made it to the All-Star Game, Detroit will get to subtract an additional (and crucial) $500,000 when the league does its official tax calculations in June.
---
Should the Magic be concerned that the Rockets, growing weary of their point guard's occasional negativity, were quietly eager to relocate
Rafer Alston
?
Not at all. Not in Orlando's position.
It would have been far more disconcerting for the Magic to try to finish the season with Tyronn Lue and Anthony Johnson as their only point guards.
The Magic surely know all Alston's pluses and minuses, since Stan Van Gundy coached him in Miami and Stan's brother Jeff Van Gundy had Alston in Houston. The sense I get from a couple of admiring execs is that the Magic generally are getting praise for their willingness to surrender a first-round pick to make one of the rare moves seen this week that wasn't financially driven and for finding a starting NBA point at the last minute whose contract extends for only one more season at $5.3 million.
That's important when the Magic have to find a way to re-sign Hedo Turkoglu this summer.
Losing Jameer Nelson when they did, incidentally, already has cost the Magic a small piece of history. Home losses to Dallas and Denver without Nelson left the Magic with 38 wins entering the All-Star break, preventing us from witnessing the first season in league history with four 40-win teams at the break.
We've had three 40-win teams three times before this season's trio:
Seasons With Three 40-Win Teams At The All-Star Break

Season
Teams
2008-09
Celtics, Lakers and Cavaliers
2005-06
Pistons, Mavericks and Spurs
2004-05
Suns, Spurs and Heat
1980-81
76ers, Celtics and Suns

"Oh, yeah. Oh, yeah. The great thing about this locker room is that Doc [Rivers] can coach. The coaches can coach. They don't have to manage this team. The [veteran] players do a great job making sure that we are all prepared to play every day and we keep whatever grumblings down."
Celtics guard Ray Allen, explaining why he thinks Boston would have little trouble integrating Stephon Marbury in the event that Marbury was able to negotiate a buyout with the Knicks before March 1, which could make him eligible for the playoffs.
We've known of the Celts' interest in Marbury for nearly two months. The problem remains Marbury actually making it to the free-agent marketplace. Is New York truly willing to let him go before the March 1 deadline to keep Marbury playoff-eligible with a new team? Does Marbury even want to play this season or just collect his $20.8 million salary from the Knicks? League-wide skepticism on both fronts is considerable.
My colleague Stephen A. Smith, meanwhile, reported on ESPNEWS earlier this week that a couple of members of the Celtics privately have challenged Marbury to abandon his hard-line stance and give up a few million bucks in negotiations with the Knicks to secure his freedom and prove to the basketball world that he can make an off-the-bench impact with the reigning champs.
Although the Celts always have feared the Knicks won't be willing to let him go before March 2, they do have two roster openings now after sending away Sam Cassell and Patrick O'Bryant in small deals before Thursday's deadline. Don't forget, though, that Boston also was interested in adding a big man even before losing Kevin Garnett to a strained knee in Utah.
So we'll have to see: (A) whether Knicks president Donnie Walsh was serious when he said he expects buyout talks with Marbury to get more serious now that the trade deadline has passed; and (B) which need Boston tries to fill first.
Word is that Mikki Moore, released by Sacramento on Thursday, could have a new team picked by the end of the weekend so he can make a fast move after clearing waivers. But Oklahoma City's willingness to buy out Joe Smith -- Boston's presumed co-No. 1 target along with Marbury, and one of Garnett's best friends -- has not been confirmed after numerous signals in recent weeks that the Thunder were intent on trying to keep Smith if they couldn't trade him.

The speed with which Oklahoma City rescinded its trade for Tyson Chandler continues to surprise some rival executives.
One Eastern Conference exec wondered, "Why didn't they just go through with the deal and let Chandler sit out the rest of the year to get healthy? That would have been a win-win."
Win-win how? The exec basically said that, in his scenario, Thunder general manager Sam Presti could have held onto a player he long has coveted and likely maintained the Thunder's place in the lottery race for the No. 1 overall pick, which would deliver a certain Oklahoma-based collegiate forward who has NBA teams salivating like no one else in what's projected to be a weak draft field.
Yet you likewise have to wonder -- given how much Presti has liked Chandler and considering what an undeniable coup it was for Oklahoma City to be able to acquire a coveted 26-year-old center without surrendering one of its five first-round picks that had been stockpiled for the next two drafts -- whether the Thunder really would walk away from a trade that sweet if they weren't deeply spooked by the long-term condition of Chandler's toe.
"That trade was a 10," another rival exec said.
---
The record-book implications of Tracy McGrady's season-ending microfracture knee surgery -- which might also be career-threatening at the age of 30 -- are fairly notable. If you're into record-book matters.
McGrady was averaging just 15.6 points per game in his half-speed state, marking the first time since his final season in Toronto in 1999-2000 that he failed to crack the 20 points-per-game club.
This season, then, halts the league's third-longest such streak, with No. 1 on the list in danger of dropping out as well:
Most Consecutive 20 PPG Seasons

Player
Season
Allen Iverson
12
Kobe Bryant
9
Vince Carter
9
Dirk Nowitzki
8
Tracy McGrady
8
---
Three post-deadline notes involving the West's busiest trade-deadline team:
• Keep your eye on Sacramento closer to the draft, especially if the Suns decide to put Amare Stoudemire back on the market.
Outside of Memphis' Rudy Gay, Sacramento had the pieces Phoenix wanted most when the Suns still were open to dealing Stoudemire.
The Kings ultimately were unwilling to part with a combination of expiring contracts, rookie forward Jason Thompson and their No. 1 pick in the June draft -- which could well end up being the No. 1 overall pick in the draft -- for Stoudemire.
Even after a flurry of trades that reduced its committed 2009-10 payroll from $66 million to $45 million, Sacramento wasn't willing to give up that much for Stoudemire. The Kings, while certainly tantalized by the idea of pairing Stoudemire with high-scoring swingman Kevin Martin, were unsure they could convince Stoudemire to stay in the summer of 2010 as a once-reluctant Chris Webber was convinced. Giving up such a high, fan-frenzy-generating sort of pick ain't easy, either, when Sacramento obviously has been stripped down to Martin, Thompson, Andres Nocioni and little else talent-wise.
Just don't forget what Kings co-owner Joe Maloof told us recently when we asked about Stoudemire: "We looked at it. Never say never, but right now, no."
• Further investigating to find out who pulled out of the potential Nocioni-to-Boston swap leads us to believe that, in the end, both teams didn't want to do it.
For the Celtics, who felt they couldn't afford to match New Orleans' summertime offer to James Posey, Nocioni was just too expensive.
I'm also told the Kings didn't want to do the deal unless Leon Powe was included. And Boston wasn't giving up Powe.
• On a personal level, this is about as crushing as it gets: The word in North Texas is that Sacramento gave serious thought to sending Cal State Fullerton's Bobby Brown into our zip code in exchange for the Mavericks' Gerald Green. But Brown was needed in the Kings' deal with Minnesota that sent Brown and Shelden Williams to the Wolves for Rashad McCants and Calvin Booth.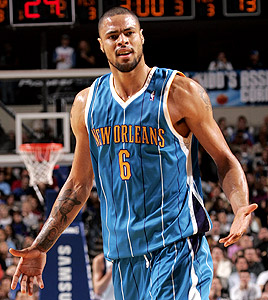 Glenn James/Getty Images
Tyson Chandler said he was "super shocked" when the doctor who operated on his toe two years ago when the Hornets were in Oklahoma City advised the Thunder to rescind their trade with New Orleans. He's not the only one. (See Box 4.)

Five (more) questions with seven-time NBA champion Robert Horry:
Q: I think you're the first One-On-One subject we've interviewed twice in one season, but this is the time of year when out-of-work vets are chased hard by contending teams, so we wanted to check in again to see whether you've given any more thought to playing this season.
A: No one has called. And to be honest, I have not been out there looking.
Q: I'm asking because I've heard and read a few things lately suggesting that you were getting the itch to come back. Is that true?
A: I always wanted to play [this season]. Just no one wanted me ... or should I say no one I would have wanted to play for.
Q: The Cavs haven't called you?
A: Have not talked to Cleveland.
Q: When we spoke around Thanksgiving, you said you doubted that we'd see you on the floor this season. You still see it as doubtful?
A: Don't know if I want to play this late [in this season]. A part of me feels it's not right to enjoy the hard work a team has put in to position itself for the playoffs. But [maybe I] would do it if I knew someone on the team.
Q: There were some suggestions in the media recently that the Spurs might try to sign you to a deal just to add you into a trade like Dallas did last season with Keith Van Horn. Did the Spurs ever call you about that?
A: I wish. But no.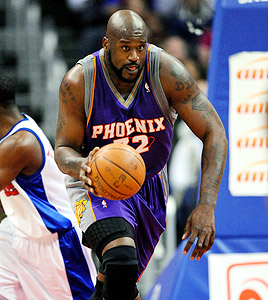 Kevork Djansezian/Getty Images
Shaquille O'Neal will not be running with LeBron James for the rest of the season after trade talks between the Suns and Cavs failed to produce an O'Neal deal before Thursday's 3 p.m. ET deadline. But don't completely dismiss the idea of Shaq and LeBron on the same team someday. (See Box 2.)

ESPN Radio's Jason Smith, like so many others, was disappointed by the lack of big names in play on trade-deadline day. Marc Stein came away slightly more satisfied after the Suns and Cavaliers at least tried to deliver a blockbuster before the trade buzzer by discussing a deal that could have landed Shaquille O'Neal on the same team with LeBron James. You can hear them debate the matter on the latest NBA Today podcast.
Listen to the podcast
Marc Stein joins the Hot List on ESPNEWS in the wake of the eye injury that threatens to shelve the Suns' Amare Stoudemire for the rest of the regular season.