Getty Images
The Suns and Celtics will lock up Sunday on ABC (2:30 ET) without their biggest stars.

Douglas C. Pizac/AP Photos
KG strained his right knee going up for an alley-oop Thursday and will be out 2-3 weeks.

Noah Graham /Getty Images
A collision with Al Thornton on Wednesday likely put Amare Stoudemire on the shelf for the season.

Victor Baldizon/Getty Images
D-Wade and Dwight Howard will battle for Florida bragging rights Sunday on ESPN (5:30 ET).

Allen Einstein /Getty Images
LeBron scored 33 as the Cavs took down the Pistons on Feb. 1. Are we in for a repeat performance?
Life Without Stoudemire and KG
A week after taking center stage at the All-Star Game, neither
Amare Stoudemire
nor
Kevin Garnett
will be taking the court. Surgery to repair a partially detached retina might shutdown Stoudemire's season, while a strained right knee forced the Celtics to shut down KG for two to three weeks. Here's what our analysts have said this week about the injuries and the effects they'll have on Sunday's Suns-Celtics matchup on ABC (2:30 ET).
---
AMARE STOUDEMIRE
Marc Stein, ESPN.com

The Suns are saying that this injury varies case-to-case, so they're not absolutely ruling him out for the rest of the season. But if you just do the math, eight weeks basically does take out the rest of the regular season, which would mean playoffs are as soon as they would see him, and they were going to have a tough enough time making the playoffs with him. … After a miserable year, or at least a miserable time since Game 1 of the San Antonio series, the coaching change from Terry Porter to Alvin Gentry really seemed to lift the cloud that has been over the team for basically nine, 10 months. They were really feeling good about themselves, even though they knew it was a depleted Clipper team they were pounding back-to-back this week. But just the whole mood around the team had changed. … The Suns are certainly feeling a "What next?" feeling settling over them. •
Watch the rest of Stein's interview.
John Hollinger, ESPN.com
How does Phoenix cope from here? I believe the answer is by playing as small and fast as possible. The Suns can insert
Matt Barnes
at power forward and at times go even smaller. Consider a lineup with
Steve Nash
and
Leandro Barbosa
in the back court and
Grant Hill
and
Jason Richardson
as the forwards around Shaq. When they go to the bench, the likes of
Louis Amundson
and
Jared Dudley
can be the frontcourt -- they'll give up inches, but it's all about pushing tempo. In a bizarre way, then, it's a blessing that Gentry took over when he did. The Suns tried to play conventionally under Terry Porter and got, at best, mixed results. Without Stoudemire, however, they can't play conventionally even if they want to. The team is seriously lacking in size right now, and they essentially have no choice but to play fast and run their opponents off the court. •
Read the rest of Hollinger's PER Diem
Ric Bucher, ESPN.com
It's devastating for the Suns. They have tried to do everything to get over the hump, and it's almost sad to see how one thing after another … is tripping up the
Phoenix Suns
. I feel for their fan base at this stage, because just when it looked like they were back in the swing of things, and there are a number of teams faltering in the Western Conference … this happens. … There's no easy solution to this. There's not a
Boris Diaw
on that roster now. There's no one who can easily replace what Amare Stoudemire does in that up-tempo game. … They weren't playing Shaq in back-to-back games when they were playing a slower style … [because] there are diminishing returns there. … Shaq's at the point where they'll probably try to squeeze a few more minutes from him, but don't be surprised if he breaks down. •
Listen to the rest of the interview
---
KEVIN GARNETT
Jon Barry, ESPN

The only big effect Garnett's injury is going to have is on the No. 1 seed in the East. The way they came out at the beginning of this season shows how hungry they are, and that there is just as much desire as there was last year. But they went through their first two series in last season's playoffs without a road win, so home-court advantage still has some significance. It's also a great opportunity for Big Baby and Leon Powe. Their biggest quest is getting into the playoffs, and this will be a three-week period for those players and the bench to gain some confidence. Paul Pierce and Ray Allen are going to have to take on a larger role, but it also gives KG three weeks of rest, so it could be a blessing in disguise. I've looked at their schedule coming up, and I don't think they're going to lose the No. 1 seed. But I think this puts Cleveland in the driver seat. Cleveland is 23-1 at home this season, so in some ways, it might be more important for them.
Dr. Jack Ramsay, ESPN
Garnett is the Celtics' key player, and not just in statistical terms. You can't measure his contribution just on stats, although they're quite good. He's the heart of the defense, the designated double-teamer and he covers for other players. He's the moral fiber of the team. They have the best team defense in the league. But they'll miss Garnett baldy, so the Suns get a break there. The bench is getting gradually better.
Eddie House
has had a couple big games; Powe and Davis have also given them big games on occasions. But
Tony Allen
is also out, so you're asking
Gabe Pruitt
and
Brian Scalabrine
to do something positive. Scals is a good team guy, but now he'll need to put numbers on the board. A lot of their success without Garnett has come playing at home against lesser team. To win big on the road these next few weeks is a big challenge for the Celtics -- starting with Sunday.
Stephen Oh, AccuScore.com
The
Boston Celtics
will be without All-Star Kevin Garnett for the next 2-3 weeks after he suffered a right knee strain on Wednesday against the
Utah Jazz
. In terms of actual winning percentage the Celtics have done just fine without Kevin Garnett. Last season, Boston posted a 7-2 record without Garnett, with the two losses coming in the two toughest games -- at Cleveland and at Orlando. AccuScore ran two sets of simulations, one where Garnett is out through the end of February and the other where he is out through March 10th -- which covers eight games. Once again, matchups with Cleveland and Orlando would be in that longer stretch, although this time, both games will be at home. If Garnett returns next weekend, the impact projects to be fairly limited, since he would be in the lineup for the two crucial games against Cleveland and Orlando. If he is out for the longer stretch, the impact is more pronounced. With a healthy Garnett, our simulations showed the Celtics averaging 6.5 wins in those eight games. If Garnett is out, the Celtics' chances at home versus Cleveland and Orlando drop significantly and the overall win total is just 5.3. •
Read the rest of the AccuScore analysis.
Dimes past:
Jan. 31-Feb. 1
|
Feb. 2
|
3
|
4
|
5
|
6
|
7-8
|
9
|
10
|
11
|
12
|
13
|
18
|
19
|
20
Evaluating Sunday's Teams At The Deadline
By Chad Ford | ESPN.com
Chad Ford assesses the trade-deadline performance of the six teams playing on our network Sunday.

PHOENIX SUNS
Positive Spin:
Psych!
Negative Spin:
What was that all about? Defense wins championships. Shaq can save us. Mike D'Antoni isn't the right coach. Jason Richardson is the missing piece. We have to blow up the team. The owner needs to save money. Amare's gone. Shaq's gone. Our team can't win. Amare and Shaq aren't that bad after all. Alvin Gentry is the next best thing to D'Antoni. Maybe offense will win championships. My head is spinning.

BOSTON CELTICS
Positive Spin:
Not sure how to spin a heavily protected second-round pick. They did save a little money and clear a roster spot.
Negative Spin:
The team might have had the chance to get
Andres Nocioni
from the Kings. There are different stories about who's to blame for the trade's falling through, but that no-go could haunt Boston later. Nocioni would've been a good fit for a team in desperate need of help on the wings. Now, the Celtics have to hope they can pick up some talent (such as
Joe Smith
) on the waiver wire in the next few weeks.
---

MIAMI HEAT
Positive Spin:
The team finally gets the help in the middle it desperately needs.
Jermaine O'Neal
is past his prime and fragile, but light-years ahead of
Joel Anthony
and
Mark Blount
. The Heat also found a way to dump
Marcus Banks
in the deal. And don't forget that Miami retained all its cap flexibility in 2010.
Negative Spin:
They have to pay O'Neal a
lot
of money next year. Will he be worth it? Can he fit in with
Dwyane Wade
? It was a reasonable gamble, but a gamble nonetheless.

ORLANDO MAGIC
Positive Spin:
The combination of
Tyronn Lue
and
Anthony Johnson
just wasn't going to cut it.
Rafer Alston
gives Orlando a legit point guard to handle the team while
Jameer Nelson
sits out the rest of the season after shoulder surgery. Alston's contract is guaranteed for only $2.5 million next year.
Negative Spin:
The Magic had to give up a first-round pick, which hurts. It's still highly doubtful that -- even with Alston -- this team can beat the Celtics and/or Cavs in a seven-game series. And I'm told they passed on a deal for a better point guard:
Jamaal Tinsley
.
---

CLEVELAND CAVALIERS
Positive Spin:
When you have
LeBron James
, does the rest of the puzzle really matter?
Negative Spin:
It sure sounded as if the Cavs were poised to add another important piece to LeBron's quest for a title. There was lots of interest in
Wally Szczerbiak
's expiring contract, but the Cavs couldn't make a trade. We wonder whether all the talk we've heard from Cleveland and elsewhere about the value of expiring contracts was true. Cavs GM Danny Ferry wasn't the only guy unable or unwilling to move an expiring contract. See below.

DETROIT PISTONS
Positive Spin:
The team is poised to have more than $20 million in cap room this summer. With only a handful of teams with money to spend and no other prime destinations likely to be available, the Pistons should be the biggest players in the NBA in July. If Pistons president Joe Dumars gets lucky, a team (or two) that needs to save money will hand him a player he wants for practically nothing.
Negative Spin:
Are there any free agents the Pistons really want this summer?
Carlos Boozer
wouldn't be a bad pickup -- if he opts out.
Marvin Williams
and
David Lee
are interesting restricted free agents. But it's entirely possible that what the Pistons passed on this month (i.e., a potential
Amare Stoudemire
deal) will be better than anything they can get in the summer.
Read Chad Ford's evaluation of the other 26 NBA teams at the trade deadline here.
By John Carroll | Scouts Inc.

The defending champion Boston Celtics emerged from the All-Star break with a league-leading 44-11 record, and resumed their Western swing Thursday night in Utah. However, the Celtics are a differently constructed team than the one that won the NBA Championship last June.
The Celtics have chosen to go with Tony Allen at small forward, Leon Powe and Glen Davis as the backup forwards and without a true backup point guard. They are also without veterans James Posey, P.J. Brown and Sam Cassell from last year's roster. That may all change if they pick up a waived veteran like Mikki Moore, but even so, the Celtics appear to be a more vulnerable team this postseason.
Let's take a look at the keys to Boston's dominance and the keys to beating such a strong team in a seven-game series.
1. System Play
In order to beat the Celtics, you must have offensive and defensive systems. The offense has to be highly organized and have patience and great shot selection. It must move the ball side to side -- Boston's schemes crush opponents that keep the ball on the strong side and do not move.
On defense, you must account for Kevin Garnett's post-ups, Ray Allen's catch-and-shoot plays and Paul Pierce's isolations. Each of these players tax their opponent's ability to concentrate and stay within their defensive principles over and over again. Teams that do not have a tough and disciplined mindset will get beat.
2. The Point Guard Position
Rajon Rondo has become one of the most dangerous point guards in the NBA, creating havoc on the court with his speed and athleticism. Rondo is a tremendous all-around guard who can defend, rebound and push the ball in transition. A playoff opponent must have a point guard who is quick enough to contain Rondo off dribble penetration, keep him off the glass, and be able to attack him defensively while creating foul problems on the other end.
Beyond Rondo, the Celtics are extremely vulnerable at point guard. They need to rest Rondo but don't have anyone who can run the second unit and provide offensive firepower. If Rondo gets hurt, the Celtics would be in a very precarious position.
3. The Paul Pierce Matchup
If you do not have someone that can defend Paul Pierce you will lose to the Celtics. While he is not the best ball handler or passer and does not dazzle you with his athleticism, he is a born scorer and one of the most difficult players in the NBA to defend. If Pierce catches the ball anywhere near the foul line or top of the key he has his opponent at his mercy. He will jab, get his defender off balance and either rise up for his jumper or drive it to the rim.
The Celtics love to utilize the small pick and roll with Rondo and Pierce, especially late in games. They run this to create a switch by the defenders, thus getting a much smaller opponent on Pierce. When the opposition switches, Pierce just salivates at his height differential and torches the mismatch. During a seven-game series, opponents must be prepared for this pick and roll strategy and devise a game plan in order to stop this play. One solution is to duck under the pick and roll, if Pierce sets it, and dare Rondo to shoot. If Rondo sets it, trap Pierce hard and get it out of his hands.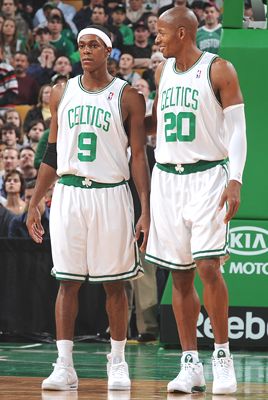 Steve Babineau/Getty Images
Without KG in the lineup Sunday, the Celtics will rely more on the back court of Rajon Rondo and Ray Allen. The duo showed what they could do Jan. 19 against the Suns, combining for 43 points in a 104-87 Boston win.
Mt. Rushmore of Sports Finals

Alabama, California, Illinois, New York and Pennsylvania are fighting to be the top Mt. Rushmore of Sports. Can Wilt Chamberlain,
Magic Johnson
or
Michael Jordan
tip results in these finals?
Vote!
Stuckey, Pistons Backsliding
By John Hollinger | ESPN.com

One of the puzzling reasons behind Detroit's slide is the increasingly timid play of
Rodney Stuckey
. He took only three shots in Thursday's 83-79 loss to the Spurs, content to let
Allen Iverson
do all the heavy lifting while he hung out at the top of the key. Stuckey is averaging only 8.9 points per game in February on 35.9 percent shooting, and his assist numbers are down too. The origins of his slump actually date to mid-January. Since shooting 1-for-10 in a loss to Oklahoma City on Jan. 16, Stuckey has not had a 20-point game; in the preceding calendar month he'd had six. I'm wondering whether somebody told him that this is what good point guards are "supposed" to do, because he seems shockingly less aggressive than he was earlier this season. I've heard it floated that he's tired, too, but if that's the case, doesn't it seem unlikely that he'd come back from the All-Star break and score a combined five points in the first two games? Whatever the cause, it's killing the Pistons right now. They traded
Chauncey Billups
in part so Stuckey could shine, and instead he's melting into the background.
• Read the rest of the Insider Gems.
Celtics Being Cautious With KG

Ric Bucher says Kevin Garnett's injury isn't that serious, but the Celtics will be as safe as possible with him.
Tirico & Van Pelt