(AP Photo/Mark Duncan)
Pistons coach Michael Curry couldn't point AI and the once-mighty Pistons away from the .500 mark.

Gary Dineen /Getty Images
Ramon Sessions presented a formidable challenge for the Nuggets in the Bucks' 120-117 win.

Ron Hoskins/Contributor /Getty Images
T.J. Ford helped drive the Pacers past the Bulls; Indy improved to 4-1 without Granger and Dunleavy.

Fernando Medina/Contributor/Getty Images
Courtney Lee and new Magic teammate Rafer Alston relished the 122-99 win over the Heat.

Bill Baptist/Contributor /Getty Images
Life without T-Mac: Ron Artest had 26 points in Houston's rout of Charlotte.

(AP Photo/Paul Connors)
Steve Nash takes the news lying down that he's been called for a blocking foul in a loss to Boston.
Anticipation Play: Checking The Road Ahead

With less than two months to play in the season, the rough outlines of the conference races are taking shape.
Here are some major questions/trends I'm watching to see how they play out before the season ends:
Whether Detroit falls out of the playoff race. This is a team with serious issues. I know the Pistons think Rodney Stuckey is/was ready to step in for Chauncey Billups as they positioned themselves for the free-agent class of 2010.
A lot of people thought the Allen Iverson trade was the move that could put them over the top. It changed the whole dynamic of the team, all right. Now, the team is sitting squarely at .500. The one thing definitely going for their playoff hopes is the fact that the teams in the 9-10-11 spots probably aren't strong enough to overtake them.
Cleveland getting on the inside track. The injury to Boston's Kevin Garnett turns what had been a toss-up chase for the East's No. 1 seed in favor of the Cavs, no matter how impressive Boston was Sunday in Phoenix. Boston really struggled on the road (3-9) in the playoffs last year. So when you look ahead to a potential seventh game of the playoffs, you want it at home if you're the Celtics. That'll be hard to hold now with Cleveland playing so well, especially at home.
If KG's injury becomes a blessing in disguise. He's out for a few weeks, but this could give Leon Powe, Glen Davis and Brian Scalabrine a chance to gain some continuity with the first unit. That's vital, because P.J. Brown gave them a tremendous lift in the playoffs last season, and they're going to need that from a big man off the bench in the playoffs. Not to mention this is a chance for KG to rest up.
Will the Rockets actually be better without Tracy McGrady? I think they're going to play better. He's obviously been hobbled throughout the season. When you're playing with a star player in and out of the lineup, it affects your continuity. When you see a guy go through a pregame shootaround, and then not play, well, that can wear on a team. Of course, the Rockets would be better off with a healthy T-Mac, but he's not there. And I like what I've seen of Aaron Brooks running the point.
How Gregg Popovich will steer the Spurs. The Spurs remain the greatest threat to the Lakers in the West. So let's see if Popovich can turn Manu Ginobili's injury into a positive -- getting him some rest before their usual strong stretch drive. The Spurs really don't care where they're seeded -- home or road, that's not an issue -- they're going to have to go through the Lakers eventually. And it may be better to catch the Lakers sooner than later -- maybe the second round. I could see Popovich giving 32-year-old Tim Duncan more rest in the days ahead. And Tony Parker should be fine on that front, he's only 26.
If losing Jameer Nelson ultimately doesn't affect the Magic's destiny. Adding Rafer Alston is going to solidify them as the No. 3 team in East. But I didn't see them catching Boston or Cleveland even before they lost Nelson. This team is a year away, needing another piece of the puzzle. What they need is a 4-man with some size and girth to battle the bigs of Cleveland and Boston -- and if they ever get that far -- the Lakers with bigs like Andrew Bynum (when healthy) and Pau Gasol. In Rashard Lewis, they have that new breed 4, a guy who can pick and pop.
Watching Phoenix attempt to get into playoffs. The loss of Amare Stoudemire is a blow the Suns can't come back from. They can't defend as effectively -- they just won't replace what Amare does in that system. Playing Grant Hill or Matt Barnes at the 4 will work against the cruddy teams, but not against the likes of Boston. Maybe the Suns won't slide much from here, but I don't see a team that's ahead of them faltering.
Will anybody crack the top three Right now, it's looking like the Lakers, Celtics and Cavaliers. And I believe the Lakers would love to play the Cavaliers in the finals, based on how the Lakers handed them their only home loss.
ESPN analyst Jon Barry is a regular contributor to the Daily Dime.
Dimes past: Feb. 5 | 6 | 7-8 | 9 | 10 | 11 | 12 | 13 | 18 | 19 | 20 | 21-22 | 22
Lakers' Big Three Lead Way
By Elias Sports Bureau

Kobe Bryant (28 points), Pau Gasol (25) and Lamar Odom (25) shared the scoring load in the Lakers' 111-108 victory over the Timberwolves. It was only the third time in the last 13 seasons that three Lakers players scored at least 25 points in the same game. Bryant, Gasol and Odom also did it last April. But take a bow if you can name either of the other two players who joined Odom as 25-point scorers in a 2005 loss to the Hawks. They were Tierre Brown and Chucky Atkins.
• The Celtics shot 63 percent from the field in Sunday's 20-point victory at Phoenix. It was the highest field-goal percentage by a visiting team against the Suns in more than 20 years -- since the Trail Blazers shot 68 percent at Phoenix on Dec. 5, 1987. Portland's starting guards in that game were Clyde Drexler (who shot 15-for-20) and the recently fired Suns head coach, Terry Porter (9-for-12).
• Dwyane Wade scored 50 points in the Heat's 122-99 loss at Orlando. Wade, the first player to outscore all his teammates combined in one game this season, became only the fourth player in NBA history to score at least 50 points in a loss by 20 or more points. Wilt Chamberlain did it four times, while George Gervin (1978) and Dana Barros (1995) did it once each.
• For the first time in franchise history, four Raptors starters recorded double-doubles without the benefit of overtime, as Toronto defeated the Knicks 111-100. For the record, four Raptors starters posted double-doubles in an overtime game twice, and four Toronto players -- including one sub -- did so in a 48-minute win at Philadelphia in 1997.
• Wilson Chandler, who scored 32 points in the Knicks' rout of the Raptors on Friday, was held to two points in 24 minutes in the Raptors' victory on Sunday. It was the first time in NBA history that a player scored as few as two points in 15 minutes or more of playing time in the second game of a home-and-home series after scoring at least 30 points in the previous game.
• The Bucks defeated the Nuggets 120-117, handing Denver only its fourth loss this season against a team with a current record below the .500 mark. Coming into Sunday's game, the Nuggets, now 21-4 against teams with a losing record, were tied with the Cavaliers (27-3), Magic (25-3) and Lakers (24-3) for the fewest such losses in the NBA.
• Steve Blake recorded 14 assists in the first quarter of the Trail Blazers' 116-87 win over the Clippers, but ultimately fell one assist short of his career high. Blake had 18 assists in a game against the Timberwolves while playing for the Nuggets two years ago. Allen Iverson is among the current players who have never had 17 assists in a game even once. Among former players, Clyde Drexler and Walt Frazier never had 17 assists in a game.
• DeAndre Jordan, who shot 4-for-4 from the field in the Clippers' loss at Portland, has made 41 of his last 53 field-goal attempts (77.4 percent).
• The Pistons' 50th game since Allen Iverson debuted for the team was arguably their worst during that time -- a 99-78 loss at Cleveland in which Detroit trailed 67-34 at the half. That equaled the second-largest halftime deficit in franchise history. The record, 38 points, was set in 1978 during Dick Vitale's only full season as Pistons coach.
As for Iverson's impact, the Pistons have a 23-27 record since Iverson played his first game for the team in November. That's the first time since the end of the 2000-01 season that Detroit has posted a losing record over a span of 50 games within the same season.
• In the wake of the Bulls' 98-91 loss at Indiana, Chicago fans can take some consolation from the performance of three of their newest players. The Bulls outscored the Pacers 19-7 with Brad Miller, John Salmons and Tim Thomas on the court together. Chicago was outscored 37-30 with its starting five on the floor together.
What's The Deal With No Deal?
By John Hollinger ... ESPN.com

Cleveland and Portland surprised us with their inactivity at the trade deadline, opting to hang on to the expiring deals of Wally Szczerbiak and Raef LaFrentz, respectively. But file this one away for future use -- each team still has its full midlevel exception available. That means the Cavs and Blazers can outbid any other team for free-agent talent waived between now and March 1, a group I outlined in Thursday's Per Diem.
While each team would have to pay luxury tax on the contract, effectively costing it double, it's peanuts compared to what it would have cost to trade its large expiring contract for a big-money player whose deal didn't expire until 2010 or later.
As a result, expect those two teams to be in the driver's seat for whatever talent comes available in the next nine days.
Boston, San Antonio and Houston also have chunks of their midlevel exceptions available; the Celtics have $2.4 million to spare and, despite their tax-paying position, are another team that appears able to spend freely for talent. San Antonio and Houston have smaller amounts available and each is precipitously close to the tax line, so they'll be a factor only for players with a decided interest in going to those cities ... or if there is no interest from the Cavs, Blazers and Celtics.
By Andrew Ayres
ESPN.com

SUNDAY'S BEST
Dwyane Wade, Heat
: While it's hard to overlook Rajon Rondo's masterpiece against the Suns, credit is due to Wade's 50-point performance in a rout by the Magic.
---

SUNDAY'S WORST
Larry Hughes, Knicks
: Well, that was inauspicious. In his first game as a Knick, the Hughes corporation posts a loss. Hughes clanks 8 of 9 shots in 16 minutes in a 111-100 loss to the Raptors.
---
QUOTE OF THE NIGHT
"If he plays as well as he's playing, then there's no way we can lose."
-- Celtics forward Paul Pierce on Rajon Rondo, who made 13 of 18 shots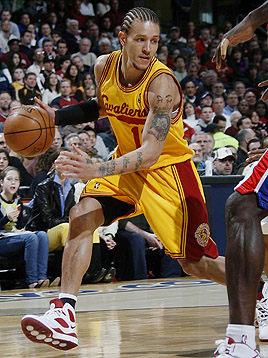 Gregory Shamus/NBAE/Getty Images
Cleveland guard Delonte West, playing his first game since Jan. 15, rolled to 25 points in a 99-78 win over Detroit.
By ESPN Research, Elias

On his 23rd birthday, Rajon Rondo scores a career-high 32 points on 13 of 18 shooting in the Celtics' 128-108 win over the Suns, who entered the game having scored at least 140 points in three straight games (one of five teams in NBA history to do so).
Rondo is now one of 11 players in NBA history to record his current career high in points on his birthday, joining Hedo Turkoglu, Lorenzen Wright and Shaquille O'Neal as active players on that list. The Celtics also got 31 points from Ray Allen, making Rondo and Allen the first Celtics starting guards with 30 points in the same game since Jo Jo White (33) and Charlie Scott (31) on Jan. 2, 1977.
Career Highs On Birthday

Player
Year
Age
Pts
Rajon Rondo *
2009
23
32
Hedo Turkoglu*
2008
29
39
Troy Hudson
2002
26
34
Lorenzen Wright *
2001
26
33
Shaquille O'Neal *
2000
28
61
Dickey Simpkins
1999
27
21
Byron Irvin
1989
23
23
Kevin Duckworth
1988
24
32
Myles Patrick
1980
26
3
George Brown
1957
22
1
George McLeod
1953
22
4
*-Active

Chris Broussard says Orlando did a great job in getting Rafer Alston, but does not think the Magic can compete with Boston and Cleveland in the East.
Mike and Mike in the Morning