AP Photo/Steve C. Wilson)
After missing 44 games, Carlos Boozer returned with two points in Utah's win over Atlanta.

Nathaniel S. Butler/NBAE via Getty Images)
Nate Robinson does a little "Shake and Bake" with actor Will Ferrell during the Knicks' win.

(AP Photo/Bill Kostroun)
Devin Harris celebrates with Bobby Simmons, left, and Trenton Hassell after his buzzer-beater.

(AP Photo/David Zalubowski)
Ray Allen, right, takes exception to a foul by Nuggets guard Anthony Carter in the Celtics' 114-76 win.
Who's Going To Miss The Cut For West Playoffs?

With a little under eight weeks remaining in the regular season, perhaps the most compelling story line heading down the stretch centers on the jostling for playoff position in the Western Conference. With approximately 25 games remaining, give or take a couple for each team, it is extremely difficult to predict how it will play out. However, the seeding in the West, other than the Lakers and Spurs at the top, could look much different on April 15 than it does today.
Denver and Portland have been the most consistent of the remaining teams in the hunt and should be printing playoff tickets eventually, although their seed and first-round matchup is still in question. The Nuggets are slumping with three losses in a row, but they are still one of the highest-powered offensive machines in the league and their improved defense gives them the balance necessary to remain in the top five out West. Portland also has no glaring weaknesses. They are well-coached, have a star fourth-quarter finisher in Brandon Roy, and Greg Oden had been making more of an impact until a recent leg injury. If the big man can stay healthy (that's a big if), the Blazers are a solid playoff team.
That leaves the Rockets, Mavericks, Hornets, Jazz and Suns fighting for the four remaining spots.
The Jazz have the most upside down the stretch. Carlos Boozer's return Monday gives the Jazz the depth up front that they will need to make a strong push the rest of the way. Paul Millsap put up Boozer-like numbers as a starter and will now return to the bench to give the Jazz one of the best second units in the NBA. Their depth wears opponents down and they are still one of the hardest-playing groups around. Deron Williams is at his best when he has all of his weapons at his disposal and doesn't have to burden himself with too much of the scoring load. If this team can figure out how to win a few games on the road, and Boozer gets back his rhythm sooner rather than later, they have a legit chance at catching the Nuggets and claiming the No. 3 seed.
New Orleans could be the biggest X factor in the Western Conference playoffs. Remember, this is a team that pushed the Spurs to seven games in the second round a year ago and they added James Posey in the offseason to enhance their postseason resume. They have plowed their way to a 33-22 record to this point, but they have lacked the energy and sense of urgency they displayed a year ago. Injuries have played a part with Tyson Chandler missing a month, but every team has to deal with injuries. Chris Paul is still the best player on any of these five teams and they have a solid supporting cast. If Chandler can have the impact in the middle at both ends, the Hornets could finish as high as fourth and make some noise if they can avoid the Lakers and Spurs in the first round.
Dallas has been under the radar all year and should make the playoffs as a 7-seed. Rick Carlisle has found a way to make Jason Terry thrive in his role as sixth man, and his natural scoring ability has given the Mavs better balance. The biggest challenge for Dallas will be physically matching up with bigger front lines. The Mavs are at their best when they play smaller lineups, but that also means they can get pounded on the glass at times. After a rough start, the Mavericks have been clamping down defensively and have proven they have enough firepower to play with anyone on a given night. The window has closed on this group winning a title, but they will still be a tough out in the first round.
That leaves Phoenix and Houston for the one remaining spot. Each team will be dealing with the loss of its best player down the stretch.
The Suns will be playing without Amare Stoudemire for at least eight weeks after season-ending eye surgery. That's the bad news. The good news is that Alvin Gentry has committed to getting the Suns back to the high-octane pace they have mastered since the arrival of Steve Nash almost five years ago. The attempt by Terry Porter to make the Suns more defensive-minded and better-equipped to handle playoff tempo was a noble game plan, but completely ignored the shortcomings of his roster. Their personnel need to run and force as many possessions as possible to be effective.
Shaquille O'Neal will be counted on to play more minutes down the stretch and that could be a concern moving forward. The biggest change could come from Jason Richardson, who will be a given a chance to showcase his scoring ability now that Amare is out of the middle and fewer touches will be going to the post. He could really explode as in the fast-paced system. All things considered, with Shaq, Steve Nash, Leandro Barbosa, Grant Hill and Richardson, the Suns have enough talent to grab the 8-seed and face the Lakers in the playoffs once again.
The Rockets could be in big trouble. Tracy McGrady shutting it down to have microfracture surgery could be too much to overcome. Yao Ming is certainly consistent but is not explosive enough to carry the burden offensively. Ron Artest has struggled with his shooting all season, and it may be out of his reach to turn it around to the extent it will take to get in the playoffs.
Aaron Brooks has been great as a backup to Rafer Alston at the point, but starting and playing 38-40 minutes is another animal entirely. Yet that is what he will be asked given that Alston was shipped to Orlando before the trading deadline. The Rockets may surprise us all and continue to win consistently with their stellar defense and collection of hard-nosed role players, but my bet is that they will come up just short.
ESPN analyst Tim Legler is a regular contributor to the Daily Dime
Dimes past: Feb. 5 | 6 | 7-8 | 9 | 10 | 11 | 12 | 13 | 18 | 19 | 20 | 21-22 | 22 | 23
Harris Sinks 16th Buzzer-Beater Of Season
By ESPN Research

When Nets guard Devin Harris sank his 47-footer to beat Philly at the buzzer, it marked the 16th time a game was decided by a last shot as time expired this season. It would have been his third buzzer-beating game-winner, had he sunk an open 16-footer against the Raptors on Jan. 28. Of note, the Sixers have lost three games at the buzzer games this season, tying Indy for that tough distinction.
And It's Good!

Date
Buzzer-beating details
Oct. 31
Rudy Gay hit an 18-foot jumper to give the Grizzlies an 86-84 win over the Magic.
Nov. 6
Brandon Roy made a 30-footer in OT to lift the Blazers to a 101-99 win over the Rockets.
Nov. 24
Larry Hughes hit a 22-foot jumper to give the Bulls a 101-100 win over the Jazz.
Dec. 2
Troy Murphy tipped in a missed shot as the Pacers took a 118-117 win over the Lakers.
Dec. 23
Devin Harris hit a 22-footer, giving the Nets a dramatic 108-107 win over Indy.
Dec. 25
Roger Mason hits a 3-pointer to give the Spurs a 91-90 win over the Suns.
Jan. 2
Vince Carter hit a long 3-pointer in OT and the Nets beat Atlanta 93-91.
Jan. 3
Tony Parker hit a high-arching 15-footer and the Spurs beat the 76ers 108-106.
Jan. 7
Danny Granger connected on a 3-pointer as Indy beat the Suns 113-110.
Jan. 19
Dirk Nowitzki hit a turnaround 17-foot jumper to give the Mavs a 95-93 win over Philly.
Jan. 19
Chris Paul hit an off-balance 3-pointer, lifting the Hornets to a 103-100 win over the Pacers.
Jan. 21
Jeff Green's 16-foot turnaround jumper lifts the Thunder past the Warriors 122-121.
Jan. 23
LeBron James sank a 19-footer, lifting the Cavaliers to a 106-105 win over the Warriors.
Feb. 8
Brandon Roy's layup at the buzzer gave the Blazers a 109-108 victory over the Knicks.
Feb. 8
Caron Butler's game-winning 18-footer lifted Washington past Indiana 119-117.
Feb. 23
Devin Harris hit a lunging 47-footer for the Nets in a 98-96 win over the 76ers.
Rookie Randolph's Adjustment Period Extended

By J.A. Adande | ESPN.com
LOS ANGELES -- Combine the unconventionality of Warriors coach Don Nelson with the unpredictability of a rookie and you have the case of Anthony Randolph, which might be as mysterious as an episode of "Lost."
Just last week he had people comparing him to Lamar Odom -- even Lamar Odom. That's not always a good thing; Odom is the patron saint of perpetual potential. But anyone would want the Odom we've seen this month, when he's averaging 17 points and 14 rebounds. Those were the types of numbers Randolph put up against the Lakers last week: 14 points, 12 boards. It was his third career double-double and marked the first time all season Randolph produced double digits in something, anything, for three consecutive games.
Of course it came in a season-high 28 minutes. The next game he was down to 17 minutes. Monday night he played only 14 minutes in a 118-105 loss to the Clippers, scoring eight points and grabbing only three rebounds, numbers closer to his season averages of six and four.
I'm not sure which is the bigger adjustment for the kid from Louisiana State: life in the NBA or life with Nellie. At least Randolph appears to be developing the resilience to deal with it.
"It's a lot more than basketball," Randolph said. "There's a lot more thinking than just going out there and playing. It's a tough game."
But there aren't many capable of playing it the same way as Randolph. He's long enough to materialize from the weak side and block shots. He has enough range to hit a jump shot from the top of the key. He's quick enough to race from under the basket to the sideline to save a long rebound.
"I have to [hustle] so I can get the minutes, until he trusts me to be in the game in a crunch-time situation," Randolph said.
Not there yet; he sat the final 5:41 of this one. Coaches still like to go with the known down the stretch.
Sometimes you can base your prediction on timing and location. As a team, the Warriors are 5-24 on the road after this loss.
One thing I've learned is which version of Randolph to expect when. I hadn't talked to him since the summer league in Las Vegas. That day he was a little cocky, almost defiant. Very assertive. Still in game mode.
Monday, after some pregame warm-ups, he was calm and soft-spoken as he sat in a courtside seat.
"This is more my demeanor," Randolph said. "I'm more laid-back. But when I get on the court I kind of take on a different persona, I guess."
So that's solved. It's knowing exactly when he'll be on the court, and how long, that remains a mystery.
J.A. Adande is an ESPN.com senior writer and the author of "The Best Los Angeles Sports Arguments." Click here to e-mail J.A.
By Andrew Ayres
ESPN.com

MONDAY'S BEST
Devin Harris, Nets
: Harris' 47-foot buzzer-beater in a 98-96 win over the Sixers was the icing on a big night. Going for 39 points and eight assists helps keep the Nets' playoff hopes alive.
---

MONDAY'S WORST
Chauncey Billups, Nuggets
: No big shots here. Makes 1-of-8, good for three points in 34 minutes of inaction in a 114-76 home trouncing at the hands of his original team, the Celtics.
---
QUOTE OF THE NIGHT
"I thought for sure it wasn't good and I still don't think it was good."
-- Sixers guard Andre Iguodala on Devin Harris' game-winning buzzer-beater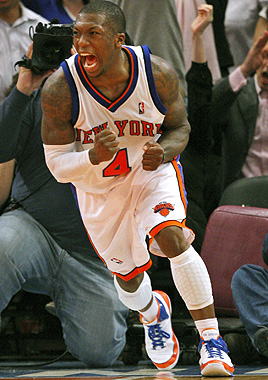 AP Photo/Kathy Willens)
Knicks guard Nate Robinson dropped in 41 points, and helped the Knicks roar to a' 123-119 victory over the Indiana Pacers.
By John Hollinger
ESPN.com

Houston and Portland both won Sunday night, and those two are achieving some separation from their Western brethren in the playoff race. Houston has now won four in a row since Tracy McGrady excused himself, and all four have been fairly impressive wins. That continues the team's season-long trend of playing better without T-Mac, a good omen as they race for seeding. Meanwhile, the Blazers have quietly held on to the No. 4 position for much of the year, and have won five of their past six.
This is of note because the two teams play Tuesday in Houston. A win by the Rockets would push Houston within a half-game of Portland for the fourth spot and home-court advantage in the first round; as of today the Playoff Odds sill project the Blazers to hang on by a two-game margin, but the Odds don't know how many nights a limping McGrady dragged down the Rockets before last week.
This game also has important implications for the tiebreaker between the two, which would be huge if they finish fourth and fifth since it would determine home-court advantage for a first-round series. Portland and Houston only played once before this season, and it was perhaps the best game I've seen in person all year: a 101-99 OT win by the Blazers with three lead changes in the final two seconds (read about it here). The two sides also meet April 5 in Houston, and the Rockets would need to win both to secure the tiebreaker.
No KG? No Problem (So Far)
By Elias Sports Bureau

• Boston beat Denver, 114-76, Monday night. It was the worst home loss in NBA history for a team that was 10-or-more games over .500 at the time of the game. The previous "record" for such a thing was the 37-point win for Los Angeles at Boston on February 11, 1968. The Celtics entered that game with a record of 39-18.
• Nate Robinson had 41 points in the Knicks win over Indiana, his second career game of at least 40 points. Only three other players under six feet tall scored 40-or-more points in a game more than once: Calvin Murphy and Michael Adams had seven such games and Dana Barros had two.
• David Lee had 20 points and 13 rebounds for the Knicks Monday night, his 20th consecutive double/double. Over the last 17 seasons (since 1992-93) only one player had 20 consecutive double/doubles within one season: Kevin Garnett had 33 straight to end the 2005-06 season.
• Three Clippers scored at least 25 points in their win over the Warriors: Eric Gordon and Zach Randolph scored 27 points, Baron Davis had 25. It's the first time in 18 years that three Clippers scored at least 25 points in a non-overtime game. The last time it happened - April 12, 1991 vs. Denver - the players were Olden Polynice (30), Charles Smith (27) and Ken Norman (26).
• The Jazz win over Atlanta completed a 5-0 homestand. Utah has posted nine perfect homestands of five-or-more games, all since moving from New Orleans in 1979, the first since November 1996.