(Bill Baptist/NBAE/Getty Images)
With Tracy McGrady lost for the season, Yao Ming and Ron Artest have to carry more of the load.

(Photo by Jonathan Daniel/Getty Images)
Brad Miller appears contained here, but his fast-break dunk helped Chicago top Orlando.

D. Clarke Evans/Contributor/Getty Images
Who needs Manu and TD? Tony Parker's 37 points helped the Spurs dominate the Mavs.

AP Photo/Mark Duncan
Cleveland and Anderson Varejao, left, earned a 94-79 win over Marc Gasol's Grizzlies.

Victor Baldizon/Contributor/Getty Images
News flash: D-Wade's 31 points and a career-high 16 assists boosted Miami past slumping Detroit.
Rockets Are Still Dangerous Without McGrady

One year ago Thursday, Houston announced that Yao Ming would miss the remainder of the season due to a stress fracture in his left foot. Yao's injury was a crushing blow for a Rockets squad that had reeled off 10 consecutive wins. The team, which started the year 15-17, had finally coalesced around coach Rick Adelman's offense, and their smothering defense was as stingy as ever.
What followed was an improbable string of victories, another dozen, for a total of 22 wins in a row -- good for second-best in NBA history. Dikembe Mutombo assumed Yao's slot in the starting lineup, and big men Chuck Hayes and Carl Landry picked up the slack in the frontcourt rotation. The Rockets adapted to life without Yao by doubling-down on Adelman's offensive philosophy. With Yao no longer the focal point of the half-court offense, the Rockets executed a more varied, read-and-react system.
They finished the season 19-7 without Yao, securing home-court advantage in the first round of the playoffs before bowing out to Utah in a disappointing six-game series.
The Rockets face a similar challenge this season. Last Wednesday, Tracy McGrady announced on his Web site that he was shutting himself down for the remainder of the season to have microfracture surgery on his left knee. For most teams, losing a player of McGrady's caliber would amount to a catastrophe, but the Rockets, as they proved last season, have an uncanny ability to adjust.
Just as the Rockets put Yao's season-ending injury behind them in 2007-08, this season's team is decidedly better with McGrady on the sidelines. The team is 20-15 with McGrady in the lineup, but 16-6 without him -- including five straight wins since McGrady played his last game.
As if McGrady's season-ending surgery weren't enough of a sea change for the Rockets' active roster, the team shipped starting point guard Rafer Alston to Orlando at the trade deadline. To some, the move signaled that Houston was bailing on the season -- but the Rockets haven't shown any ill effects from the transaction.
Aaron Brooks has moved into the starting lineup, with Kyle Lowry, who came over from Memphis in the deal, taking over as his backup.
The Rockets faced a major test Tuesday night when they hosted the Portland Trail Blazers at the Toyota Center. Coming into the game, Portland led Houston by only a half-game for fourth place in the West. After a sluggish start, the Rockets never trailed after the first quarter and hung on to defeat the Blazers 98-94 on the strength of their smart, versatile defense.
Shane Battier and Ron Artest kept Brandon Roy in check, and Luis Scola provided timely help when needed.
True to form, Houston played some of its best basketball during a stretch at the end of the first quarter and the beginning of the second when Yao went to the bench with his second foul. Houston capped a 20-2 run with a couple of pretty transition buckets.
The first came when Artest grabbed the rebound off a long Rudy Fernandez miss, rumbled the full length of the court, then hit Scola with a pinpoint pass underneath for an easy layup.
Seconds later, the Rockets raced ahead on another push, this one courtesy of a strong rebound and outlet from Scola to the speedy Brooks, followed by a cross-court pass to Von Wafer in the right corner. Another easy two.
What allows the Rockets to elevate their game without McGrady? Has his game and health diminished so greatly that Houston's collection of Legos is far more efficient without him on the court?
Various advanced metrics show that the Rockets are anywhere from a slightly better to vastly improved offensive team in McGrady's absence. A quick peek at more traditional statistics makes it more obvious. Fighting through injury, McGrady posted a career low in field goal percentage (38.8 percent), and nine-year lows in points per game (15.6) and rebounds per game (4.4).
While Yao certainly will earn his share of post-ups on the low block, Adelman's offense tends to be motion-oriented. Adelman likes his players to react to the defenses by filling open space and finding those cutters. Whether it's because McGrady preferred to work in isolation or because he simply wasn't hitting his shots, the Rockets' shooting percentage is nearly two points higher, and their scoring average is up five points without him in the lineup.
For several years, Houston has begun its season with a lineup that looks perfect on paper, starting with McGrady and Yao. But fortune never delivered on potential, something McGrady has had to carry around his neck like a millstone.
Despite clinging to the fourth spot in the West for the time being, it's very possible that Houston won't reach the second round of the postseason for the 12th consecutive season. If they don't, McGrady won't have to bear the weight of that disappointment this time around -- and if they do, a not-so-perfect, ever-changing roster of role players can rejoice.
Kevin Arnovitz is an NBA editor for ESPN.com.
Dimes past: Feb. 5 | 6 | 7-8 | 9 | 10 | 11 | 12 | 13 | 18 | 19 | 20 | 21-22 | 22 | 23
Which Players Might Be On the Move?

By Marc Stein | ESPN.com
So who's next in the buyout game?
Mikki Moore, waived by Sacramento, has signed with Boston.
Stephon Marbury, waived by New York, will be next to join the Celtics as early as Friday ... barring an unforeseen snag.
The two roster spots opened by the defending champs last week before the league's annual trade deadline can thus be considered filled.
But contending teams such as Cleveland and San Antonio as well as playoff-bound teams in the Denver-Dallas tier continue to look for veteran bench help as another important deadline approaches.
Players who have been under contract this season must by waived by 11:59 p.m. Sunday to be eligible to appear in the playoffs for another team.
Oklahoma City's Joe Smith? Sacramento's Drew Gooden? Memphis' Chris Mihm?
Attention shifts to those names, among others, with Moore and Marbury no longer available. Going one-by-one ...
• There is still no clear-cut indication whether the Thunder will let Smith go before Sunday's buyout buzzer. There were repeated rumblings before the trade deadline that Oklahoma City -- which had to take Smith back when it rescinded last week's trade for Tyson Chandler -- wanted to keep Smith if it couldn't move him again. That was widely dismissed by rival teams as posturing by OKC to keep Smith's trade value up, but I'm hearing increasing skepticism that we'll see 1995's No. 1 overall pick on the open market before the summer. The Celtics -- presumed to be the co-favorite for Smith along with Cleveland if he did work out a buyout -- decided they couldn't wait and inked Moore as soon as he became available.
• NBA front-office sources say that the Kings, at this point, are not planning to waive Gooden, who is vowing to make his Sacramento debut Wednesday night against Charlotte even though he's been plagued recently by a groin injury. There is still time for a policy change here, but unlikely was the word in circulation as of late Tuesday night.
• Mihm is another name that has been tossed around given the league-wide desperation for proven size, but the early signals also suggest that Memphis is not looking to buy him out. At least not yet.
Antoine Walker is playoff-eligible with a new team after reaching a buyout agreement with the Grizzlies in December, while players such as Robert Horry and Bryon Russell (who's trying to attempt a comeback after nearly three years out of the game because of a knee injury) are in a different category since they haven't been under contract this season. Sunday's waiver deadline doesn't impact them at all.
Yet, Horry continues to say that no team has reached out to him.
There have been multiple newspaper reports suggesting that the Cavs could make an Horry offer, but the 38-year-old told us Friday and again Tuesday that "no one has called."
"And to be honest," Horry says, "I have not been out there looking."
Marc Stein is the senior NBA writer for ESPN.com. To e-mail him, click here.
By Maurice Brooks
ESPN.com

TUESDAY'S BEST
Tony Parker, Spurs
: With fellow standouts Manu Ginobili and Tim Duncan nursing injuries, Parker picked up the slack, exploding for 37 points and 12 assists in San Antonio's rout of Dallas.
---

TUESDAY'S WORST
Detroit Pistons
: They were hammered by the Heat -- their seventh consecutive loss -- to fall below .500 for the first time since Nov. 15, 2006.
---
QUOTE OF THE NIGHT
"Our starting lineup brought nothing to the game. I'm embarrassed and disgusted by what I saw. I don't know if our players are, but they should be. Our guys want to talk about being a contending team. We're still not tough enough and we don't play hard enough."
-- Magic coach Stan Van Gundy after Tuesday's 120-102 loss to the Bulls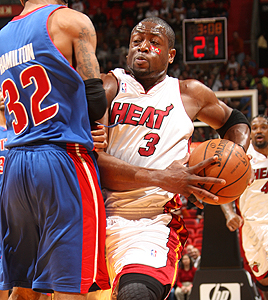 Victor Baldizon/NBAE/Getty Images
Dwyane Wade followed up his 50-point effort by scoring 31 and giving out 16 assists in Miami's 94-86 win over Detroit. Elias says he is the second player to dish out 15 or more assists one game after scoring at least 50. The Sixers' Wilt Chamberlain did it in 1968.
Celtic Green For Marbury?
By Henry Abbott
TrueHoop

As we embrace the notion of Stephon Marbury in Celtic Green, some reference points for your Marbury conversations:
Ray Allen and Stephon Marbury were traded for each other on draft day 1996. Marbury was drafted fourth, by Milwaukee. Allen was drafted fifth, by Minnesota. The Timberwolves gave the Bucks a future first-round pick (it became Danny Fortson) to switch.
For more TrueHoop on Marbury, click here.
Does Moore Help the Celtics?
By John Hollinger
ESPN.com

Boston's inking of Mikki Moore surprises me a bit, because it seems to me the Celtics would be better off waiting for a better player -- such as Oklahoma City's Joe Smith -- to come available.
Perhaps they have inside info that Smith won't become available, but regardless, Moore doesn't figure to help that much. He's long and he takes charges, but he hasn't played well in two years. In fact, his PER of 8.70 is one of the worst at his position this season, which is why he was barely playing for the lowly Kings. He won't be an upgrade on Big Baby Davis and is far inferior to Leon Powe; at best, he provides a fifth big body at the end of the bench.
Time To Back Up His Words

Cleveland point guard Mo Williams guarantees that the Cavaliers will be in the NBA Finals.
Tirico & Van Pelt