(AP Photo/Bill Haber)
After his meltdown against the Hornets, the Pistons may be without Rasheed Wallace for a while.

(Photo by Noah Graham/Getty Images)
Tony Parker has dropped in 76 points in the last two games (both victories) for San Antonio.

Nathaniel S. Butler/NBAE via Getty Images
Dwight Howard tallied 24 points, 21 rebounds and four blocked shots in a win against the Knicks.

Jesse D. Garrabrant/Getty Images
Devin Harris followed up his buzzer-beating shot against the Sixers by scoring 42 against Chicago.
29 Facts on the Pistons' Amazing Plummet

Detroit dropped to 27-29 on Wednesday in New Orleans, losing its eighth straight game, 90-87.
Those 29 losses are just one shy of the number of games the Pistons lost last season, including the postseason: Loss No. 29 came on May 28, in Game 5 of the Eastern Conference finals.
The worst may not be over. The Pistons play in Orlando on Friday (ESPN, 7 p.m. ET) and in Boston on Sunday (ABC, 1 p.m. ET), meaning that a losing streak of 10 games and counting looms. Furthermore, Rasheed Wallace might face suspension after getting two technical fouls, knocking a towel into the stands and throwing another towel in the direction of his coach (more on that below).
For most franchises, a slump like this is just part of the game, but this is Detroit Basketball we're talking about -- one of the NBA's greatest franchises of the past 25 years, a team that prints up tickets for the Eastern Conference finals before the season starts.
To demonstrate what a remarkable run it's been for the Motor City Bad Boys and just how far they've have stumbled into unfamiliar territory, we've put together 29 facts and factoids with great help from the team at ESPN Research.
Consider this:
1. Detroit has lost 17 of 22 games, including 10 of 12 at the Palace of Auburn Hills, generally considered one of the best home courts in the NBA.
2. The Pistons are now 2-9 in February, with one game to go (in Orlando). In the last four Februarys combined, the Pistons lost just eight games, going 38-8 overall.
3. It's been seven years since the Pistons didn't reach the Eastern Conference finals.
4. It's been eight years since the Pistons had a losing record for the season.
5. It's been eight years since the Pistons didn't win 50 games in the regular season.
6. Before this week, they hadn't had a seven-game losing streak since 2003.
7. Their last eight-game losing streak was in the 1994-95 season.
8. Their last nine-game losing streak came as part of a 14-game losing streak in 1994 (spanning two seasons).
9. Detroit has had only five losing seasons in the past 25 seasons.
10. The Pistons' three NBA titles in the past 20 seasons puts them in the NBA's fantastic four during those two decades, with the Bulls (six titles), the Spurs (four titles) and the Lakers (three titles).
11. Overall, the Pistons have been the third-best team of the past six seasons, according to Marc Stein's cumulative Power Rankings. This week, they fell to No. 21 on Stein's ledger (before their most recent two losses) and now are No. 23 on John Hollinger's automated Power Rankings.
12. As of Thursday morning, the Pistons had only a 42.8 percent chance of making the playoffs, according to the Hollinger Playoff Odds. They had been above 50 percent until Tuesday's loss to Miami.
13. So far, the Pistons' early-season trade of Chauncey Billups for Allen Iverson has backfired. (The trade was motivated in part by a desire to clear salary.) When Iverson joined the team, the Pistons were 4-0 (1.000). Since then, they've gone 23-29 (.442).
14. The Pistons have lost the last six times they've been led in scoring by Iverson, who, incidentally, stands fifth on the NBA's all-time leaderboard for points per game.
15. Rodney Stuckey, Billups' replacement, has slumped miserably, failing to reach 20 points in each of the last 19 games, after scoring 20 or more in six of his previous 13 games. Meanwhile, Billups has led the resurgent Nuggets to third place in the West, after many expected them before the trade to miss the playoffs altogether this season.
16. Before the season, the last Pistons coach with a losing record was the immortal George Irvine.
17. Detroit has fired three coaches since starting its remarkable run of six straight trips to the East finals.
18. Those three coaches are Rick Carlisle, Larry Brown and Flip Saunders, who have now coached exactly 3,400 NBA games combined, winning 1,935 and losing 1,465 (.569) -- including a combined 384-190 record (.669) with the Pistons.
19. The current coach, Michael Curry, spent just one season as an NBA assistant, in Detroit, before taking over. His career record is 27-29 (.482).
20. The NBA's sportsmanship award winner each season is given the Joe Dumars trophy, named for the Pistons' universally admired president of basketball operations. And yet, the Pistons are perpetually among the league's most petulant teams, routinely among the leaders in technical fouls and poor sportsmanship, with Rasheed Wallace the worst offender. Counting this season, Sheed has led the NBA in technical fouls in seven seasons, and has been in the top five in technical fouls in 12 of his 14 seasons. For his career, he has 291 technical fouls.
21. On Wednesday, the Pistons seemed poised to end their losing streak, leading the Hornets early in the fourth quarter, but Wallace suffered the kind of meltdown that has punctuated his career.
With the game tied 71-71, Wallace gave up an offensive rebound to Hornets reserve forward Sean Marks, allowing New Orleans to score the basket that put them ahead to stay in a game they would win by just three points. After the Marks play, Wallace complained demonstratively to get a technical foul, and shortly thereafter angrily knocked a towel from a Hornets ball boy's hand into the crowd for a second technical foul and automatic ejection. He followed that by throwing a towel in the direction of his coach, Michael Curry, who had just seconds before removed him from the game.
All of this appeared to raise the possibility that Wallace would face what could have been the NBA's first-ever triple suspension -- the automatic suspension for his 16th technical foul of the season, a league suspension for knocking a towel into the crowd and a team suspension for his actions toward his coach. However, it was revealed on Thursday that the NBA had rescinded two of Wallace's previous technical fouls, giving him only 14 for the season.
But instead of suspending him, might the Pistons just release him now, with only 26 games remaining on his contract? In any case, Sheed's tenure in Detroit, which began in spectacular fashion in 2004 with an NBA title (remember his championship belt?), is reaching an ignominious end.
22. Richard Hamilton has the lowest scoring (17.0 ppg) and rebounding (2.9 rpg) numbers of his career, not counting his rookie season, when he played just 19 minutes a game.
23. After the game, Hamilton complained about his demotion to the bench, and his role as Iverson's understudy for the past 16 games. "I've said I'm happy to come off the bench as long as we're winning," Hamilton said. "But we're losing. We're now 4-12 with me coming off the bench. Something's got to change." The Pistons are 17-15 with Hamilton starting.
24. In hopes of winning a title with the Pistons, Antonio McDyess forfeited almost $9 million in guaranteed salary this season and next to get free of his contract with the Nuggets after he was included in the Billups-Iverson trade.
25. Curry vowed to develop the Pistons' young players, but the process hasn't been a smooth one. In addition to Stuckey's slump mentioned above, and the 8.1 PER of Arron Afflalo, there is the case of Jason Maxiell: Though he's one of Detroit's more productive players, Maxiell's minutes have dropped this season from 21.6 to 16.3 per game. (Actually, Curry is not the first Detroit coach in recent years to show reluctance to disturb his lineup of veterans, as the careers of Mehmet Okur, Darko Milicic, Carlos Arroyo, Carlos Delfino and Amir Johnson have shown.)
26. Detroit was once Where Reclamation Projects Happen: Think Billups, Hamilton, Wallace and Wallace. The Pistons tried it to apply their Midas touch to this season's major free-agent signee, Kwame Brown, with disastrous results. Brown has started 19 games for the Pistons, but has played only 27 minutes in the last month and has a PER of 10.6, nearly a career low.
27. The Pistons' streak of consecutive home sellouts, which began in January 2004 and stood as the NBA's high at the time, ended on Feb. 4 at 259 consecutive games.
28. The date for Pistons loss No. 29 in the previous six seasons (including the postseason):
2003: April 6
2004: April 21
2005: April 29
2006: Eliminated from playoffs with 26 total losses
2007: April 15
2008: May 28
29. Despite it all, the Pistons aren't dead yet. If the playoffs started today, they would get their chance to knock off the defending NBA champions in the first round.
Royce Webb is an NBA editor for ESPN.com.
Dimes past: Feb. 5 | 6 | 7-8 | 9 | 10 | 11 | 12 | 13 | 18 | 19 | 20 | 21-22 | 22 | 23 | 24
Post-Marbury, Knicks Keepers Identifying Themselves

By Chris Sheridan | ESPN.com
NEW YORK -- Two strips of black Velcro were all that remained in the place where Stephon Marbury's nameplate used to hang, and David Lee's ancient Gucci bag and blue Nikes were already overflowing past the top barrier of Lee's locker and invading Marbury's former personal space.
"I don't see any nameplate over that locker," Lee said his own defense before mentioning that the Gucci bag was so old, it was once a gift from Maurice Taylor.
Lee is one of the few New York players remaining who can remember back to the days of Taylor and his ilk, legion upon legion of lamentable, forgettable former Knicks, who maintained their own small slivers of space in that very same locker room.
And for years here in New York, probably since the day Marbury arrived, it has always been so much about who didn't fit into that locker room rather than who did. Who had the big expiring contract that was bound to be moved? Who was the likeliest buyout candidate? Who was going to become the next Ime Udoka or Trevor Ariza, players the franchise quit on prematurely?
Well, on this particular Wednesday that ended with a 114-109 loss to the Orlando Magic in which the Knicks continued to fight back despite trailing almost the entire 48 minutes, there was a sense of a new beginning -- a time to finally, thankfully put the Marbury chapter in the history books and start looking toward the future, toward who is going to be a keeper when this franchise gets to the pivotal summer of 2010 and tries to lure LeBron James to the building, a night to start identifying who will end up as players the Knicks will want to keep, salary-cap space permitting.
The names of Lee (10 points and 10 rebounds for his 21st consecutive double-double) Nate Robinson (32 points off the bench, his fifth 30-plus game in the last seven) and Wilson Chandler (27 points, six 3-pointers) were mentioned in that vein, and coach Mike D'Antoni was quick to include Danilo Gallinari, whose two 3-pointers in the final two minutes got the Knicks' deficit, which had been as high as 13, down to two.
"I wouldn't just limit it to those three, but they are three guys with really good futures. They're getting better, and that's encouraging," D'Antoni said.
Lee and Robinson will be restricted free agents this summer, while Chandler and Gallinari will still be on their rookie contracts when the 2010-11 season arrives. New York's ability to keep both Lee and Robinson will be impacted by what kind of offers they will draw on a very tight leaguewide financial market, and whether Eddy Curry and/or Jared Jeffries can be traded to clear cap space.
"I thought Gallinari tonight was real big down the stretch; he's a better defensive player than most people give him credit. They try to iso him and go at him, and he's not bad. He's really surprised me there. So if we can get him physically stronger, which we will, he's another guy that will have a bright future. So the nucleus is young and pretty good, but again, I'm trying to get to the playoffs, and tonight set us back a little bit."
Maybe so, depending on your definition of a setback. But on a day when the Knicks could look forward without having the distraction of Marbury in their side mirror, it was a night when all you needed to see were those two pieces of black Velcro, along with those two pieces of Lee's encroaching garments, to realize that this was a night to begin thinking about which Knicks will end up being what Marbury was not -- a keeper.
Chris Sheridan covers the NBA for ESPN Insider. To e-mail Sheridan, click here.
By Maurice Brooks
ESPN.com

WEDNESDAY'S BEST
Tony Parker, Spurs
: For the second straight night, San Antonio didn't have Tim Duncan or Manu Ginobili in the lineup. And once again, Parker made sure it didn't matter. He scored 39 points and gave out nine assists as the Spurs rolled past the Blazers 99-84.
---

WEDNESDAY'S WORST
Larry Hughes, Knicks
: It is officially safe to say that the newly acquired Hughes is in a shooting slump. He went 1-for-6 from the floor in New York's loss to Orlando, and is just 4-for-22 in the three games since being traded from Chicago.
---
QUOTE OF THE NIGHT
"That last shot, my eyes were big, my heart was beating. He missed."
-- Nuggets forward Carmelo Anthony on Flip Murray's last-second jumper that bounced off the rim
Hollywood Ending For Clippers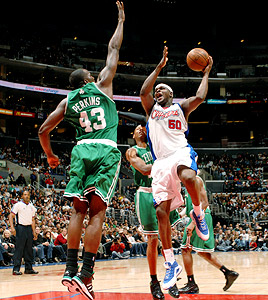 Stephen Dunn/NBAE/Getty Images
Zach Randolph had 30 points and 12 boards for the Clippers, who upset the KG-less Celtics 93-91 to win consecutive home games for the first time this season.

By J.A. Adande
ESPN.com
Yes, Paul Pierce knows all about Stephon Marbury's reputation for being a destructive force on teams, considered so toxic by the Knicks that they paid him most of his $22 million salary just to stay away from the team. But Paul Pierce also knows about himself, about teammates like Kevin Garnett and Ray Allen, and the Celtic way of doing things. And, ultimately, that is what he thinks will prevail when Marbury joins the team.
"You've got a guy who hasn't played in a year and a half, whose reputation has been a guy in the locker room who kills locker rooms," Pierce said of Marbury. "But I don't think he's ever had the type of guys, been around the type of guys that he's going to be around at this time in his career. He's looking at this as the opportunity of a lifetime, being on the court with these type of players.
"You're talking about veterans, guys who have been around the block who understand what it takes."
It's what makes this move such a low risk ... and worth it for a team that has watched leads vanish or games slip away when the reserves are on the floor. The Celtics think they'll be getting a Marbury who is eager to prove the Knicks wrong, who understands that this can change the way we view his career -- or at the very least, help him earn a contract for next season.
As for his new teammates, Rajon Rondo's opinion could matter more than Pierce's, because Rondo is the one who could end up sacrificing some minutes at point guard. For now, Rondo says he's fine.
"I'm not an insecure player," Rondo said. "Last year, when they brought Sam [Cassell] in, I didn't feel threatened by it or disrespected. It's for the betterment of the team. We're trying to win another championship. Whatever it takes."
One thing awaiting Marbury when he joins the Celtics: getting roughed up by his new teammates, similar to what Mikki Moore received when he arrived at the shootaround on Tuesday.
"It's sort of like a tradition," Pierce said. "When we've added players, they come to the middle, we give them a couple of slaps on the head, say welcome to the team."
J.A. Adande is an ESPN.com senior writer and the author of "The Best Los Angeles Sports Arguments." Click here to e-mail J.A.
Villanueva's Career Season
By John Hollinger
ESPN.com

If you're looking at Most Improved Player candidates, Milwaukee's Charlie Villanueva has to be on the short list. The Bucks haven't received much attention this year but are hanging around in the Eastern Conference playoff race, despite losing Michael Redd and Andrew Bogut for the season, thanks in part to a huge year from Charlie V.
It didn't seem likely when the year started -- he played only nine minutes on opening night -- but Villanueva seems to have finally struck a good balance between launching 3s and attacking the basket. He's working on a streak of 16 straight double-figure games and has averaged 20.7 points per game since the new year; for the season, his PER of 20.67 ranks 25th overall -- and is a nearly five-point improvement on his previous career best.
By Elias Sports Bureau

• Dwight Howard dominated the Knicks with 24 points and 21 rebounds to lead the Magic to a 114-109 win in New York. It was the sixth game this season in which Howard reached 20 in both points and rebounds, matching the total for the rest of the league combined. David Lee, Amare Stoudemire, Troy Murphy, Andrew Bogut, Brad Miller and Al Jefferson have each done that once.
• Rashard Lewis went 1-for-6 from beyond the arc, but his 24-foot jump shot with fewer than three minutes remaining in the final period extended his streak of consecutive games with a 3-point field goal to 50. Only four other players have had a streak of at least 50 straight games with a 3-point field goal within one season: Dennis Scott (74 games in 1995-96), Reggie Miller (68, 1996-97), Dana Barros (58, 1994-95) and Tracy McGrady (50, also for Orlando, 2002-03).