Chris McGrath/NBAE/Getty Images

It's a late February tradition around here.
First Friday after the trade deadline? Synonymous with our annual Second Trimester Report.
Regular readers know that we divvy the season into thirds as opposed to halves when tracking the individual awards races. Regular readers also know that we always have to push this report back a week because teams generally pass the 54-game mark right around the trade buzzer.
But we're free to proceed now with our usual award-by-award scan as we move into the final 25 games (or thereabouts) of the regular season.
West MVP, Two Trimesters In

Kobe Bryant, Los Angeles Lakers
Remember last season when we were treated to The Greatest Conference Race of All Time? Surely you'll never forget seeing nine teams jostling for eight spots out West, with 50 wins required just to get into the playoffs and no fewer than five other teams within three games of the top-seeded Lakers.
Check out the West race now.
We've still got nine good teams playing for eight playoff bids. No. 8 Dallas was on pace for a win total entering the weekend -- 49 -- that would almost surely be good for a No. 4 seed in the East. But it's not the same drama. Doesn't really compare.
Not when the Lakers awoke Friday with an eight-game lead over their nearest pursuer. Not when they've won 11 of their first 12 games without the injured Andrew Bynum.
Chris Paul, Tim Duncan and even Chauncey Billups and Brandon Roy merit a courtesy mention in this category, but none of them are close to Kobe, mirroring the huge gulf in the standings. No one's close when No. 24 also happens to be averaging 27.6 points, 5.4 rebounds and 5.1 assists while threatening to establish new career bests in shooting from the field (.477) and the foul line (.866).
The coolest part? The reigning MVP isn't saying much about any of this stuff -- or the fact that the next guy we're going to get into is such a heavy favorite to swipe his MVP crown -- because he knows and accepts that leading these Lakers to a post-Shaquille O'Neal championship is the only matter of consequence for his résumé.
East MVP, Two Trimesters In

LeBron James, Cleveland Cavaliers
You heard it a lot before Mo Williams was summoned to Phoenix as an injury replacement for Chris Bosh: If LeBron is the only All-Star on one of the top three teams in the league, doesn't that automatically make him the MVP?
In both conferences?
Final voting probably won't be as automatic as it looked to be early in the season, when he seemed to have the award wrapped up by Christmas, but James remains the league's consensus MVP favorite, ahead of the onrushing Bryant and well ahead of anyone else you want to name in his conference ... even though Dwight Howard and especially Dwyane Wade have been special, too.
LeBron continues to play more of an all-around game than we've ever seen from him, while benefiting from less big-name support than any other elite team's franchise player. Bryant, Duncan, Kevin Garnett and/or Paul Pierce, even Howard ... all have more starry help than James has.
The clincher, furthermore, would appear to be LeBron's D, which stands out more and more as the season plays out. On top of the 28.3 points, 7.2 rebounds and 7.0 assists he's averaging, one highly respected Eastern Conference scout told me that LBJ "isn't far away from Howard for Defensive Player of the Year in my book."
That should answer any lingering questions.
Coach of the Year, Two Trimesters In

Jerry Sloan, Utah Jazz
Have to confess that I was seriously tempted to go for Miami rookie Erik Spoelstra here, even with the usual overflow of worthy candidates.
Outside of his reborn superstar, what exactly is Spoelstra working with? His point guard, Mario Chalmers, is a rookie drafted in the second round. His second-best player is probably Udonis Haslem. Spoelstra also didn't have a single proven big man on the roster until his bosses traded for a hobbled Jermaine O'Neal this month. And still he has the Heat in the hunt for a top-four spot in the East. Dazzling as D-Wade has been, all of that would suggest that there has indeed been some coaching in Miami in this first season post-Pat Riley.
Yet there's something not quite right about putting a rookie at the top of our list when Sloan still has never won this award in real life. That's especially true when you're reminded that the Jazz, until Carlos Boozer's return Monday, did not have its projected starting five of Deron Williams, Ronnie Brewer, C.J. Miles, Mehmet Okur and Boozer together for a single game this season. Monday's win over Atlanta was the first time all season Williams, Okur and Boozer all played in the same game.
So ...
After holding the Jazz together through nonstop injuries and somehow keeping them close enough to Denver and Portland to actually win the Northwest Division, Sloan is the choice from a deep field that also features Orlando's perpetually underrated Stan Van Gundy, Houston's equally underappreciated Rick Adelman, Cleveland's much improved Mike Brown and two living coaching legends: San Antonio's Gregg Popovich and the Lakers' Phil Jackson.
We also can't forget our First Trimester pick, since Boston's inspiring Doc Rivers is dealing with significant injuries of his own and now has Stephon Marbury in his locker room. Don't be surprised if Rivers moves back into the top spot in final, official balloting if he and the Celtics can make their Steph gamble work.
Rookie of the Year, Two Trimesters In

Derrick Rose, Chicago Bulls
Interesting claim made recently by Suns coach Alvin Gentry, who loudly anointed the Clippers' Eric Gordon the league's best rookie.
"And I don't care who else you mention," Gentry said.
Gordon, though, has the same problem as Memphis' O.J. Mayo or Oklahoma City's Russell Westbrook when it comes to dislodging Rose from his status as the league's longstanding Rookie of the Year favorite: Chicago's record is a lot better.
The implication there is that Rose is regularly playing in much more meaningful games, which usually swings things for the voters when the statistical comparisons are fairly level.
When the difference between the top two rookies is vast, as seen last season when Atlanta's Al Horford was never really in Kevin Durant's zip code in the ROY race, voters might be more willing to stray from the team-success doctrine so many of us employ.
But the gaps we see now are negligible. Gordon, Mayo and Westbrook have all had some gaudy games, but none of them -- not even Mayo -- can claim any meaningful separation from Rose, not even with the Bulls' guard subjected to a couple recent fourth-quarter benchings after it initially looked as though February would be the best month of his young career.
Westbrook is certainly gaining with all that athleticism. And Mayo, no matter what you think of his shot selection, remains the best pure scorer in a deeper-than-usual draft class that also finds Brook Lopez and Kevin Love making increasingly notable contributions in Year 1.
Rose, though, should be able to hang on as long as he maintains his season-long levels of production and Chicago continues to contend for a playoff spot.
And assuming that crunch-time exits are not the new norm for June's No. 1 overall pick.
Marc Stein is the senior NBA writer for ESPN.com. To e-mail him, click here.
Dimes past: Feb. 10 | 11 | 12 | 13 | 18 | 19 | 20 | 21-22 | 22 | 23 | 24 | 25 | 26 | 27
Second Trimester Awards, Take 2
Most Improved Player, Two Trimesters In

Kevin Durant, Oklahoma City Thunder
He won't win this award. He won't (and shouldn't) even be eligible for this award at season's end.
But no one in the NBA has improved during the past 27 (or so) games more than Durant.
The reigning ROY has averaged 33.1 points per game in February alone, along with 6.7 rebounds and 3.9 assists, entering Friday's visit to Dallas. He's flourishing in his move to small forward under new coach Scotty Brooks for a team that was very respectable in its first 20-ish games of 2009 before some recent slippage.
The actual MIP race still features the same names you've heard all season: New Jersey's Devin Harris and Indiana's Danny Granger after both made the leap to All-Star status, Utah's Paul Millsap for his fine work filling in for Boozer, New York double-double machine David Lee and new San Antonio clutch-shot specialist Roger Mason.
Yet there's little harm now in spotlighting Durant's considerable progress, making up for the lack of All-Star consideration he received because of Oklahoma City's heinous start.
Sixth Man Award, Two Trimesters In

Nate Robinson, New York Knicks
The most feared sixth man in the game and the likely winner of this award in the spring both reside in the Southwest Division. But both Manu Ginobili (shin) and Jason Terry (hand) are injured, too.
So we're adopting the same approach here that we used in the preceding MIP discussion, focusing more specifically on this chunk of 27 (or so) games so we can recognize little Nate's monster February.
The combination of Robinson's five 30-point games this month, including a 41-pointer against Indiana, along with the Knicks' pesky presence in the race for a playoff berth in the East make him the most legit choice for the season's middle third. And we say so even when the sixth-man field has no shortage of recognizable names -- Leandro Barbosa, Andrei Kirilenko, Corey Maggette and J.R. Smith -- and when it would be even deeper if not for the injuries in Lakerland and Milwaukee that have forced Lamar Odom and Charlie Villanueva back into starting jobs.
Yet you can't expect to see Robinson that high in April, provided that the two Texas supersubs are back reasonably soon. Ginobili ranks as one of the greatest game-changers off the bench in NBA history and will always be favored for this award. Terry, meanwhile, is having his best scoring season in a decade as a pro (19.9 ppg) coming off the bench for the Mavs. So the rim gets raised in a big way for Krypto-Nate when those two return.
Defensive Player of the Year, Two Trimesters In

Dwight Howard, Orlando Magic
I still say Kevin Garnett is the best all-around defensive player in the league, with Duncan not far behind.
But it's difficult to deny that Howard is having the best defensive season of any player in the league.
Turns out he will not become the first NBA player to swat four shots per game since Dikembe Mutombo did it for Denver in 1995-96, but Howard is averaging 14.2 rebounds and 2.98 blocks without the benefit of a physical power forward at his side.
Howard leads the league in those two categories by a fair distance, which, again, has been achieved in league history by only Kareem Abdul-Jabbar (1975-76), Bill Walton (1976-77), Hakeem Olajuwon (1989-90) and Ben Wallace (2001-02). Better yet, Howard's improved positioning and increased activity around the rim have anchored the D for an offensive-minded, fast-paced team that has allowed 100 or more points just 21 times this season. That puts Orlando in the same ballpark as Boston (17) and San Antonio (17).
We'll certainly come back to this debate when award ballots are sent out by the league office in April, because statistics will never measure what Garnett does as the defending champs' emotional compass and point man for their D, which is the root of Boston's success. Nor can Howard match Garnett when it comes to help D, know-how in the low post or the versatility that allows KG to defend pretty much any position.
This, though, is Howard's time.
(Even after what Ron Artest and Shane Battier did to LeBron in Houston on Thursday night.)
Zack (L.A.): This trade deadline was quite a bore. Do you see some big names changing teams at next year's deadline since so many of them will be in the last year of their contracts?
Marc Stein: You won't have to wait until February 2010 to see big names being shopped. At the draft, this summer, next season ... big names will continue to be offered up by cost-cutting owners because of the economy.
Big names actually changing teams is another matter.
A gambler such as Mark Cuban might be willing to take a risk and take on some salary when players from the Vince Carter/Richard Jefferson class are shopped again. But we also have to pass along this week's warning we got from one GM that we're probably looking at an offseason with 25 teams trying to slash payroll and only a couple of teams operating as buyers. Which ain't great for those of us rooting for trades.
As for your first point ...
I do have to contest the "quite a bore" stuff. That's a cliché to me. It's reached the point that I almost expect to hear complaints about how boring the deadline was no matter what happens.
I totally understand the disappointment of not seeing a deadline-day biggie. Or the frustrations with the motivations teams had on some of the deals discussed. But boring it was not.
This has been one of the most active trade seasons I can remember. Don't forget that it all started one week into the season when the Allen Iverson for Chauncey Billups deal went down. We've had legit chatter and action since November, resulting in a pretty substantial flurry of deals in the end, when most seasons you hear about teams refusing to even think about deals until the deadline gets close.
Now would it have been a better deadline if Shaquille O'Neal or Carter had been moved on the final day? Or if the Shawn Marion for Jermaine O'Neal deal happened five days later than it did? Or if the money talk wasn't driving so much? Most definitely.
But I can't see how Trade Deadline 2009 can be dismissed as a bore when we saw six trades on deadline day as well as Shaq and Vince in play until the buzzer.
Majeed: Talk is cheap, Stein. We want action. Big trades. Not Brad Miller and John Salmons going to Chicago.
Stein: I hear you. And I'm right there with you. I'd love blockbusters at every deadline. Trade Deadline 2008 was unforgettably history-making with Pau, Shaq and Kidd all on the move.
But I repeat: Stuff has been happening this trade season since the first week in November. Deadline day in 2007, when there were only three deals and none bigger than Portland's sending Juan Dixon to Toronto for Fred Jones ... that was boring.
Let's not get mixed up about the real letdown here, which is the realization that so much of this was economy-driven and that so few teams are making basketball trades these days. That's a problem. Seeing New Orleans just try to give away Tyson Chandler without even getting a first-round draft pick back ... that's demoralizing.
Of course, as Cuban pointed out recently, how are NBA folks supposed to be immune from suffocating concerns about finances if these fears have everyone in every business and household in the world fretting and sweating?
Goodbye February (And Good Riddance)

Anyone else sick of this yet?
I know, I know. There's little point moaning about what's happening, because injuries generally aren't preventable ... and because the biggest source of pain in today's NBA, as expertly lowlighted by our own Bill Simmons on Friday, is the global economic crunch and its demoralizing effect on what's supposed to be our escape from real life.
But we can't help it. We can't resist whining about all the injuries, too, after another mangled week in an absolutely brutal month.
San Antonio's Tim Duncan (knee), Boston's Paul Pierce (thumb) and Phoenix's Steve Nash (ankle) were the latest big names to whip their bosses and fans into a panic with new ailments.
There's more: Indiana's Mike Dunleavy (knee) and Golden State's Monta Ellis (ankle) had to abort their recent comebacks, Dunleavy possibly for the rest of the season.
And more: Denver's long-tortured frontcourt pair of Kenyon Martin (back) and Nene (knee) missed their first significant time of the season, while Portland's Greg Oden is nursing an increasingly mysterious bone chip in his left knee to go with that surgically repaired right knee that cost him all of last season.
You could sadly fill out an All-Star Game lineup with the names of players who have suffered season-ending injuries in February alone, as if this league didn't have enough to lament.
February's Season-Ending Injury All-Stars
Starting Five
F
Phoenix's Amare Stoudemire (Right eye ... underwent surgery on Feb. 20)
F
Philly's Elton Brand (Right shoulder ... underwent surgery on Feb. 9)
C
Minnesota's Al Jefferson (Right knee ... underwent surgery on Feb. 19)
G
Houston's Tracy McGrady (Left knee ... underwent surgery on Feb. 24)
G
Orlando's Jameer Nelson (Right shoulder ... underwent surgery on Feb. 19)

It's been an awfully quiet week on the Joe Smith Watch. Those rumblings before the trade deadline that the Thunder were determined to keep Smith for the rest of the season if they couldn't trade his expiring contract are no longer so easily dismissed as posturing from Oklahoma City.
You frankly expected to hear such rumblings, knowing that the Thunder would want to preserve as much of Smith's trade value through the deadline as possible and maintain some leverage in buyout talks if a deal didn't materialize. Yet it appears that OKC was serious about its interest in keeping Smith around after the collapse of the Tyson Chandler trade, given the increasing pessimism coming from rival GMs about Smith's chances of being waived in time (Sunday's deadline is 11:59 p.m.) to be eligible to play in the playoffs for someone else.
However ...
Ben Wallace's injury Thursday night in Houston is expected to prompt Smith to be more aggressive in his efforts to seek his release from OKC to finish the season with the Cavs, who had him for half of last season before surrendering Smith's $4.8 million expiring contract as part of the three-way deal in August to acquire Mo Williams. (San Antonio and several other clubs would also be interested; Boston took itself out of the running with the signings of Stephon Marbury and Mikki Moore.)
If the Thunder relent in the final 36 hours and the 33-year-old winds up on the open market next week, Smith would likely clear waivers Wednesday. At that point, Cleveland could offer him a prorated share of what's left of its midlevel exception totaling a healthy $3,503,882.
The Cavs' actual cost, of course, would be double whatever it gives Smith because of the luxury tax. But since they wanted him even before Wallace got hurt, Smith would figure to have a decent shot at the whole amount.
The most San Antonio could offer is $1,484,029 for the rest of the season. Smith, meanwhile, was owed $1,353,882 by the Thunder as of Friday morning -- with 48 days to go in the regular season -- and would presumably have to forfeit a good chunk of that to convince them to let him go.
---
New Jersey's Devin Harris, perhaps growing weary of the load he and Vince Carter have been carrying all season, hadn't had a 30-point game since Dec. 19 before his two eruptions this week.
Eruption No. 1: Harris' 39 points, including his unfathomable game-winning heave at the buzzer, to beat Philadelphia on Monday night.
Eruption No. 2: Harris' 42 points two nights later in a home win over Chicago.
Harris now ranks as one of just two players this season with more than one game-winning bucket at the buzzer, along with Portland's Brandon Roy, who also has two. As a team, New Jersey has won three games at the buzzer this season without even counting Vince Carter's alley-oop reverse dunk off Bobby Simmons' inbounds pass in Toronto on Nov. 21 that delivered a 129-127 overtime victory over Vince's old team. They are:
Feb. 23 vs. Philadelphia (98-96) on Harris' lunging half-court shot.
Jan. 2 vs. Atlanta (93-91) on Carter's deep 3-pointer at the overtime horn.
Dec. 22 at Indiana (108-107) on Harris' 22-footer from the top of the key.
---
A few bookkeeping issues in the East to update for you:
• The Celtics had three options when it came to signing Marbury:
1. They could have offered a mere prorated share of the $1.26 million veteran minimum totaling $356,407. Only $225,199 of that total would have counted against the salary cap, with the actual cost doubling to $450,398 because the Celtics are a tax-paying team.
2. They could have offered him a prorated share of the $1.9 million biannual cap exception totaling $1,359,471, which would double to $2,718,942 when tax is included.
3. But they ultimately decided to award him a guaranteed $1.2 million from the $1,703,172 left over from the Celtics' prorated, midlevel cap exception. Marbury will thus cost Boston an even $2.4 million when the luxury tax is included.
That's more than the Celtics were expected to spend on Marbury, but it's still an amount they can live with paying out if the experiment doesn't go well and an early separation is required.
• Moore was offered only a prorated share of the veteran minimum to join the Celtics after his release from Sacramento. Moore's take for the rest of the season is thus $378,683, with only $239,274 counting toward the cap. Boston's total cost on Moore is $478,548 with the tax added.
• To ensure that the $5.3 million on the final season of his contract in 2009-10 is a fully guaranteed $5.3 million, Orlando's Rafer Alston has to be on the active list for only 70 regular-season games (he's already at 52 entering Friday's play) and participate in 40 regular-season wins (he's at 30).
He'll obviously get to those reasonable contract benchmarks in both cases comfortably as long as he avoids injury.
Don't think the Magic will complain, though. Even if they have to pay Alston his full $5.3 million next season, bringing him in just before the deadline didn't stick them with a long-term obligation. So Alston gives Orlando hope of salvaging something from this season without Jameer Nelson ... and without making it too much tougher for the Magic to re-sign Hedo Turkoglu than it already was.

The growing word in NBA coaching circles -- some seven weeks before the end of the regular season and the start of serious spinning on the league's coaching carousel -- pinpoints Sacramento as a likely landing spot for Eddie Jordan.
Makes sense, too.
The Kings, by all accounts, want a proven coach to help rebuild their stripped-down squad after Reggie Theus' short-lived leap from the collegiate game. The fact that Jordan prefers the same offensive system recently reinstalled by the Kings after the January rehiring of Princeton legend Pete Carril only adds to his appeal, as does the scoring Jordan's teams are known for, given Sacramento's well-chronicled need to lure customers back to its half-empty building.
The obstacle, as with everything else these days, is the money. It's not yet clear how much Kings co-owners Joe and Gavin Maloof will be willing to spend on a replacement for interim coach Kenny Natt.
The contracts of Theus and predecessor Eric Musselman will have been paid up by season's end. And Sacramento did slice more than $20 million in committed payroll for next season with its multiple deals before the Feb. 19 trade deadline combined with the recent salary-cap relief granted by the league because of Shareef Abdur-Rahim's injury-induced retirement in October. So spending on someone like Jordan, who was fired by the Kings in 1998 after just one full season in charge -- and before the Maloofs took over -- wouldn't be as painful now.
Yet it's also true that Jordan is bound to have other options. Add that reality to Sacramento's money issues and Jordan could quickly swing from a likely to unlikely Kings candidate, potentially prompting Sacramento to again shift the focus of its search to top NBA assistant coaches to replace Natt.
Which leads us to two more names you hear on the coaching grapevine as possible successors with Natt's departure expected at season's end: Boston defensive guru Tom Thibodeau and New York's Phil Weber, who's regarded as one of the league's top teachers with young players.
---
Some facts and figures to add to the recent tributes to the longevity and success of Larry Miller's ownership of the Jazz before his death last week at 64 from complications caused by Type 2 diabetes:
Longest Active Ownership Tenures
Entering the 2008-09 Season
Name
Team
Year Purchased
Abe Pollin
Wizards
1964
Bill Davidson
Pistons
1974
Jerry Buss
Lakers
1979
Donald Sterling
Clippers
1981
Herb Simon
Pacers
1983
Larry Miller
Jazz
1985
Jerry Reinsdorf
Bulls
1985
Miller's Tenure, By The Numbers
W-L: 1,178-738*
Winning percentage: .613
Seasons: 24
Playoff Appearances: 20
Division Titles: Eight
Trips to the NBA Finals: Two
*Includes the first 55 games of this season
---
Throw San Antonio on the list of teams that reached out to Alonzo Mourning to see whether there was any chance of luring him out of retirement, after Zo announced in January that he would not be attempting to come back from last season's gruesome leg injuries in Miami.
Word is that the Spurs, though, quickly received the same polite "no" that the Celtics got when they tried to tempt Mourning with the idea of a short-term comeback on a title-contending team. As with its numerous unsuccessful attempts to lobby P.J. Brown to reconsider his retirement, Boston was informed that Zo, at 38, is no longer willing to risk his long-term health.
After rebounding from his longstanding kidney trouble to help Miami win a championship in 2006, Mourning tore a tendon in his right knee as well as a quadriceps muscle playing for the Heat in December 2007 and hasn't played since.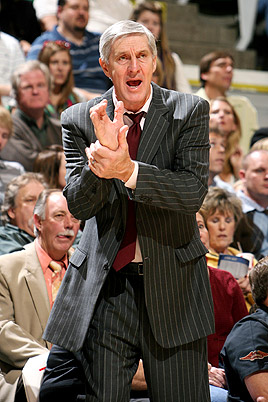 Melissa Majchrzak/Getty Contributor
Will Jerry Sloan ever get his hands on the NBA Coach of the Year trophy? With two-thirds of the season gone, Sloan is in the lead in the COY race on this voter's ballot. But it's a crowded field as always. (See Box 1)

"If it happens, it happens. I knew I was traded to Sacramento, then more rumors about going [from] Sacramento [to] Boston. You don't think about it. You just wait in your home, somebody calls you and says where you're going. The NBA is like that."
Sacramento's Andres Nocioni, describing life on trade deadline day after the deal that sent him from the Bulls to the Kings and subsequent discussions between the Kings and the Celtics that nearly routed him to Boston.
If he's disappointed about not winding up with the defending champs as the new James Posey, Nocioni has masked it well since arriving in Sacramento, where the Argentinean now ranks as one of the few certifiable building blocks -- along with Kevin Martin and rookie forward Jason Thompson -- on the Kings' roster.
The cost-cutting Kings ultimately decided they wanted to keep Nocioni, even though moving him in a swap with Boston would have enabled them to slash even more payroll.
The tax-paying Celtics, meanwhile, had likewise talked themselves out of the trade before the Feb. 19 deadline, knowing that they would have to part with four players at or near the ends of their contracts -- Glen Davis, Tony Allen, Brian Scalabrine and Patrick O'Bryant (who wound up going to Toronto in a much smaller three-way deal that also included the Kings) -- for Nocioni's long-term deal.
Boston, remember, decided last summer that it couldn't match New Orleans' offer to Posey, who has three years and $19.4 million left on his contract after this season. Nocioni is scheduled to earn $21 million in the same span, with his employers possessing a team option worth $7.5 million in the 2012-13 season.

How do the Cavs replace the freshly injured Ben Wallace now that the trade deadline has passed? Marc Stein joins host Jason Smith on ESPN's NBA Today podcast to assess the likelihood of Joe Smith pushing harder for a buyout before Sunday's 11:59 p.m. deadline -- and a return to Cleveland -- with Wallace expected to miss the next eight weeks.
Listen to the podcast
What's the level of skepticism inside Boston's locker room regarding the defending champs' signing of Stephon Marbury? Why are the Celtics willing to risk their treasured chemistry by gambling on a player whose teams have always done better after he left? Marc Stein and Hannah Storm discuss on "SportsCenter."