(Brian Babineau/Getty Images)
Boston welcomed Starbury with open arms. He returned the favor with eight points in his C's debut.

(Fernando Medina/Getty Images)
Rodney Stuckey and the Pistons stumble into Boston on Sunday having lost eight of their past nine.

(Noah Graham/Getty Images)
Kobe and Shaq's last meeting wasn't pretty for Phoenix (L.A. won 132-106). Will Sunday be different?

(Scott Cunningham/Getty Images)
This season's Hawks-Cavs series is tied 1-1. Each game has been decided by five or fewer points.
Starbury Could Shine In Beantown

For
Stephon Marbury
to salvage this season and find success for himself and the
Boston Celtics
, he has to accept the limited role that he is given with the team. That's not an easy situation for a player of his level. The reason his role will be limited is mainly because
Rajon Rondo
is having an excellent season -- not a good season, an excellent season. Rondo is the heart of the C's defense. Everyone talks, and rightfully so, about
Kevin Garnett
and
Kendrick Perkins
in the frontcourt, but the reason all of this stuff works is because of Rondo at the point. He's fourth in the league in steals (1.95 per game). He creates havoc defensively. He's a great rebounder (5.4 rebounds per game), second only to
Jason Kidd
(6.2) among point guards. He's playing 30-plus minutes per game so far.
NBA on ABC Schedule


•
Mavs at Lakers, 3:30 ET (ABC)
• Suns at Warriors, 9 ET (ESPN)
Now, will Marbury, with his past résumé, accept a minimum number of minutes each half? That to me is the big question. I'm not sure what that number is, but I don't think he'll play even 20 minutes a game (he played 13 in his debut Friday). Again, that's mainly because the Celtics have had such success with Rondo in 2007-08 and now this season. Rondo understands his job. He understands that the offense is geared toward
Paul Pierce
, Garnett and
Ray Allen
. All of those guys shoot at a very high percentage. Rondo's game is accepting his role on offense, excelling on defense and capitalizing on his opportunities in the transition game. The position of point guard on the Celtics is not geared to a player looking to showcase himself, largely because of who else they have in their lineup. Rondo and Perkins, the fourth and fifth options on offense, are both shooting higher than 50 percent from the field; obviously, they are making efficient use of their opportunities. So I am interested, as a person who has watched Marbury's career, to see whether he can step in and be fully accepting of his role as a ball distributor above all on offense and fulfill his defensive responsibilities in the half-court set and in transition. This is going to be the toughest thing for him. The reason the Celtics are so good defensively is because they don't have any weak links. They all accept accountability and responsibility for the rotations, and they all give up their bodies in order to take charges. Much has been made about his potential impact on team chemistry, but I feel Marbury will be a model citizen if for no other reason than he's auditioning -- not only for the Celtics but also for the other teams in the league -- for his next contract. But he'll need to showcase himself in limited minutes not only because of Rondo but also because Ray Allen is going to get major minutes, too.
Tony Allen
's recent injury has freed up some minutes, but
Eddie House
has played well for the Celtics off the bench at the off guard spot as well. They know that his game is off the ball. On double-teams and when plays break down, an extra pass often gets him an open shot at the 3-point line. And if you use House as a point guard, you are cutting down his production. Marbury does bring things that Rondo does not. When he's in playing condition, Marbury is a high-powered scorer. He is outstanding off the dribble and can create offense. But he's not going to be quicker than Rondo is in the open floor. In fact, there are very few guys in the league who are quicker than Rondo. And Marbury is not going to be a better defender, but he is accustomed to making the big shot with the clock ticking down. He also has better range than Rondo. All this being said, we are talking about a guy who hadn't played one game all season until Friday, and we are expecting him to fit in, accept the regimentation, accept the responsibility and accept the pressure of winning every game. That's a lot to ask right away. Marbury becomes an asset only if he accepts the job description. Can he stay within the game plan? You are dealing with a championship team that right now is fighting for the best record in the league. Marbury is accustomed to being on teams that are fighting just to get into the playoffs. That is obviously not the situation in Boston. This is a different mentality. Secondly, can he produce under this pressure considering he's bound to be rusty? For the Celtics, it's a no-brainer signing because they'll need a backup just in case of a major injury to Rondo. As long as Boston and Cleveland are both healthy when they clash at playoff time, I think it's still a toss-up as to which team will win the Eastern Conference. With
Mo Williams
and
Delonte West
, the Cavs are better than they have ever been since
LeBron James
got there. And that's assuming one of the two teams gets by Orlando, which will not be an easy pass.
ESPN analyst Hubie Brown was the NBA's coach of the year in 2003-04.
Dimes past:
Feb. 11
|
12
|
13
|
18
|
19
|
20
|
21-22
|
22
|
23
|
24
|
25
|
26
|
27
|
28
Big Ben's Injury A Big Factor In East Race
By Jonathan Lee
AccuScore

The battle for the top seed in the Eastern Conference took another twist Thursday night, when Cleveland's Ben Wallace suffered a broken right fibula against the Rockets that could force him to miss the rest of the regular season.
His loss compromises the post depth for the Cavaliers, leaving more minutes for Anderson Varejao and rookie J.J. Hickson. While Wallace is not the player he once was, he was still an important rebounder and defender.
Just this past week, we looked at a less severe injury to Kevin Garnett and its impact on the Boston Celtics, and discovered that in such a tight race, even missing one to two weeks could have a significant effect.
With Wallace in the lineup, Cleveland had the inside edge for the No. 1 seed at 42 percent -- projecting to win 20 of their final 25 regular-season games.
Out of 10,000 simulations, the injury costs the Cavaliers just an average of half a win over those final 25 games, but that small number is still important because it means they are no longer the clear favorites to finish with the East's best record.
Boston and Cleveland are now projected to have an equal chance at winning the all-important top seed. Orlando still has an outside chance, but remains a distant third. The Magic are the likely second-round opponent for whichever squad finishes second, creating a large incentive to win as many games as possible.
Insiders can read the rest of AccuScore's analysis here.
Is Marbury Worth The Drama?
John Hollinger
ESPN.com
Whether this will work depends on a lot of factors -- whether Marbury is willing to take on a subordinate role, whether he's willing to commit at the defensive end for the first time in his career and whether he can avoid alienating his own locker room.
But much of it depends on a question we simply don't know the answer to: How much does this guy have left, anyway?
More Marbury On ESPN.com
•
Sheridan: Debut a pleasant reminder
•
Source: Marbury to earn $1.2M
•
TrueHoop: talking points
•
MacMullan dissects the deal

•
Marbury introduced as a Celtic

Marbury hadn't played in more than a year, until his Celtics debut Friday, when he scored eight points in 13 minutes. He missed most of last season with ankle problems, and was Tinsley'd by the Knicks before he ever played a game this season. The only prolonged exposure we've had to him was in the preseason, when, by all accounts, he appeared to be in great shape and played reasonably well.
If that's still true, he can help Boston with his ability to score off the drive and his passable long-range shooting. Even during the past two miserable years in New York, his PER was around the league average, and although outside shooting wasn't his forte as a younger player, he made 35.7 percent, and 37.8 percent on 3-pointers, in the past two seasons.
Marbury doesn't need to be Starbury to help the Celtics considerably. If he just puts up numbers similar to the ones he put up in New York the past two seasons and defends with reasonable effort, he'll be a massive improvement on the Pruitt-Scalabrine combo; it's possible he could be an upgrade on Tony Allen for the playoffs, too.
There's a reason this might actually work, and it's the one difference between this stop and every other place he has been in his career: Marbury needs Boston a lot more than Boston needs Marbury. If Marbury starts wallowing in negativity or playing keep-away from his teammates, the Celtics can just cut him. There are no cap implications, no long-term dollars at stake. Just a short, sweet sayonara.
To read Hollinger's entire analysis of Marbury's move to Boston, click here.

Chris (Los Angeles):
Marbury to the C's comparable to Manny to the Dodgers? Big-time talent who quit on his team. The new team is a contender, but needs some help. The converse view is that he is a cancer and always will be. I see Manny more as the exception, and think the signing will be regretted by the Celtics.
J.A. Adande:
Interesting premise. But (A) Marbury's best isn't as good as Manny's best, and (B) Marbury's worst hasn't been as bad as Manny's worst. So it's a lower risk, lower reward. I don't think the Celts will regret it. They have too many strong voices in the locker room to let Steph take it over. The Knicks didn't have enough leadership to keep him from being a threat. That's not an issue in Boston. I will say, having visited their locker room when they visited L.A. on Wednesday, that the Celtics players didn't seem too enthusiastic about his arrival. They know they need some bench help, but I don't think they welcome the other stuff that comes with Marbury. •
Read the rest of Adande's chat
By Chad Ford | ESPN.com

Given current projections, seven teams -- the
Detroit Pistons
,
Memphis Grizzlies
,
Oklahoma City Thunder
,
Sacramento Kings
,
Atlanta Hawks
,
Toronto Raptors
and
Portland Trail Blazers
-- could potentially have significant money to spend in 2009.
However, it's not as much as they had hoped. At the beginning of the season, teams were projecting a $62 million salary cap in the summer of 2009.
Now, given the economy, league sources suggest that the cap will likely come in below this season's $58.6 million cap number. Sources say the cap should be somewhere between $57 million and $58 million. For the purposes of this projection, we're going with a $58 million cap.
Furthermore, of the teams mentioned, only three -- the Pistons, Grizzlies and Thunder -- are likely to have significant money to make a play for free agents. The other teams would have to waive key free agents to get far enough under the cap.
The Pistons seem to be in the best place to land a big-time free agent. They could be around $18 million under the cap if they let Allen Iverson and Rasheed Wallace walk. If Kwame Brown decides not to pick up his player option, they would be around $22 million under.
•
See who else has cap room in 2009-10
•
Read more on potential free agents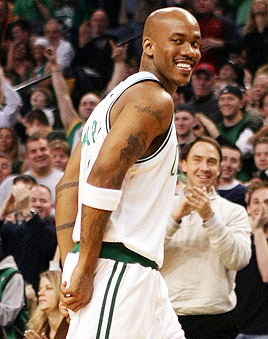 Elsa/Getty Images
Stephon Marbury shoots a smile back at the crowd Friday as he is welcomed to Boston with a standing ovation.
By John Hollinger | ESPN.com

Phoenix's loss to the Lakers on Thursday is worrisome in the sense that the Suns have begun losing contact with the other Western playoff hopefuls. The loss dropped the Suns two games behind Dallas for the West's final playoff spot, and their position is even more precarious if one looks at the schedule: The Suns play the Lakers again Sunday (ABC, 3:30 p.m. ET) and then fly to Orlando to start a four-game trip against all potential playoff teams, and we don't know whether
Steve Nash
will participate. Meanwhile, Dallas defeated the Thunder on Friday and has Toronto and Oklahoma City up next, meaning the Mavs could very well have a four-game lead on Phoenix by early next week. The saving grace for the Suns is that they still play Dallas twice, but it increasingly looks to me like they'll have to win both games in order to beat out the Mavs for the West's last playoff spot -- not only handing two defeats to Dallas, but also giving the Suns the tiebreaker. Incidentally, the
Playoff Odds
now project that the No. 9 team in the West will need at least 48 wins to swipe the No. 8 spot, the highest projection all season. To get there, the Suns will have to go 16-9 the rest of the way, and they may very well have four more L's by the time they get back from next week's road trip. •
Read the other four Insider Gems