(AP Photo/Winslow Townson)
Richard Hamilton shook loose for 25 points, including 18 in the second half, to lead Detroit to the win.

(Rocky Widner/Getty Images)
Carlos Boozer took care of the work in the paint for the Jazz (and Deron Williams gave out 20 assists).

(Nathaniel S. Butler/Getty Images)
The Nets couldn't slow down David West, who had 32 points and 11 rebounds for the Hornets.

(Barry Gossage/Getty Images )
The Lakers' Kobe Bryant scored 49 points, but it wasn't enough to beat Shaquille O'Neal and the Suns.
Iverson's New Role: The Next Will Bynum

BOSTON -- Allen Iverson was not in the building for the second straight game, and it was quite the coincidence that the Detroit Pistons went back to looking like the Detroit Pistons again.
You know, the team that has been to six straight conference finals, the team that confidently shrugged off its past regular-season hiccups as just that -- hiccups.
The team that looked like it still had a little fight left in its brittle old bones, just as it did two nights earlier in defeating another Eastern Conference powerhouse, Orlando.
"We've played our best ball when we've had guys out," coach Michael Curry said after Detroit stunned the Boston Celtics 105-95 on Sunday. "When we have all our components, we still got to find a way to play the exact way we played this game -- the way we focused on what we were doing defensively, the way we shared the ball on the offensive end. We were good. We didn't stay on one side of the floor -- a lot of times the secondary guys got the shot. Guys were moving the ball, they were willing passers, and we took care of the basketball and gave ourselves a good chance on the offensive end."
In other words, they didn't have to deal with playing alongside one player who needs to dominate the ball in order to be effective, didn't have to alter their games out of deference to the ego of someone who arrived four games into a season that has been turned upside-down ever since.
Assuming Iverson's back spasms subside by Tuesday, all of the Pistons' components should be available when Chauncey Billups makes his return to the Palace of Auburn Hills with the Denver Nuggets.
But it'll be Iverson who will have to adjust to a new, secondary role -- and, listening to Curry after Sunday's game, you got the crystal-clear impression that Iverson's role is going to be a lot more secondary than anyone could have ever expected.
Two games after deciding to permanently return Richard Hamilton to the starting lineup and begin bringing Iverson off the bench, Curry went so far as to say he plans to use more of the alignment that was surprisingly effective Sunday: Tayshaun Prince at the 2-guard spot alongside point guard Rodney Stuckey, with Walter Herrmann playing the small forward position.
"Maybe Allen comes in and plays a lot of time at Will Bynum's spot," Curry said.
Bynum spent all of 12 minutes on the court Sunday as the backup point guard, so it was quite the eyebrow-raiser to hear Curry slot Iverson into that role in the future.
But when you look at the body of work Iverson has produced in his time with Detroit -- the team went 22-28 in his 50 games as a starter -- and when you hear the Pistons' brain trust speaking of their future cap room (they'll have about $21 million, the second-most in the NBA next summer behind only Oklahoma City) like it will be some sort of a panacea, you realize that this is the Pistons' last, best chance to make one more run at glory with the same core of players (minus Billups, of course) who have made them such a steady commodity through the majority of this decade.
Iverson still has not spoken publicly since learning of his demotion following the Pistons' loss at New Orleans on Wednesday. He returned to Detroit to have an MRI on his back, and he likely will remain silent Monday since Curry is giving the Pistons the day off following an eight-game road trip.
If he has something to say about his demotion (and he sure had a lot to say the last time a coach tried to bring him off the bench, as Chris Ford will testify), it'll have to wait another day or two.
Not that what Iverson has to say is going to change anything, though.
For now, and for the rest of this season (barring injuries), Iverson is coming off the bench.
"That's going to be the last move," Curry said. "It's nothing against how Allen has played. It's just with Rip in that first group, it seems more guys in that group play better. I knew Rip could play off the bench because he's an efficient scorer; he can score right away.
"I'm still not sure how well A.I. can play off the bench, and that's what we're going to have to find out. He's been in a tough situation all year, and so has everyone else. But this is the team we have, and if we can find ways for guys to do it together -- and willingly do it together -- we've got a chance to be pretty good."
Just like they used to be, and just like they looked Sunday -- like the Pistons of old, the pre-Iverson Pistons.
Chris Sheridan covers the NBA for ESPN Insider. To e-mail Sheridan, click here.
Dimes past: Feb. 18 | 19 | 20 | 21-22 | 22 | 23 | 24 | 25 | 26 | 27 | Feb. 28-March 1
Wilt's 100 And Other Magical Sports Numbers
By ESPN Research
On March 2, 1962 in Hershey, Pa., Wilt Chamberlain scored an NBA record 100 points in the Philadelphia Warriors' 169-147 win over the New York Knicks.
Chamberlain's 100-point game 47 years ago is one of the most magical numbers in all of sports. Here are some numbers that, just by saying them, the feat or streak is automatically recalled. The numbers are listed by highest to lowest.
.406 Ted Williams' batting average in 1941
200 Career wins by NASCAR driver Richard Petty
100 Wilt Chamberlain's NBA single-game point record
92 Wayne Gretzky's single-season goals record
88 UCLA basketball win streak
72 Wins by the 1995-96 Bulls (NBA record for most wins by a team)
61 Roger Maris' HR record
56 Joe DiMaggio's hit streak
49 Career fights for Rocky Marciano without a loss
47 Oklahoma college football win streak
32 Wins for Indiana in 1975-76 (last unbeaten college basketball team)
26 Yankees World Series titles
24 Stanley Cups won by the Canadiens
18 Golfer Jack Nicklaus' major wins as pro
11 Titles won by Bill Russell (most by individual)
8 Michael Phelps' gold medals in 2008 Olympics
7 Nolan Ryan no-hitters
Trail Blazers Are Starting To Hit Their Stride

By John Hollinger | ESPN.com
PORTLAND -- Forget about the young Blazers fading down the stretch in the Western Conference playoff chase. If anything, it looks like they're just gaining steam.
What other conclusion can we reach after watching Portland win by 18 or more points for the fourth time in six games? The Blazers raced out to a 25-point lead in the first 16 minutes en route to a 102-84 rout of San Antonio -- a team that itself is renowned for surging in March.
Portland also got payback for the one stinker in this recent stretch -- a 99-84 loss to a Tim Duncan-less Spurs team in San Antonio on Wednesday. Duncan took the court Sunday, but his return after a three-game absence due to right quad tendinitis resulted in an underwhelming 14 points and four boards.
"Call it rust or whatever you want," said Duncan, who said he felt much better physically. "It was just a bad night."
Instead it was the Blazers' star duo of LaMarcus Aldridge and Brandon Roy who destroyed the Spurs with a medley of midrange jumpers. The two were 10-of-13 in the first quarter, and after the Spurs scored just one point in the first 5:33 of the second quarter, they were down a humbling 46-21. The Spurs didn't get the lead under 20 until the final half-minute -- putting Gregg Popovich into let's-see-what-Malik-Hairston-can-give-us mode by the middle of the second quarter and starting the Blazers fans doing the Wave in the fourth.
With the outcome decided so quickly, it left us to ponder other questions ... like how long the Spurs can hang on to the West's No. 2 slot without Manu Ginobili? He was missed terribly during San Antonio's bout of offensive ineptitude in the second quarter -- the time he normally comes in off the bench and dominates opponents' second units. The Spurs had a similar drought to start the fourth, mustering only one point in the first 5:49; between those two stretches they went nearly an entire quarter with only two points.
Or we can ponder what the Blazers will do when Greg Oden comes back in the lineup, because they sure seem to do well with Joel Przybilla starting. The Vanilla Gorilla set the tone for the whole evening when he stood up Duncan on a first-quarter drive and then blocked the subsequent shot. With Sunday's win, Portland improved to 13-6 when Oden plays 13 minutes or less.
"He did a great job. I wanted to match Joel up with Tim, and he did a nice job of keeping him off the block and making him shoot over the top," said Blazers coach Nate McMillan.
Regardless, he may be starting for a while. McMillan said Oden seemed nowhere near ready when he saw him running three days ago, and that he'd likely miss at least a few more games with a chip fracture on his knee.
Finally, we might ask how a team on the first game of a road trip could look so exhausted. Between Duncan simply dropping a pass when he was wide open under the basket, Tony Parker air-balling an unmolested 3-pointer after taking ample time to line up the shot, or Ime Udoka needlessly whacking Rudy Fernandez on the side of the head to turn a 3-pointer into an and-one opportunity, the Spurs were both notably off-key and unusually devoid of energy.
"It shows a laissez-faire attitude," said Popovich of his team's brutal start. "I'm not sure we came in with the approach or respect that we needed."
What we don't have to ask, however, is whether these Blazers belong in the Western playoff picture. Their Playoff Odds -- 96.6 percent coming in and undoubtedly higher now -- are no accident, and neither is their recent string of one-sided wins. Whether they can hold off the likes of Houston and Utah for a top-four seed and home-court advantage remains to be seen ... but whether they belong in that conversation has been proven, emphatically, by their post-All-Star burst.
John Hollinger writes for ESPN Insider. To e-mail him, click here.
By Maurice Brooks
ESPN.com

SUNDAY'S BEST
Shaquille O'Neal, Suns
: Playing against his former team with fellow All-Star Amare Stoudemire and two-time MVP Steve Nash out of the lineup, O'Neal went off, dropping in 33 points on 13-of-18 shooting in the Suns' seven-point win against the Lakers.
---

SUNDAY'S WORST
Ray Allen, Celtics
: The sweet-shooting Allen doesn't find his name here too often, but his 2-for-10 from the field, including 0-for-5 from distance, was a big reason the Celtics were upset by the Pistons.
---
QUOTE OF THE NIGHT
"It's what I do. I've been doing it since 1992. If you don't believe it, Google me."
-- Suns center Shaquille O'Neal, who had 33 points to become just the fourth player in NBA history over the age of 35 to score at least 33 points in consecutive games (Michael Jordan, Karl Malone and Alex English are the others)
Terry Good To Go For Mavs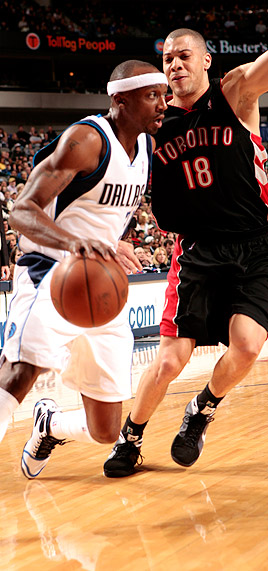 Tim Heitman/NBAE/Getty Images
Jason Terry, who missed eight games with a broken bone in his left hand, returned to the lineup to help the Mavericks defeat the Raptors. Teammate Jason Kidd had 15 assists to join John Stockton, Mark Jackson and Magic Johnson as the only players in NBA history to give out more than 10,000 assists.
Jack Piles Up Big Numbers
By Elias Sports Bureau

• Jarrett Jack capped the highest-scoring week of his NBA career with a game-high 28 points in the Pacers' 100-94 win over the Nuggets. Jack, who started the week with a career-high 33-point performance at Madison Square Garden, averaged 23.8 points in four games over the seven days that ended on Sunday. It is Jack's highest scoring average for any seven-day span in his four-year NBA career.
• The Hornets overcame 26-point performances by Vince Carter and Devin Harris in a 99-96 victory over the Nets. It was the 11th time this season that Carter and Harris each scored at least 25 points in the same game. All other starting backcourt tandems in the NBA have combined for only nine such games.
• LeBron James missed the first of two potential tie-breaking foul shots but made the second with 1.6 seconds to play, giving the Cavaliers an 88-87 win at Atlanta. Coming into the game, James had made 10 consecutive free throws to tie a game or take the lead in the final minute of the fourth quarter or an overtime period. His career totals: 21-for-30 (70 percent).
Chatting With J.A. Adande

Chris (LA,CA): Stephon Marbury to the C's comparable to Manny to the Dodgers? Big time talent who quit on his team. The new team is a contender, but needs some help. The converse view is that he is a cancer and always will be. I see Manny more as the exception, and think the signing will be regretted by the Celtics.
J.A. Adande: Interesting premise ... but a) Marbury's best isn't as good as Manny's best, and b) Marbury's worst hasn't been as bad as Manny's worst. So it's a lower risk, lower reward. I don't think the Celts will regret it. They have too many strong voices in the locker room to let Steph take it over. The Knicks didn't have enough leadership to keep him from being a threat. That's not an issue in Boston.
J.A. Adande: I will say, having visited their locker room when they visited L.A. on Wednesday, that the Celtics players didn't seem too enthusiastic about his arrival. They know they need some bench help, but I don't think they welcome the other stuff that comes with Marbury.
To read the entire chat, click here.