(D. Lippitt/Einstein/Getty Images)
Chauncey Billups had a big game -- scoring 34 -- but it was the Pistons who escaped with the win.

(Fernando Medina /NBAE via Getty Images)
Grant Hill dives for a loose ball, challenged by Courtney Lee during Orlando's win over Phoenix.

(AP Photo/Jim Prisching)
Charlie Villanueva and the Bucks couldn't keep Sean Williams and the Nets out of reach.

(David Sherman/NBAE via Getty Images)
Coaches Don Nelson and Kevin McHale commiserate before their likely lottery-bound teams played.

(Andrew D. Bernstein/NBAE via Getty Images)
Brothers in arms: Marc (17 points, 14 rebounds) and Pau Gasol (13, 8) collided in LA's 99-89 win.

(Bill Baptist/NBAE via Getty Images)
After beating Toronto, Yao Ming and the Rockets moved into a tie for third in the West with Denver.
Fitting Tribute In Billups' Return to Detroit

It was a classy move by the Detroit Pistons to allow their public address announcer to give Chauncey Billups the tribute he deserved Tuesday night. The fans came out and showed their support for a guy who was an NBA Finals MVP and who led the team to six straight Eastern Conference Finals.
Early in his career, Billups was bouncing around from team to team; then Joe Dumars brought him to Detroit, and that helped turn around Billups' image and his career.
If you are a Detroit fan, the game was the best of both worlds. Billups (season-high 34 points on 11-for-19 shooting and four assists) had an awesome game, but the Pistons got the much-needed home victory, 100-95.
You knew Billups was going to have that extra juice, because players always want to stick it to the team that traded them. That's just the way it is.
With Carmelo Anthony out, Billups knew he had to not only run the team but also be the go-to guy. He was the point guard for the Pistons, so even though Detroit has changed coaches a few times in the past few seasons, Billups still knows the strengths and weaknesses of the team and of each individual player.
He did all he could, but winning the game without one of Denver's best players proved to be too difficult a task.
After a rough stretch that included eight straight losses, the Pistons finally have a silver lining. They have regained their pride and competitiveness, and after having their backs against the wall, they look like a team that wants to compete again.
They have won three straight games, beating three straight division leaders in the process. In order for them to go to the next level, Allen Iverson, who has missed three straight games with a back injury, has to be willing to come off the bench and do what he can as a prolific scorer once he gets healthy.
I think he will. It is in the best interest of the team for him to buy into it. He'll be a free agent this summer and is looking for a contract from another team. Plus, it is a role he will have to learn to embrace as he gets older, especially playing for a contending team. I think he'll fall in line and do the best he can, which is a good thing for Detroit. Their bench was just 1-for-11 from the field against the Nuggets.
Denver is in the stacked Western Conference, where seeds No. 2 through No. 9 are separated by a total of six games. They can win a round in the playoffs if everything comes together for them.
They need Nene Hilario to stay healthy, as he has all season. They need to get defensive intensity from Kenyon Martin. Their best player can't be getting suspended. He has to be happy and productive for them to do anything.
The Billups-for-Iverson trade will be graded by how these teams do in the playoffs. The Pistons got rid of Billups because they knew they could still make the playoffs in the East, and the salaries of Billups and Rasheed Wallace come off the books this summer. Neither team wants to flame out in Round 1.
ESPN analyst Jalen Rose is a regular contributor to the Daily Dime
Dimes past: Feb. 21-22 | 22 | 23 | 24 | 25 | 26 | 27 | Feb. 28-March 1 | March 1 | 2 | 3
Lakers' Bench Finishes Off the Grizzlies
By J.A. Adande | ESPN.com

If the Lakers looked a little more like the Lakers in Tuesday night's 99-89 win against the Grizzlies, it's because the reserves got back to being the best around. They hadn't done anything to deserve that label lately, especially when they were outscored 47-7 by their Nuggets counterparts in a loss at Denver on Friday.
But on Tuesday night, they were the ones who put the Memphis Grizzlies away, stretching an 11-point lead out to 21 in the first four minutes of the fourth quarter. The signature moments were two plays by backup center D.J. Mbenga, who blocked a dunk and a finger roll by Rudy Gay and then, like a hitter leading off with a home run after a great play in the outfield, capped off the blocks by knocking down jump shots at the other end.
Just as noteworthy were the sights of Derek Fisher and Kobe Bryant celebrating on the bench. And they both stayed on the bench the entire fourth quarter. (Well, technically they're seats, not wooden benches anymore. And Bryant didn't exactly stay there ... he greeted Mbenga with a flying chest bump after the second blocked shot/jump shot sequence).
Bryant did plenty in three quarters, scoring 31 points. With Kobe providing the scoring, Lamar Odom did a little bit of everything else, grabbing 13 rebounds, dishing off eight assists and blocking six shots.
But on a night when the Grizzlies outrebounded L.A. and their starters outscored L.A.'s starting five 71-67 -- most notably, Marc Gasol won the sibling center matchup against Pau Gasol 17-13 -- the winning point differential came from the reserves, who outscored the Memphis bench 32-18.
Mbenga (four points, two rebounds, three blocked shots) will still be the backup big man for now, since Andrew Bynum has yet to resume running. But the Lakers are just trying to find a consistent stride now, trying to rack up some victories before they hit the road for a seven-game trip at the end of March.
J.A. Adande is an ESPN.com senior writer and the author of "The Best Los Angeles Sports Arguments." Click here to e-mail J.A.
Scola's Big Night Helps Rockets Blast Off

By Elias Sports Bureau
Luis Scola, an emerging force, had 20 points and 16 rebounds in only 33 minutes in the Rockets' 107-97 win over the Raptors. It was the 32nd 20-and-15 game (points and rebounds) by a Houston player since Yao Ming joined the team in 2002: Yao has accounted for 29 of those games, with the others coming from Eddie Griffin (January 2003) and Juwan Howard (January 2006).
• The Charlotte Bobcats, fresh off three straight wins in California, came home and routed the Bulls 96-80. Two things about coach Larry Brown's Bobcats: First, they are 13-11 over their last 24 games after having started the season 13-24 through 37 games; and second, Tuesday's game marked their eighth straight home win in games in which they committed fewer turnovers than did their opponent, the second-longest current streak in the NBA (Cleveland owns a 16-game streak of that type).
• The Warriors raced to a 118-94 win over the Timberwolves in Minneapolis, giving coach Don Nelson's team its largest margin of victory in any game this season. But perhaps, in a way, Golden State's big win was predictable: Its last three road wins by margins of 20 or more points came against each of the NBA's three other teams filed under the "M" tab on David Stern's Rolodex: Milwaukee, Miami and Memphis.
• Chauncey Billups returned to The Palace of Auburn Hills by scoring a season-high 34 points, including 21 before halftime. But the Pistons overcame a 12-point deficit to take a 100-95 decision.
Chauncey's 21 first-half points matched the second-highest first-half total in any of the 816 regular-season games he has played in the NBA. He had a 22-point first half at Boston, on Jan. 31, 2003, when he was in his first season playing for the Pistons.
In addition, he finished the game with the highest points total for an ex-Pistons player in his first game playing the Pistons on their home court. The previous record was 30 points, and it was shared by Bailey Howell (1964), Ray Scott (1967) and Jimmy Walker (1972).
Moreover, Billups had scored 30 points against the Pistons in Denver on Jan. 9, and he is the only ex-Pistons player in NBA history to score 30 or more points in each of his first two games against the Pistons.
By Maurice Brooks
ESPN.com

TUESDAY'S BEST
Kobe Bryant, Lakers
: The reigning league MVP made sure the Lakers' two-game slide came to an abrupt halt, scoring 31 points in three quarters as they rolled to a 99-89 home win against the Grizzlies.
---

TUESDAY'S WORST
Kenyon Martin, Nuggets
: With Carmelo Anthony out of the lineup, it was the perfect opportunity for Martin to score a few extra points. Instead, he missed 10 of his 13 attempts, finishing with just six points. He also grabbed just three rebounds.
---
QUOTE OF THE NIGHT
"That's as bad as you can play and there's no excuses for that. That's my fault. The guys weren't ready to play and that falls on me. We didn't get back. We didn't defend. We didn't do anything. That can't happen."
-- Wolves coach Kevin McHale after Minnesota's 118-94 home loss to the Warriors
New Jersey Rookie Shows Off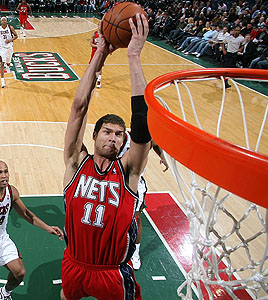 Gary Dineen/Getty Images
Brook Lopez made up for poor shooting games from teammates Devin Harris and Vince Carter by posting 24 points, 12 boards and three blocks in the Nets' road victory.
Could Shaq Have Been Better?

Ric Bucher says Shaquille O'Neal never became as good as he could have been. At one point, Shaq was the most dominant player in the game, but he will not go down as the most dominant player ever.
Scott Van Pelt Show
By John Hollinger
ESPN.com

Atlanta's Josh Smith hit an unusual milestone Monday night, missing his 10th straight free throw before finally converting one in the Hawks' win over Washington. It's been that kind of a season for Smith -- he's down to 55.4 percent from the stripe for the season after making 71 percent last season, and his points, rebounds, blocks and assists are all well down from a season ago despite similar minutes.
The fan base might be growing impatient with him as well. In Friday's win over Miami, they booed Smith on the first trip of the game when he jacked up a 3-pointer from the corner and missed badly. His insistence on taking 3s has frustrated Hawks fans for some time, and there has been no improvement on that front -- he still is taking more than one a game and still is making about a quarter of them (he's at 24.1 percent on the season and 26 percent for his career).
To see the four other Insider Gems, click here.