(Victor Baldizon/Getty Images)
Dwyane Wade's Wednesday's night: 35 points, 16 assists, six rebounds and a win against the Suns.

(Bill Koustron /AP Photo)
Paul Pierce (31 points) shook off this scrap with Brook Lopez to sink the winning hoop against NJ.

(Chris McGrath/Getty Images)
Danilo Gallinari (career-high 17 points) and Larry Hughes (23 points) boosted NY past the Hawks.

(Melissa Majchrzak/NBAE via Getty Images)
Forward Ronnie Brewer (19 points) helped the Jazz shoot past Yao Ming and the Rockets.

(Glenn James/Getty Images Contributor)
Josh Howard drove past Tim Duncan for 29 points in a 107-102 win over the Spurs.
In Shaq's Miami Comeback: Wade Steals the Show

MIAMI -- The signature moment of Shaquille O'Neal's comeback came midway through the fourth quarter when he leveled Dwyane Wade as Wade drove to the hoop, then stood over his younger, fallen former teammate as though he was about to extend a hand to help him up.
But no hand came, and there's no guarantee Wade would have grabbed it if Shaq had offered it.
In fact, Wade didn't even shake O'Neal's hand when they met at the center circle before the opening tip, choosing instead to give O'Neal a softer-than-soft pat on the top of his big, bald head.
No man hug, no fist bump. And more significantly, no generational deference.
"That's what I did? I can't even remember," Wade said afterward, his non-explanation seeming somewhat fitting for a night when you could see right before your eyes how much and how far Wade and the Miami Heat have moved out from under O'Neal's significant shadow (Anyone called him the Big Eclipse yet?).
Wade didn't seek Shaq's help, nor his love.
Not that Wade needs either at this point in their careers. Peaks and valleys have come to each of them, but the promise of what the horizon will bring belongs to only one of them -- and that guy made sure everyone realized which of them it was.
Wade had yet another brilliant game in what has become a season of redemption for him, tying his career high with 16 assists and scoring 35 points to lead the Heat past Shaq's Phoenix Suns 135-129 Wednesday night in O'Neal's first game back in Miami since he was traded to the Suns 13 months ago.
So brilliant was it, in fact, that the talk afterward focused not on the frivolities and lack of fanaticism surrounding Shaq's return, but on the strides Wade has made in his own comeback of sorts -- reclaiming his star status following an injury-ravaged 2007-08 season in which his team won only 15 games, and Wade's own best work took place in television commercials, not on the court.
"We're going to be cool. I've been a fan of his, and he's been a fan of mine," O'Neal said. "I think he can get better. This league is sort of like NASCAR and sort of like golf, there's a lot of top name players that on any night can be labeled top three -- him, Kobe and LeBron. And if he's playing well, hitting his jumper and going to the hole, he could be labeled as the best.
"He's up there in the MVP running, and it would be nice for him and the organization if he could get that MVP," O'Neal said.
O'Neal was quietly effective in his own right, continuing a career resurgence that shows no sign of abating as he approaches his 37th birthday Friday, scoring 22 points, grabbing eight rebounds and blocking two shots before fouling out with 1:08 remaining when Wade drew his sixth foul.
But as far as alumni games go, this one was quite subdued. O'Neal was introduced last among the Phoenix starters, with the public address announcer using the same low-toned inflection in announcing his name that was used when Shaq played here, but the crowd barely had any reaction until the game got under way.
If O'Neal was feeling any bitterness toward the Heat, it was subjugated when he burned his negativity bullets in a pregame rant against Orlando coach Stan Van Gundy for complaining about O'Neal's flop the previous night against Dwight Howard. O'Neal even issued a polite thank-you through the TV cameras to Heat president Pat Riley upon hearing that Riley had stood for Shaq during intros. If you had Shaq thanking Pat in the pregame pool, your long shot hit the board.
After tip-off, the crowd cheered against O'Neal with a little more zeal, but they saved the bulk of their energy to applaud the exploits of Wade, who served notice early on (with 19 first-quarter points) that he was not going to let anyone steal the show in what is now -- and has been for the past 13 months -- his building.
And when the night ended, you were left with the feeling that although Wade and O'Neal publicly said everything is cool between them, there was still a hint of a chill between the two that wafted like a thick humidity cloud through this city's tropical air.
You could see it in the handshake that never happened, the hand that was never extended, the silent competition over the course of the evening to determine who was going to end the night being more relevant -- not just for one night, but in the years ahead, too.
If Shaq was all about the 2006 championship, Wade wants to be all about the championship in 2009, 2010, 2011 or beyond. An enlarged photo of Shaq's face still graces one wall of the entrance to the Heat's locker room, but the commanding presence inside that room now belongs to the 27-year-old who continues to occupy it.
"I've grown a lot since I first came here and since he's been gone, but I still credit him for a lot of my early success -- giving me that confidence early on to step forward and be the person I am on and off the court.
"So he was big at that, and guys come through your life for a reason," Wade said before echoing something O'Neal had predicted from the visiting locker room just a few minutes earlier: "And, I'm not done, because I am going to get better."
It was not lost on Wade that there had been two distinct chants heard over the course of the game, a brief "Shaq, You Suck" chorus and an "M-V-P" chant for Wade as he was locking up the game from the free throw line after drawing O'Neal's fifth and sixth fouls.
It wasn't so much the Shaq chant that struck him, but the other one.
Yes, Wade's team is a mere four games over .500 in a conference with far fewer top-echelon teams than the West.
But no, he argued, that should not completely discount him from being included in the debate that for much of the season has focused on the two best players on the two best teams: LeBron James of Cleveland and Kobe Bryant of the Lakers.
"Last year, people were writing me off," Wade said. "You turn on the TV and you see Kobe highlights, LeBron highlights, and you see my highlights, they're going to say something about it being a two-man race, and then you've get some people who say 'Don't forget about D-Wade.' And just to be in that same breath, for all three of those guys, I guarantee it's an honor."
Funny, but he used to say similar things about being mentioned in the same breath with O'Neal.
But if Wednesday night's Shaq return proved anything, it was that Wade has gotten so far beyond the past that he doesn't need Shaq's support -- whether in the form of a handshake or a helping hand -- to take someone else's evening and make it his own.
Chris Sheridan covers the NBA for ESPN Insider. To e-mail Sheridan, click here.
Dimes past: Feb. 21-22 | 22 | 23 | 24 | 25 | 26 | 27 | Feb. 28-March 1 | March 1 | 2 | 3 | 4
Chatting With Stat Guru John Hollinger

Jason (Dayton): John, does the Joe Smith signing make the Cavs your unautomated favorite to come out of the East?
John Hollinger: I had Cleveland even before they got Smith, this just helps cement it. But the key guy for them is Delonte West -- they're much better when he's playing.
Jake (Utah): When looking at Coach of the Year, Jerry Sloan has got to be on top of the list with so many injuries and the Jazz owner dying. What are your thoughts?
John Hollinger: Sloan, Rick Adelman and Gregg Popovich all deserve strong consideration for the navigating-through-injuries story line, as does Scott Skiles in Milwaukee. But every time I look at COY, I get back to one thing -- how could anybody not vote for Stan Van Gundy?
To read the entire Hollinger chat, click here.
Knicks' Lee Joins Garnett and Barkley

By Elias Sports Bureau
David Lee registered his 24th consecutive double-double (13 points and 14 rebounds) to help the Knicks defeat the Hawks. Lee's streak of double-doubles is the longest in the NBA this season. In the past 25 seasons (1983-84 through 2007-08), only two players recorded double-digit points and rebounds in at least 24 straight games: Minnesota's Kevin Garnett (his last 33 games in 2005-06) and Philadelphia's Charles Barkley (28 in 1986-87).
By Maurice Brooks
ESPN.com

WEDNESDAY'S BEST
Deron Williams, Jazz
: He scored 10 of his game-high 26 points in the fourth quarter, including a game-clinching jumper with 21 seconds left, as the Jazz defeated the Rockets for their 12th victory in their last 13 games. Williams also gave out 14 assists -- his 10th straight game with at least 10 helpers.
---

WEDNESDAY'S WORST
Tim Duncan, Spurs
: Even Timmy has bad games. He went 7-for-21 from the floor, but was held to just eight points over the final three quarters by the Mavericks' Erick Dampier in a five-point San Antonio loss. "I really played an awful game on both ends. I've got to clean that up," Duncan said.
---
QUOTE OF THE NIGHT
"Yeah, I was a little surprised, because any time you make a call with one or two seconds on the clock, there's going to be arguments."
-- Blazers guard Brandon Roy after the Pacers' T.J. Ford was called for tripping him with 1.7 seconds left in a tie game. Roy made a pair of free throws to give Portland the win.
Regaining His All-Star Form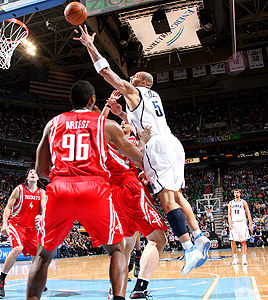 Melissa Majchrzak/Getty Images
Carlos Boozer, who had surgery on his left knee in January, looked healthy against the Rockets, posting 20 points and 17 rebounds to lead the Jazz to their ninth straight victory.
Swift A Good Addition For Suns
By John Hollinger
ESPN.com

Don't overlook the addition of Stromile Swift to the Phoenix Suns. Swift is a good athlete who has struggled with some of the mental aspects of the game, but this is exactly the situation he needs. All the Suns want him to do is run the floor and dunk in transition, and that's exactly what he was put on this earth to do. Phoenix had great success several years ago with a similar player, Steven Hunter. The Suns kept it simple and let him feast off feeds from Steve Nash, and everybody was happy.
I'm not saying he'll be a game-changer or anything, but if the Suns keep playing up-tempo as they've been doing since Alvin Gentry took over as coach, Swift can be a very productive reserve. His numbers from the three seasons before this one were very solid (17 points and nine boards per 40 minutes while shooting in the high 40s), and those were in half-court systems that didn't play to his strengths. He won't defend much, and his bad hands will bungle some easy buckets, but the run-and-gun Suns just got even faster with this move.
To see the four other Insider Gems, click here.
Mr. Big Shot On Detroit Return

Chauncey Billups had goose bumps listening to the announcer introduce him before his return to Detroit. Carmelo Anthony knows he made a mistake, but Chauncey says it was just his competitive nature coming through.
Tirico & Van Pelt