(NBAE/Getty Images)
Deron Williams, Chauncey Billups and Brandon Roy guide teams in the league's toughest division.

(Layne Murdoch/Getty Images)
The Hornets are 6-0 since Tyson Chandler returned following the failed trade to Oklahoma City.

(Doug Pensinger/Getty Images)
With first place in the Northwest on the line, Chris Andersen and the Nuggets topped the Blazers.
Northwest Division: Ranking The Contenders

In the wild Western Conference race, the battle for the Northwest Division crown is the best race-within-a-race. On Thursday, the Denver Nuggets knocked off the Portland Trail Blazers 106-90 to tighten their tenuous grip on first place in the division, while the Utah Jazz are coming on strong with a nine-game winning streak, including home wins over the Los Angeles Lakers, Boston Celtics, Houston Rockets and New Orleans Hornets -- and the Jazz host the Nuggets on Friday (ESPN, 10:30 p.m. ET/8:30 p.m. MT).
Each division winner is guaranteed to be seeded no lower than fourth, which could be quite a bonus for one of these three teams, since it's possible the West will have five or six teams above the Northwest winner in win-loss record.
But it could also be a mixed blessing this season, as it would almost ensure a potential second-round series against the Lakers, who stand head and shoulders above the rest of the West, 8.5 games in front of the San Antonio Spurs.
So let's look at the NBA's most competitive division through that lens, to examine which of these teams might actually have a shot against the mighty Lake Show:
1. Utah threatens the Lakers -- and the Spurs, too. When the Jazz are healthy, they compete consistently on defense, which is something you have to do against the Lakers, especially. You can't play lackadaisical defense against them because they are going to score 115-120 points on you. You have to come at them with more focus at that end of the floor.
Coach Jerry Sloan has tons of experience and, with all that he's been through in Utah, he will have the Jazz ready. I actually think Utah will catch Denver for first place in the Northwest Division and end up with the 3-seed in the West, thereby avoiding a potential rematch with the Lakers until the West finals.
2. Denver is scary, too. The Nuggets have plenty of firepower, aided by the addition of Chauncey Billups, who brings a lot of playoff experience. None of those other guys have really won at a high level, so adding him to the mix certainly helps.
The Nuggets have the components needed to win, but if I had to point to a weakness, it would be that they can be undisciplined with their shot selection. If you are that way with the Lakers, you are going to get run out of the building. You have to be really efficient on offense and stay locked in defensively on every possession to have a chance to beat an offensive powerhouse like the Lakers.
3. Portland doesn't have enough experience. Also, Greg Oden has had such difficulty staying healthy. He's hoping to come back from his latest injury -- and avoid surgery -- but it doesn't sound like the kind of thing that all of a sudden gets better.
Not having Oden makes all the difference in the world because of the pressure it puts on LaMarcus Aldridge and Joel Przybilla. They are nice players, but that tandem without Oden just won't give the Blazers enough defensive presence inside.
It's going to be tough for them this year to do any real damage in the postseason. I think they are maybe a year or two away from being a team that can make a serious run at the NBA Finals.
Ultimately, any of those teams, especially the team that gets the 3-seed, would have a lot of trouble getting past both San Antonio and Los Angeles. To beat the Lakers in the playoffs would take a team with depth that can compete defensively and rebound well. Utah has the best shot of the three Northwest Division contenders, but honestly I would be very surprised if the Lakers are not in the NBA Finals this year.
ESPN analyst Tim Legler is a regular contributor to the Daily Dime
Dimes past: Feb. 22 | 23 | 24 | 25 | 26 | 27 | Feb. 28-March 1 | March 1 | 2 | 3 | 4 | 5
Happy 37th Birthday, Shaquille
By Peter D. Newmann | ESPN Research

On March 6, 2000, Shaquille O'Neal had a career-high 61 points, on 24-for-35 shooting from the field, and also pulled down 23 rebounds in a win over the Clippers. It was significant because it was O'Neal's birthday. Shaq turns 37 on Friday and the Suns travel to Houston to face Yao Ming and the Rockets. Will it be another special day?
Most Points Scored on Birthday

Player
Points
Birthday
1. Shaquille O'Neal
61
March 6, 1972
2. Dominique Wilkins
53
January 12, 1960
3. Michael Jordan
46
February 17, 1963
4. Neil Johnston
45
February 4, 1929
5. Elvin Hayes
43
November 17, 1945
Rewind: Bucks-Thunder-Cavaliers Deal
By John Hollinger | ESPN.com

Interesting item sent in by a Cavs fan: Now that Cleveland has signed Joe Smith, the offseason trade the Cavs made with Milwaukee and Oklahoma City has effectively become Mo Williams for Damon Jones.
And since Luke Ridnour went scoreless in 26 minutes in the Cavs' win over the Bucks on Wednesday night, I'll ask this one more time: Why did the Bucks convey Smith to Oklahoma City for Ridnour instead of keeping him and starting Ramon Sessions all year? Not only would that get the Bucks out of their cap mess next year since Smith's deal expires, but they'd also be far better off at two positions -- center, where they currently rely on the replacement-level combo of Francisco Elson and Dan Gadzuric, and point guard, where they spent half a season keeping Sessions under wraps for no reason.
To see the four other Insider Gems, click here.
Another 25-Point, 15-Assist Game For CP3

By Elias Sports Bureau
Chris Paul scored 27 points and added 15 assists to lead the Hornets to a 104-88 win over the Mavericks. It was the ninth time in the last two seasons that Paul had at least 25 points and 15 assists in the same game. That's one more 25-point/15-assist game than all other NBA players combined have recorded over the last two seasons. Deron Williams and Dwyane Wade (two each) are the only other players with more than one such game since the start of the 2007-08 season.
By Maurice Brooks
ESPN.com

THURSDAY'S BEST
Chris Paul, Hornets
: He had 27 points, 15 assists and numerous plays destined for the highlight reel as New Orleans roughed up the visiting Mavericks, 104-88.
---

THURSDAY'S WORST
Josh Howard, Mavericks
: The forward made just 3 of 10 shots from the field en route to a seven-point evening. He also contributed little else, grabbing a single board and giving out just one assist.
---
QUOTE OF THE NIGHT
"I thought it was funny."
-- Nuggets coach George Karl on Carmelo Anthony, who sprinted to the bench when Karl sent in a sub to replace him
Nuggets Play Follow the Leader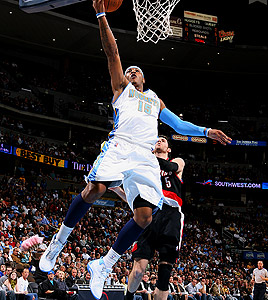 Garrett W. Ellwood/Getty Images
Carmelo Anthony, who returned to action after being suspended one game for refusing to come out of a game, scored early and often on the way to a game-high 38 points in Denver's big win against Portland.
Spurs, Thunder and Much More

Insight from the TrueHoop blog network as Jason Smith talks to Graydon Gordian and Tim Varner about where the Spurs rank and Royce Young talks about the Thunder without Kevin Durant.
NBA Today