(Getty Images)
Rudy Fernandez saw his night end on a stretcher, while Dwyane Wade launched a dazzling winner.

(Victor Baldizon/Contributor/NBAE via Getty Images)
Dwyane Wade celebrates after he made a buzzer-beating 3-pointer at the end of a second overtime.

(Sam Forencich/Getty Images)
Blazers forward Rudy Fernandez lies prone on the floor after suffering a hard foul by Trevor Ariza.

(Allen Einstein/NBAE via Getty Images)
Jason Maxiell throws down a one-handed flying alley-oop jam during Detroit's win over Orlando.

(AP Photo/John Amis)
Chris Paul saw his team's seven-game win streak stuffed by the Hawks.

(AP Photo/David Zalubowski)
The boardwork of Rockets forward Luis Scola (15 rebounds) helped Houston edge Denver 97-95.
The Mountaintop And The Valley

On the night Miami's Dwyane Wade rose higher on the NBA's big board of amazing feats, Portland's Rudy Fernandez came crashing down.
Triumph and tragedy sometimes seem determined to walk hand in hand. In this case, the latter apparently was averted, no thanks to some foul play by the Lakers' Trevor Ariza.
Wade's last-second steal and 3-pointer lifted Miami to a 130-127 double-OT win, with Wade hitting the buzzer-beater from midair, launching the shot from outside the arc and landing at the free-throw line. It was the flight of the night.
But on the other coast, another flying foray was about to turn very hazardous.
Fernandez, a dunk-contest participant known for his ferocious basket attacks, was himself attacked by Ariza and hit the deck hard in the closing seconds of the third quarter in Portland's 111-94 victory Monday night.
The foul wasn't as vicious as some; it was more a dangerous blow than a McHale-style clothesline. But the results were plenty scary. After lying on the court for more than 10 minutes, Fernandez was wheeled off on a stretcher, his neck in a brace. He was expected to be hospitalized overnight with a soft-tissue injury to the upper chest and side.
Meanwhile, immediately after the play, Blazers All-Star Brandon Roy spoke his mind to Ariza in a heated exchange. "I tried to be cool-headed about it," Roy said. "I was just going to go over there, but then he started bucking [over the foul] like, 'What?' I was just upset because my guy is laying there on the ground and he's talking trash still. I was pretty upset about it."
Ariza claimed no malice was involved in the foul.
"It wasn't anything I was trying to do," Ariza said. "I wasn't trying to hurt him. I was just trying to make a play on the ball."
Regardless, the foul didn't completely ruin the game for the Blazers.
"It was a great win," Portland coach Nate McMillan said. "We beat the best team in the league. And at this time of the season, with so many teams jockeying for the playoffs, beating the Lakers makes it even a bigger win."
Fernandez, a teammate of Lakers star Pau Gasol on the Spanish national squad, might have been the victim of a renewed Lakers emphasis on physical play evident Monday. The Lakers have repeatedly said they were not tough enough against Boston in the NBA Finals last year. Will this moment become some sort of perverse turning point in which the Lakers got in touch with their inner Detroit Bad Boys?
Almost 3,000 miles away, Wade was reminding us anew of the more beautiful aspects of the game.
Flash scored 48 points with 12 assists while making 15 of 21 shots (71.4 percent) against the Bulls. According to the Elias Sports Bureau, only one other player in NBA history has scored that many points and had that many assists in a game while having as high a field goal percentage. On March 18, 1968, Wilt Chamberlain had 53 points and 14 rebounds while making 24 of 29 shots (82.8 percent). Wilt also had 32 rebounds in that game.
Good company, Dwyane.
The MVP talk will stir anew. It really seemed like this would be a Kobe-LeBron monopoly this year, which no amount of heroics from Wade would permit his joining, especially if his team was well short of a 50-win pace. No more. He's in. It's a threesome.
Andrew Ayres is an NBA editor for ESPN.com
Dimes past: Feb. 24 | 25 | 26 | 27 | Feb. 28-March 1 | March 1 | 2 | 3 | 4 | 5 | 6 | 7-8 | 9
Buzzer Beauty: Wade Joins Last-Second Wonders
By ESPN Research

Dwyane Wade's buzzer-beater lifted Miami past Chicago. How's this for a trifecta? He made a 3-pointer at the end of the first half, at the end of regulation and then at the end of double OT. It was the 17th time a game was won as time expired this season.
And It's Good!

Date
Buzzer-beating details
Oct. 31
Rudy Gay hit an 18-foot jumper to give the Grizzlies an 86-84 win over the Magic.
Nov. 6
Brandon Roy made a 30-footer in OT to lift the Blazers to a 101-99 win over the Rockets.
Nov. 24
Larry Hughes hit a 22-foot jumper to give the Bulls a 101-100 win over the Jazz.
Dec. 2
Troy Murphy tipped in a missed shot as the Pacers took a 118-117 win over the Lakers.
Dec. 23
Devin Harris hit a 22-footer, giving the Nets a dramatic 108-107 win over Indy.
Dec. 25
Roger Mason hits a 3-pointer to give the Spurs a 91-90 win over the Suns.
Jan. 2
Vince Carter hit a long 3-pointer in OT and the Nets beat Atlanta 93-91.
Jan. 3
Tony Parker hit a high-arching 15-footer and the Spurs beat the 76ers 108-106.
Jan. 7
Danny Granger connected on a 3-pointer as Indy beat the Suns 113-110.
Jan. 19
Dirk Nowitzki hit a turnaround 17-foot jumper to give the Mavs a 95-93 win over Philly.
Jan. 19
Chris Paul hit an off-balance 3-pointer, lifting the Hornets to a 103-100 win over Indy.
Jan. 21
Jeff Green's 16-foot turnaround jumper lifted the Thunder past the Warriors 122-121.
Jan. 23
LeBron James sank a 19-footer, lifting the Cavaliers to a 106-105 win over the Warriors.
Feb. 8
Brandon Roy's layup at the buzzer gave the Blazers a 109-108 victory over the Knicks.
Feb. 8
Caron Butler's game-winning 18-footer lifted Washington past Indiana 119-117.
Feb. 23
Devin Harris hit a lunging 47-footer for the Nets in a 98-96 win over the 76ers.
March 9
Dwyane Wade's running 3-pointer at the end of 2OT lifted the Heat past the Bulls 130-127.

By John Hollinger | ESPN.com


One of the interesting subplots of the past few weeks has been seeing Western Conference executives openly rooting against Phoenix. They're not doing this out of malice, mind you, just self-interest. They really want the Suns to fall off the pace so the other eight teams can exhale a bit and not have to worry about missing the playoffs.
Though the Suns trail Dallas by four games for the final spot in the West with 19 to play, their playoff odds are proving quite resilient at 49.4 percent. Phoenix plays No. 8 Dallas twice the rest of the way, which helps, and as I've mentioned before, the Suns' schedule gets very easy from here on out: Seven of the next eight are at home, and the last four games are pretty much automatic wins (Memphis twice, Minnesota and Golden State).
And while the rest of the West frets, it's most likely down to a two-team race for the last spot, with the other seven likely in. There's only a 14.4 percent chance that somebody besides Dallas or Phoenix finishes ninth in the West, with Portland (4.7 percent) having the greatest shot.
To see the four other Insider Gems, click here.

By Elias Sports Bureau
The Hawks ended the Hornets' seven-game winning streak Monday night. It was the second time this season the Hawks ended a winning streak of that length; Atlanta also snapped Cleveland's 11-game winning streak in December. The last time the Hawks snapped two winning streaks of seven or more games in the same season was 1993-94.
By Andrew Ayres
ESPN.com

MONDAY'S BEST
Dwyane Wade, Heat:
Steals ball, then hits improbable running 3-pointer at the buzzer of double overtime. He finished with 48 points and 12 assists in 49 minutes, shooting 15-for-21 from the field.
---

MONDAY'S WORST
Minnesota Timberwolves:
The losing streak hit 10 with the 110-99 home loss to the Wiz. McHale's navy is now 1-12 since Al Jefferson was lost in the sea of injuries for the season.
---
QUOTE OF THE NIGHT
"You never know until it goes in. But I was 99.9 percent sure that one was cash."
-- Heat guard Dwyane Wade on his buzzer-beater.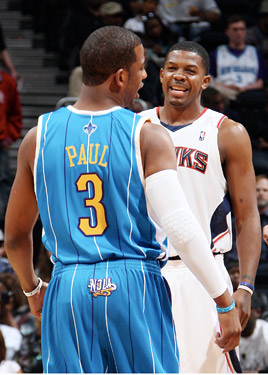 Scott Cunningham/Getty Images
Joe Johnson, who scored 30, earned the last laugh over Chris Paul (24 points, 10 assists) and the Hornets on Monday. New Orleans lost for the first time in eight games.

Hall of Famer Kareem Abdul-Jabbar tells ESPN Radio's Colin Cowherd about star pupil Andrew Bynum.
"Andrew did all the hard work … he was willing to listen to me and follow what I was trying to show him, and he's put it to great use."
The Herd With Colin Cowherd