(Andrew D. Bernstein/NBAE/Getty Images )
With the win over the Clippers, the Cavaliers tied the Lakers (50-13) for the league's best record.

(Barry GossageGetty Images)
When not shooting jumpers off his left foot, Dirk Nowitzki (34 points) was jamming on the Suns.

(Gary Dineen/Getty Contributor )
Larry Hughes (39 points) helped keep the Knicks' dim playoff hopes alive in a win over the Bucks.

(D. Clarke Evans/NBAE via Getty Images)
In addition to paint drives, Roger Mason Jr. made 5-of-8 3s (21 points) in the Spurs' win over the Cats.

(Ron Hoskins/NBAE via Getty Images)
Ronnie Brewer and the Jazz grabbed their 12th straight victory, topping the Pacers 112-100.
James, Cavaliers Run Down Clippers In Fourth

LOS ANGELES -- Never mind that the Cavaliers trailed the lowly Clippers by 19 points in the fourth quarter, that they needed the full power of LeBron James and the Clippers' typical self-destructive tendencies to win. James still labeled it a "great win" and it was, considering that the only thing at stake was the future of the Cleveland franchise.
What, you consider that too dramatic a description for a March matchup with the Los Angeles Clippers? Think about it ... the Cavaliers need every game they can get if they want to get home-court advantage throughout the playoffs. They need home court if they're going to win a championship. They need to win a championship in the next two years, some believe, if they want to keep LeBron in town.
So yes, it was that important. (And, as you know, it's never too early to start thinking about 2010. You didn't have to tell that to the two fans in the third row at Staples Center who wore Suns jerseys and held signs trying to lure LeBron to Phoenix.)
And now the Cavaliers have pulled even with the Lakers in the race for the league's best record (50-13) and the home court prize that goes with it. The Lakers own the tiebreaker by virtue of their sweep of the teams' season series, so Cleveland has to do more than just keep pace with the Lakers.
The Cavaliers aren't ready to win a championship if they have to go on the road to get it. Not when they have yet to win a game in Boston since the assembly of the new Big Three (even when Kevin Garnett didn't play in their last meeting). Not if they can look so sloppy Tuesday against the other tenant of Staples Center, which isn't the team that would be here if the Cavaliers returned to Los Angeles for the NBA Finals.
"We can't just think we can turn it on and off anytime we want to," James said. "Even though we did it tonight, we can't play that type of basketball."
The Cavaliers are 22-12 on the road, among the best road records in the league. But it's nothing like their 28-1 record at home, where their scoring average and margin of victory increase by almost seven points per game.
"We feel we can go on the road and win, but our record is so much better at home," Ben Wallace said. "Our chances if we have home court are improved. That's what we're fighting for.
"That home cooking, it's underrated."
Not in Cleveland. But Boston coach Doc Rivers has made it clear he'd prefer to have Garnett or any other injured Celtic sit out and heal, even if it means missing a shot at the best record. That's the confidence that comes from winning two of their final four road games on the way to the championship last season, including a close-out game in Detroit.
LeBron seems to have a greater sense of urgency, even if it means he logs more minutes and comes into the playoffs a little less fresh.
"If playing time has to increase for us to win ballgames because of the race that we have with Orlando and Boston and L.A., then it will increase," he said. "I have no problem with that because I'm still healthy."
As he showed Tuesday night, LeBron will do whatever it takes. The Cavaliers trailed by 17 points at the start of the fourth quarter, so rather than take his usual break, he asked to stay on the court. Talk about making the most of his full 12 minutes: He had 10 points, five assists and four rebounds. For the game, he recorded his fifth triple-double of the season: 32 points, 13 boards, 11 assists.
The true greats thrive on the road, consuming the pressure and taunts of opposing fans. That's the case with James, whose scoring average jumps over six points away from Quicken Loans Arena. They know they have to compensate for some timid teammates, and their coaches know they have to keep them on the court longer, explaining the increase in shots and minutes on the road.
One LeBron play that might not make the highlights: He bowled over almost 14 feet and 500 pounds' worth of Clippers on one drive to the hoop. LeBron picked up a 7-10 split, knocking down Marcus Camby, ricocheting into Chris Kaman and sending Kaman tumbling down onto LeBron's right foot. James went hopping to the sideline, not putting any weight on the foot. But he shot the free throws and stayed in the game, even knocking down another Clipper, Mike Taylor, on his way to a three-point play his next time down the court.
The biggest problem for Cleveland is the second-best Cavalier isn't as consistent on the road as he is at home.
Mo Williams was the biggest culprit through the first three quarters Tuesday night, missing 10 of 11 shots and committing four turnovers. At the end, however, he made the biggest shot of the night, a 3-pointer that completed Cleveland's comeback and gave the Cavs a two-point lead with 6.6 seconds remaining.
The Cavaliers can also feel good about the return of Joe Smith, who wound up on the court in the closing minutes and made some timely plays.
More good news for the Cavaliers: They have the most favorable schedule coming down the stretch. They play 12 of their remaining 19 games at home. The Celtics play half of their remaining 18 games at home. The Lakers play only eight of their final 19 at home.
It's only right. No other team has as much to lose in this race as the Cavs.
J.A. Adande is an ESPN.com senior writer and the author of "The Best Los Angeles Sports Arguments." Click here to e-mail J.A.
Dimes past: Feb. 28-March 1 | March 1 | 2 | 3 | 4 | 5 | 6 | 7-8 | 9 | 10
Cavs' Williams Never Loses His Confidence

By Kevin Arnovitz | ESPN.com
LOS ANGELES -- Mo Williams entered Tuesday night's matchup against the Clippers sizzling from beyond the arc. The Cavs' point guard was 19-for-26 in five games in March prior to Tuesday, but that torrid shooting streak came to an abrupt end.
Over the first 3½ quarters of action, Williams couldn't find the basket, missing his first six 3-point attempts of the game. That didn't deter Williams, who kept firing down the stretch, finally draining his first 3-point attempt at the 5:01 mark of the fourth quarter to bring the Cavs to within seven points.
How does a guy who's 2-for-15 from the field and 0-for-6 from long range keep shooting with his team down in the fourth quarter?
"You got to have a lot of confidence in yourself and just try to stay with it," said Williams.
Williams' perseverance paid off. He followed that first make with another attempt from long distance, earning three free-throw attempts.
Then came the dagger: With the Cavs down one, Williams nailed a 26-footer with six seconds remaining on the clock, a shot that capped the fourth-quarter comeback.
Williams' final numbers? A woeful 4-for-17 from the field.
Nobody will remember the first 16.
Kevin Arnovitz is an NBA editor for ESPN.com.
Murphy Knocks Down Seven First-Half Triples

By Elias Sports Bureau
Troy Murphy made seven 3-point field goals in the first half on Tuesday night. It had been almost a year since the last NBA player converted seven (or more) shots from downtown in one half. The last to do it was J.R. Smith, who had seven in the second half against Memphis, on March 24, 2008.
• Backcourt mates Deron Williams and Ronnie Brewer each had five steals in Utah's 112-100 win against Indiana on Tuesday night. It was only the third time this season that two teammates each had at least five steals in one game. Dwyane Wade and Mario Chalmers did it for Miami on Nov. 5, as did Jared Dudley and Leandro Barbosa for Phoenix on Feb. 17.
By Maurice Brooks
ESPN.com

TUESDAY'S BEST
LeBron James, Cavaliers
: He notched the 22nd triple-double of his young career -- and his second in two games -- filling the box score with 32 points, 13 rebounds and 11 assists in a four-point win against the Clippers.
---

TUESDAY'S WORST
Los Angeles Clippers
: Up 19 points in the fourth quarter at home, the Clippers couldn't make the lead stand against the Cavaliers in an 87-83 loss.
---
QUOTE OF THE NIGHT
"We had a heck of a streak. For three quarters we played well enough to win. But the Spurs are a championship-caliber team and got contributions late from a lot of different sources."
-- Bobcats coach Larry Brown after his team's franchise-record six-game winning streak came to a halt
Hughes Lights Up the Bucks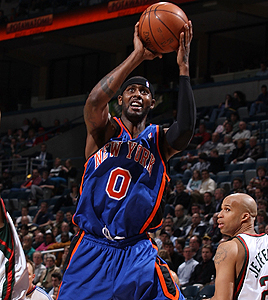 Gary Dineen/Getty Images
So this is the player that New York thought it had traded for last month? Hughes went off for a season-high 39 points on 13-for-20 shooting, including 5-for-8 from 3-point range, as the Knicks outlasted the Bucks.
Cloudy Days Ahead For Heat
By John Hollinger
ESPN.com

OK, let's talk about Dwyane Wade. In the wake of his epic performance against the Bulls on Monday night, he has moved past Chris Paul into second place in the league Player Efficiency Rating standings and is making a hard charge at No. 1 LeBron James.
James has been my default choice for MVP all season long, but Wade is making things really interesting. In the PER column, James (31.25) now is barely ahead of Wade (30.51); shockingly, Wade also has played more minutes, having not missed a game all season. And in terms of on-court versus off-court differential, Wade (plus-17.1 per 100 possessions) is one of the few players in the same orbit as James (plus-25.5).
But as amazing as Wade has been, here's what's even more amazing: His teammates are bad enough that the Heat are just 20th in the Power Rankings. Miami has allowed more points than it has scored this season and is fortunate to be five games over .500 right now; that record is likely to take a step back in the coming days as the Heat face Boston and Utah next before going on the road for six of the following seven.
To see the four other Insider Gems, click here.

Rodney Stuckey talks about his development with Detroit and how much better the team is playing now.
Tirico & Van Pelt