(Andrew D. Bernstein/NBAE/Getty Images)
The Lakers' Kobe Bryant and Lamar Odom would love a first-round playoff date with the Mavericks.

(Scott Cunningham/Getty Images)
The Hawks slowed down Brandon Roy and the Blazers on the way to their fifth straight victory.

(Jesse D. Garrabrant/Getty Images)
The Sixers dominated the fourth quarter against the Heat on the way to their third win in a row.
Mavericks Perfect Postseason Opponent For Lakers

You wouldn't know it from the dour look on Phil Jackson's face and his somber quotes ("I wasn't proud of the way we played, or pleased") but Sunday was one of the best days of the Lakers' season.
It's rare that so much can be accomplished with one game. With Andrew Bynum saying he's ready to return to on-court drills this week, the Lakers kept pace with the Cleveland Cavaliers in the race for the best record in the league and they helped keep the Dallas Mavericks right where they want them: in the Western Conference's No. 8 spot, to set up a first-round playoff meeting.
The Lakers have won six straight games against the Mavericks after their 107-100 victory. Any hope for a Mavericks series victory would entail their winning at least one game in Staples Center, where the Lakers own a 16-3 record against them since the building opened in 1999.
Maybe that's why Kobe Bryant felt he could be completely honest in addressing a potential matchup with Dallas, saying, "We match up well. We're very versatile at the 4 and 5 position, which is key because you have to chase Dirk [Nowitzki] around. He's a tough matchup for anybody but we feel like we match up well with him."
On this day, the Lakers dealt with Dirk a lot better than the Mavericks handled Pau Gasol, who made all 10 of his shots in the first half and outscored opposing center Erick Dampier 25-0. But when the Mavericks switched to a zone defense in the second half, the Lakers got away from their inside game, watched a 15-point lead get away from them and had to scrap from behind in the fourth quarter. That was the main reason for Jackson's glumness after the Lakers' fifth victory in six games.
"I thought we had perhaps a better killer instinct early in the year," Jackson said. "If it was 15 [points] we tried to extend it to 25 and tried to take the heart out of teams early in the year. Right now, I think that we have kind of played around with teams at times and allowed them to stay around in games. This was one of them today."
The Lakers outscored opponents by an average of eight points per game in November. This month that margin is down to 2.4 points per game. So they're forced to call on Bryant for more late-game heroics -- 10 points and five rebounds in the fourth quarter, in this case.
The Lakers still don't have a defensive mentality, remaining content to rely on their offense to overcome their shortcomings at the other end of the court. So it went in the first half, when the Lakers scored 66 points and shot 61 percent. But the Mavericks remained within striking distance by scoring 54 points.
And when Jason Terry hit two 3-pointers in the final minute of the third and another to start the fourth (three of his seven 3-pointers on the day), the Mavericks were on their way to claiming a six-point lead.
"They caught us at the right moment and exploited this today, and they did a good job of it," Jackson said.
Bynum wouldn't help with the perimeter defense, but the team's top shot-blocker could help shore up the interior. Bynum said he is "very happy" with his recovery from a torn ligament in his right knee, and he thinks he is ahead of schedule.
"I'm hoping [to return in] two to three more weeks," Bynum said. "But they said it could go four or five. It feels fine to me. Forward, backward motion is fine."
He said he has difficulty with lateral motion right now, but there is no swelling in the knee and he hasn't experienced any setbacks.
If Bynum is back at full speed for the playoffs, it would make a matchup with the Mavericks even more lopsided for the Lakers. They had enough trouble with Gasol.
At times the Mavericks look as if they're just standing still on defense, with opponents running around them like the obstacles in the All-Star weekend's skills challenge.
"They're a little bit more susceptible, I think, just due to age, in defensive speed and quickness," Jackson said. "That's maybe the difference between that team and the team two years ago."
That, and the absence of a third scoring option in Jerry Stackhouse, who is out with plantar fasciitis. Of course the Mavericks are currently without their second scoring option, Josh Howard, who has a sore left ankle. But could his return be enough to take down the Lakers? Doubt it.
That's why Los Angeles wants this matchup. The Lakers don't want to see the Trail Blazers sliding down to the eight spot to force a trip to Portland, where the Lakers have a seven-game losing streak.
They wouldn't cruise past Utah, which is back at full strength and ready to rumble in what would certainly be a series that would leave bruises and wounds for the second round.
For the Mavericks, who have yet to clinch a playoff spot ahead of the Phoenix Suns, any first-round matchup sounds good enough right now, even the Lakers.
"The road to the championship obviously goes through them, since they're the defending [conference] champions," Terry said. "It doesn't matter who you face, you know it's going to be a tough series."
That's the view from the eighth spot. At the top, with various options before them, the Lakers would prefer to have a week's worth of opponents like this one.
J.A. Adande is an ESPN.com senior writer and the author of "The Best Los Angeles Sports Arguments." Click here to e-mail J.A.
Dimes past: March 1 | 2 | 3 | 4 | 5 | 6 | 7-8 | 9 | 10 | 11 | 12 | 13 | 14-15
MIT Sloan Sports Business Conference: What I Learned

By Henry Abbott | TrueHoop
Dr. Julius says that Michael Jordan had a key moment when he came to believe in team chemistry. In the 1991 NBA Finals, there was a moment when Jordan was entirely dominating the ball. According to Julius, Phil Jackson called a timeout to tell him to pass it around. Jordan ignored him. Jackson called another timeout, and said that he would bench Jordan if he didn't start trusting his teammates. Jordan did start to trust his teammates, and the Bulls won six titles.
Daryl Morey said that basketball is not like many professions. The goal is to be the very best. One team out of 30 goes home happy. On Wall Street, or in most things, it is enough to be really good year in and year out. But in basketball, you have to be the absolute best, or else you have failed. Morey believes that, in that environment, one is justified in taking great risks. Why does it seem like he's talking about Ron Artest?
To read the entire TrueHoop Blog, click here.
Rude Homecoming For Celtics' Allen

By Elias Sports Bureau
The Bucks held Ray Allen, the third all-time leading scorer at Bradley Center, to eight points in an 86-77 win over the Celtics. Allen scored in double figures in each of his previous 93 games at Bradley Center, dating back to December 2000. The last time Allen scored fewer than 10 points at Milwaukee, the jerseys were reversed with the Celtics holding Allen, of the Bucks, to nine points.
By Maurice Brooks
ESPN.com

SUNDAY'S BEST
Phoenix Suns
: Jason Richardson had 31 points to lead six different Phoenix players in double digits as the Suns -- thanks to an NBA season-high 154 points -- overwhelmed the Warriors by 24.
---

SUNDAY'S WORST
Golden State Warriors
: With their postseason hopes on the line, the Warriors allowed the Suns to make 62 percent of their shots and gave up a whooping 154 points.
---
QUOTE OF THE NIGHT
"With a shot like that, your nerves are so high, and you never know if it's good until you see it go in the basket."
-- Clippers Steve Novak after draining the game-winning 3-pointer at the buzzer to send the Nets home with the loss
There Is No Place Like Home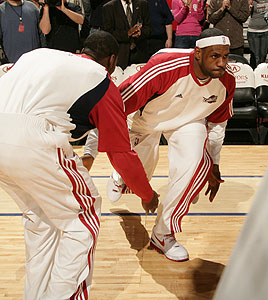 David Liam Kyle/Getty Images
LeBron James didn't get his fourth straight triple-double, but the Cavs improved to 29-1 at home after defeating the Knicks, 98-93.
Rude Awakening For Boozer?

Jerry (Cleveland, OH):
Alot of people are talking about the 2010 summer, but this summer is going to be interesting as well with free agents like Kobe, Artest, Nash, Odom, Boozer, etc. My question to you is, where do you think some of these players may end up at the end of this summer?
J.A. Adande: The reason this summer isn't going to generate as much excitement is there are only three teams set up to make big offers: Detroit, Memphis and OKC. It's hard to imagine players lining up to join those teams. So there won't be the open-market frenzy we're expecting in 2010. No one imagines Kobe leaving. It's possible Odom could be gone ... but if there isn't a big contract out there, wouldn't he be better off staying with the Lakers for a little less? Boozer's going to be interesting. He might be in for a rude awakening.
For the full Adande chat, click here.
Winners In College And Pros

By ESPN Research
Of the 34 players in NBA history who have won both an NBA title and an NCAA title, only Charlotte's Nazr Mohammed (Spurs and Kentucky) and Detroit's Richard Hamilton (Pistons and Connecticut) are still active in the league.