( Streeter Lecka/Getty Images)
Gerald Wallace, left, and Raymond Felton cheer a win over Toronto, boosting their playoff hopes.

(Garrett Ellwood/NBAE/Getty Images)
J.R. Smith (19 points) was one of six Nuggets players in double figures in the win over the Nets.

(Scott Cunningham/Getty Images)
Kevin Durant's second game back saw him boost an impressive win over San Antonio.
Last Ones In? These Teams Take A Shot

Here's how the bottom of the East race is shaping up after what appears to be a finish of Cleveland, Boston, Orlando, Atlanta and Miami in the 1-5 spots.
After that, the final three spots in the Eastern Conference race are up for grabs. This is how I see the East playing out when the season wraps up in a month:
Philadelphia 76ers (No. 6, 33-31) -- When I saw them in person Sunday against the Heat, that game illustrated how improving upon their greatest weakness -- 3-point shooting -- could make the difference.
Donyell Marshall, whom the Sixers got along with Kareem Rush in the offseason in hopes of boosting their league-worst 3-point production, broke open the game with three 3-pointers. Marshall hadn't played much in the last dozen games.
That weakness is the only reason why Philly is not challenging for home-court advantage.
Otherwise, they've got good rebounding and good chemistry. They've won three in a row. They should keep the sixth spot they currently hold.
But I don't see Philly challenging Orlando in a potential 3-6 matchup. The Sixers likely would be outscored by a minimum of 30 points from the 3-point line in that series. The Magic spread the floor. Rashard Lewis and Hedo Turkoglu bring defenses all the way out to the 3-point line. The Sixers do not.
Detroit Pistons (No. 7, 33-32) -- As dysfunctional as they've been, they are looking like a team that could be very dangerous -- especially if they end up facing Boston in a 2-7 matchup.
Rasheed Wallace, who is out with a calf injury now, has always been the barometer for this team. When he's playing with passion and emotion, they're pretty darned good. Getting Allen Iverson integrated into the system is also important.
If Wallace is healthy and fired up, Detroit could get past Boston. And I'd think they would believe they could get past the likely Magic-Sixers pairing winner and back into their usual Eastern Conference Finals spot.
New Jersey (No. 8, 28-39) -- Yes, the team that is riding a four-game losing streak resides in 12th place in the East. Though they currently trail both the Bucks and the Bulls by two games, Charlotte by one game and New York by a half-game, I'm sticking with the Nets.
I give this edge to the Nets based on the presence of a big-time point guard in Devin Harris. As good as rookie Derrick Rose has been for the Bulls, he doesn't have the experience factor of Harris.
I've been impressed with Nets rookie Brook Lopez, and having a big-time center to help Harris and Vince Carter will be key.
As for the other teams, I haven't been behind Milwaukee all season, and that's not changing now. I like Charlotte's top seven, and they can be a tough team to score on. The Knicks are entertaining, but when you give up as many points as they do, it makes it difficult to count on wins.
ESPN analyst Tim Legler is a regular contributor to the Daily Dime
Dimes past: March 1 | 2 | 3 | 4 | 5 | 6 | 7-8 | 9 | 10 | 11 | 12 | 13 | 14-15 | 16

By Ric Bucher | ESPN The Magazine
OKLAHOMA CITY -- If Thunder forward Kevin Durant is to be believed, his pillow stayed dry for the first time in weeks Monday night. "Seems like it's been forever," Durant said after the Thunder's 78-76 win over the San Antonio Spurs, arguably the best of Oklahoma City's 19 victories this season.
Durant led the Thunder back from a 17-point first-quarter hole with 25 points, then hugged Thabo Sefolosha after Sefolosha blocked Tony Parker's jumper with four seconds left to seal the win.
Durant wasn't talking about playing (his seven-game absence due to a sprained right ankle ended Saturday at Phoenix) or the Thunder winning -- this was their sixth win in the last nine games -- but playing and winning. After a torturous season that began 3-29, he had been missing out on the fun.
"I was crying myself to sleep every night," he said. Judging by his smile, he might've giggled himself to sleep Monday.

By John Hollinger | ESPN.com
When is a loss two losses? When it's a triple-overtime defeat on the front end of a back-to-back. Both Miami and Utah looked pooped in losing lackluster road efforts Sunday following Saturday's wildly entertaining marathon, but it had to be especially frustrating for the Jazz. They blew a seven-point lead in the final minute of regulation thanks to a number of brain-lock plays, then punted an eight-point edge in the first overtime.
In particular, the blown lead in regulation was a case study in how not to protect a lead. Andrei Kirilenko fouled Mario Chalmers a mile from the basket five seconds into a Miami possession, then committed an offensive foul five seconds into Utah's next trip. So within 10 seconds, Miami had the lead down to five and had the ball back. And the Heat were able to tie the game in the final seconds after the Jazz couldn't rebound a missed free throw that deflected out of bounds off Paul Millsap.
The two Florida defeats also continue a disturbing trend for the Jazz this season, as Utah has yet to win a road game against a team that's more than two games over .500 at this point of the season. Philadelphia (33-31) and Detroit (33-32) are their most accomplished victims.
To read the other four Insider gems, click here.

Warriors forward Stephen Jackson joined Detroit's Rasheed Wallace on Sunday as the only players to reach 16 technical fouls and an automatic one-game suspension this season.
Who's next to join them?
Barring an outbreak of profanity and unsportsmanlike conduct, probably nobody.
Dwight Howard has 13 this season, Carmelo Anthony 12.
Other notable players are in even less danger of suspensions. Shaq and D-Wade have nine apiece, while Kobe and LeBron have eight each.
By Andrew Ayres
ESPN.com

MONDAY'S BEST
Thabo Sefolosha, Thunder
: The Swiss mister swatted away Tony Parker and the Spurs on the final play, ensuring OKC a morale-boosting win over San Antonio. Sefolosha is averaging 3.2 steals over the last five games.
---

MONDAY'S WORST
Yi Jianlian, Nets
: The Nets slouched to their fourth straight loss, all of which were made possible by Yi. He netted two points in 20 minutes, and has now made 5-of-23 shots over the four-game skid.
---
QUOTE OF THE NIGHT
"Oftentimes, it's a coach's worst nightmare. We've all had the leads. We've all lost them because it's a game. It's 48 minutes long. There are a lot of possessions. It can happen and it does happen often."
-- Spurs coach Gregg Popovich whose team squandered a 17-point lead and lost the 1,000th NBA game he coached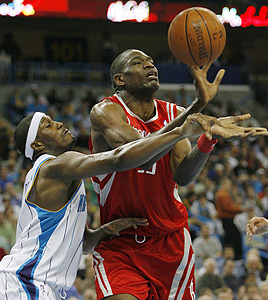 AP Photo/Brian Lawdermilk
Hornets forward James Posey, left, and Rockets center Dikembe Mutombo vie for a rebound. Filling in for Yao, Mutombo had occasions to finger-wag following blocks he made in Houston's 95-84 win.
Chris Sheridan talks about an extremely entertaining three-way MVP race with Jason Smith.
Listen to the podcast