(David Liam Kyle/Getty Images)
LeBron James and the Cavaliers ran past the Magic to improve to a league-best 54-13.

(AP Photo/Gus Ruelas)
Andre Iguodala, left, celebrates his game-winning 3-pointer at the buzzer that sank the Lakers 94-93.

(AP Photo/Paul Beaty )
Bulls coach Vinny Del Negro saw his team move into the East's No. 8 spot with a win over Boston.

(Melissa Majchrzak/NBAE/Getty Images)
Jazz forward Paul Millsap helped beat the Wizards, keeping Utah one game ahead of No. 8 Dallas.

(AP Photo/Gregory Smith)
Jason Thompson can't watch a Kings loss to Atlanta. Andres Nocioni and Ike Diogu? Not thrilled.

(D. Clarke Evans/NBAE via Getty Images)
With Tim Duncan and Manu Ginobili sidelined, Tony Parker drove the Spurs to a 93-86 win over MIN.

(Photo by Ronald Martinez/Getty Images)
NBA fan Amy Hill gets in the St. Patty spirit at the Mavs game with the injured Rasheed Wallace.

(Noah Graham/NBAE via Getty Images)
Even if it was St. Patrick's Day, catching a Laker fan sporting green proved quite difficult.
One MVP Candidate Stepped Up; One Did Not

Cleveland's MVP candidate had his fingerprints all over the game's crucial possessions, while Orlando's contender for the league's top individual award was nearly invisible.
LeBron James showed why he is the favorite to be named MVP by hitting a big 3-pointer and making the key free throws in the final minute of the Cavaliers' 97-93 win over the Magic in a matchup of two of the Eastern Conference's best teams.
If Orlando's Dwight Howard is an MVP candidate, then the ball needs to go through him down the stretch. That wasn't the case Tuesday night, and I haven't seen that with him on a consistent basis. Orlando is a 3-point shooting team and they had a difficult time in half-court sets when they didn't go to Howard.
It seemed like he didn't touch the ball the final three or four minutes, and he went scoreless in the fourth quarter. The Magic need to be able to go to Howard at the end of games. I don't know if Dwight is not calling for it or if Stan Van Gundy is not calling for him to get it. At some point he has to prove he can deliver.
The Magic tried to win the game from the outside. They shoot 31 percent on 3-pointers when they lose and 41 percent when they win.
Orlando was able to take the lead because they came out in the third quarter and played good defense and Cleveland looked disinterested. Orlando was in up-tempo mode, while Cleveland was in the watch LeBron zone. They do that from time to time. They still have to play off of LeBron instead of standing around and watching him. Luckily for them, he was able to bail them out.
In the playoffs, Orlando could end up being a problem for Cleveland because the Cavs have small guards. Orlando can slide Hedo Turkoglu to the 2 and he would give Delonte West problems. Hawks 2-guard Joe Johnson also has good size and could give Cleveland headaches.
Cleveland will finish the regular season with the best record in the East. Boston is too banged up and the Cavaliers have 10 more games at home, where they are an unbelievable 30-1.
I don't think they'll go to the Finals, though. Mo Williams is averaging 22 points per game in March and is a great second option, but who is the third option for Cleveland? You can't totally stop LeBron, but if you slow him down and take out Williams, who is going to step up for them? They need a third guy.
Plus, don't underestimate the loss of Ben Wallace. If he can't come back, that is a huge loss. He is a bigger piece than people realize. He does all the dirty work, takes guys off the boards and is a good one-on-one defender. They have been getting beat up inside without him.
The Celtics are still the best team in the East. They are the most mentally tough team in the league. If Kevin Garnett comes back -- and he is supposed to be back Friday -- I think they'll go back to the Finals. Boston is a shadow of itself without him. The Celtics are not nearly the team they will be when he is healthy.
Meanwhile, Orlando is playing good basketball and has some impressive wins, but the Magic need a power forward. They play with a small lineup. They don't have anyone other than Howard to go to in the post. They shoot a lot of jump shots and do a lot of one-on-one basketball. If they had another big body, they would be so much better defensively.
ESPN analyst Jon Barry is a regular contributor to the Daily Dime
Dimes past:2 | 3 | 4 | 5 | 6 | 7-8 | 9 | 10 | 11 | 12 | 13 | 14-15 | 16 | 17
Sixers Continue Their Annoying Ways

By J.A. Adande | ESPN.com
LOS ANGELES -- Maybe you have an infant that wakes up at all kinds of ungodly hours. Or you could be like me, owner of a dog that insists on coming into my room with his favorite chew toy dangling from his mouth, insistent on playing some tug-of-war long before I'm ready to get out of bed. Chances are you know what it's like to face the Philadelphia 76ers, the most inconvenient team in the NBA right now.
They want to do things and like to run and play defense when most other teams would rather hit the snooze bar until the playoffs are here. And those who underestimate them or let up for a minute or two will find themselves in a position like the Los Angeles Lakers, who were on the wrong end of a 94-93 score Tuesday night after Andre Iguodala hit a straightaway 3-pointer at the buzzer.
"I think we can give a lot of teams problems," Philadelphia coach Tony DiLeo said after his team's fourth consecutive victory. "We're maybe not a typical team, we have a smaller power forward playing in 6-foot-8 Thaddeus Young. But we get out and defend and get steals and rebounds and get out in the open court."
Of course, it's asking a lot to expect that format to take a team far in the playoffs. The Phoenix Suns couldn't quite convert tempo into championships, and twisted themselves around like a halftime performer trying to get away from that style, then get back to it.
Here's where the 76ers have a chance to make it be at least a little beneficial: if they can use the regular season to set themselves up for the playoffs. With a record of 34-31, they're 1.5 games behind the Miami Heat (36-30) for the fifth spot in the Eastern Conference. That would set up a first-round matchup with the Atlanta Hawks, which is much more appealing than their opening-round meeting with the Detroit Pistons last year (Atlanta and Philadelphia have split their two games so far this season).
The 76ers don't have a bunch of players who can create their own shots. They are the worst 3-point shooting team in the league for teams that want to pack in defenses against them. Go ahead and say it. They're not insulted. They see themselves on tape.
"We're not big, we're not strong," reserve Donyell Marshall said.
"We're quick, we're athletic, that's how we get away with people. We stay in shape, we run every day. We just try to wear people down by running them. We're not going to be physical or overpower anybody. When you're tired you get a little lazy, you miss that box out. With our athleticism, we're long across the board."
They had 14 offensive rebounds Tuesday and wound up with 12 second-chance points. They had seven steals. Hustle and flow.
Philadelphia's rise to respectability after a 9-13 start can be traced to the coaching change from Mo Cheeks to DiLeo, the season-ending shoulder injury to Elton Brand and a return to what worked last season. Instead of trying to accommodate their signature offseason free-agent signing in Brand and feed him in the low post, the Sixers are instead who they thought they were.
"Last year we definitely established an identity," Young said. "We're a fast-paced team, we like to get out in transition and try to push the ball down your throat.
"We're developing that half-court game and we're working on it. It was definitely hard [to feature it full-time]. We're not used to being slowed down. We're a team that likes to get out on the fast break. That's where we do our damage."
They outscored the Lakers 14-6 in fast-break points. They forced 18 turnovers (their specialty) and converted them into 21 points.
The one thing they did out of character came in the fourth quarter, when they broke from their 1-for-13 3-point shooting through the first three quarters and made 4-of-7 3s in the fourth. DiLeo dusted off Marshall, who made three triples. Then came Iguodala's shot.
In the spirit of going retro (the team has worn its old 1980s jerseys several times this season and on Friday returned to the Spectrum for one last game in the old building), Iguodala went back to his roots as a defensive guy who made some flashy dunks now and then, before he was a guy with an $80 million contract and superstar expectations. He led the Sixers defense against Kobe Bryant, who scored only 11 points on 5-for-15 shooting.
"When I got into the league, I got a lot of my minutes playing defense my rookie year," Iguodala said. "That's always been there. I just had to step up to the challenge of guarding the best player in the game."
Sometimes there's nothing that can be done, as when Kobe pulled up over Iguodala for the go-ahead jumper with 6.6 seconds remaining, appearing to salvage a Lakers victory after they blew a 14-point lead in the fourth quarter. But Iguodala did him one better, waving off DiLeo's suggested play in the huddle to say he was going to take a 3 and win the game.
Phil Jackson was upset that Trevor Ariza didn't take advantage of the Lakers' foul to give, which he said he communicated to his players. He was mad that the reserves couldn't hold leads. The Lakers have been a savvy team that relies on great bench play. They got out of character Tuesday.
The 76ers did what they set out to do, what they've been doing since December. They're the most annoying team in the NBA ... and just maybe they can keep on agitating into May.
J.A. Adande is an ESPN.com senior writer and the author of "The Best Los Angeles Sports Arguments." Click here to e-mail J.A.
Decision Time For Phil Jackson

J.A. Adande | ESPN.com
LOS ANGELES -- Phil Jackson could be facing a tough choice: home or health.
From the first jump ball of the season the Lakers have made a point of going after the best record in the league, which would assure them of home-court advantage throughout the playoffs. They were missing that and internal fortitude in the playoffs, and while there's no formula for toughness, at least they have a chance to guarantee that a long NBA Finals series would start and finish in Staples Center.
Now Jackson appears to be leery of wearing out of his players in the pursuit of a goal that's ultimately secondary to the championship itself.
"We're going to push hard," Jackson said. "But if things look like we need more rest than we do wins, I'll have to figure that out. Because we're playing Pau [Gasol] a lot of minutes and [Derek Fisher] and Kobe [Bryant]."
Gasol's minutes jumped from 36 per game in January to 40 per game in February, the first month after Andrew Bynum went down with a right knee injury. While Bryant's minutes have actually decreased over the past six weeks, he's putting in more work while he's on the court. He took almost 21 shots per game in about 38 minutes a night in December and January. Since then he's taking over 24 shots per game in about 36 minutes.
One gamble Jackson could make is to count on Boston to win the Eastern Conference no matter where the Celtics are seeded. That's the play the Celtics are making, being extra careful to bring Kevin Garnett back from injury even if it costs them the top spot in the East, confident they can come through the conference on the road if need be.
The Celtics have lost six of their past 10 games and fallen 4.5 games behind East-leading Cleveland. The Lakers are four games ahead of the Celtics in the loss column, so there's a little cushion to give them home-court advantage in an NBA Finals matchup if those two teams meet.
J.A. Adande is an ESPN.com senior writer and the author of "The Best Los Angeles Sports Arguments." Click here to e-mail J.A.
By Maurice Brooks
ESPN.com

TUESDAY'S BEST
LeBron James, Cavaliers
: It seems like King James lives in this spot. He went off for 43 points, 12 rebounds and eight assists, and made several big plays down the stretch in Cleveland's win against Orlando.
---

TUESDAY'S WORST
Rashard Lewis, Magic
: Hey, at least the All-Star doesn't lack confidence. Despite not being able to get into a groove, he kept firing away, going 3-for-15 from the floor, including 0-for-8 on 3-pointers.
---
QUOTE OF THE NIGHT
"It really was a fun game."
-- John Salmons of the Bulls after tying his career high with 38 points as Chicago rallied for a win over the defending champion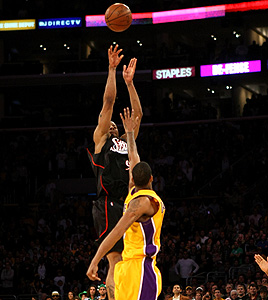 Stephen Dunn/Getty Images
Andre Iguodala's first six 3-pointers were off the mark, but his last one -- a high-arching shot from above the top of the key -- went in at the buzzer to give the Sixers a 94-93 win.
Mavs Add To Pistons' Woes
By Marc Stein
ESPN.com

DALLAS -- Maybe the Detroit Pistons are still a big deal.
Or perhaps not.
Some supporting evidence was there for the Pistons to seize Tuesday night, when they technically helped attract an overflow crowd of 20,427 to American Airlines Center that ranks as the biggest home audience for the Mavericks all season.
The reality, though, is that the schedule is what actually made this such an in-demand St. Patrick Day's ticket. NBA scheduling czar Matt Winick gave the Mavs only one home game between March 8 and March 24 ... and this was it.
No one wants to watch the Pistons when Rip Hamilton and Rasheed Wallace are scratched before tip-off because of leg injuries, just like Tayshaun Prince definitely does not want to be the Pistons' go-to guy at the most critical juncture of the season.
The increasingly painful reality for the shorthanded Pistons, after their fourth-quarter rally failed to prevent a 103-101 defeat, could not have hit Prince harder or faster.
"Thirty-three losses," Prince said with unmistakable shock as he encountered Hamilton in the losing locker room, quickly hashing out the postgame math.
"I've never seen this many losses since I got here."
Prince is right.
The worst Detroit record in Tay's career, before this one, was a 50-32 mark when he was a rookie in 2002-03.
Fast-forward to 2008-09, when it's getting harder to see how the Pistons will come anywhere close to that with Hamilton admitting Tuesday that the left groin injury that has plagued him all season is worse than ever now ... and with Wallace having missed Detroit's past four games with a strained left calf ... and with the small matter of trying to turn Allen Iverson into a sixth man for the first time in his career when (if?) Iverson returns from a back injury.
Given the inability of Chicago, Milwaukee or anyone else chasing the No. 8 spot in the East to establish any sort of edge in that "race," Detroit would seemingly have cause to feel some semblance of confidence that it won't finish any lower than seventh in the East. The Pistons' lead over the No. 8 Bulls, even after this defeat and Chicago's win over Boston, is still three games, with the Bulls down to their final 14 games of the season compared to Detroit's 16.
Trouble is, Hamilton was the undeniable spark during the Pistons' recent 6-2 resurrection, which included home and road wins over Orlando and a road triumph over the Kevin Garnett-less Celtics. Who are they going to beat -- and how are they going to consistently score -- if he's playing no more than Iverson?
We didn't see any real spark from the Pistons until the final period here, when they rallied from 14 down behind Prince (28 points) and the unlikely pair of Arron Afflalo and Will Bynum to give Dallas a serious scare. But they were always going to have a chance to steal one from the Mavs, whose focus issues against shorthanded teams are a well-worn topic in Big D.
The Mavs lost in San Antonio when Tim Duncan and Manu Ginobili were out. They lost in Oklahoma City when Kevin Durant and Jeff Green were out, prompting the loudest criticism of his own players that we've heard from Mark Cuban during his nine-year ownership reign. They almost threw this one away, too, but managed to hang on and drop the Pistons to .500.
This injury forced Rip to miss eight games in December and January. The math on what happens to Detroit's odds of making the playoffs if he misses a like number of games this time is another easy calculation.
"You hear about groin injuries lingering through the whole year," Hamilton said. "I thought I could beat anything, but it's been killing me the last couple games, especially the Memphis [loss at home Sunday]. It's not getting better. It's not staying on an even keel. It's actually getting worse. So I just told myself that I need to sit down right now. There's really nothing I can do but rest.
"But mentally I've got to figure out a way to trick myself, because I know my teammates need me out there. I always tell people that this is the most frustrating thing I've ever been through since I've been here [in Detroit]. Being 33-33, it's absolutely mind-boggling. It's crazy to me to be 33-33 with the team that we have. It kills me for us to be in this position."
Legler on Rockets and Jazz

Tim Legler thinks the Rockets may have the best chemistry in the league, and Utah can make a run in the playoffs if they win a road game.
AllNight