Bill Baptist/NBAE via Getty Images

On Feb. 1, David Stern quietly commemorated his 25th anniversary as NBA commissioner.
On Feb. 14 at an All-Star Weekend news conference, Stern made the league's first in-season public concession that the salary cap would likely decline next season.
On Feb. 18, Stern authorized the dispatch of a memo to all 30 teams projecting a drop in the salary cap from $58.7 million this season to $57.3 million in 2009-10 and a subsequent drop to $56.5 million in 2010-11, with a projected decline for the luxury-tax threshold as well: $71.2 million this season to $69.4 million in 2009-10 to $68.5 million in 2010-11.
The league office stressed in the memo that those were all "hypothetical" projections that are subject to change, but you can surely see where this is headed. The gloomy signs since Stern hit his longevity milestone have been unmissable, with concern around the league gradually rising that the world's financial crisis could eventually drag the NBA into the second extended work stoppage in its history in the summer of 2011.
In hopes of hushing those rising fears, Stern told ESPN.com this week that he and National Basketball Players Association chief Billy Hunter have agreed to begin "substantive discussions," perhaps as early as May, in hopes of hashing out an agreement before the current deal expires on June 30, 2011.
The following five questions and answers examine some of the issues that have prompted Stern and Hunter to start this process so early:
Why are we hearing so much lockout talk more than two years before the current labor agreement will expire?
Can't say it better than Bill Simmons said it in the ominous column he filed after attending an All-Star Weekend in Phoenix that was dominated by discussion about what Stern himself calls the "worst economy in our lifetime."
"Everyone is scared," Simmons wrote on Feb. 27. "Money hangs over everything."
That doesn't make the NBA different from any other business in the world, but such sentiments have been an increasingly loud story line in this league all season, with the volume raised considerably after Stern's All-Star Weekend news conference in which he acknowledged that the salary cap is heading downward … followed by a Feb. 19 trade deadline ruled by economic considerations like no other trade deadline before it … followed by longtime agent David Falk's provocative prediction to the New York Times that some NBA owners are losing "enormous amounts of money" and thus would urge Stern to shut down league operations for a year or two if significant changes to the existing collective bargaining agreement aren't ushered in.
It hasn't helped that the two most prominent North American sports leagues in operation when the global economic crisis deepened were the NFL and the NBA. You wouldn't have needed more than one guess to surmise which league was going to be targeted with the brunt of the panic, given the NBA's longstanding ability to attract exaggerated gloom and doom. Perhaps the best reminder of that was a recent illustration in the New York Daily News that facetiously proposed a new empty-pockets logo to replace the famed Jerry West silhouette, as if the NBA is the only league hurting these days.
It's certainly not that dire on the hardwood. Not yet, anyway. Stern insisted this week that leaguewide attendance and revenues have held firm this season, largely because securing corporate sponsorships and the bulk of 2008-09 ticket sales took place before we all were sucked into a for-the-ages recession. It's actually Major League Baseball that ranks as the first of the four major team sports leagues that must go through a new ticket cycle.
But Falk's comments -- for all the anger they've caused, especially within the walls of the NBA Players Association -- must have some merit in terms of reflecting how pressing these matters have already become, since the sides have agreed to commence negotiations on a new labor deal earlier than anyone can remember.
"It's not so much that NBA business is bad," one high-ranking team executive told ESPN.com. "It's not go-out-of-business bad.
"The problem is that a bunch of owners are getting killed in their non-NBA business. If owners are losing 30 percent or more of their net worth, they have no choice but to require their teams to make money. Owners can't subsidize teams if their real businesses struggle. So the sooner [the sides] start negotiating, the better, because some teams might lose less money in a lockout than they would the way we're going."
What are the key economic changes teams want?
Falk is not the only prominent figure to suggest that the NBA's salary-cap system needs an overhaul. Before the league recently issued a memo forbidding team representatives from "making any unauthorized public comments about collective bargaining," Memphis Grizzlies owner Michael Heisley and Minnesota Timberwolves owner Glen Taylor voiced concerns, respectively, about the bigger-than-ever divide between big-market and small-market teams in a weak economy and the fact that the league is carrying an average salary of nearly $5.5 million.
The landscape has certainly changed since the NBA was the first major North American league to implement a salary cap starting with the 1984-85 season. Franchise values are obviously no longer skyrocketing -- especially since there aren't many folks looking to buy franchises at the minute -- and the various revenue streams (such as season-ticket renewals, corporate sponsorships and luxury-suite sales) are virtually certain for an unprecedented decline starting next season because businesses everywhere are struggling.
That's why, in recent weeks, you've heard more and more about teams' quietly lobbying for a major reduction in contract lengths, lower maximum and minimum salaries, reductions in annual raises and the elimination of the annual midlevel cap exception that enables role players to receive five-year contracts in excess of $30 million … while also giving big-market teams that are willing to pay luxury-tax penalties yet another spending outlet that small-market teams say they can't afford.
"We've got to be realistic," Heisley told NBA.com's David Aldridge last month before the gag order on such topics was issued. "The only way for this league to really have financial viability across all of the teams is to have team revenue-sharing like the NFL has."
The NBA actually has gradually implemented a revenue-sharing system over the past few years that Stern would like to keep expanding.
"I agree with Michael that that would be important," Stern said.
But there is bound to be resistance to increased revenue sharing among the big-market clubs when revenue itself is in decline. I know of at least two teams -- and I suspect there are more -- that protested vociferously when the New Orleans Hornets signed James Posey away from the Boston Celtics last summer with a four-year offer worth $25 million, then asked for revenue-sharing assistance earlier this season, since Hornets owner George Shinn is one of the few NBA owners who rely on basketball business as their primary source of income.
"You can't have New Orleans with a $75 million payroll in one of the smallest markets and then have them ask for financial assistance," one rival executive said.
Then there's the matter of convincing players to accept salary reductions, as Taylor hinted when he told Minneapolis reporters recently: "I still think there's a star element -- movie stars, singers, basketball players -- that's just part of this country. Do I think the average of all the players will come down to a different level so people can afford to watch? I see that as a more likely possibility."
Taylor would appear to have a case, too, given that 141 players in a 430-player league are earning the league average of roughly $5.4 million or more. Are there 141 players in the NBA worthy of a $5-plus million salary?
Said Stern: "It has become clear that, especially in light of current economic conditions, there's much more stress on the system in all of sports than was anticipated when we made the [last labor agreement in 2005].
"We're currently in a collective bargaining agreement, so we're not seeking to change it, but clearly at the end of this agreement, it's not going to be [owners] taking a hard line, it's going to be [both sides] dealing with new financial realities."
So is the NBA salary cap -- one of the innovations so prominent in Stern's legacy -- on the way out?
The commissioner is indeed open to a change that radical.
Only one problem.
Someone must first identify a system capable of replacing the salary cap, with no known proposals yet in circulation to succeed a mechanism that, at present, collectively guarantees NBA players at least 57 percent of annual revenues.
"For me, there's no theology about a cap system," Stern said during a wide-ranging discussion about the league's financial outlook. "… If the owners are saying we've got to find a better model, what that model is will be open for negotiation.
"The two issues that are at the center of the ongoing debate in all sports leagues is [having] a collective bargaining agreement that provides for a return on investments and a revenue-sharing system that allows all teams to compete [in a way] so that the [quality of the] product can remain high. That's what you hear the owners talking about. Let's make sure we have a model that works.
"We have been addressing those issues since 1983, when the cap was initiated. It was a relatively modern concept at the time. It was unique. Remember that the cap is a revenue-sharing system, but the revenue is shared with the players.
"… When we [introduced] this system, back when New York was a prairie, we hooked up two things that the players would never accept and that the owners would never accept. The players accepted a [salary] cap, which they were always diametrically opposed to, and the owners accepted sharing a set amount of revenues with the players, which they were always diametrically opposed to. And the NFL followed suit. And then the NHL followed suit.
"But this model is 25 years old. Maybe there's a better model. Can't wait to hear it.
"Give me a way to fundamentally say that this amount of revenue is a fair percentage for the players to get. And then let's find a way to get it to them."
How realistic is it to expect that an early start to labor negotiations will actually lead to a new agreement before the current labor pact expires on June 30, 2011?
History says that the pressure of a deadline, as seen when the last deal materialized during the 2005 Finals, is the only way to get the sides involved in a serious give-and-take.
However …
The handful of veteran players I've interviewed on the subject are quite cognizant of the dreadful state of the economy and seem eager to listen to new proposals sooner rather than later, even if it means facing the sort of salary reductions that are so prevalent in the real world.
"I don't believe that ownership wants to see it go down that [lockout] road again," said Boston's Ray Allen, one of the 50-odd active players who lived through the only work stoppage in NBA history that sliced into the regular season, infamously reducing the 1998-99 season to 50 games.
"You definitely don't want to go down that road again. I think it's going to make a more educated player this time around. It's something that we talk about [and] we're going to have to talk about. Salaries do seem like they're going to be cut back more. … But if people haven't been watching what's going on in America right now, you've got to understand that it's not a free-for-all."
Players from Allen's generation have an added motivation to lobby against a work stoppage. He'll turn 36 in the summer of 2011, nearing the end of his career. A lost season at that stage could be career-ending for some in his age group.
Sacramento's Bobby Jackson, another survivor of the '98-99 lockout, told the recently shuttered Rocky Mountain News in January: "If the economy doesn't turn in two years, there's definitely going to be a lockout, because everybody is taking a hit in this recession. The owners are definitely going to want to make some cutbacks and the players aren't going to want to make the cutbacks. But I think we have to put our differences aside and say what's best. And that's playing this game and giving fans what they want and not being selfish."
Sounds like Jackson was listening when Hunter addressed the Kings earlier this season. Sources say that Hunter, in his annual face-to-face meetings with each team on its first swing through New York, has been cautioning his constituents to expect to hear the L-word more and more, with owners believed to be gearing up to push hard for aggressive reforms.
"If the owners hunker down, we know that is the worst-case scenario," Hunter said recently of a lockout. "When things were relatively good they were bemoaning the fact that the current deal was too sweet for the players. But there are a lot of other factors before we get to that point.
"I think our players are extremely attentive, especially at this time in history, because of the overall global climate. It's gotten everybody's attention. The failure of the banks, failure of the auto industry -- everywhere you look businesses are failing. I think our players are more attentive than ever."
With mounting financial problems out in the open for several teams -- Sacramento, Charlotte, New Orleans, Memphis and most recently Indiana -- how long will it be before we start hearing serious rumblings about contraction in the NBA?
Don't expect it anytime soon. Even in the worst economy in our lifetime.
Although it's true that contraction would create an extra slice of valuable TV money for all the teams that stick around, it's also true that no major sports league wants to be the first to get smaller and live with the permanent stigma of such a step. You remember how hard baseball's union fought against it when the league threatened to eliminate two teams in 2002.
Even the NHL, believed to be facing a far bleaker future than the NBA as it tries to weather the global economic crunch not long after slogging through a lockout that wiped out the entire 2004-05 season, has resisted contraction so far.
Stern?
Didn't even want to hear it when I brought it up.
"Tell them to pick the team and owner and have them come see me," Stern said when informed that there had been a few calls in the wilderness recently for the elimination of an NBA franchise or three. "That's my way of saying that I don't think there are any teams interested in being contracted out of our league.
"Somebody should ask [the teams] if they're interested in being contracted and bought out. I think I know the answer. That's the last thing they want."
Marc Stein is the senior NBA writer for ESPN.com. To e-mail him, click here.
Dimes past: March 7-8 | 9 | 10 | 11 | 12 | 13 | 14-15 | 16 | 17 | 18 | 19 | 20
Is there a bigger NBA bargain than
Antonio McDyess
right now?
Twice in his past five games entering the weekend, McDyess had pulled in at least 20 rebounds at the age of 34. That would be the same McDyess who forfeited nearly $9 million in remaining salary to convince Denver to buy him out after being traded to the Nuggets in the Allen Iverson deal … and the same McDyess who agreed to re-sign with the Pistons for a prorated share of the league's veteran minimum when he was eligible to get a two-year deal from Detroit starting at $1.9 million.
Dice's new salary-cap number for the Pistons is a mere $600,532, which helped Detroit create an extra $2 million in savings against the cap for this summer thanks to the league's complicated formula for calculating cap holds for a team's own free agents.
The assumption, of course, is that McDyess will be compensated for his selflessness in the summer when he returns to free agency.
McDyess, though, insisted this week that he is not a second-guesser by nature and doesn't think he'll come to regret his decision even if something unexpectedly gets in the way of a new deal in Detroit. Nor does he betray much remorse when someone brings up Detroit's struggles to merely stay above .500 or the prospect of the economic crunch costing him some free-agent bucks in July.
Dice confirmed that 18 teams called him after his release from Denver -- and insisted that he was "pretty close" to taking an offer from either the Cavaliers or the Lakers -- but decided he couldn't walk away from Detroit. Not when he remembered how Pistons president Joe Dumars signed him to a four-year, $23 million deal in the summer of 2004 after McDyess was inactive for nearly two years because of a long-term knee problem.
"Honestly, when I first got traded, I knew I didn't want to go to Denver," McDyess said. "I just felt like, hey, whatever I had to do, I'd rather just stay where I'm comfortable. And still in the back of my mind, I was saying that if I do give this money up, I feel [like] I could make it up later.
"I did have a lot of choices. Every team you can imagine. You're probably going to ask me why didn't you go to one of those teams -- one was Cleveland and [another was] the Lakers. … But Joe wanted me back, so I came back. I felt like repaying the favor."
McDyess maintains that two more seasons is the "max" he'll play, no matter how the rest of Detroit's tumultuous season plays out.
"Definitely one more," he said.
Not that there's any rush to shove him aside when he's going for 13 points and 18 boards in a win over Orlando … followed by 21 points and 22 boards in a narrow loss to New York … followed by 14 points and 20 boards as recently as Wednesday in the second night of a back-to-back at Houston. "I'm definitely surprised," McDyess said. "If you'd have asked me if I could be doing this at my age and at this point in my career [after multiple knee operations], I would have bet against myself."
---

We also checked in with McDyess on one last Pistons topic: Allen Iverson.
There's not a lot of concrete A.I. info in circulation these days, but at least one Pistons vet is reasonably eager to see their new would-be sixth man come back to work as soon as possible.
Asked if he thinks Iverson will indeed return before season's end from a mysterious back injury that has shelved him for the past 11 games, Dice offered: "He said he will if he's healthy. I really can't answer that question, but he would definitely help us at this point."
---
The NBA's last season without a 30-points-per-game scorer was 2003-04, when then-Orlando swingman Tracy McGrady led the league at 28.0 ppg.
Dwyane Wade's recent tear suggests that we won't have the same problem this season. He was up to 29.9 points per game entering Friday's play after averaging 33.1 points since Feb. 1.
LeBron James, meanwhile, is hanging in just fine amid all the D-Wade mania. His 51-point eruption in an overtime win at Sacramento on March 13 -- his third 50-pointer since Feb. 4 -- gives him eight career 50-point games.
That's the fourth-highest total of 50s since the NBA-ABA merger in 1976 ... with all eight, for some reason, happening on the road for James.
Most 50-Point Games -- Since NBA Merger (1976-77)
Player
50-Point Games
Michael Jordan
31
Kobe Bryant
24
Allen Iverson
11
LeBron James
8
Bernard King
8
Dominique Wilkins
7
Most 50-Point Games -- 2008-09 Season
Player
50-Point Games
LeBron James
3
Dwyane Wade
2
Kobe Bryant
1
Jamal Crawford
1
Tony Parker
1
Brandon Roy
1

"It's very real. And there's nothing that hasn't been affected. You have to understand that businesses don't have as much money to give sponsorships and buy luxury suites and do all the different things that a lot of teams depend on for extra revenue. There's a lot of things going on right now.
"Most of the guys that own teams also have other interests, other businesses, and there's not too many businesses out there that aren't taking hits. You have to [expect them to] flip that to the team and start to say, 'Hey, where can I cut costs?'
"… [But] with all that being said, it would be bad business on both sides for us to go and have a lockout, because [the fans] know that right now it's a bunch of millionaires and a bunch of billionaires [who] can't agree. And [then] you're going to ask the working middle class to come back and buy tickets.
"That's going to be tough to get those people back in the stands, especially given the situation in the economy right now."
-- Milwaukee's Richard Jefferson, touching on several of the topics addressed in the lengthy look in Box 1 at the global economic crisis and the threats of a work stoppage after the 2010-11 season.

Something finally went right for
Steve Nash
in this season of constant disappointment in the desert.
With his Suns barely clinging to life in the Western Conference playoff race, Nash's long-held dream of securing an official foothold in the world of professional soccer was confirmed this week when a four-man ownership group that claims Nash as its face was awarded a Major League Soccer expansion franchise in Vancouver that will begin play in his home province of British Columbia in 2011.
"I'll take it," Nash said with glee over the phone, acknowledging that it's the first lift sports-wise he's received in ages, with the prospect of missing the playoffs for the first time since the 1999-2000 season with Dallas growing more likely by the day for the 35-year-old.
"I'm really, really excited about it."
After exploring the possibility of a commercial role as a worldwide ambassador with his beloved Tottenham Hotspur in the English Premier League, Nash shifted his focus to trying to secure a more involved role as a co-owner of the Vancouver Whitecaps, who won a championship in the fabled (but ill-fated) North American Soccer League in 1979 and have survived as a franchise in various lower leagues to this day.
Nash's brother, Martin, has played 38 times for the Canadian national team and serves as the midfield backbone and captain for the modern-day Whitecaps, who are the reigning champions of the United Soccer Leagues first division, which is one rung below MLS on the North American footy pyramid.
Truth be told, Steve would probably rather play for the Whitecaps than run them, given his offseason addiction to playing soccer several times a week in New York City. Former U.S. national team and current L.A. Galaxy coach Bruce Arena once said that he thought Nash still had time to make it as an MLS player if he switched sports.
Yet Nash sounds content to proceed in management alongside current Whitecaps owner Greg Kerfoot and the two other investors: Boston Celtics minority owner and Seagate Technology chairman Steve Luczo as well as Nash's close friend Jeff Mallett, who was in Canada's national soccer program as a player before graduating to heavyweight positions in adulthood as the former president of Yahoo! and his current roles as a part-owner of the San Francisco Giants and with Derby County in English soccer's second tier.
"We haven't defined my role exactly yet, but I don't expect being that hands-on," Nash said. "Of course I want to understand all the mechanisms and learn as much as I can about the youth academy, our transfer policy and our roster, but it's more that I'm going to be a Whitecaps superfan. It's going to be more from the standpoint of passion [at the beginning] than me wanting to be in there making decisions every day."
It also seems safe to presume that Nash will be utilized as an unofficial recruiter for MLS, given his growing relationship with commissioner Don Garber and an address book on his handheld phone filled with numbers from the world of international football. Among Nash's close pals are Thierry Henry and Alessandro Del Piero, international icons likely to be pursued by MLS as they move into the later stages of their careers.
As for his NBA day job, Nash is sticking to what he said in October and again in February about playing at least three more seasons -- with free agency still looming in the summer of 2010 unless he and the Suns can agree to an extension this summer -- before making the full-time shift to his various off-court interests in soccer and filmmaking.
---
As for your next question … yes.
Nash is indeed planning to again co-stage a charity soccer match in New York in late June with former U.S. national team captain Claudio Reyna which would feature Henry and other megastars from the soccer world alongside basketball contemporaries such as Baron Davis and Jason Kidd.
He's also working on staging follow-up charity matches in Los Angeles and Vancouver.
---

There actually is a team in the Northwest Division rooting for Utah's renaissance to continue.
Minnesota, namely.
The reason?
The Wolves would have four first-round picks in the June draft -- giving them an extra trade asset or two, if nothing else, in a draft no one regards as deep -- should Utah's late-season push result in a draft pick that winds up at No. 23 or lower. The Jazz retain the pick for this draft if it falls between No. 1 and No. 22. If it doesn't, Minnesota adds it to its own lottery pick and firsts previously acquired from Miami and Boston.
The draft pick in question was actually sent by the Jazz to Philadelphia in the Kyle Korver trade on Dec. 26, 2007, in Ed Stefanski's first deal as Sixers GM, then routed by the Sixers to Minnesota in July as an incentive for the Wolves to take on the contracts of Rodney Carney and Calvin Booth when Philly was trying to clear the salary-cap space needed to sign Elton Brand.
This will be regarded as somewhat of an upset by the folks who know me best: Stein Line interest in the 2008-09 college basketball season has not been completely extinguished.
But that's only because I'm hearing some strong rumblings that the season isn't over for my beloved Josh Akognon.
The loyal and patient readers who have endured my innumerable Cal State Fullerton references over the years probably figured that they would be spared from further blue-and-orange propaganda -- at least until summer league -- after the Titans understandably couldn't make it back-to-back trips to the Big Dance for the first time in school history having lost every starter except Akognon from last season's tourney team.
Yet the word we're hearing is that Akognon has been invited to bring his otherworldly range to the 3-point contest they have at the Final Four every year. That I'll be watching for sure.
Otherwise …
You probably could have predicted that I wasn't going to be filling out a bracket … and I suspect you'll survive just fine without my pretending that I can credibly discuss anything in college basketball that happens outside the Big West.
You've got plenty of other places to click for those kinds of insights. You've got Andy Katz on this very Web site infiltrating the White House to personally secure President Obama's bracket. (Talk about upsets.)
Can't promise that I won't be mentioning Akognon a few (dozen) times over the next few months as the June draft approaches, but I will restrict my NCAA musings for the moment to passing along something that might add to your March Madness experience: ESPN Research ace Pete Newmann's list of pertinent numbers detailing the tourney exploits of various active NBA players:
• 429 players were on NBA rosters as of Thursday afternoon, when the 2009 tourney began.
• 274 of them have played in the NCAA tournament.
• 243 have reached at least the second round.
• 192 have advanced as far as the Sweet 16.
• 143 have made it to the Elite 8.
• 98 have appeared in the Final Four.
• 64 have played in the championship game.
• 36 have been part of an NCAA title team, as listed here:
Active NBA players who won an NCAA title
Year
School
Active NBA Players
2007-08
Kansas
Memphis' Darrell Arthur, Miami's Mario Chalmers, Cleveland's Darnell Jackson, Indiana's Brandon Rush
2006-07
Florida
Minnesota's Corey Brewer*, Atlanta's Al Horford*, Chicago's Joakim Noah*, Philadelphia's Marreese Speights
2004-05
North Carolina
Charlotte's Raymond Felton, Charlotte's Sean May, Sacramento's Rashad McCants, Atlanta's Marvin Williams
2003-04
Connecticut
New Orleans' Hilton Armstrong, New Jersey's Josh Boone, Chicago's Ben Gordon, Charlotte's Emeka Okafor, Milwaukee's Charlie Villanueva
2002-03
Syracuse
Denver's Carmelo Anthony, Memphis' Hakim Warrick
2001-02
Maryland
Washington's Juan Dixon, Portland's Steve Blake, New York's Chris Wilcox
2000-01
Duke
Houston's Shane Battier, Utah's Carlos Boozer, New York's Chris Duhon, Indiana's Mike Dunleavy
1999-2000
Michigan State
Milwaukee's Charlie Bell, New Orleans' Morris Peterson, Phoenix's Jason Richardson
1998-99
Connecticut
Detroit's Rip Hamilton, Toronto's Jake Voskuhl
1997-98
Kentucky
Charlotte's Nazr Mohammed*, Miami's Jamaal Magloire
1996-97
Arizona
Atlanta's Mike Bibby, Dallas' Jason Terry
1991-92
Duke
Phoenix's Grant Hill*
* - Has won two NCAA titles

Five questions with Pistons guard Rip Hamilton:
Q: You guys have had almost a whole season to adjust to this now, so have you finally reached the point as a team where everyone understands the reasons management felt like it had to trade Chauncey [Billups] for [Allen] Iverson?
A: When it first happened, it was tough for everybody. It was a hard thing to get over. We just play basketball. We don't look at the business part of it, what's going to happen in a couple years, money [considerations] and all those things. So it's really hard to look at it that way. But as you sit back and try to take all your emotions out of it, you kind of see why moves have been made.
Q: Is it true that when you signed your contract extension [in early November] that you didn't know the Chauncey trade was in the works?
A: I didn't know it was going down.
Q: Would it have changed your decision if you had known he was leaving?
A: [Laughing] Who told you to ask me that question?
Like I've said [before], Detroit was a city that changed my whole career around. I want to be here. I want to retire here. One day I want to get my name and my jersey put up in the rafters. I couldn't see myself playing anywhere else. No matter who's here.
Q: Do you guys worry that Rasheed [Wallace] will be the next one to go or talk about what else might change this summer?
A: I can't even think about that, man. This season's been so crazy, with all the different things that've been going on. Your mind can't even go that far. Your mind can only focus on this season, figuring out a way for us to get healthy and try to make a run for the playoffs.
Q: How nervous do you think Orlando is about seeing you guys in the first round?
A: I don't think they want to see us to tell you the truth, just from the simple fact [of] the success we've had [against them] over the last couple years. But we're just trying to get in right now. This is so odd for me. … It's absolutely crazy to me that we're just fighting to be in the playoffs.
It's been a roller-coaster season all year with all the different changes. We just have to hope that we get hot at the right time, because anything can happen when you've got a group of veteran guys.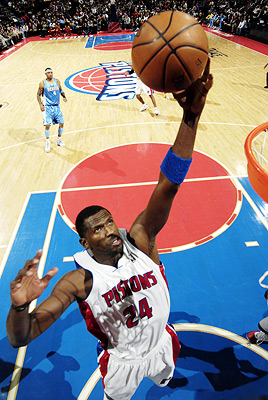 Allen Einstein/NBAE/Getty Images
The veteran affectionately known to teammates as Dice returned to Detroit in December and now ranks as the second-lowest-paid player on the roster. Which makes him one of the league's best investments. (See Box 2.)

The Atlanta Hawks have forced themselves into the NBA Today podcast conversation by brushing aside four likely Western Conference playoff teams (New Orleans, Utah, Portland and Dallas) in an impressive sweep of a seven-game homestand.
But Marc Stein tells host Jason Smith that he fears for the Hawks in the playoffs -- even when you factor in the experience they gained in last season's seven-game series with Boston and the combination of Atlanta's underrated playoff crowd and its increasing success at home -- because there's a good chance they'll have to deal with Miami's Dwyane Wade in Round 1.
Listen to the podcast

During his weekly visit with Galloway & Company on ESPN Radio in Dallas (103.3 FM), Marc Stein gets a surprise when longtime host Randy Galloway decides to steer clear of Mavs talk -- for the most part -- to probe for updates on the state of the Los Angeles Lakers, the San Antonio Spurs and the rest of the tightly bunched West.
• Listen to the interview